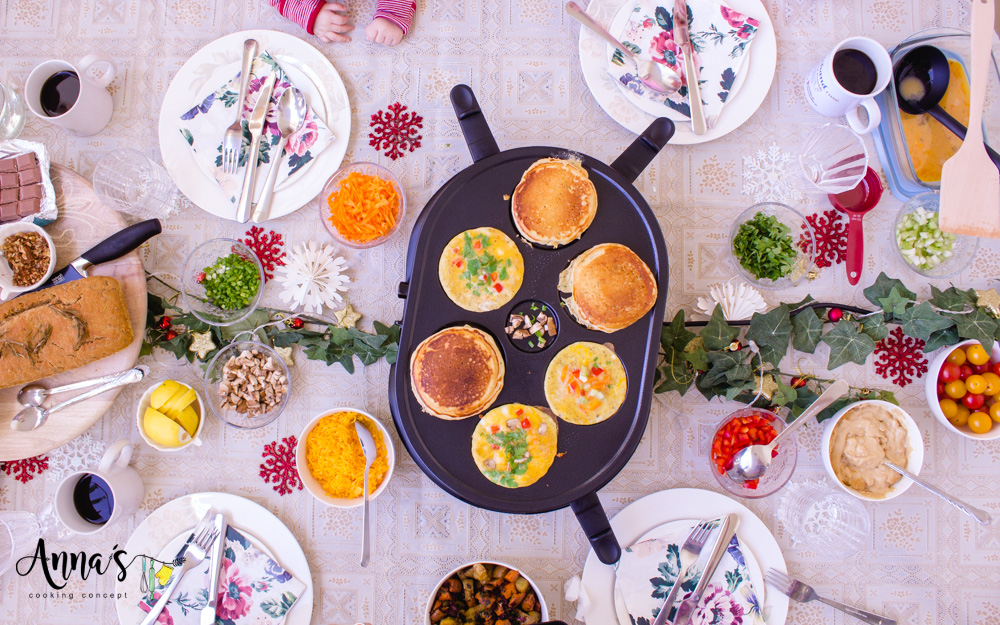 "It's The Most Wonderful Time Of The Year"
December is my absolute favorite month of the year. since the 1st of December came and I become so anxious to finish off work and travel back to my hometown to enjoy these holidays with my family. to make it a little bit like home over here, till the time for my holiday comes I made a Christmas brunch !
and to make it more interesting it was a Raclette Christmas brunch .
we had so much fun time making our own brunch food live on the raclette grill.
I will share all the amazing Christmas themed brunch recipes we did so you can enjoy it this holidays with your beloved one for breakfast or brunch on Christmas day or any day of the holiday, and let me tell you the leftovers are even better!
My raclette came with the extra plate for pancakes but even if you don't have this extra option you can still enjoy this raclette set menu on the stone itself, just butter it up a little and you are good to go!
If you are using the stone make sure to preheat it on the highest level for 30 minutes than lower the heat to 2 or 3 and start making your breakfast or brunch!
In this article I will share with you the complete menu set I prepared for this Christmas themed raclette brunch and for each recipe details you just click on the linked recipes for their details:
Christmas Raclette Brunch Set Menu:

Make your own omelette set (recipe below)
Rosemary homemade Bread
Homemade Nutella Spread
you mix and match what you liked from those recipes and you can make it all like I did and enjoy the leftovers for days after! 😛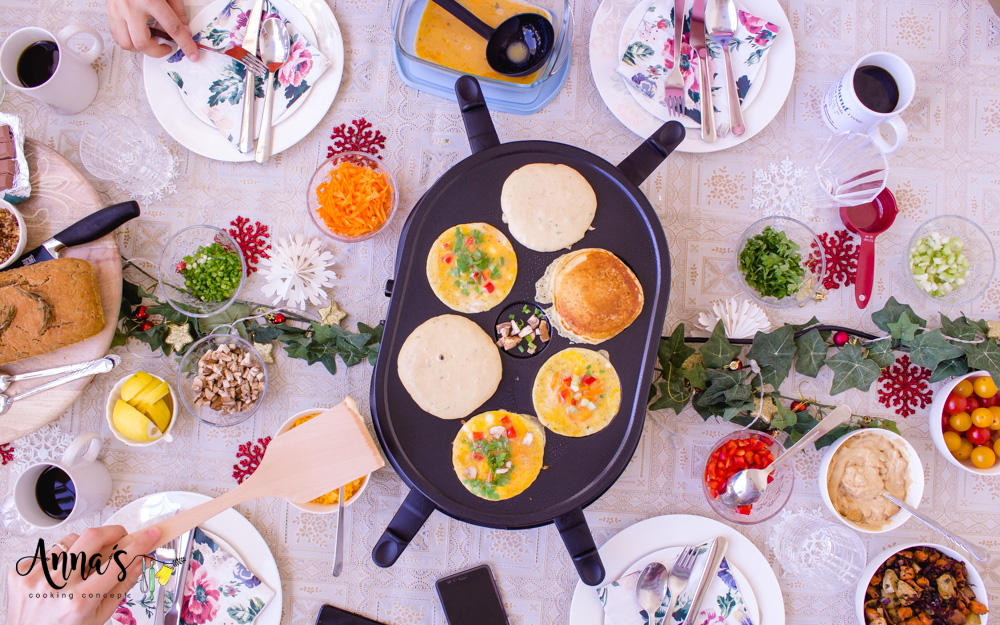 note: for the recipe with no link I will keep on updating them through those two weeks until you have the whole set so stay tuned on
Instagram
and
Facebook
for all the updates!
As a starter I will share with you today the make your-own omelette recipe because it is a super easy one to start exploring with your raclette!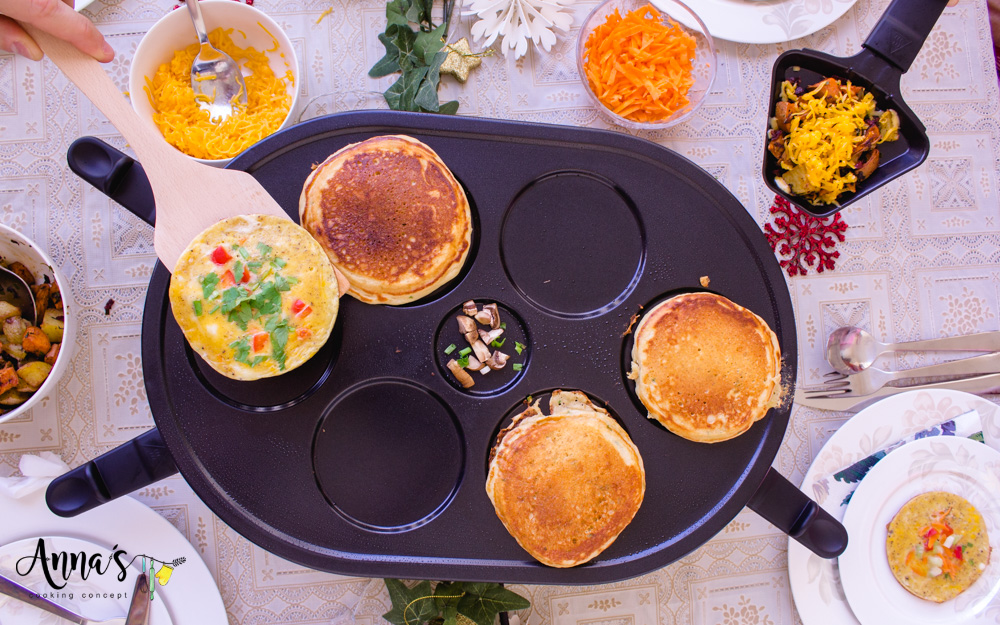 Make your own Omelette Set:
Course:
Breakfast, brunch, lunch
Keyword:
breakfast, brunch, christmas, egg, healthy, omelette
Ingredients
for the egg mixture:
4

eggs

1/2

cup

milk of your choice

1/4

cup

plain Greek Yogurt or normal yogurt

1/2

tsp

salt

1/4

tsp.

white pepper

1/4

tsp.

nutmeg
for the toppings:
1/2

cup

shredded cheddar cheese

1/2

cup

shredded mozzarella cheese

1/2

cup

caramelized bacon cubes

1/2

cup

chopped parsley

1/2

cup

chopped green onions

1/2

cup

tomato cubes

1/2

cup

green pepper or red pepper cut into cubes

1/4

cup

chopped celery sticks

and any topping of your liking.
Instructions
for the egg mixture:
whisk all the ingredients together in a deep bowl, store in the fridge until you need to start your raclette.
for the topping:
chop all the ingredients and put each in small bowl and serve it along with the egg mixture.

on the preheated raclette plate , pour 1/4 cup of the egg mixture and top it with the topping of your choice , cook it until all the egg mixture is firm and flip it to the other side for 1 minutes.

serve and enjoy you can add more melted cheese to it from the raclette pan and mi and play it as you like.