This creamy vibrant mashed potato base with a high-protein stuffing and a crispy crunchy topping is going to rock your world!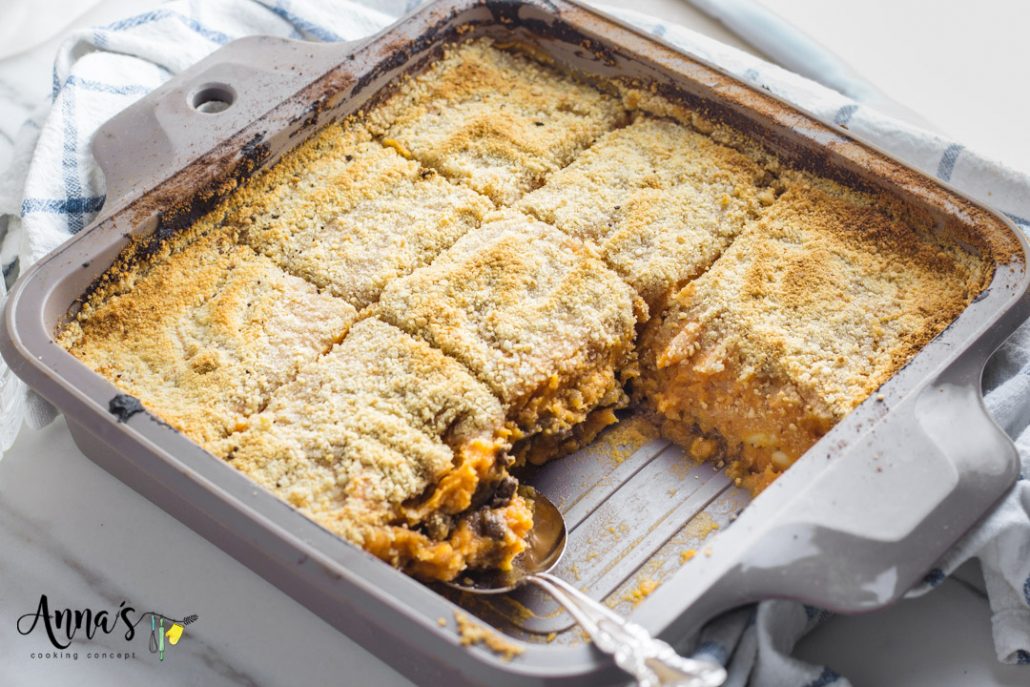 Usually potato casseroles are known as a savory casserole with normal yellow potato and minced beef stuffing with flavors and adding's that varies from culture to culture. and we also know the sweet potato casserole that is known as a sweet dish with weird marshmallows all up on top. But the sweet version is not my thing!
I like my sweet potato savory, thank you very much!
So, today's recipe is pretty much the complete opposite of all those classic versions you may know.
And for those who are also on the team savory with me let us discuss the recipe a little bit please!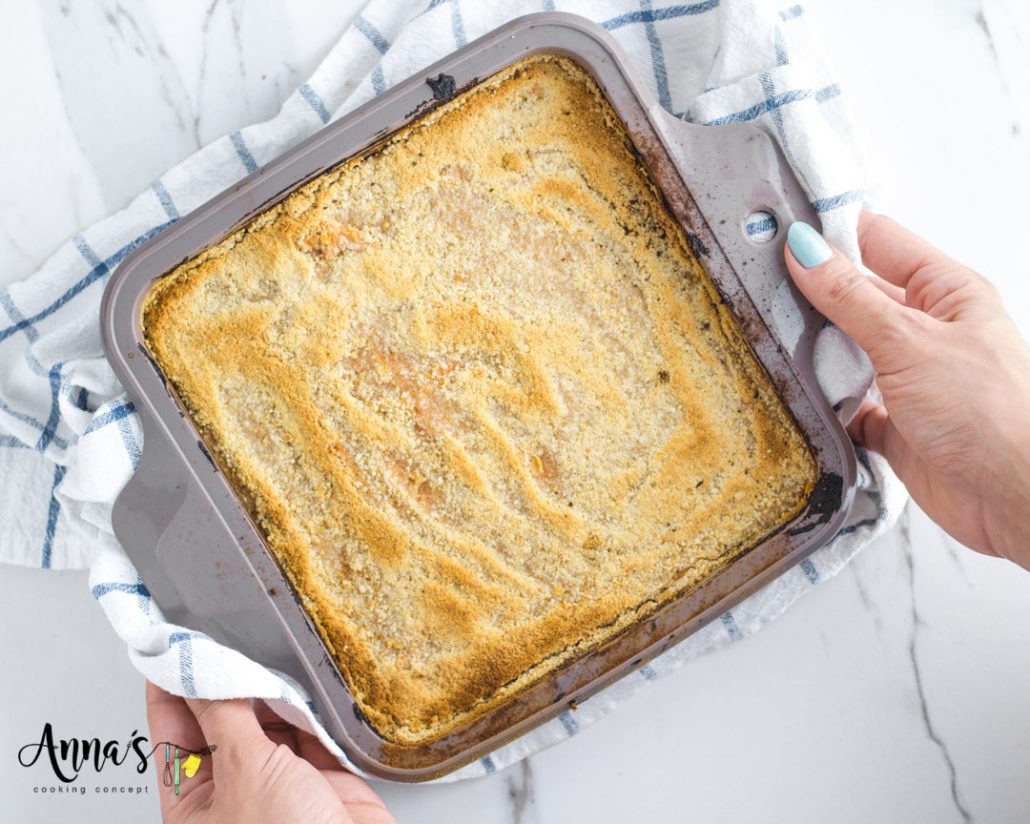 The base of today's casserole is loaded with flavors like garlic, cilantro and some other extra spices.
It is stuffed with my favorite minced beef stuffing. and just to make it perfect we topped it off with a fantastic Arabic crumb mix.
Then baked off to its crispy, creamy perfection.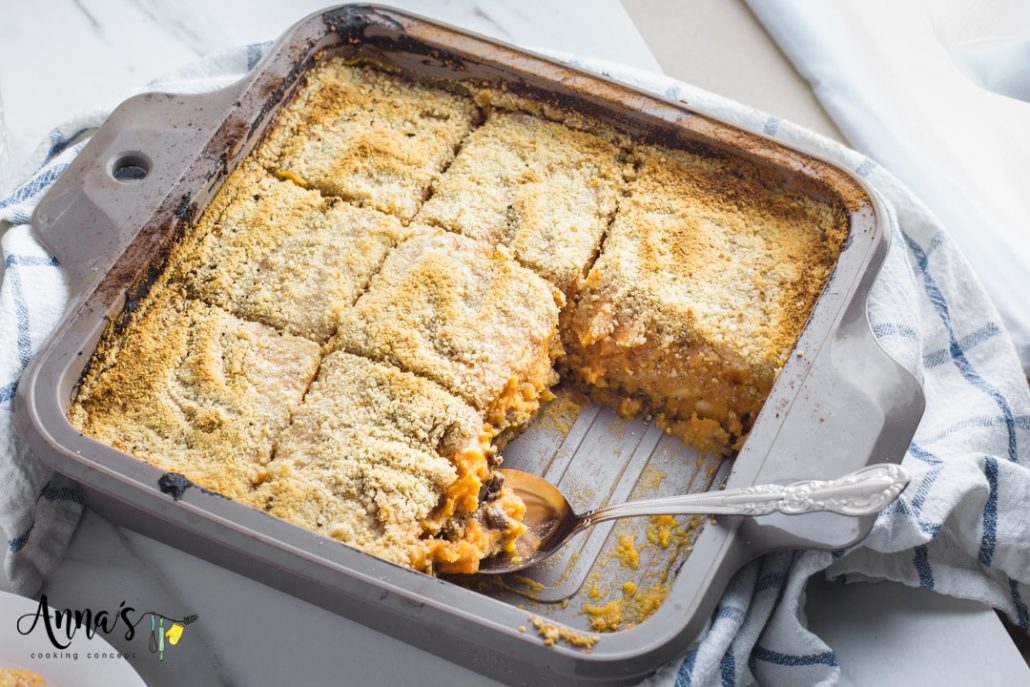 It is a perfect healthy, balanced meal that is super flavorful and the perfect cozy dish to warm up the winter days and nights!
And it is also the perfect dish for meal prep for your whole week meal preparations!
So, shall we proceed to the recipe details please!?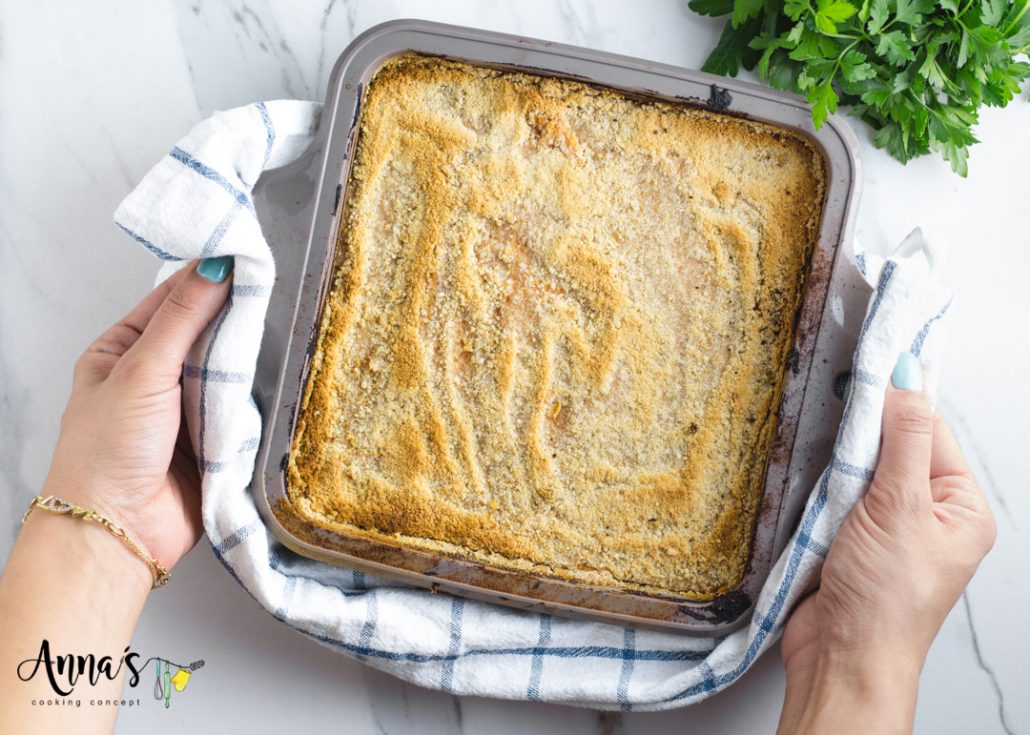 Sweet Potato Savory Casserole
I like my sweet potato savory, thank you very much!

The base of today's casserole is loaded with flavors like garlic, cilantro and some other extra spices.
It is stuffed with my favorite minced beef stuffing.
Keyword:
beef, casserole, sweet potato
Ingredients
For the sweet potato spread:
500

g

sweet potato washed and roughly cut into big pieces. *

Water for boiling

½

cup

unsweetened almond milk *

1

tsp

salt

½

tsp

white pepper

½

tsp

garlic powder

1

tsp

onion powder

1

tbsp

sweet paprika powder

Finely grounded Kaak

Lebanese cracker *
For the beef stuffing:
200 to 300

g

lean minced beef

low fat

1

big onion

finely diced

½

tbsp.

grapeseed oil*

1

tsp

salt

Seasoning mix: ½ tsp 7 spices

½ tsp sweet pepper, ½ tsp cinnamon powder, ½ tsp garlic powder.

¼

cup

pine seeds

optional

¼

cup

pomegranate molasses *
Instructions
For the sweet potato spread:
Start by boiling the sweet potato, put sweet potato in a deep pot with water until it is all covered, add some salt and keep on high heat until it starts boiling. When it starts boiling lower to medium and let it boil for 15 -20 minutes.


Remove from heat and drain well and set it aside to cool down so you can touch it.

In a deep bowl and a hand masher or in a food processor, add the sweet potato and add all the remaining ingredients: milk, salt and spices except the grounded Lebanese kaak. *

And pulse several times until everything is mixed and you have a well combined sticky kind of dough or like a thick smoothie.

Set aside.
For the beef stuffing:
While the sweet potato is boiling and cooling start preparing your stuffing.

Preheat on high heat a skillet with the grapeseed oil.

Add the onions and cook through until transparent.

Add the beef and break it into small crumbs with your wooden spatula until you break everything into small chunks while cooking.

When the whole beef mixture starts to have a light brown color.

Add all the spices and salt and mix it all through. Add the pine seeds.

Keep cooking until everything is well mixed and cooked for around 10 minutes, stirring occasionally each 2 to 3 minutes.

Drizzle the pomegranate molasses on the top and give it one more minute while stirring so the beef absorbs the pomegranate aroma.

Turn off the heat and set aside.
Assembly and baking:
Preheat oven on 180 C◦.

In a 25×25 cm square casserole oven dish

Divide the sweet potato mixture into two parts. Spread one part in the bottom of the dish.

Top it with the minced beef filling.

Than spread the second part of the sweet potato mixture.

Sprinkle on the top the grounded Lebanese cracker until it is evenly covered.

And bake it in the oven for 15 minutes to 20 minutes until it is set and the cracker topping start to get a golden-brown color.

Remove from oven and let it sit for 20 minutes until set, cut serve and enjoy!
Recipe Notes
* i like to wash well the sweet potato and boil it skin on and blend it with it also without peeling. because the skin has as much nutrition benefits as the flesh if not more.
* you can use instead of almond milk , any vegan milk or normal dairy cow milk.
* the grounded kaak can be found in the Lebanese or Arabic section of the grocery store. you can find grounded bags ready to use or you will find the whole Lebanese crackers (kaak) and grounded at home and maybe enjoy some dipping in tea as we do ! 🙂 check this link for more info about our delicious kaak and if you cannot find it anywhere you can easily replace it with any bread crumbs or grounded oat or panko bread .
*I use grape seed oil for cooking for its health benefit but you can use any oil of your liking instead , try to use a neutral oil with minimum flavor.