Jump to Recipe
If you ask any die-hard Lebanese food lover what is your favorite traditional dish; their answer will definitely be Kibbeh in all it's shapes. One specific kind of kibbeh recipe will be mentioned in 90% of the cases the "kibbeh arnabiyeh " الكبّة الأرنبية
It's one of the traditional Lebanese style recipes that mothers pass over from one generation to another! The steps and ingredients may differ a little bit from a country to another and from one season to another but the concept stays the same.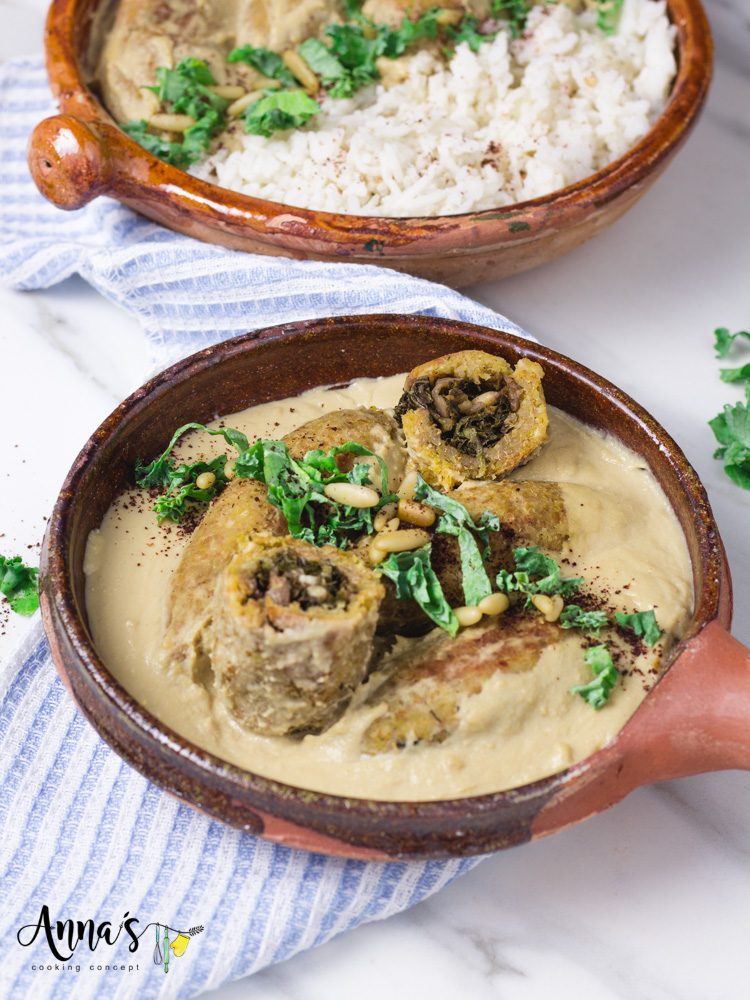 Now you may ask why it will differ by seasons?! The reason is because the main ingredient in this recipe is a type of bitter taste oranges called "bou sfeir" that grows in winter, for that all people who prepare it through the "bou sfeir" oranges season in the cold days.
It is kind of a winter recipe with the warm tahini sauce and the meatballs cooked perfectly in that delicious creamy gravy. It will warm the coldest day or night of your winter!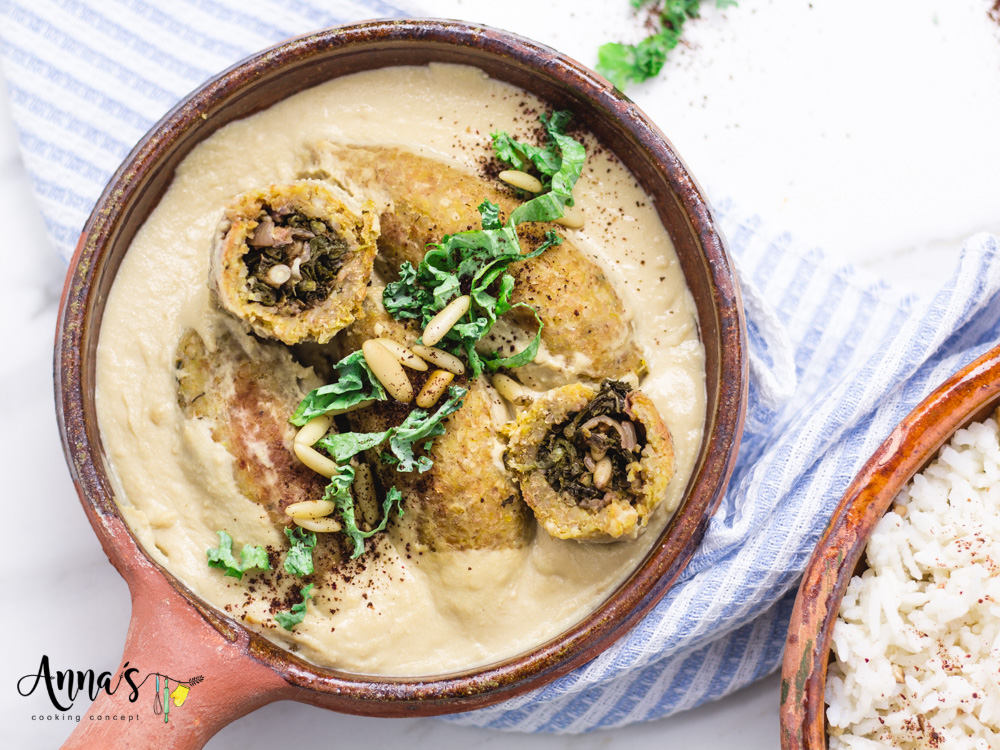 This is a bit of a complicated recipe, but don't panic I tried it and it really is very easy to do once you prepare everything you need.
Now if we want to break it up to understand it in a simpler matter: It is made of two main parts with a side dish: the main two things you need to nail are the tahini orange gravy and the actual kibbeh balls With the one and only famous traditional rice pilaf or Lebanese vermicelli rice "أرز مفلفل بالشعيرية" as a side dish
Now for the twist ! what? Did you expect I was going to do it just like that with no Anna touch in it?! Come on you know me by now! I wanted to make this recipe because of the warm tahini gravy that will be a great way to add some nutrition and flavors to my lent friendly recipes.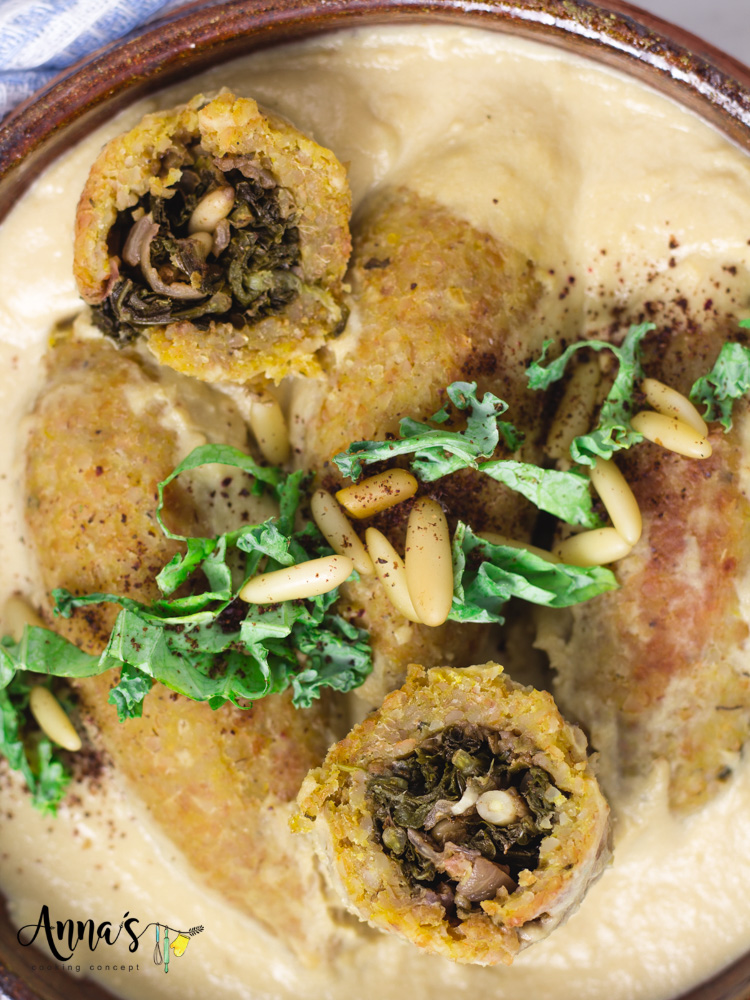 BUT the kibbeh balls are made of meat and stuffed with meat which throw the vegan option out the window. So today's recipe is the VEGAN version of the famous "kibbeh arnabiyeh " الكبّة الأرنبية With much simpler and easy ingredients that will be accessible to anyone at any season. As I said the original recipe uses a specific kind of orange but this won't be available in all countries and all seasons so I used a combination of different types of citrus instead to achieve the same taste with simpler ingredients.
Even though I prepared the kibbeh with Vegan ingredients it is still very simple. So don't be overwhelmed with the name of the recipe and think : "ohh this a very hard recipe that only my professional expert mum know how to do ,I won't bother trying! "Trust me; you can prepare this version in no time it is very easy and the result tastes and flavors are totally worth it!
It is perfect for meal prep days, I cooked it and stored it in the bridge to enjoy it throughout the whole week for lunch.Warm flavorful nutrient loaded vegan Kibbeh and Tahini stew is just what you need this lent season or any meatless day of any season.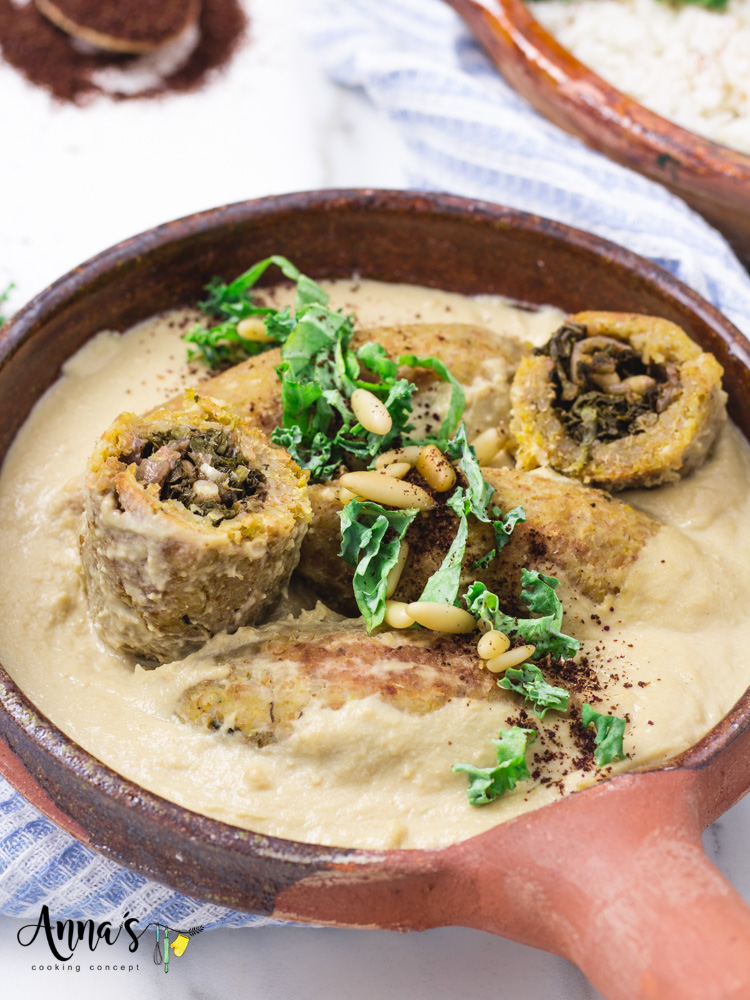 If you like this recipe you can go and check my other Kibbeh recipe here! As for more vegan and vegetarian lent friendly recipes check out my article about that!
Vegan Lebanese Kibbeh Arnabieh
Lebanese Pumpkin Kibbeh with tahini citrus sauce A Lebanese traditional dish usually prepared in winter during the "bou Sfeir" season, a special kind of sour oranges used in this recipe. And it usually done with "meat full" kibbeh . this is my own vegan lent friendly version of this traditional dish. very satisfying vegan dish that will make feel full till dinner
Ingredients
For the kibbeh dough:
500

g

pumpkin puree

see notes

500

g

burghul

see notes

2

cups

whole wheat flour

see notes

1

medium onion

grated (see notes)

2

tsp

salt

½

tsp

black pepper

½

tbsp.

dry mint

1

tbsp.

paprika

½

tsp.

hot chili pepper

¼

tsp

ground cinnamon
For the kibbeh stuffing:
250

g

spinach

roughly chopped, washed and drained

250

g

kale

washed and drained

4-5

medium onions

cut into wedges

¼

cup

pine nut

1

tsp

salt

1

tsp

sweet pepper

1

tbsp

paprika

2

tbsp

sumac

½

tbsp

lemon juice

½

tbsp

pomegranate molasses

optional
For Citrus tahini sauce (salsa arnabiye):
5-6

medium onions

cut into cubes

½

cup

water

300

g

tahini

1

tbsp

grapeseed oil

250

g

oranges

250

g

mandarin

5

lime juice

5

lemon juice

2

tbsp

pomegranate molasses

1

tbsp

apple cider vinegar

2

cups

water

1

tsp

salt
Instructions
For the kibbeh dough:
Wash the burghul and soak before 30 minutes.

in a deep mixing bowl: add grated onion, pumpkin and all the seasoning and spices (salt, pepper, mint, paprika, chili and cinnamon) and mix well until you have a smooth texture.

Knead the burghul by hands in the water then grab by your hand pressing tightly the water out and add them to the pumpkin mixture in the deep bowl.

Knead everything together very well with your hand until you get a homogeneous paste. Before adding any flour knead the kibbeh dough well together to give time for the burghul to incorporate and bind everything together. If after 10 minutes approx. of kneading the dough , try forming a ball to see if it holds up together , if it is still very sticky and wet dough and cannot hold together so you can work with, start adding the flour ¼ cup after 14/cup don't add to much at once, add the first ¼ cup and work it out with your hand to mix well, keep doing that until you have a homogeneous wet dough but not to sticky , it won't be like a normal dough it will be a wet sticky dough. After you mix everything, divide the dough into equal balls (25 balls approx.) lay on a tray and let it chill in the fridge for one hour.
For the kibbeh stuffing:
To make the stuffing, heat the oil in a deep saucepan and sauté the onion until golden brown and soft. Add the pine nut and sauté until they start to toast and turn golden brown.

Add the spinach and kale and sauté for extra few minutes until the greens are wilted.

Add the salt, pepper and paprika and mix well.

Turn off the heat add the sumac, pomegranate molasses and lemon juice and mix well. Set aside.

Remove the kibbeh from the fridge. Moisten your hands with some cold water, hold each ball resting in your palm, and use your other hand to perforate it, turning the ball in your palm as you press the insides until you make a hole on one end of the oval ball. Spoon 1 tbsp. of filling inside and pinch the end to seal back the kibbeh ball, dap your fingers in water if you needed so you can gently close the opening and smooth the oval shaped kibbeh ball. (see the video below the recipe to help you understand more how to stuff the kibbeh).

I baked my kibbeh in the air fryer for 15 min on high heat flipping halfway. But you can have the same results with oven baked:

preheat oven on 200 C ◦

place the kibbeh on a lined baking sheet and bake for 25 minutes, turning halfway through, until golden brown.
For the Citrus tahini sauce (salsa arnabiye):
heat oil on medium-high heat in a deep pan, add the onions and cook until it is soft and transparent, add ½ cup of the water and cover the onion and let it simmer on low heat for 20 minutes.

Blend with a hand blender or glass blender so you have a soup constancy. Set the pan with onion soup aside.

Mix the juice of all oranges and lemons and strain well and set aside.

In a deep bowl or in food processor, mix the water and tahini until you have a smooth mixture.

Add the citrus juice slowly while keep on mixing by a whisker if in a bowl or while the food processor is on drizzle the juice.

Add the vinegar, pomegranate molasses and salt and mix all well together.

Add the tahini mixture to the onion soup and cook on low heat for 20 minutes, stirring occasionally, every 3-4 minutes or so until the tahini oil start to show on the top.

Add the kibbeh and let it cook with tahini for 5 minutes.

Serve with some Lebanese vermicelli rise aside and garnish with pine nuts for a full experience (see notes)

But you can still enjoy it with steamed plain rice also!

Enjoy!
Recipe Notes
For the pumpkin puree: it is different from the pumpkin pie filling, it is just steamed or boiled pumpkin. I usually always have some stocked in the freezer. just wash the pumpkin and cut into cubes, boil for 20 min or also you can steam, remove from water and let it drain and get cold. than you can use it immediately or store in the freezer for later. For the burghul: the burghul is just grounded wheat you can find it in any grocery store. For the onion: when I prepare a recipe with grated onion, I put it in the freezer before 30 minutes minimum of using so it would make grating the onion easier. Lebanese vermicelli rice: 2 cups basmati or long grain rice 4 cups of hot water 1 tbsp grapeseed oil 1 tsp salt ½ cup broken vermicelli Rinse the rice well and soak it on water for 15-20 minutes. In a medium non-stick cooking pot, heat the oil on medium-high heat and add the vermicelli stirring continuously to toast evenly until the vermicelli turn to a nice golden color. Add the rice and continue to stir so that the rice will be well-coated with the oil, season with salt. Add the water and bring it to boil. turn the heat to low cover and let it for 15 minutes. Turn off the heat and leave it covered for extra 10 minutes. Than uncover and fluff with a fork.