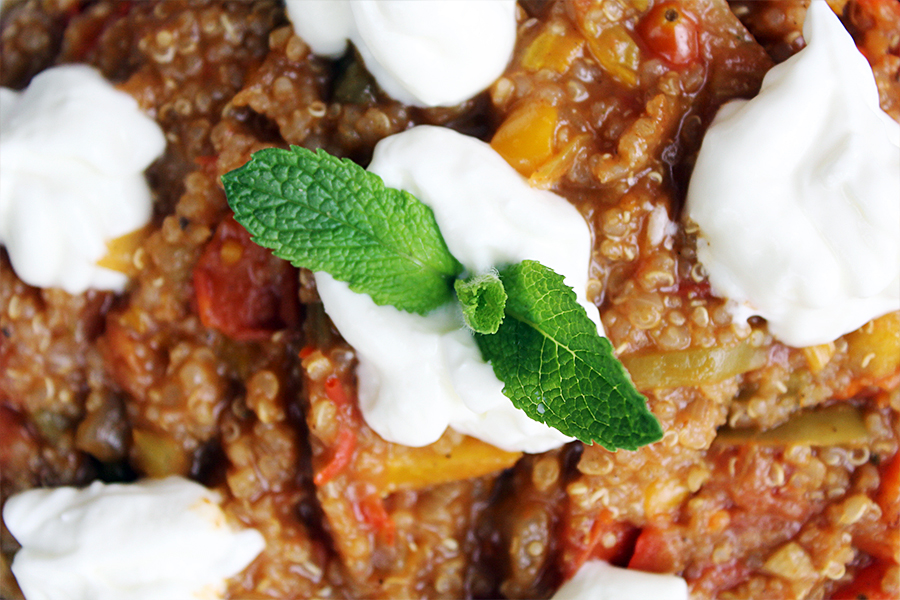 Burghul 3a banadoura is a very old and traditional Lebanese plate. It is a very famous vegan dish that every Lebanese housewife masters and all family members love it.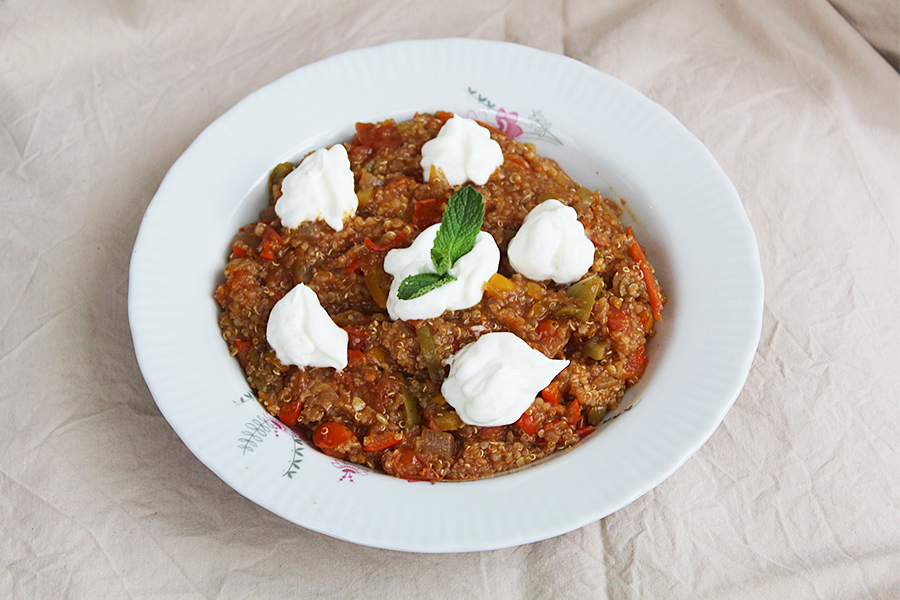 Now the problem with the original traditional version is that is very heavy and hard to digest and leaves you bloating all day.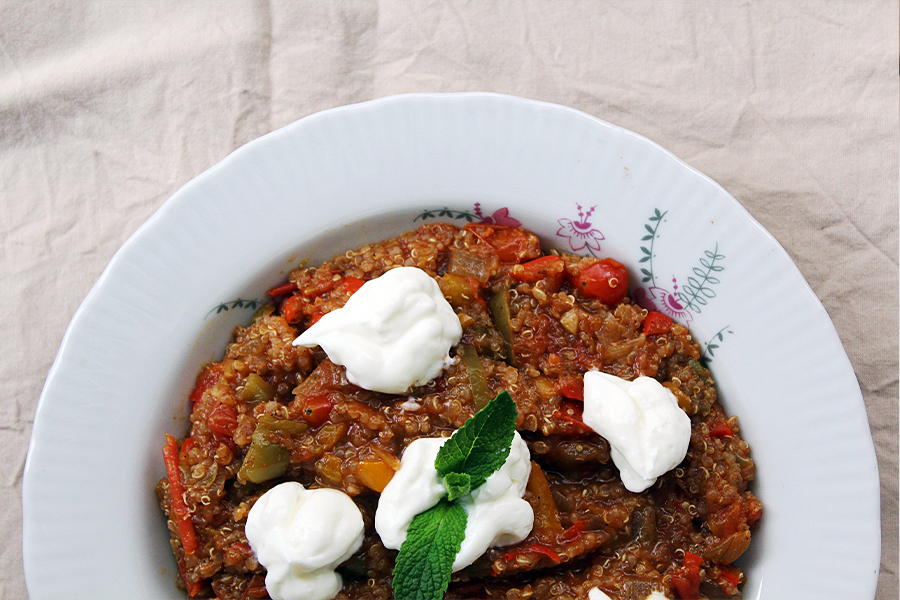 And I actually love this soft creamy burghul bowl a lot with some yogurt (laban) on the side, it is just perfect!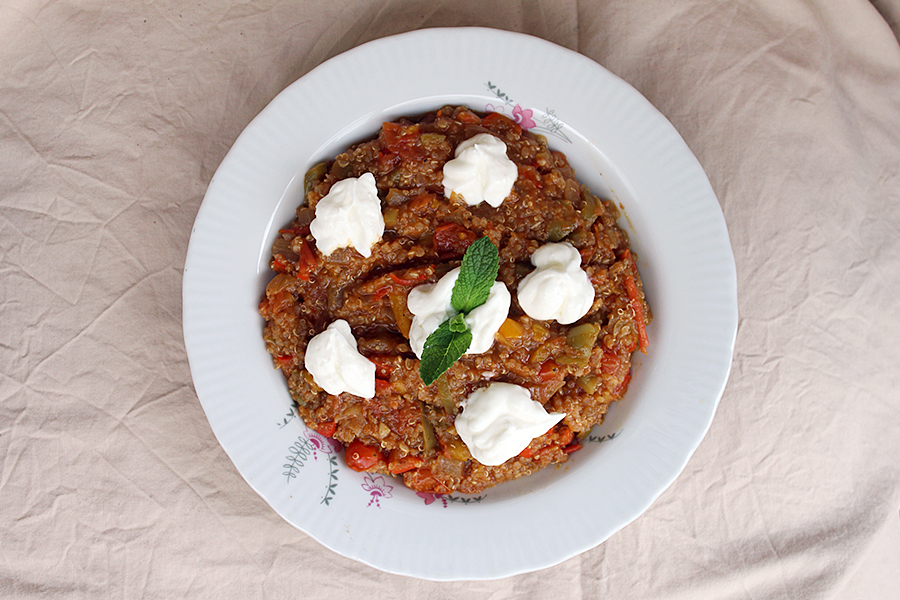 As I did with so many recipe before that require burghul and replace it with quinoa , like kale Tabouleh, and pumpkin kebbeh and many others…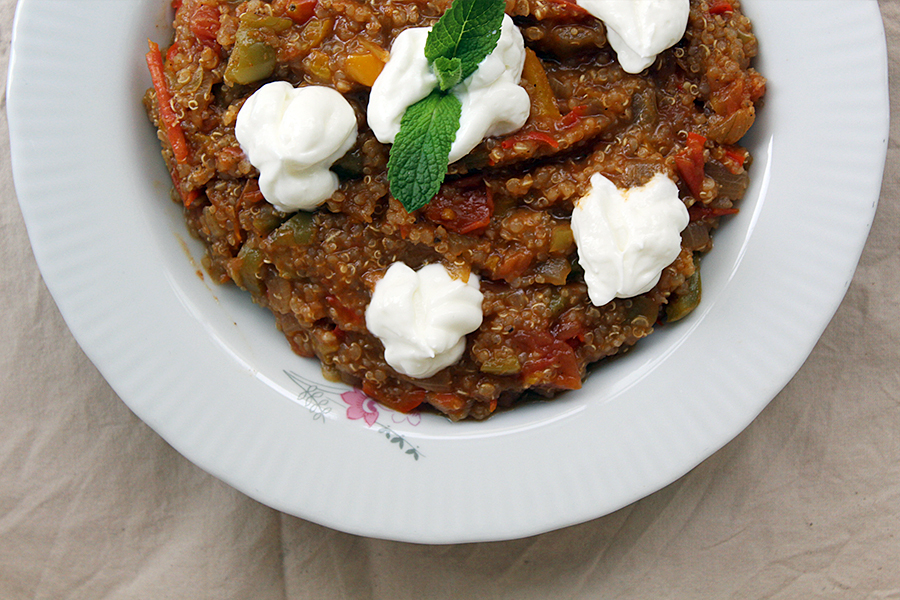 Well why not with burghul 3a banadoura plate?
Lighter, healthier, much Easier to digest , more fibers and even tastier than the original recipe, with no coloring or additive at all just pure clean vegetables and some quinoa.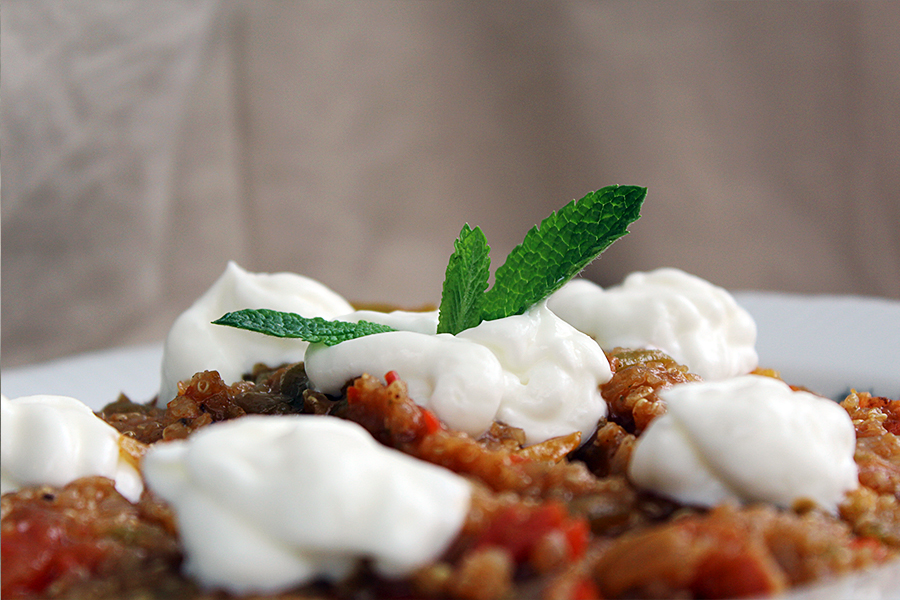 Very easy and fast recipe , and to have a balanced meal have it with some yogurt for a vegetarian version, you will get hooked from the first spoon!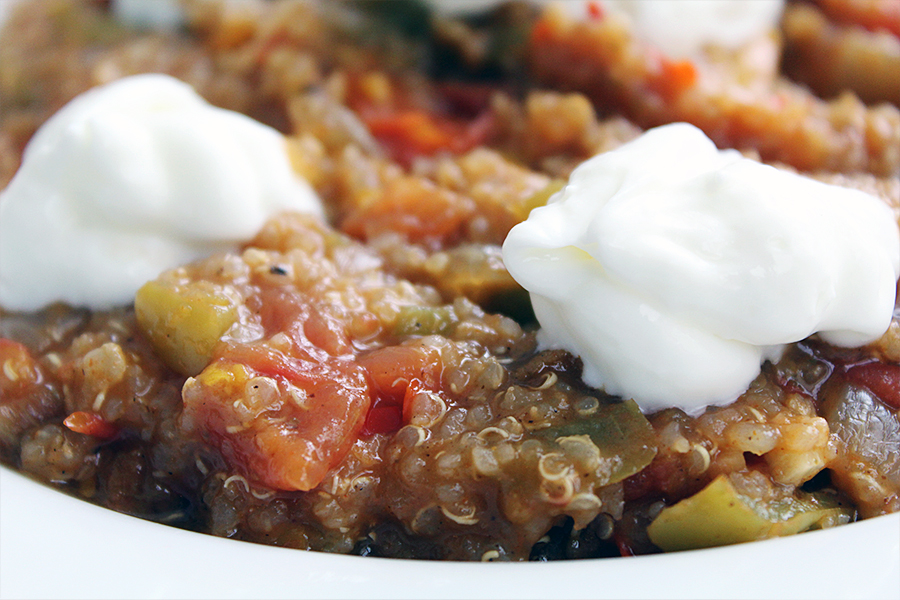 Few small modification in your cooking is all what matters to a healthier version of yourself. Instead of buying a bag of burghul the next time you are in the grocery store grab a quinoa bag instead.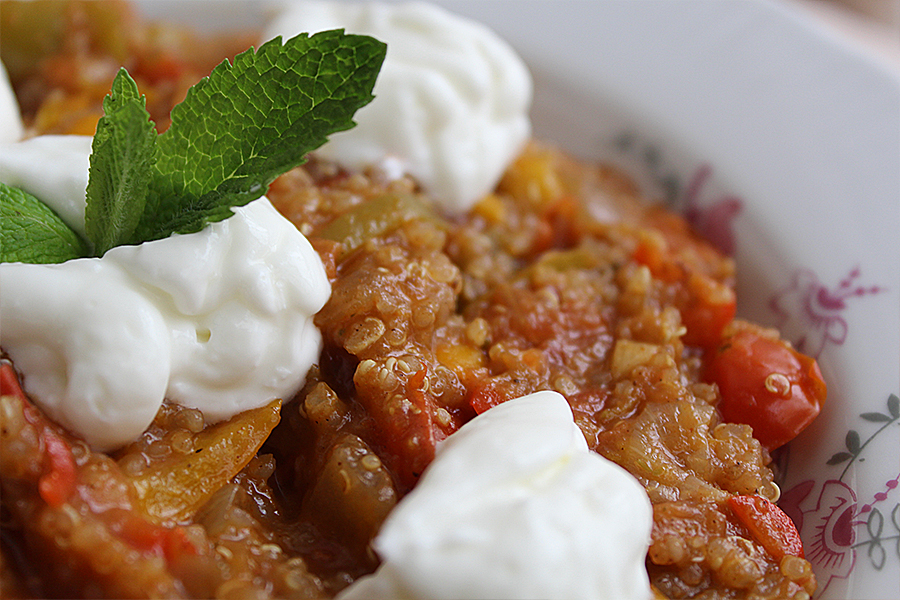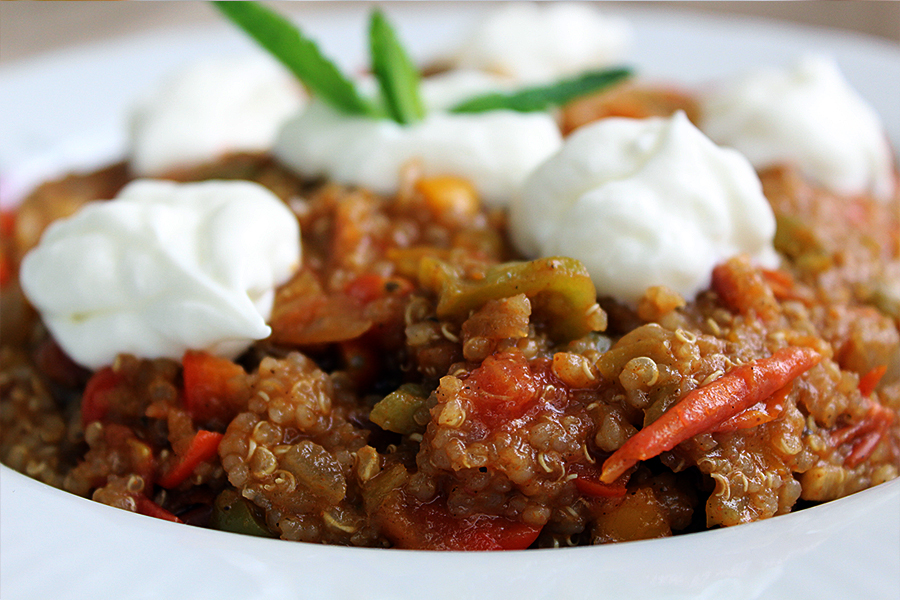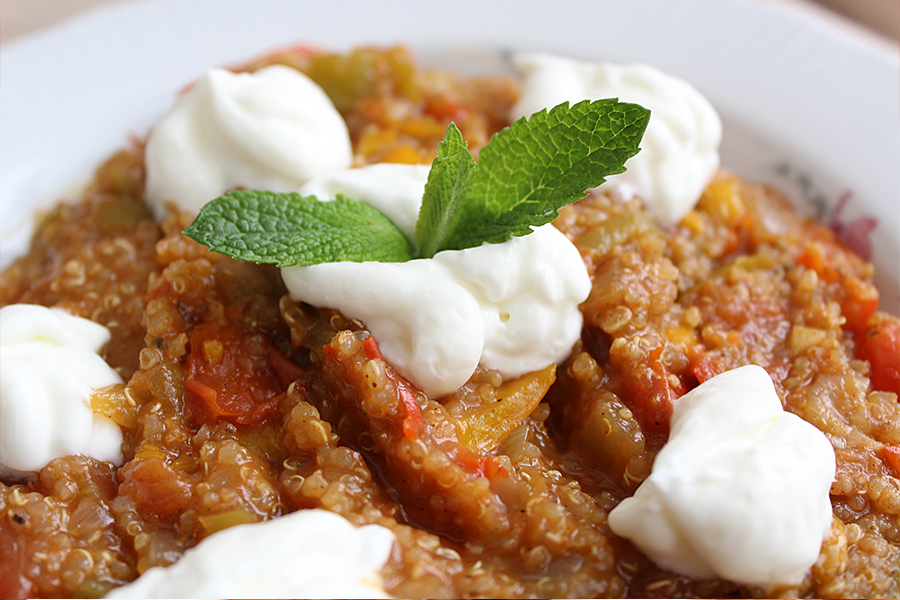 Happy meatless day everyone!
Lebanese quinoa tomato bowl:
Yield 1 serving bowl
Ingredients:
1 cup cooked quinoa
250 g cherry tomato, washed and cut in half
100 g green bell pepper, washed and sliced into thin pieces
50 g red bell pepper, washed and sliced into thin pieces
50 g yellow bell pepper, washed and sliced into thin sliced
1 medium onion, finely chopped
1 Tbsp. virgin olive oil
1 tsp. ground paprika
½ tsp. ground cinnamon
½ tsp. white pepper
1 tsp. salt
¼ tsp. black pepper
½ tsp. red chili flakes
½ cup water
Instructions:
heat skillet on medium heat and add olive oil
Add onion and cook through till it is transparent.
Add bell peppers and cook through for 5 minutes.
Add tomato and cook all through for couple of minutes till the tomato release their liquid
Add all the peppers and cooked quinoa
When the mixture start to boil, add water and mix well.
When it start to boil, reduce heat and let it simmer for 10 minutes, stirring occasionally.
Turn off heat and let it rest for 10 minutes before you serve.
Enjoy it with some yoghurt or just with some salads aside if you want to keep it vegan.
Nutritional information:
Serving Size: 1 serving • Calories: 430 • Fat: 15 g • Carbs: 66 g • Fiber: 14 g • Protein: 14 g