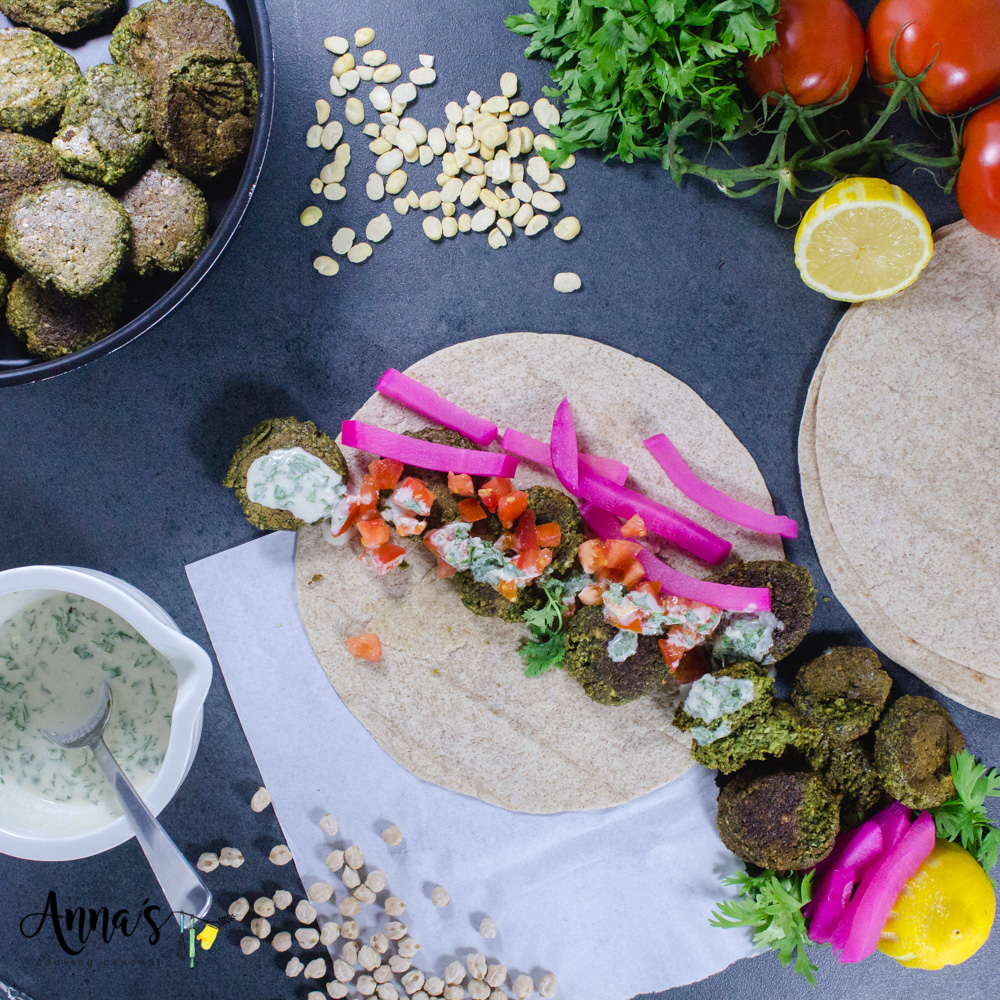 Falafel is one of my favorite dishes but I had avoided it for long time since it is deep fried.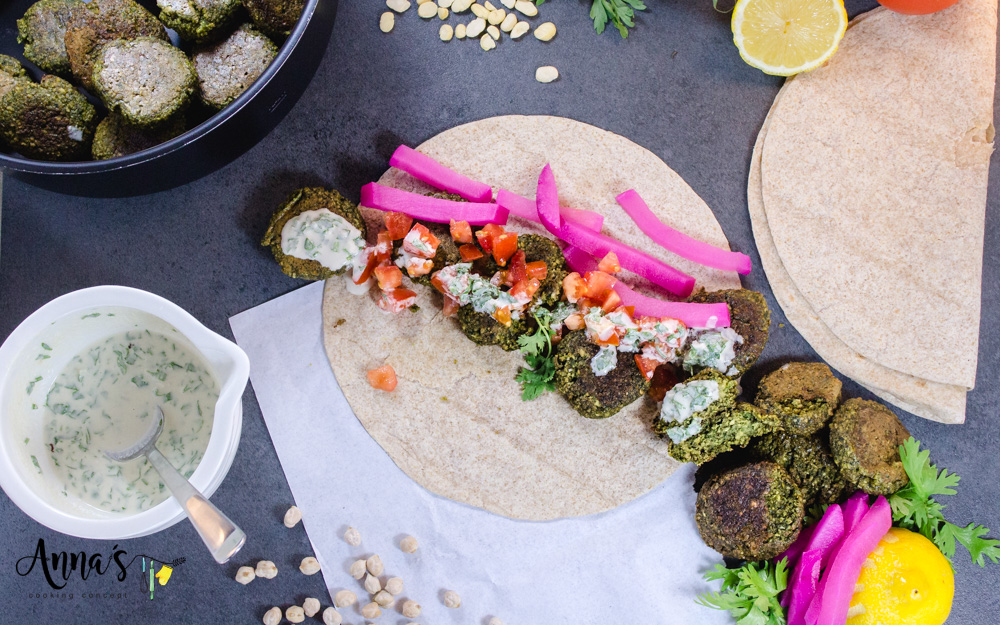 And deep fried food is so unhealthy, it leaves you feeling heavy all day so I wanted to create a falafel recipe that is fry free and tastes even better than the original one.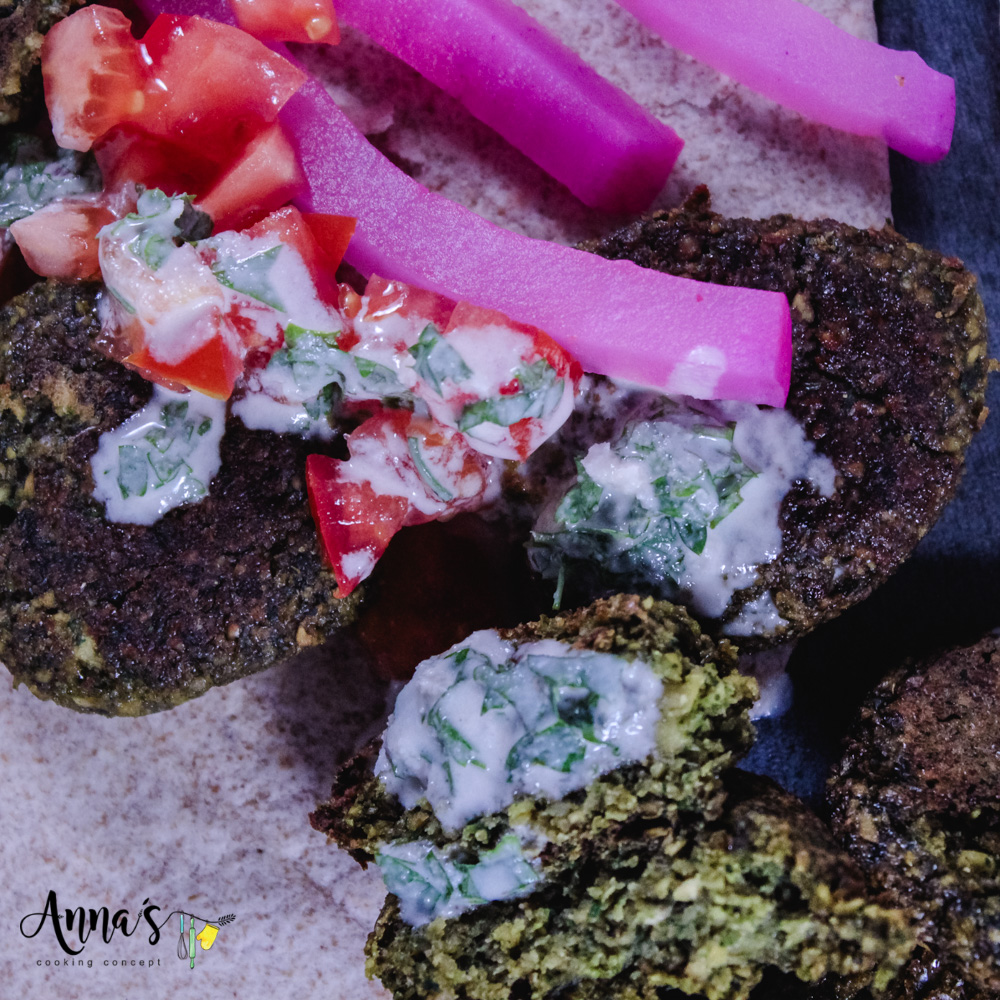 I tried one version before with my falafel bowl and it was amazing which was baked in the oven version.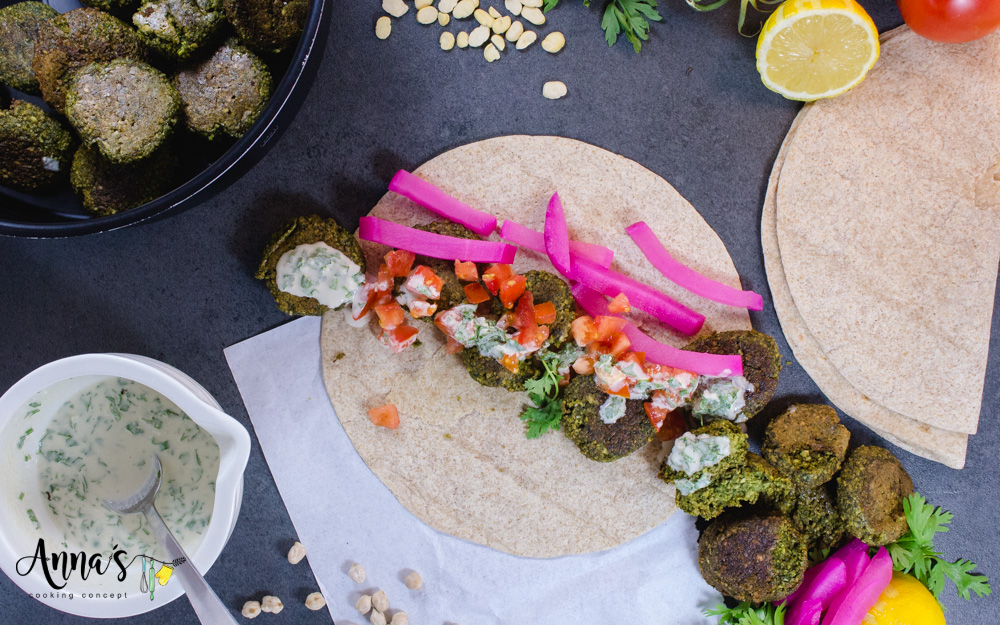 This one here is an air-fryer version that can totally work in the oven and I throw in it some original ingredients to add an amazing taste that adds deep flavors to the falafel. check it out down in the recipe.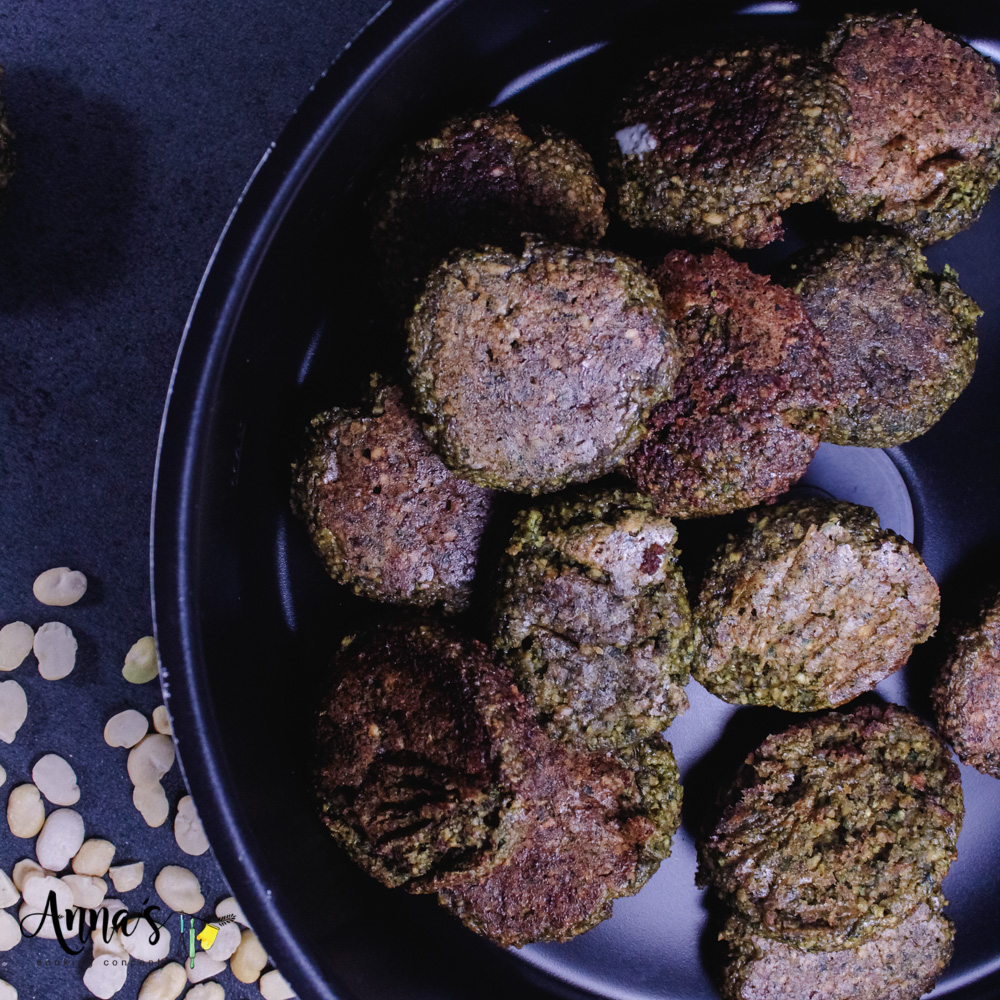 now usually the tradition recipe of falafel is a combination of chickpea or garbanzo beans with split fava beans and a combination of fresh herbs like coriander and parsley and some special spices.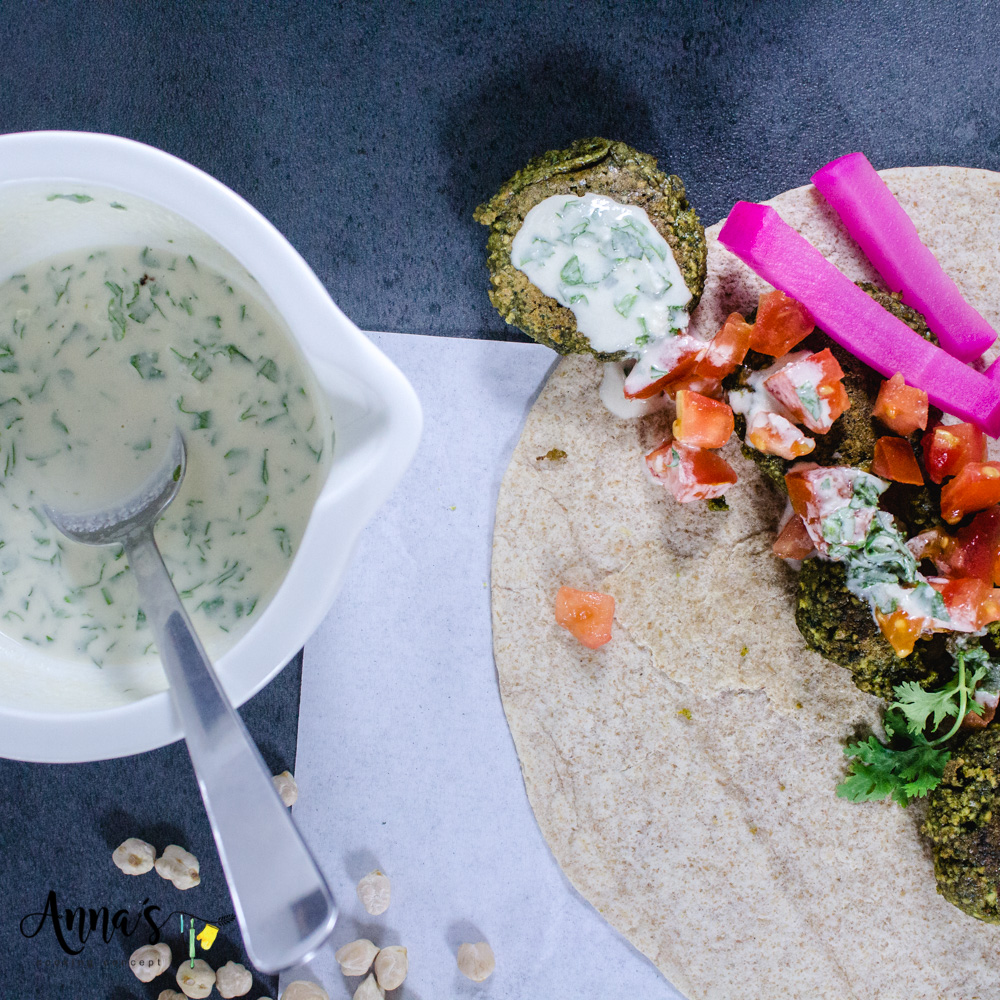 now i used the same ingredients with a little bit of extra spices and some annacookingconcept twist of cheese!
yes you heard it right white delicious feta cheese!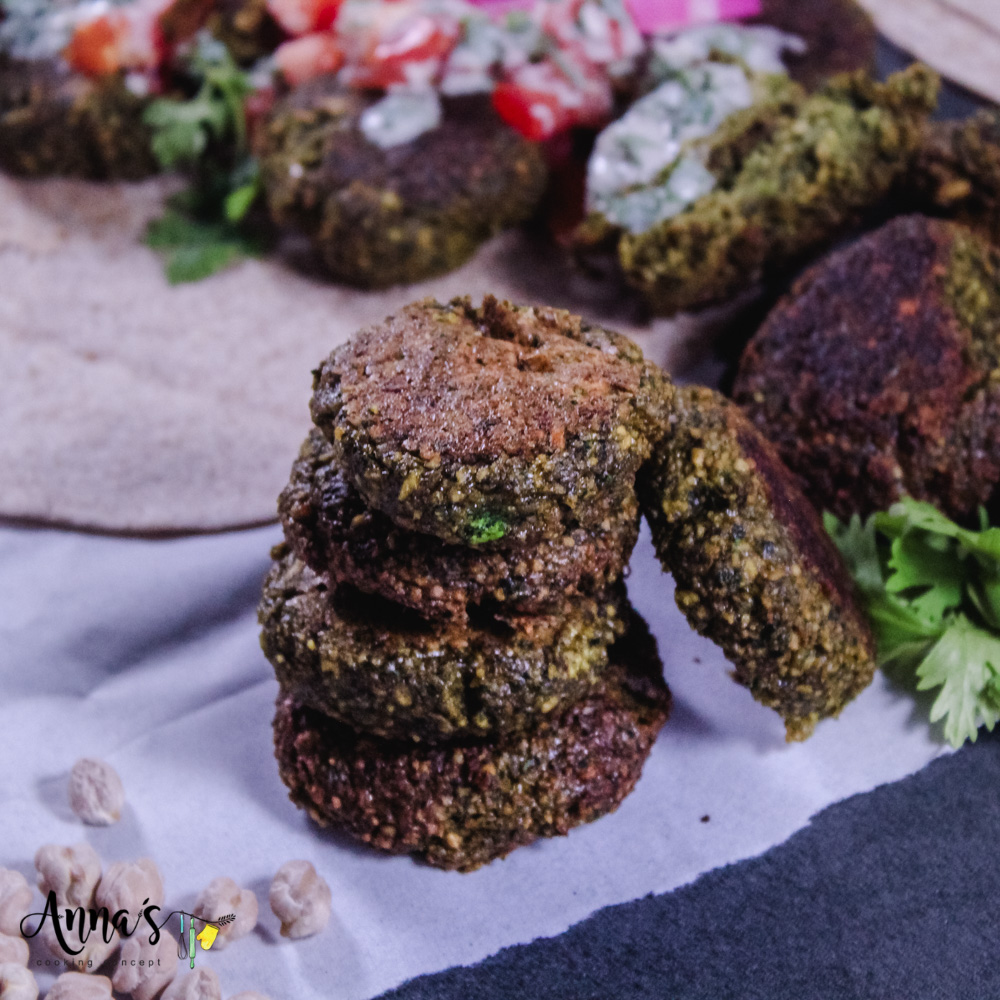 I served this one with tahini sauce, some chopped tomato, turnip pickles, chopped parsley and some tortilla bread so I can wrap it up firmly for my lunch box.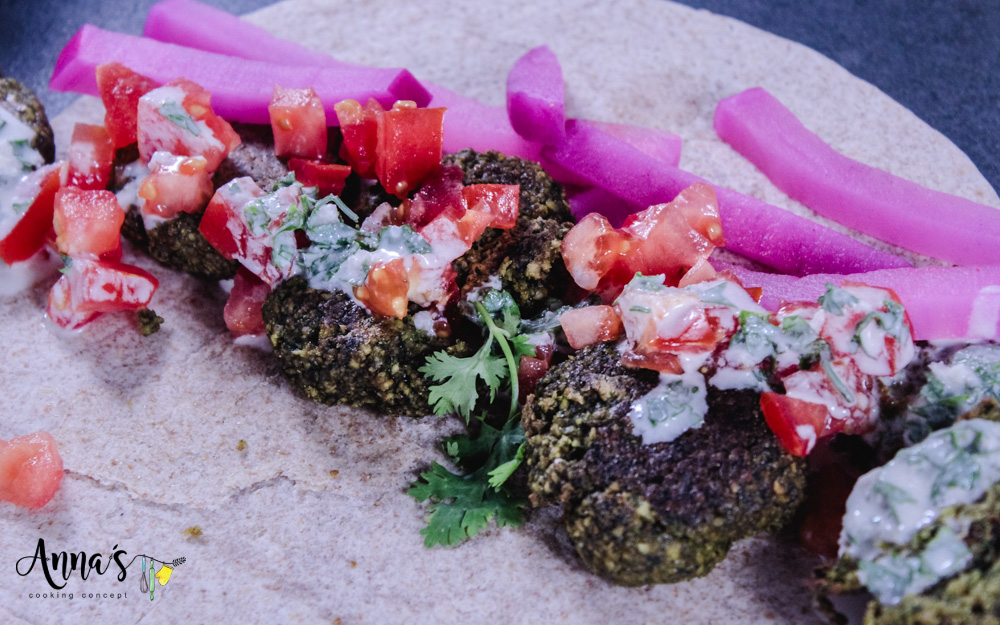 My husband loved it! He didn't believe it is not fried with the crispy hold color that those small bites had.
And it was very light and easy on our stomachs.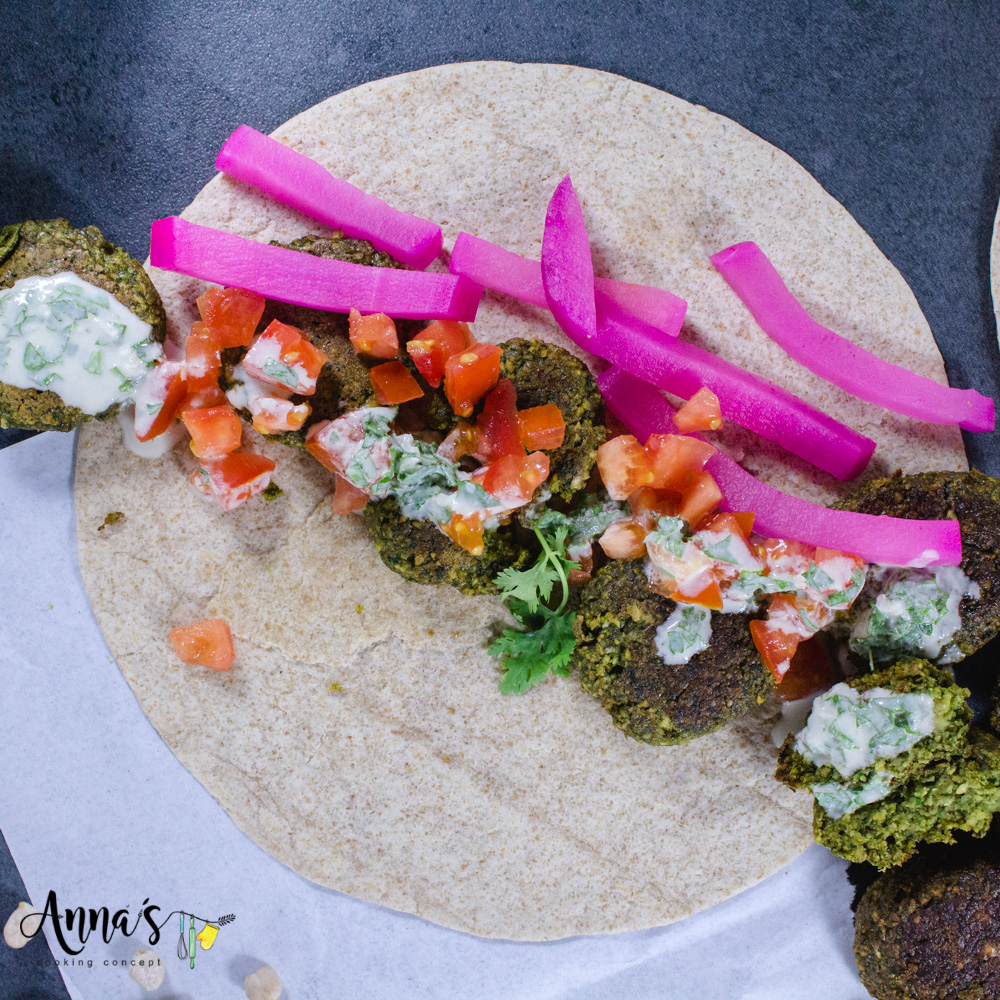 crispy healthy falafel with a twist
a great easy falafel recipe that is oil free and with a shocking twist! you must to try it out!
Cuisine:
authentic, lebanese, Mediterranean
Ingredients
250

g

chickpeas

soaked overnight

250

g

split fava beans *

soaked overnight

1

small

batch of fresh coriander

washed

1

small

batch of fresh parsley

washed

2

big

onions, peeled and cut into 4 quarters *

5

cloves

garlic

1/2

tbsp.

dry coriander

1/2

tsp

black pepper

1/2

tbsp

sweet paprika pepper

1/2

tbsp

cumin *

1/2

tsp

seven spices*

1

tsp

salt*

1

lemon zest

1/2

cup

feta cheese

1 1/2

cup

spinach *

steamed or boiled and drained very well.

1/2

tbsp

bicarbonate of soda
Instructions
drain and rinse well all your ingredients before you start.

in a food processor add all the ingredients except the bicarbonate of soda .

and pulse until you a smooth texture that have a wet sand similar texture but it hold together like a thick paste. *

pour the mixture into a bowl cover and let it sit in the refrigerator between 30 minutes minimum up to 2 hours.*
for the baking:
whenever you want to cook the falafel, remove from fridge and add the bicarbonate and mix it.

gently form it into balls and cook in the air-fryer on medium heat level 2 or 3 for 12 minutes flipping in the middle.

you can use your hands , I personally do or a falafel scoop to shape the falalel , each piece should be around 2 tbsp.

Finish all the falafel mixture ans set aside.
for serving:
mix some tahini sauce: 2 Tbsp. tahini, 2 Tbsp. lemon juice , 1 clove garlic minced 1 tbsp, parsley and salt to taste you can make it thick or light for your liking by adding some water .

chop some tomato cubes and some parsley and serve it in tortilla bread or Arabic bread with some homemade pinked pickled turnip or any veggies of your liking.
Recipe Notes
if you cannot find split fava beans you can replace with the same amount of chickpeas.
the onion you could use one instead of two if you don't like the strong flavor but it is really recommended
you can put less cumin if you don't like the strong flavor of cumin.
don't add up the salt because you will add the feta that is already salty
drain the spinach well before adding to the mixture and you can try kale instead of the spinach! tried it and was really good.
don't over process the mixture or you will end up with hummus instead of falafel. if your processor is small divide the mixture into two parts and pulse each part aside and then mix it all together with a spatula in a big deep bowl.
This recipe can be easily frozen for later , just after mixing everything and BEFORE adding the bicarbonate , store it in a zip lock bag and put it in the freezer whenever you want to use remove the night before and put it down in the fridge or on the kitchen counter top before few hours.
the must important thing is not to add the bicarbonate of soda in the mixture if you don't need to bake in the next 30 minutes maximum.
you can bake this recipe like the previous falafel recipe I shared in the oven.
for a vegan version of this recipe just omit the feta and you are good to go!