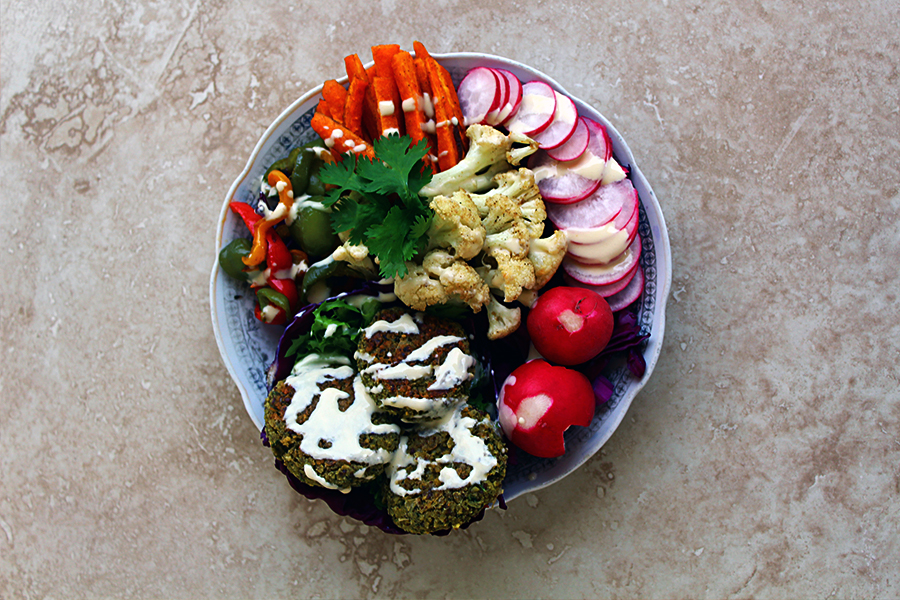 Lent season is not complete without the famous falafel!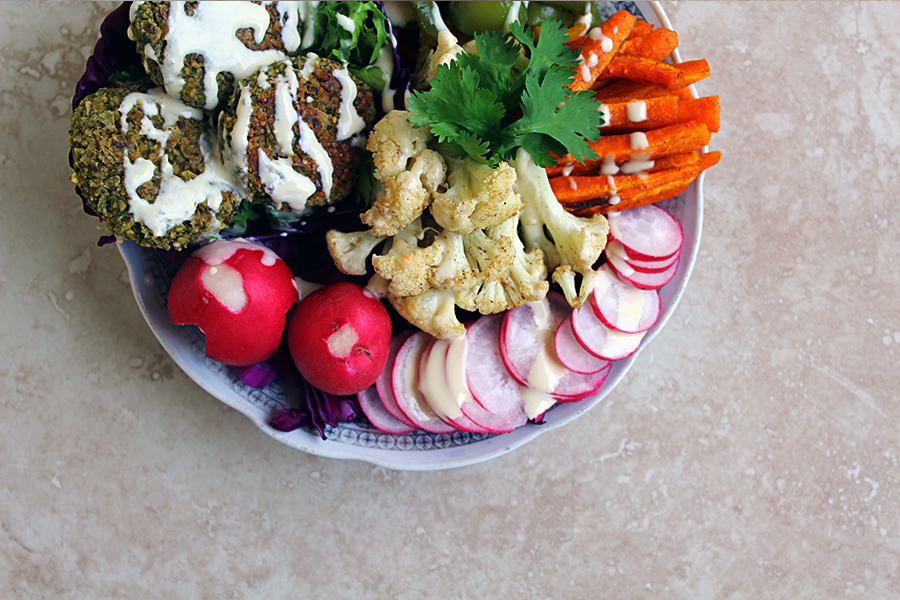 Falafel is one of our oldest traditional local foods that hit its tops sales in the lent season and on meatless Fridays, because it is vegan and one of the cheapest foods you can buy!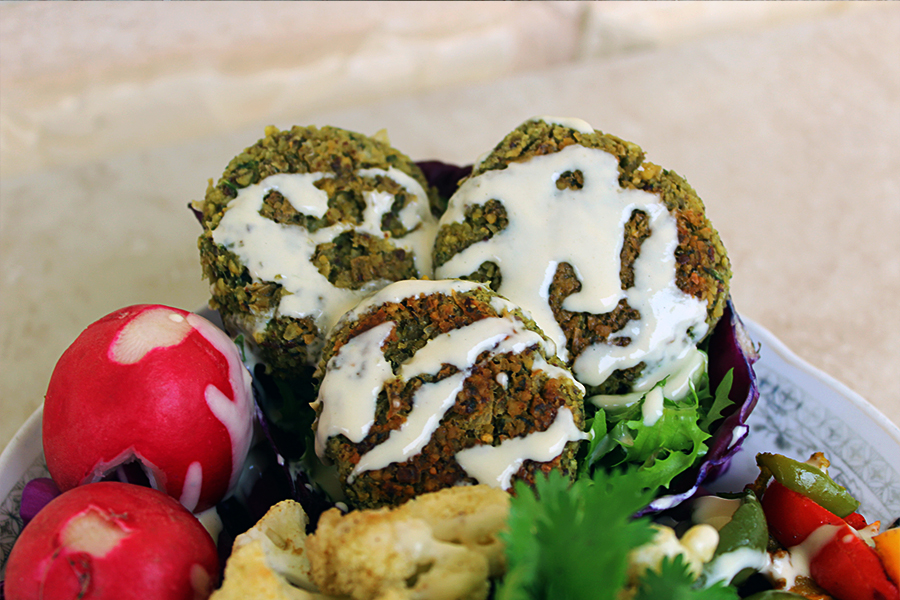 It is a deep fried ball made from ground chickpeas commonly served in pita bread topped with pickled vegetables and tahini sauce. It one of the most famous Middle Eastern street food.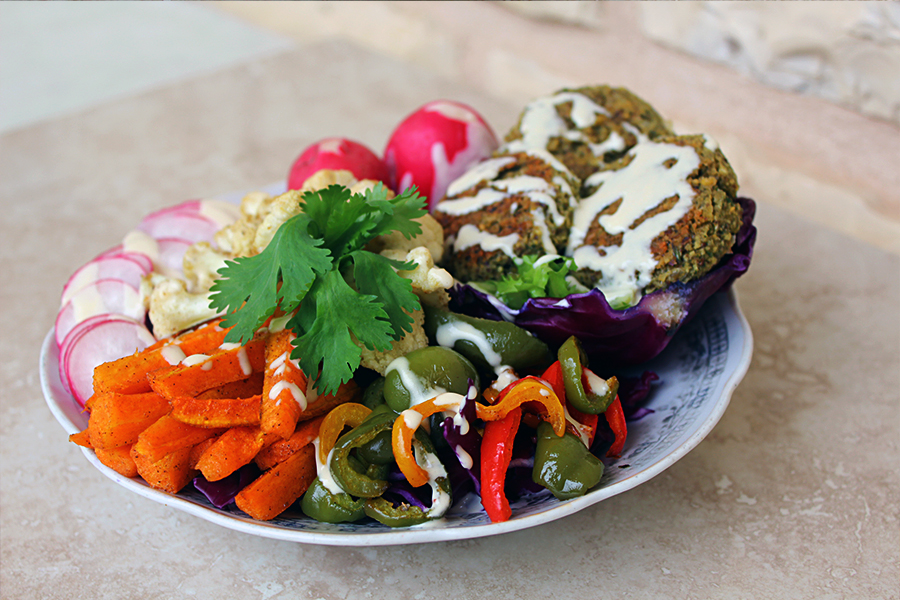 It is very delicious and full of flavors but the deep frying process with the chickpea base for the dough,
leave you all heavy and bloating after eating it!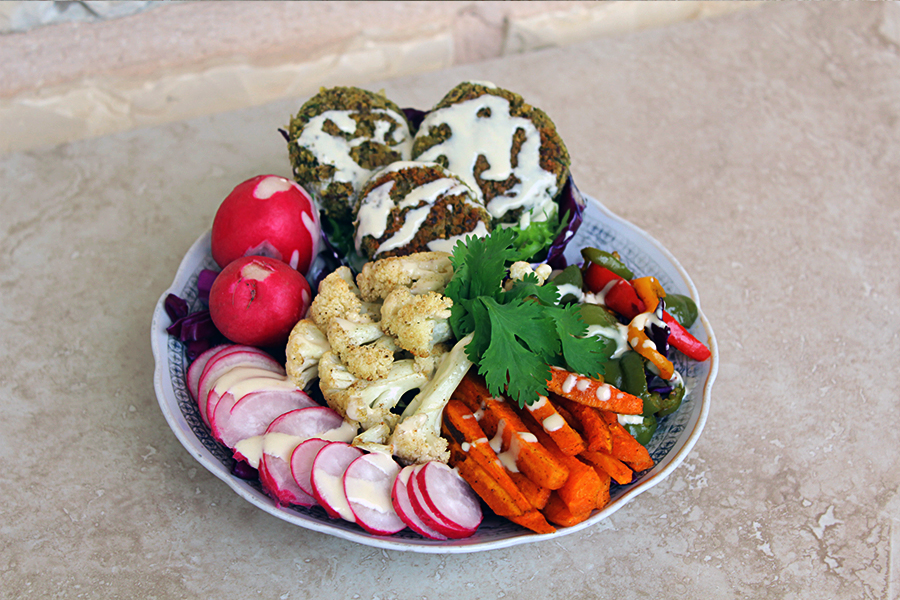 Because it is very heavy to digest, I always avoid eating it!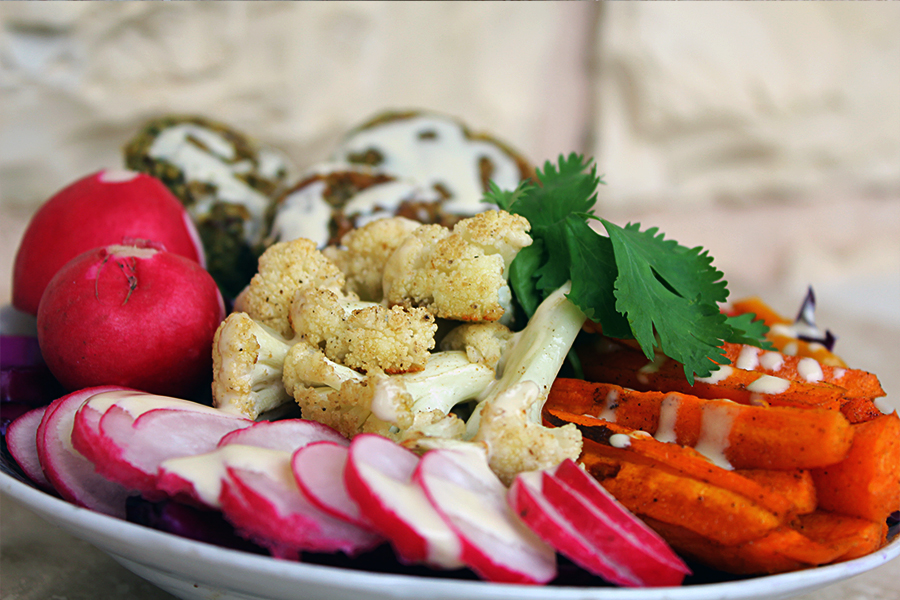 But it is not the case anymore; I have done my own version of falafel that is very filling and very soft on my stomach!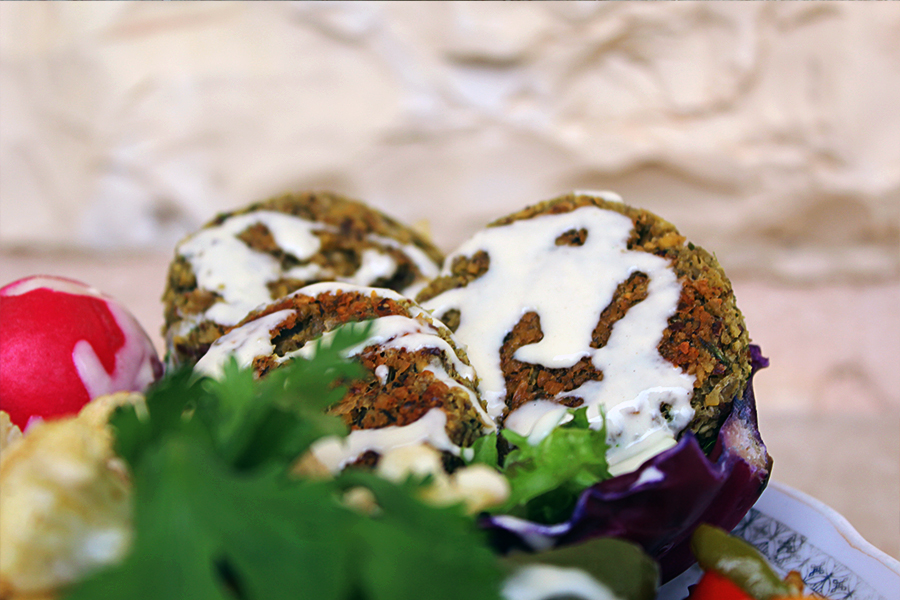 First of all it is not fried! By not frying those balls you solve almost all the issues with the falafel.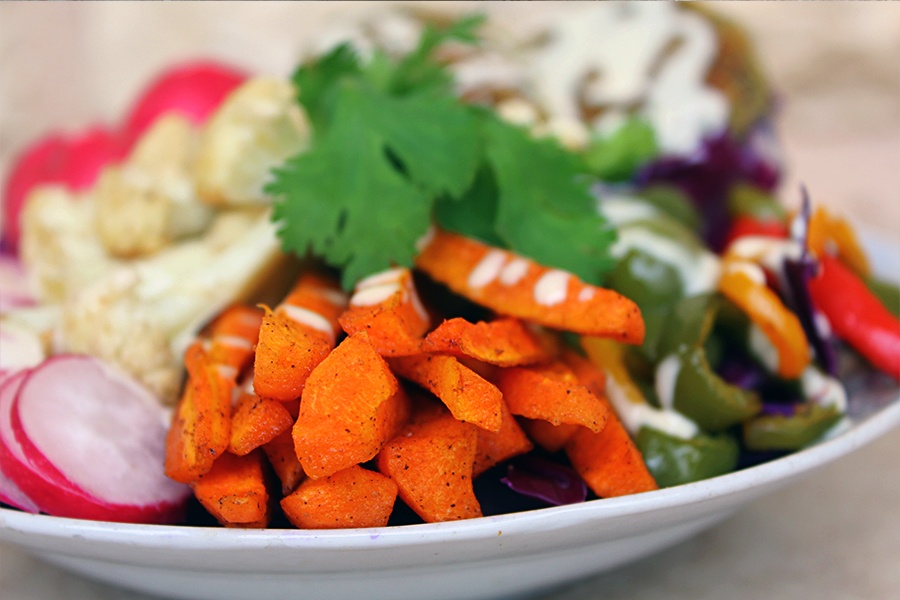 And I serve it with a bowl of vegetables without the pitta bread to wrap it to make it lighter and healthy. And of course like always I added some superfood in it like flaxseed that helps binding the dough and adds some extra nutrition values to it!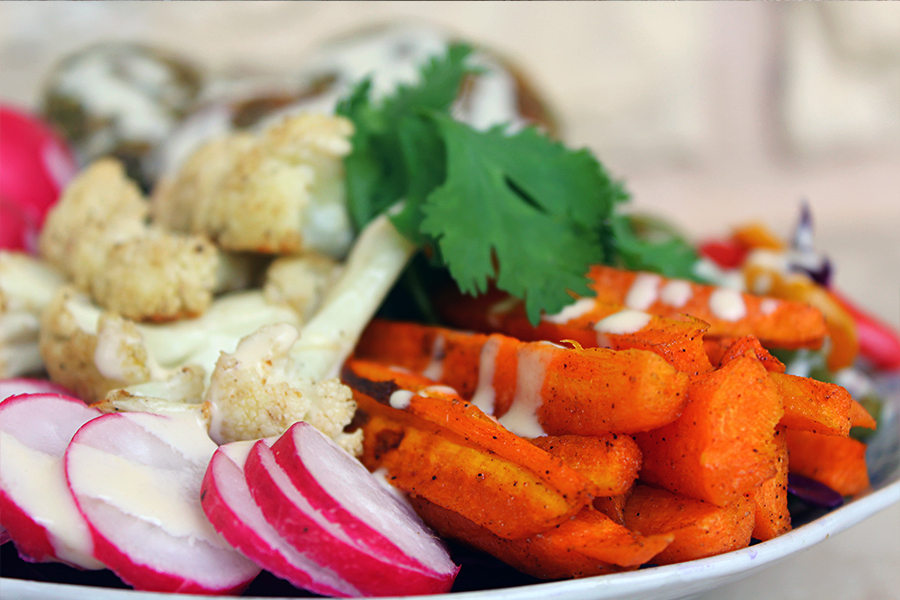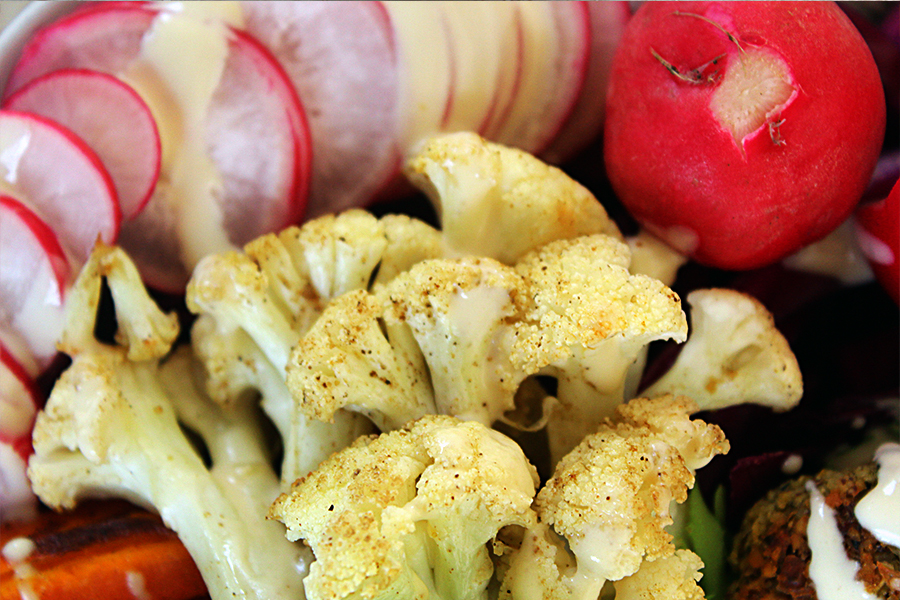 The process is very easy like any normal falafel recipe but with few little modifications.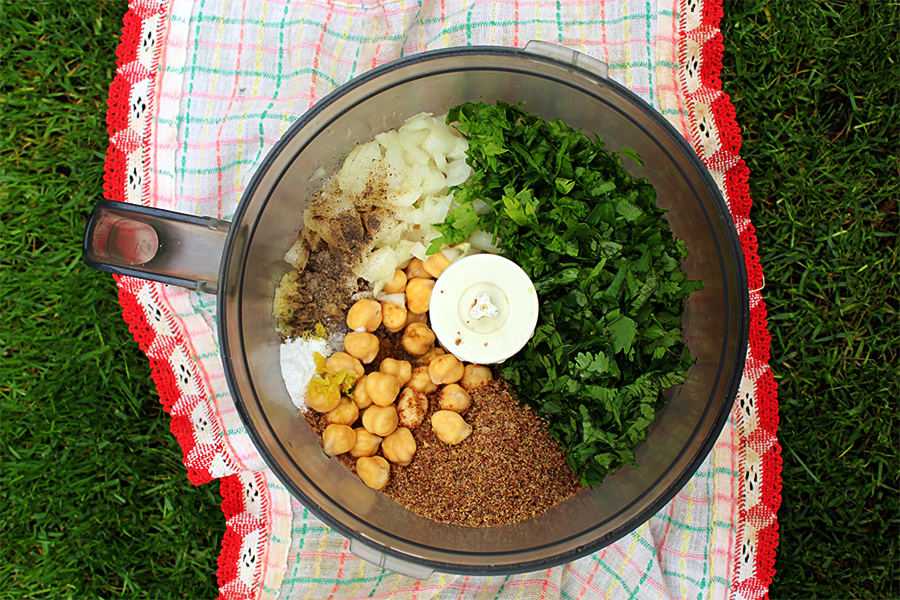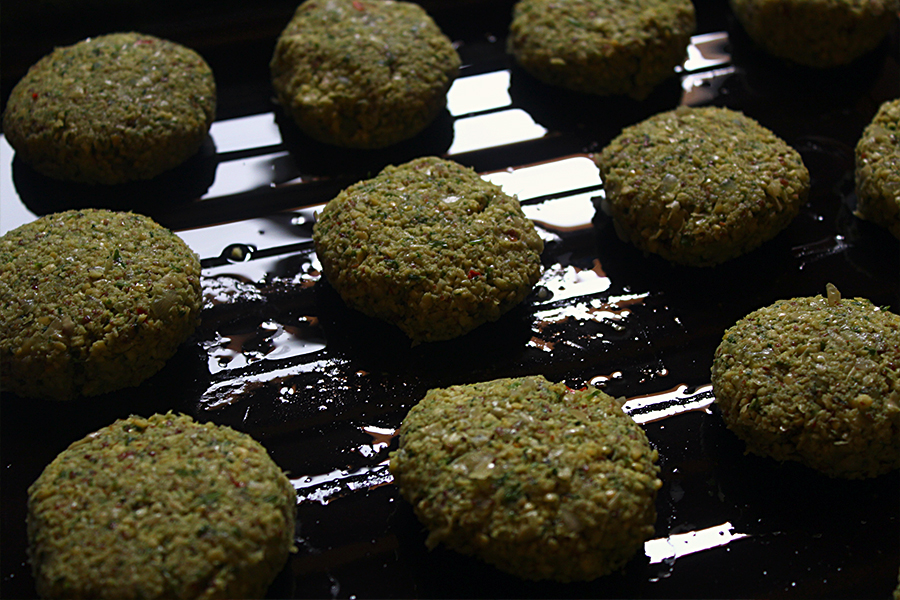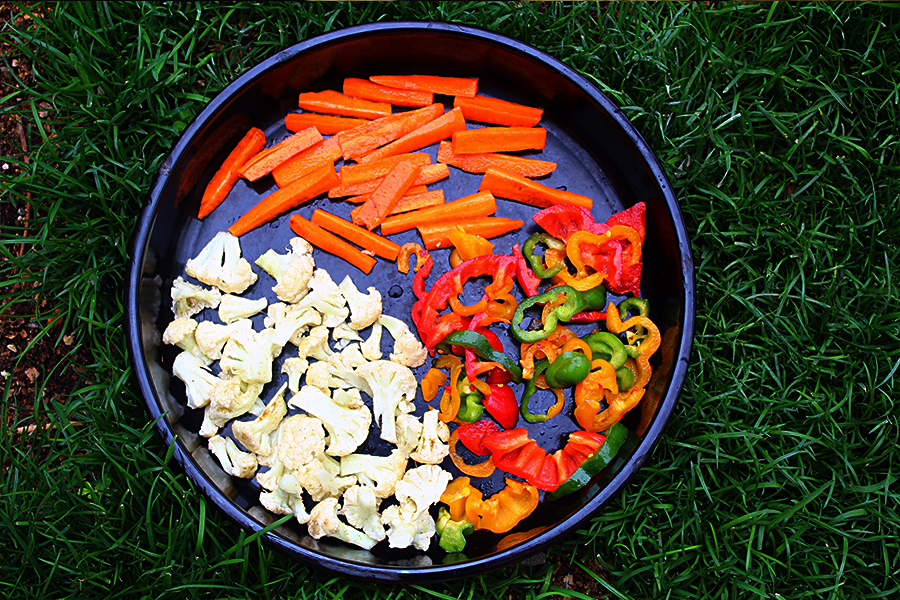 The falafel is becoming famous among the vegan and vegetarian society and it is the base for the veggie burger idea that basically uses a big ball of falafel instead of the ham in the burgers.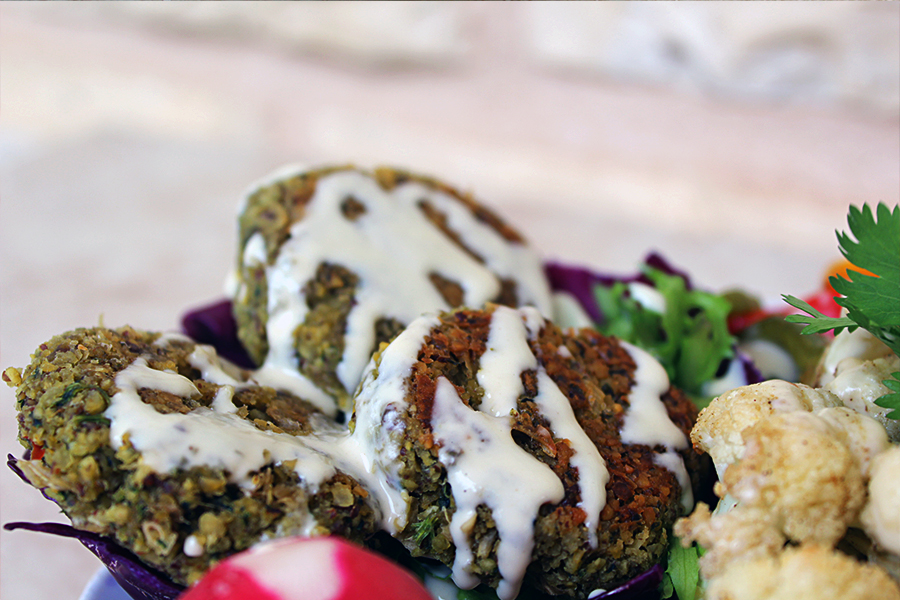 Because the falafel dough is based on chickpeas, it is high in protein and fiber. It is rich in calcium, iron, magnesium, vitamin C, vitamin B and many other key nutrients. Chickpeas are low in fat and cholesterol-free and by baking it instead of frying it you reserved those nutrition values and cut the high fat content coming from frying it!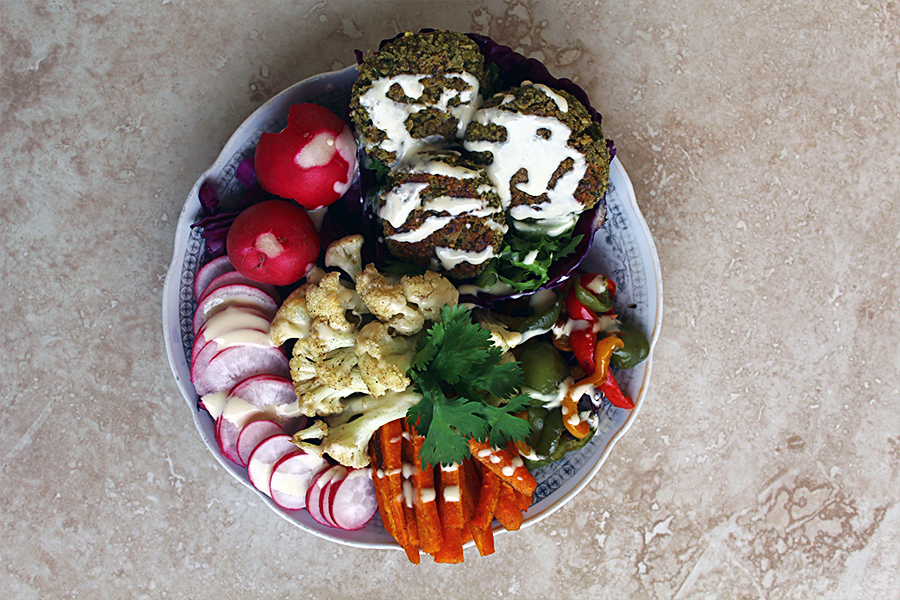 Without further a due I introduce to you the healthy vegan falafel bowl recipe that you will get hooked on it from the first bite!
Enjoy frying-free cooking!
I am going to divide the recipe into two parts the falafel bowls and the veggie base bowl, to simplify stuff for you guys! Cooking healthy is not hard or any different from the normal cooking; it is just those small modifications that make a big difference!
Healthy baked fala-fill bowl:
Fala-fillrecipe:
(Yield about 15 pieces)
Ingredients:
1 cup dry/ uncooked chickpeas  *
1 medium white onion, finely diced
1 cup fresh parsley
½ cup fresh coriander.*
3 cloves garlic, roughly chopped
2 tsp. fresh lemon juice
1 tsp. salt
½ ground black pepper
2 tsp. cumin
2 tsp. baking powder
4 Tbsp. ground flaxseed
½ Tbsp. olive oil (for greasing your pan)
Instructions:
Place the chickpeas in a large bowl and cover them with 10 cm of water. Set them aside to soak overnight for a minimum of 12 hours and up to 24 hours. (You will know they are ready to use when they are easily broken apart with your fingers.)
The next day: preheat oven on 180 ˚C
Drain the chickpea and add them to the food processor along with all the other ingredients except for oil.
Process the mixture just until it holds together when squeezed into balls.
Grease a baking sheet with half of the olive oil.
Scoop 2 Tbsp. of the falafel mixture and form a ball then flatten it slightly so it has the shape of small patty.
Arrange the falafel on the greased baking sheet and brush the tops of them with remaining olive oil.
Bake the falafel for 15 minutes, flip them once then bake for additional 10 minutes until they are golden brown.
Notes:
* I don't like to use pre-canned chickpeas because it is not fresh and it may contain chemical additive to extend their expiry date. And you can use home cooked chickpeas but the mixture will be too loose and the falafel may not hold their shape. It is the same for canned chickpeas because it is basically cooked chickpeas.
* you can go up to 1 cup ,depending on how much you love the coriander taste, personally I used 1 cup and it was very good.
*falafel can freeze very well and just heat in oven when you want to use them.
Bowl base recipe:
(Yield about 2 bowl base)
Ingredients:
2 carrots
1 cup cauliflower small florets
½ olive oil
2 tsp. cumin
Salt and pepper to taste
2 cups green leaves (lettuce,spinach,kale, … )
1 cups chopped red cabbage
1 small green pepper, 1 red and one yellow, chopped into rings.
½ cup radish, cut into thin slices
2 Tbsp. crushed pistachio
For the orange tahini dressing: mix in 2 Tbsp. tahini, 2Ttbsp. orange juice, 2 Tbsp. lemon juice and salt to taste
Instructions:
Start with roasting your veggies: preheat oven to 200 ˚C
In a bowl, mix olive oil, cumin salt and pepper
Peel carrots and cut into thin strips
Toss the florets, pepper rings and carrots into the bowl to combine.
Spread on a baking sheet and bake for 20-30 minutes, stir occasionally, but not too often.
For the bowl assembly: assemble lettuce, red cabbage, radish slices falafel, roasted carrots, pepper rings and cauliflower in the bowl.
Arrange 3-4 falafel pieces into the bowl
Top with pistachio.
Drizzle with tahini orange dressing.
And enjoy!
Nutritional information:
(Of a bowl with 4 pieces of falafel)
Serving: 1 bowl • Calories: 450 • Fat: 25 g • Carbs: 60 g • Fiber: 12 g • Protein: 15 g