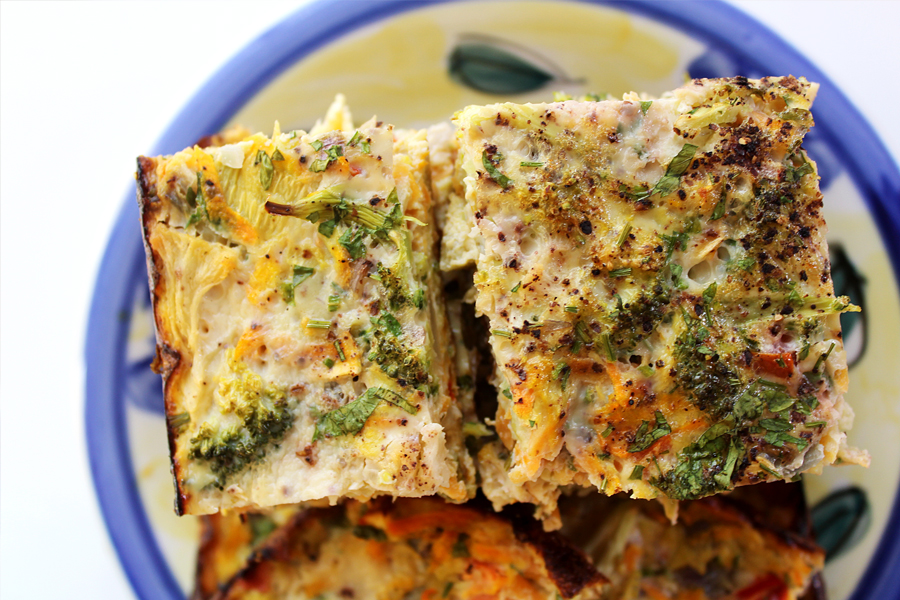 A couple of days ago we bought some "Magda" zucchini to make stuffed zucchini for lunch.
We can rarely find any Lebanese house that doesn't prepare this famous traditional dish at least twice a month. If you want a healthy version of this traditional dish check this link!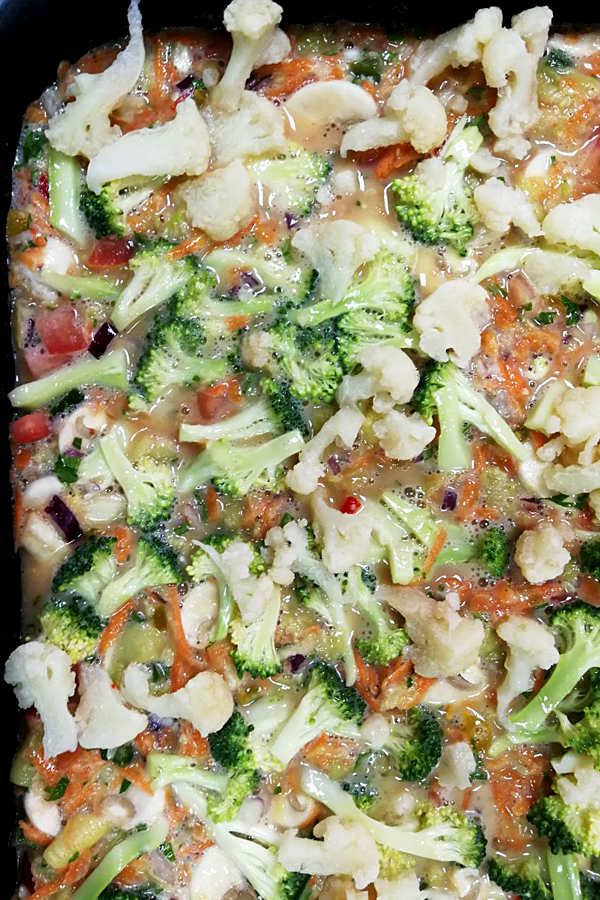 The "Magda" zucchini is the must use in our local traditional recipes.  And honestly, I tried many other zucchini types I found the "Magda" called coussa my favorite till now with it nutty-tasting flesh.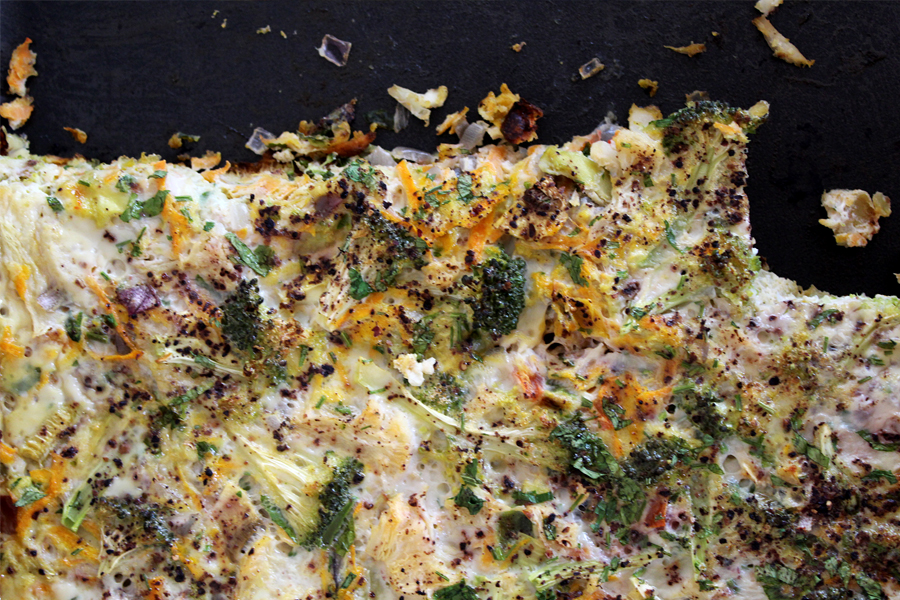 Now that what we are going to talk about today, the "nutty-tasting flesh" of the Magda zucchini. Usually, this flesh is discharged when preparing stuffed zucchini because it is replaced with the rice and meat stuffing.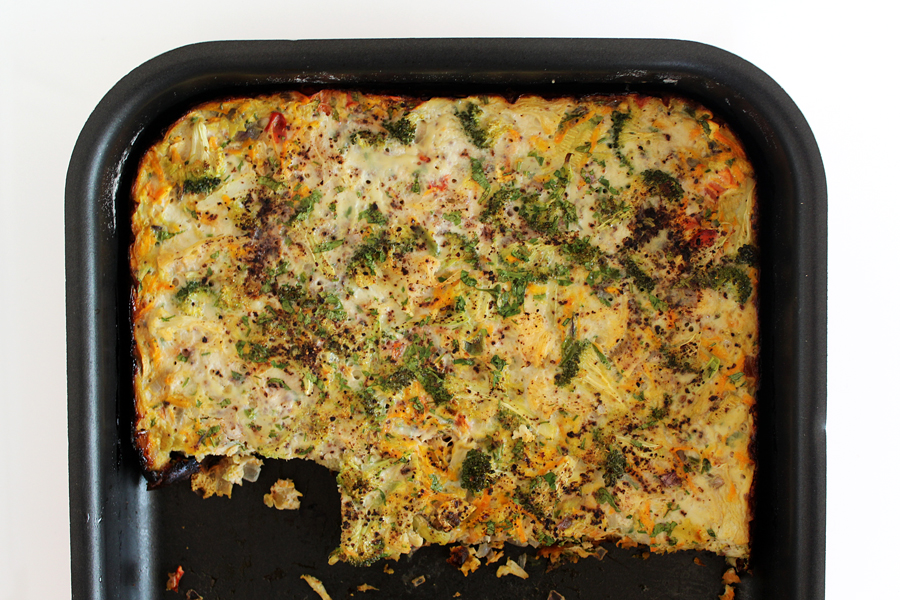 But it is a shame throwing the most nutritious soft part of zucchini, so I kept them in the fridge so I can find a way to use it.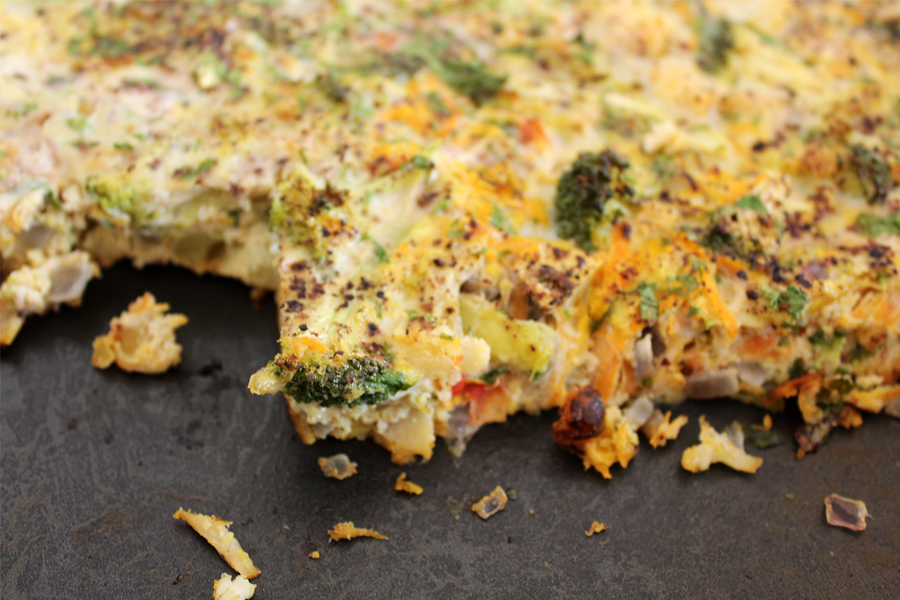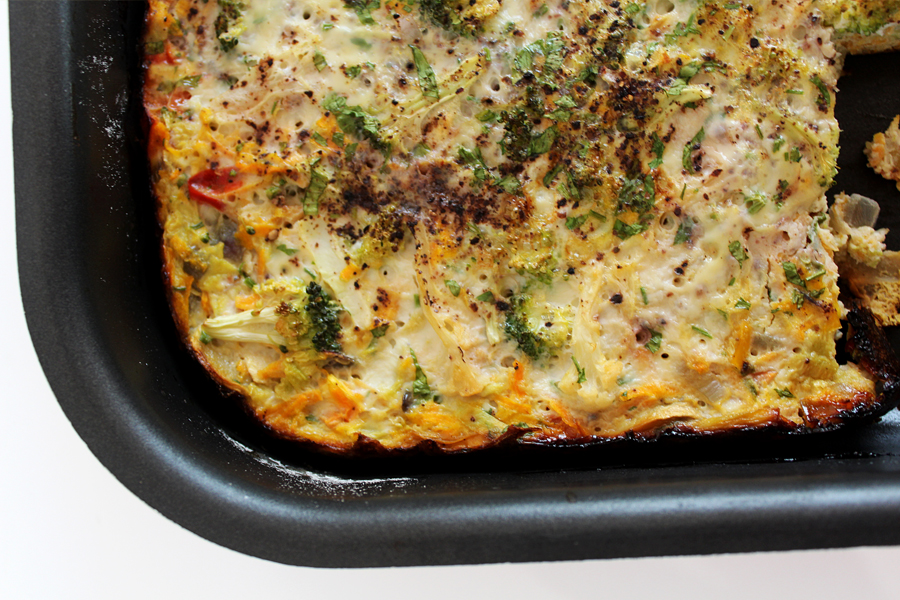 My mum back in Lebanon uses to sauté it with eggs in a pan, like scrambled eggs. I thought about doing that  but honestly my husband doesn't like the moist soft texture of it in scrambled eggs so I had to think about something else to do with taking into consideration that he always eats with his eyes before his mouth, so I wanted to do something more appealing to the eyes because when doing it with eggs in a pan it is like a green mushy mixture.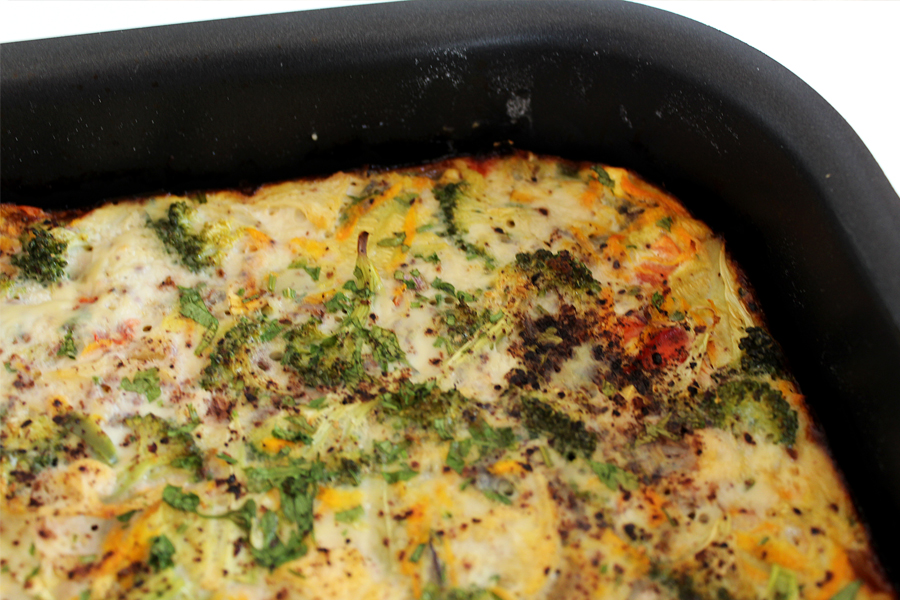 So I checked what inside the fridge as usual, as whatever vegetables I could find I get it out of there!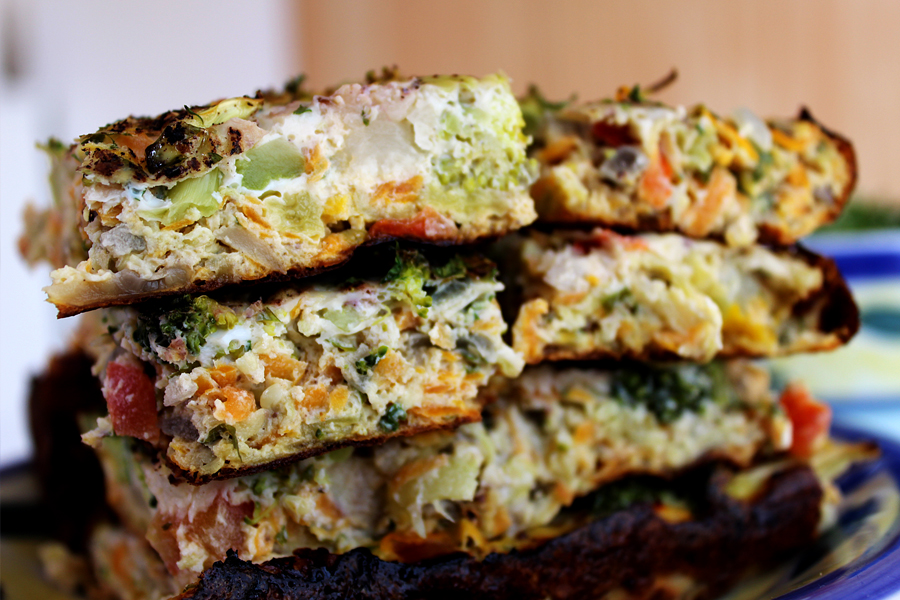 Tomato, carrots, cauliflower, broccoli, green pepper, red pepper, orange pepper, yellow pepper, onion, garlic, basil and some ginger.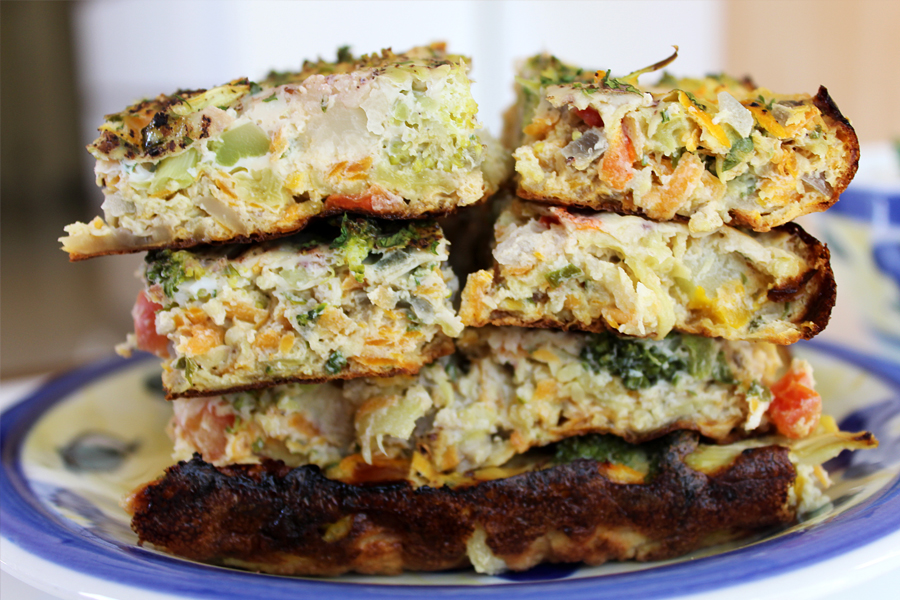 I like to use pepper as much as I can because it is very rich in vitamin C and much other nutrition.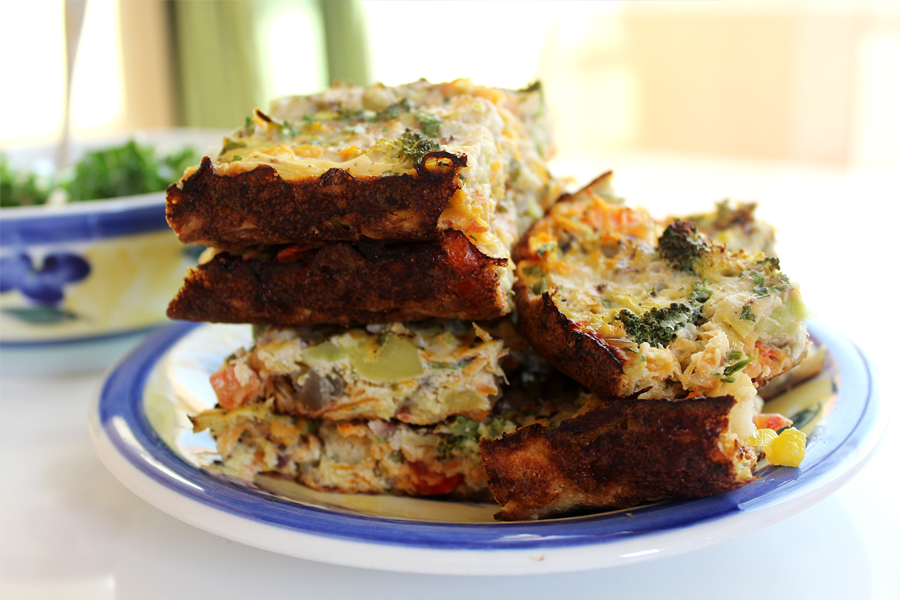 The basic of egg bake is really not that hard, you consider 1 or 2 egg for each person of the crowd you are cooking for, you add your vegetables and seasoning and bake!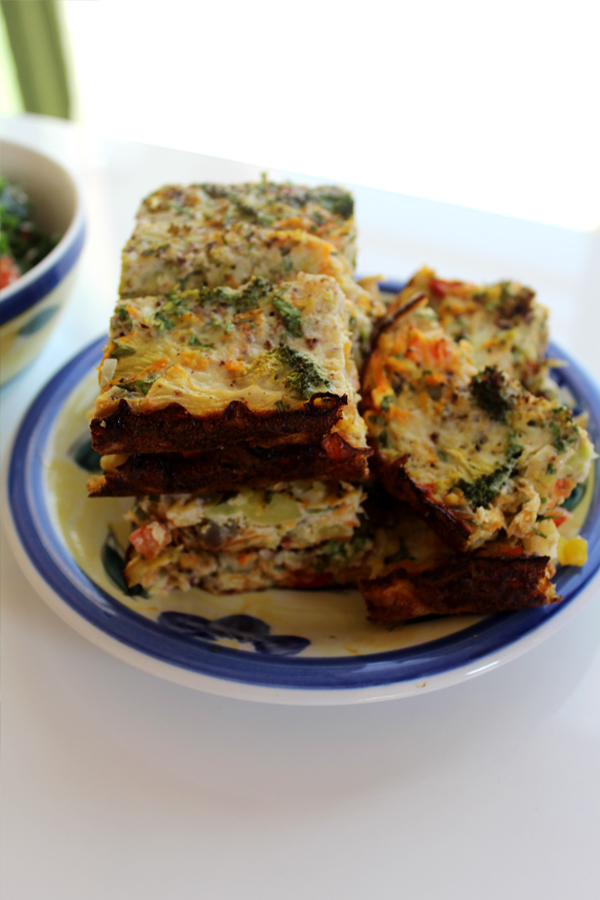 And in 30 minutes you have egg bars that are easy to pack, very colorful and full of flavor balanced meal for lunch or for dinner. Very healthy high in protein dish that you can prepare in advance and store in the fridge.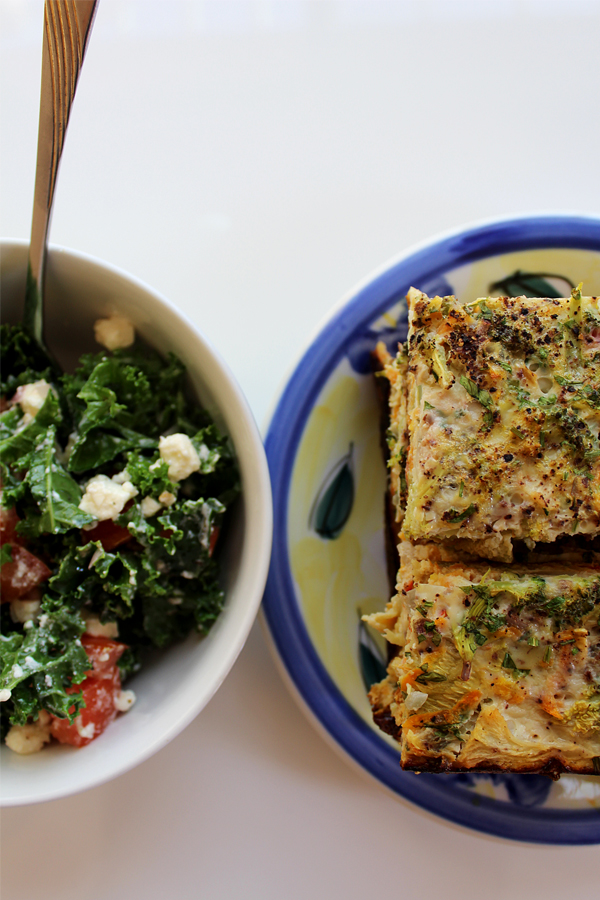 I prepared an Italian kale salad bowl aside with it that was even tastier you can check the recipe here!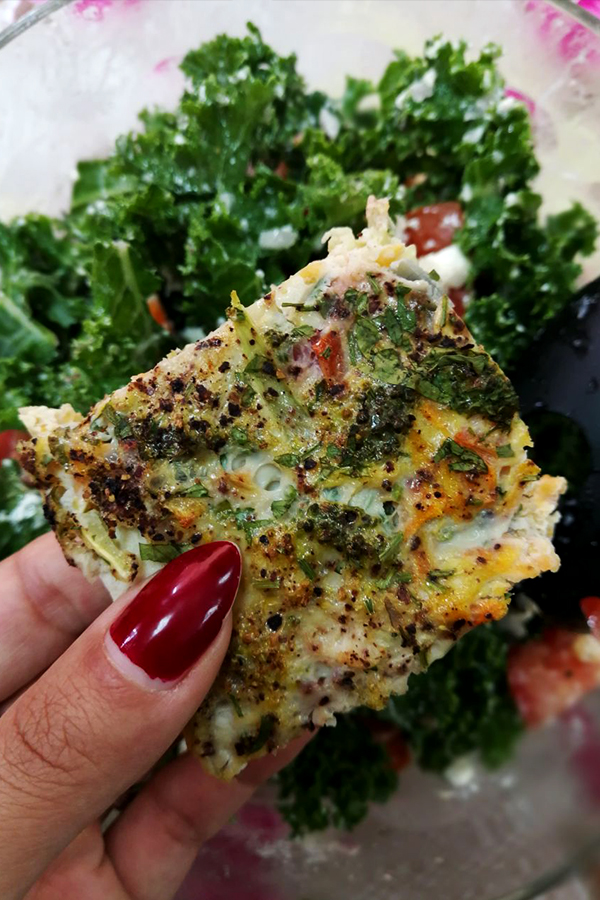 This recipe below is the recipe made with zucchini flesh that I highly recommend to give it a shot because it is very moist and tasty. But you can make with the same concept any kind of egg bake you like, whatever you find in your fridge can be thrown in that pan.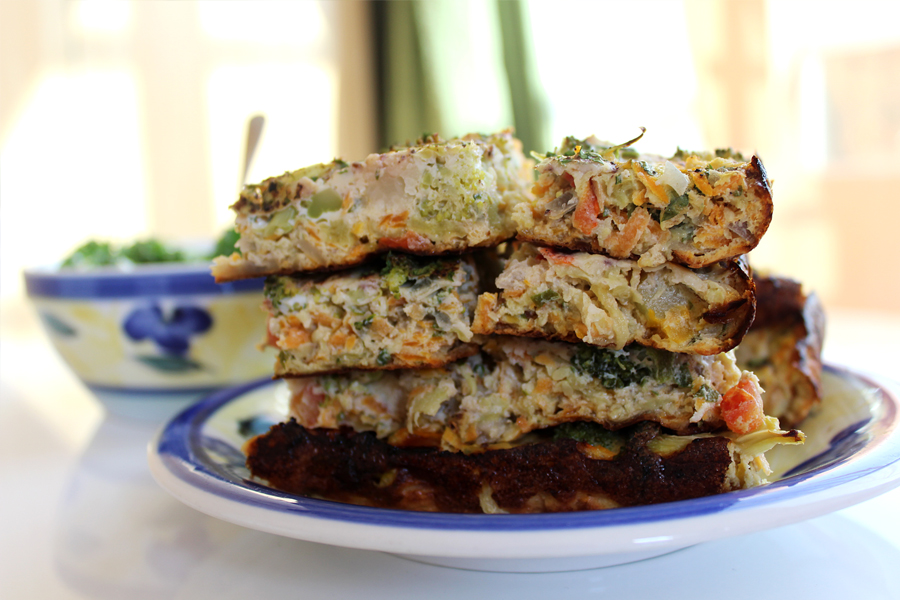 You can enjoy it with some salad like I did or it goes really good also with some yoghurt "laban".
Enjoy those colorful, moist and healthy egg bites! And don't forget to share pictures with us if you tried it.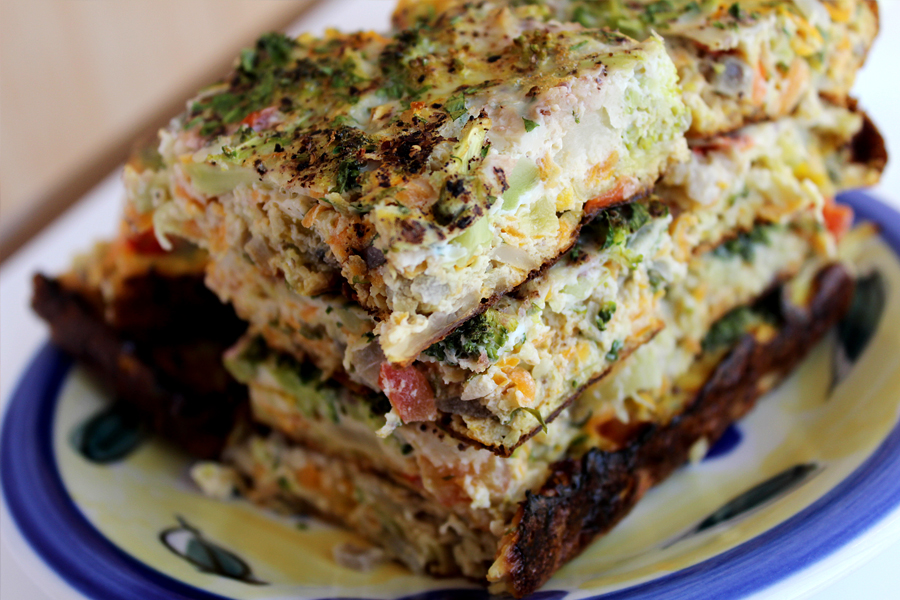 Zucchini flesh egg bake:
Serve 6 *
Ingredients:
8 eggs
2 Tbsp. low fat yoghurt (laban)
3 tomato heads, cut into small cubes.
1 green pepper, cut into small cubes
1 red pepper, cut into small cubes.*
1 orange pepper, cut into small cubes.
1 yellow pepper, cut into small cubes.
2 cups of broccoli, cut into tiny florets
2 cups of cauliflower, cut into tiny florets
1 medium onion, cut into small cubes
3 cloves garlic, minced
½ tsp. fresh ginger, minced
2 medium carrots, grated.
2 cups, Magda Zucchini flesh
1 cup shredded cabbage
2 Tbsp. fresh basil, roughly chopped
4 tsp. salt
1 tsp. sweet pepper
1 tsp. grounded cinnamon
½ tsp. white pepper
½ tsp. nutmeg
1 tsp. red chilli flakes. *
Sumac and chopped parsley for garnish.
Instructions:
Preheat oven on 180 C°.
In a pan on medium heat, add the zucchini flesh with some salt
Cook for 5 minutes, stirring occasionally, to reduce the moist before adding to the egg mixture.
In a big bowl, whisk eggs with the peppers and 2 tsp. salt.
Add yoghurt and whisk till a homogenous mixture is formed.
Start adding the vegetables to the bowl one after the other, mixing it till you add all the vegetables.
Add the cooked zucchini flesh and mix it all together.
Spread the mixture in a rectangle oven pan (30 x 20 x 3 cm). *
Sprinkle some sumac and chopped parsley on the top.
Bake in oven for 30 minutes.*
Remove from oven and let it sit for a couple of minutes before cutting it into bars.
Serve with some salad or yoghurt.
Enjoy!
Notes:
*I count the serving not by how much pieces I cut it because it could vary from one person to another and from one pan to another. I consider the serving as per how many people this recipe fed for lunch. So for me, this recipe made lunch for 6 persons. You can adjust your recipe accordingly.
* You can use sweet or chilli red pepper, depending on how much you like hot flavor in your food.
*You can also adjust the red chilli flakes quantity according to your liking.
* I used a rectangle pan of (30x20x3 cm) but you can any pan you have, the smaller it is the thicker the egg bars will be, but for this much quantity don't use a very small pan because it will rise while baking in oven and spill the mixture out, make sure you leave at least 1 cm for the rising volume after baking.
* in my oven it took 30 min to be ready, but after the 20 minutes had past keep an eye on it. It may be cooked earlier so you don't over cook it or burn it, when you see the edge start to take a golden brown color it means it is done.