This healthy Mediterranean goat cheese quiche is just what you need to complete your Christmas dinner table.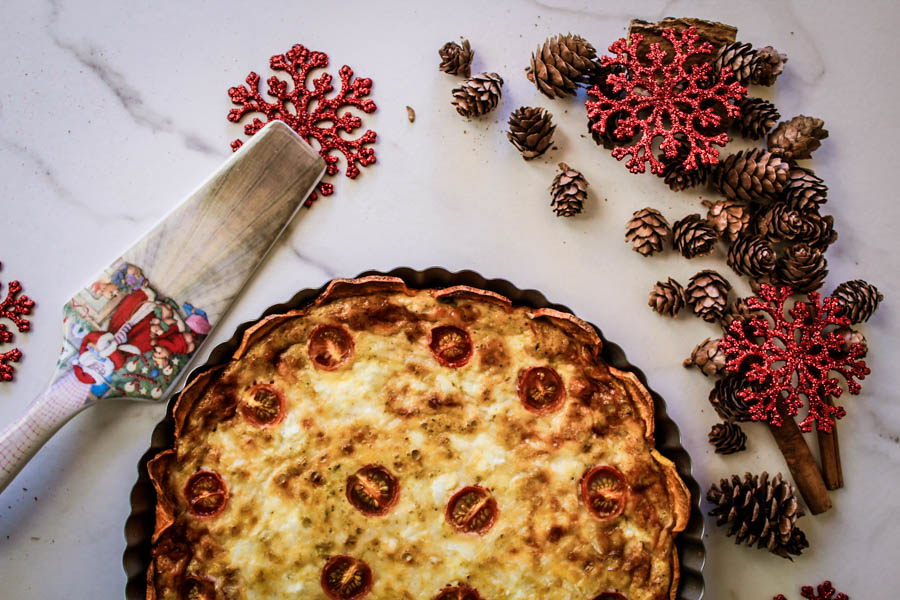 It is delicious full of bright flavours and packed with protein and fresh vegetables.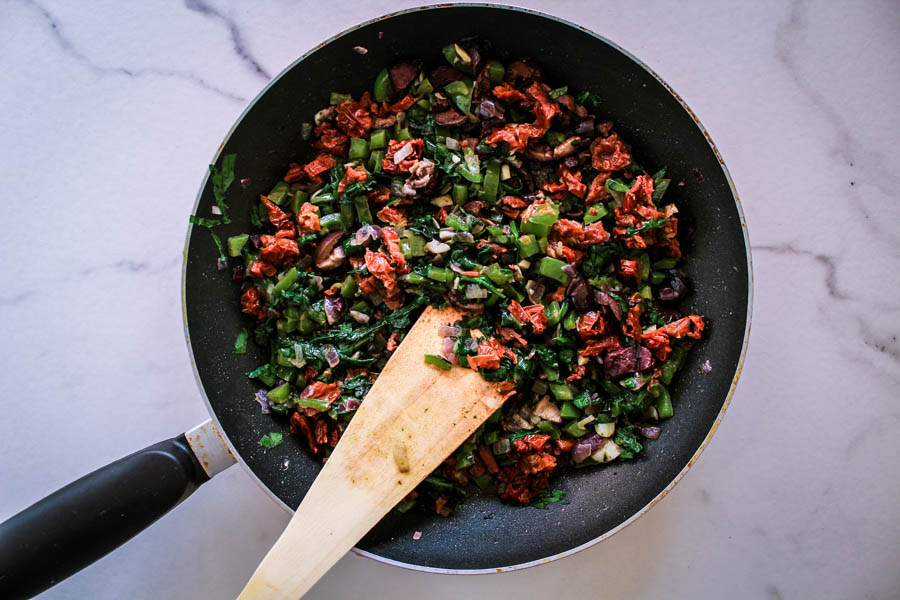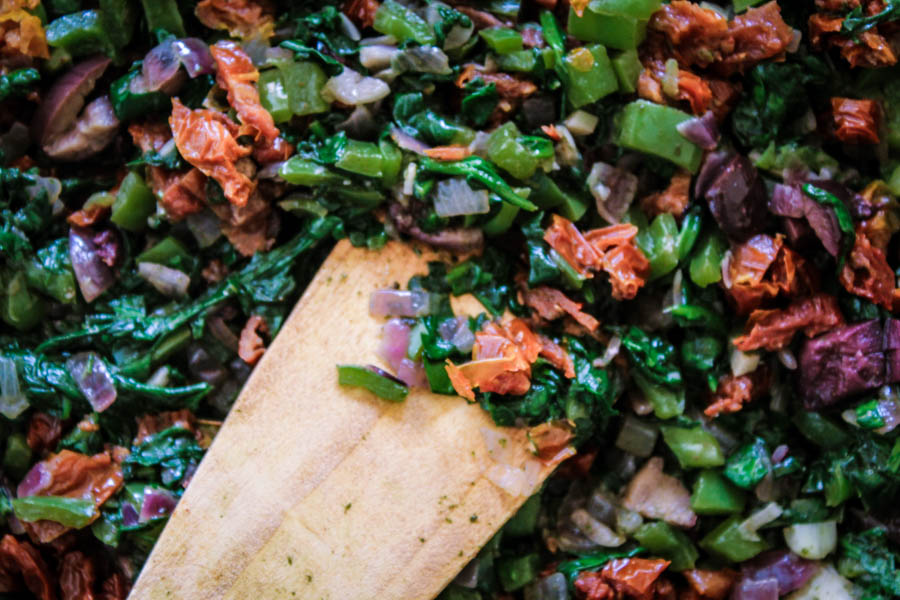 The best part is that you don't have to worry about the extra fat you are getting from the buttery pie crust because it is crust-less!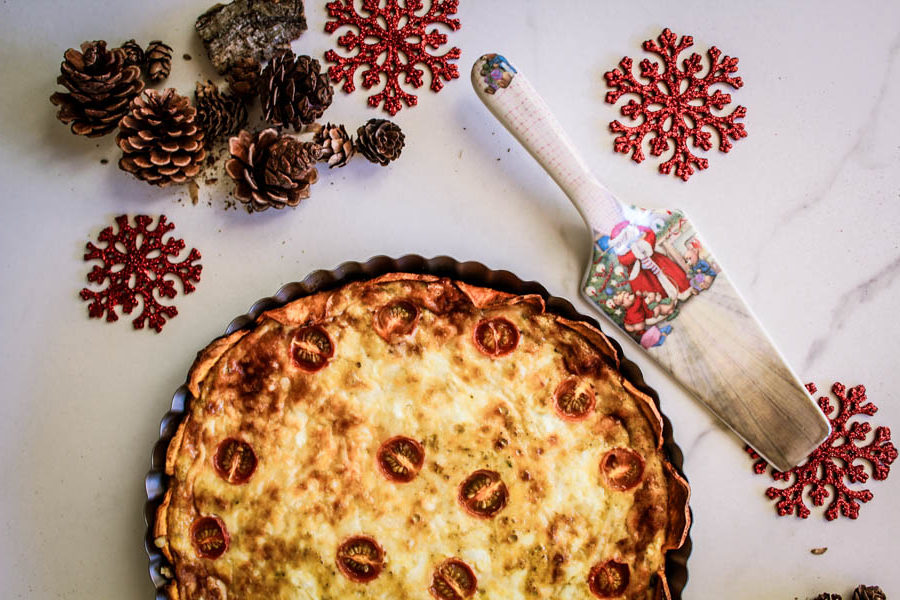 Yes you heard it right! I managed to maintain the amazing quiche's cheesy taste and make it healthier and lighter without compromising its the taste!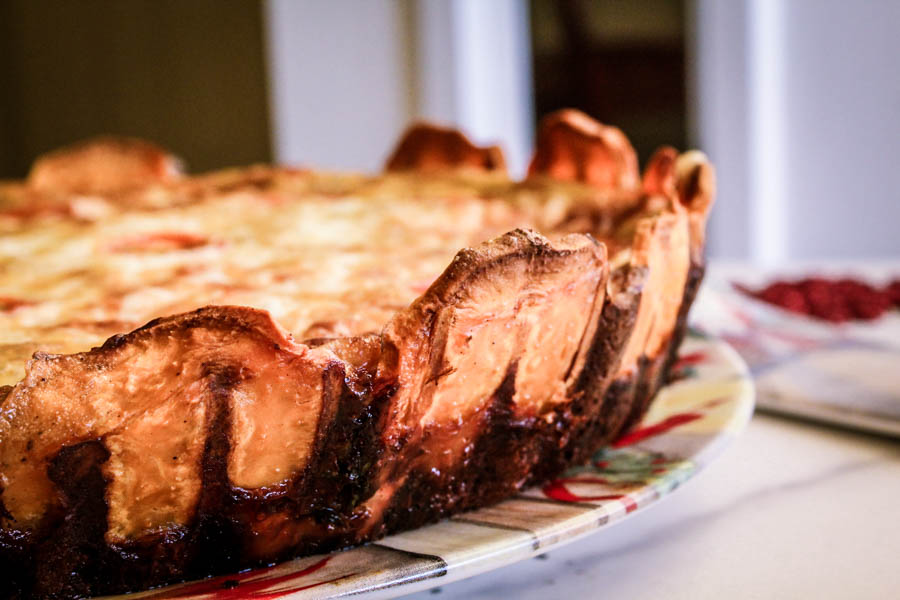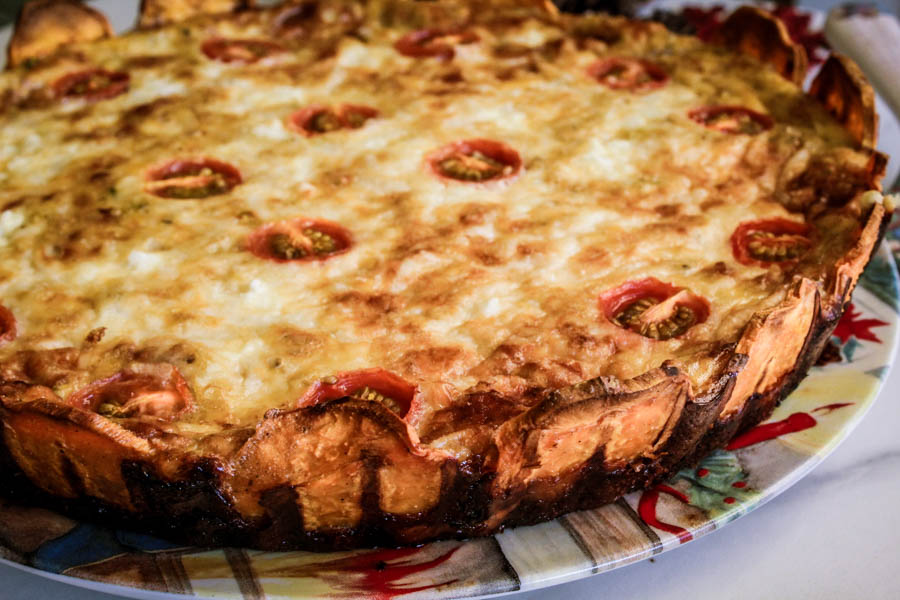 Very easy to prepare and the options are endless!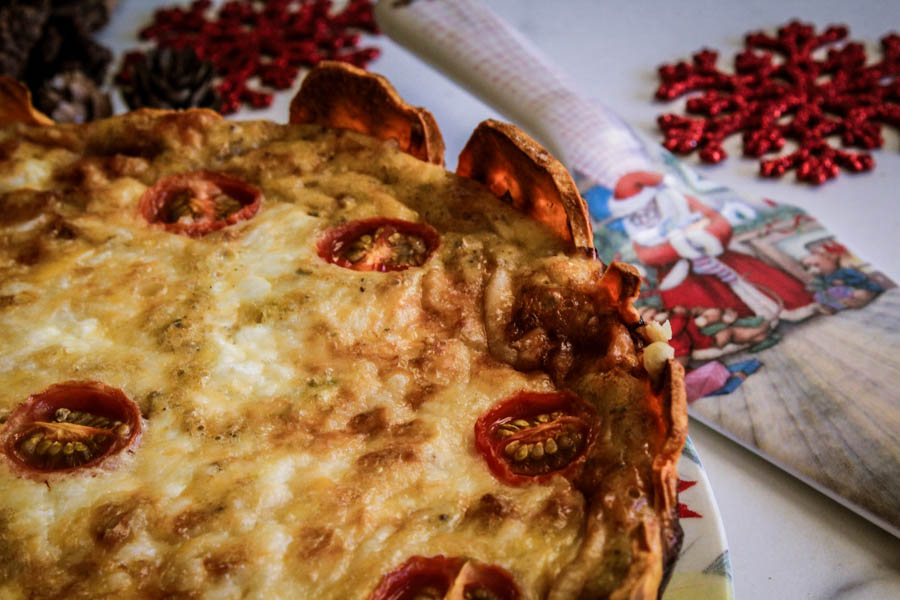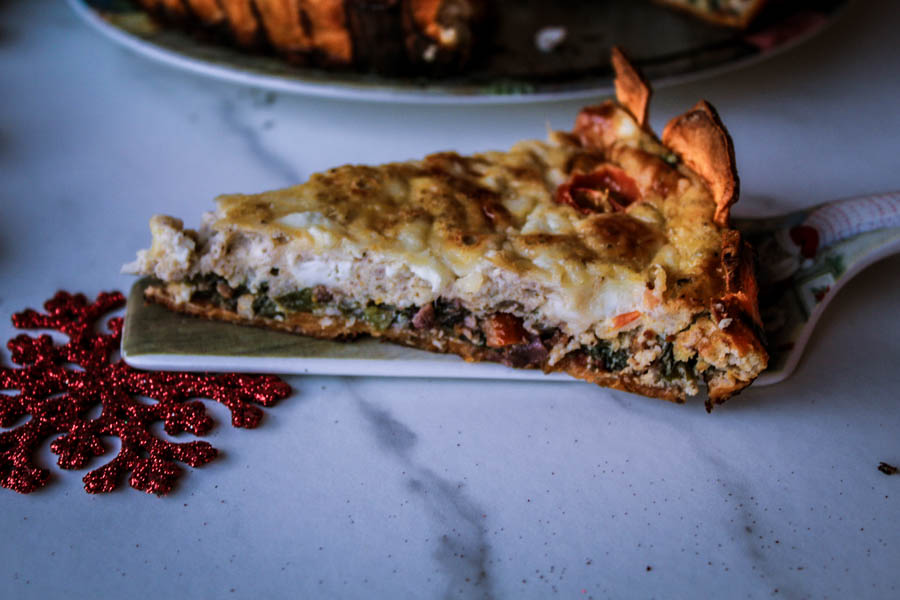 For this recipe I prepared a pure Mediterranean quiche but you can mix and match as you like!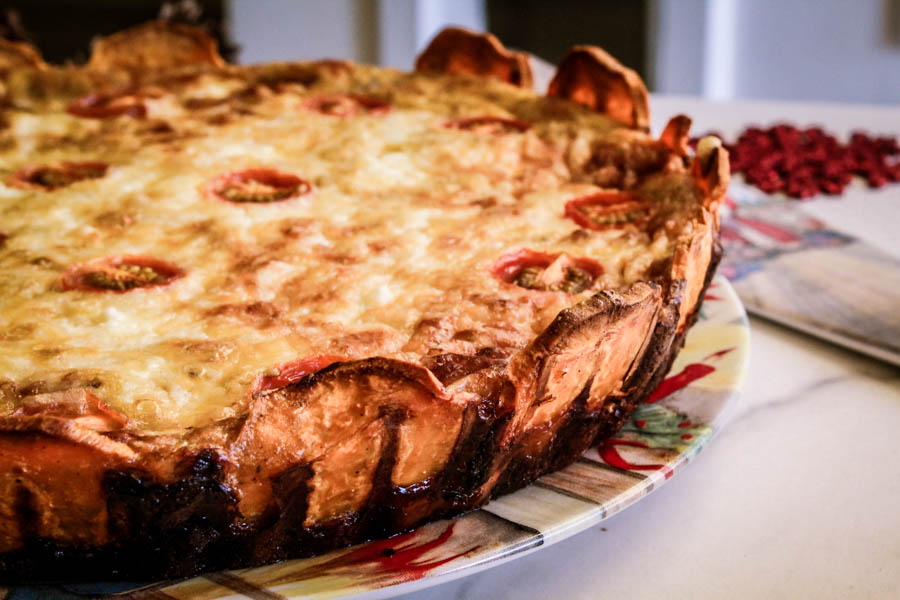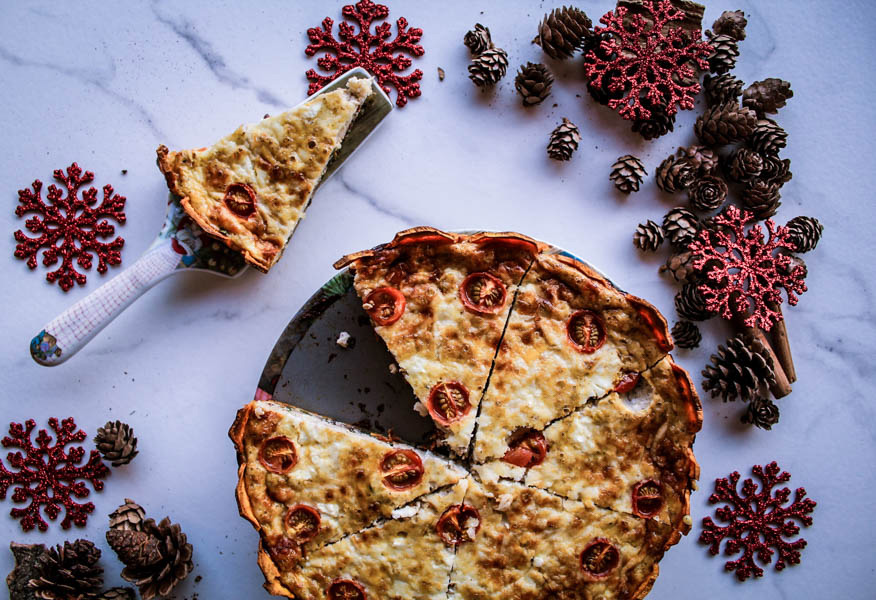 But if you want my advice you must try this Mediterranean version.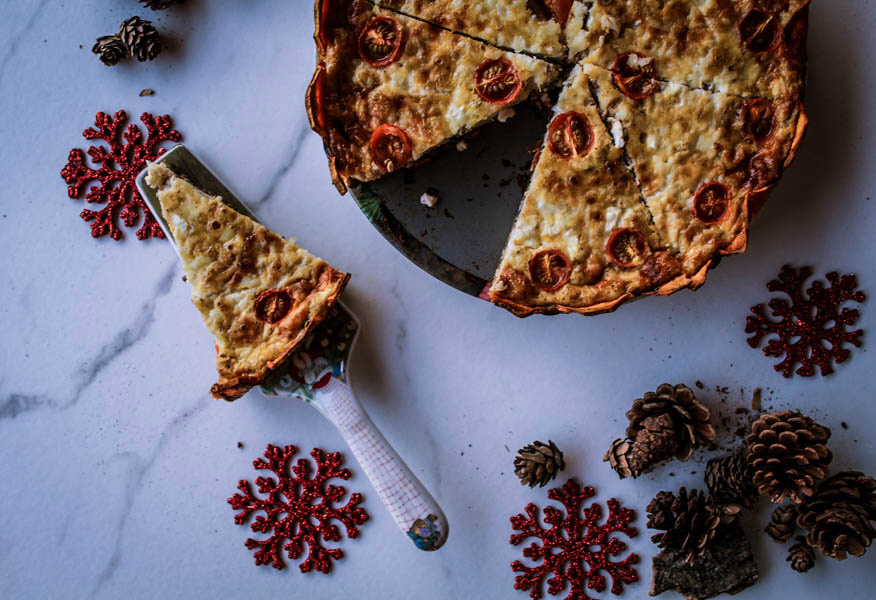 The olives/dry tomato/vegetable combination ads a deep exciting taste to this filling that you don't want to miss!
Mediterranean goat cheese quiche:
Serve 8 pieces
INGREDIENTS:
For the crust:
1 medium sweet potato, thinly sliced
2 egg white
¼ tsp. black pepper
½ tsp. salt
For the Filling:
1 Tbsp. Olive Oil
1 Tbsp. Fresh Basil, minced
1 medium onion, chopped
2 clove garlic, minced
1 green pepper, diced
2 cups fresh spinach
¼ cup black olives, pitted and chopped
½ cup sundried tomato, drained and chopped
1 tsp. dry oregano
¼ cup fresh parsley leaves, chopped
½ cup goat cheese, crumbled
4 large eggs and the 2 yolks remaining from the crust
1 cup Greek yoghurt (laban)
½ tsp. sweet pepper
¼ tsp. black pepper
1 Cup shredded parmesan cheese
INSTRUCTIONS:
For the crust:
Preheat oven on 190 C◦ and brush a pie baking pan with some olive oil.
Drain well the sliced sweet potato
Mix with all the other crust ingredients
Align the sweet potato (as the picture shown in the article above) and don't forget the edges to.
Pour any remaining egg mixture over and spread it good.
Bake for 15 minutes till set.
For the Filling:
Heat olive oil on medium heat. Add onion and cook until transparent and tender.
Add garlic and fresh basil and cook until you can smell the garlic.
Add the green pepper and cook for extra 3 minutes approx. until tender.
Add spinach and cook it through until all the spinach is tossed it through for just extra 3 minutes maximum.
Remove from heat, add olives, oregano, tomato and parsley and mix it all well.
Spread evenly over the crust.
Sprinkle half of the goat cheese above it and set aside.
In another bowl, mix the eggs, Greek yoghurt, peppers and half of the parmesan cheese. Whisk it all together.
Pour over the vegetables and goat cheese mixture.
Sprinkle the remaining parmesan and goat cheese.
Garnish with some cut I half cherry tomatoes.
Bake for 45 minutes until set and golden brown from the top.
Let it cool for at least 15 minutes before cutting and serving.
Enjoy!
NOTES:
*I don't recommend adding any extra salt in the filling because the both types of cheese we are using are salty plus the salt from the olives and dry tomato.