Starting with today's recipe with a savory one that you can kick off a brunch with.
it is delicious, healthy with an earthy taste, you can enjoy it in a raclette brunch gathering or you can prepare it in a normal non-stick skillet.
but whatever way you do; you must try the game changing sauce I build with it.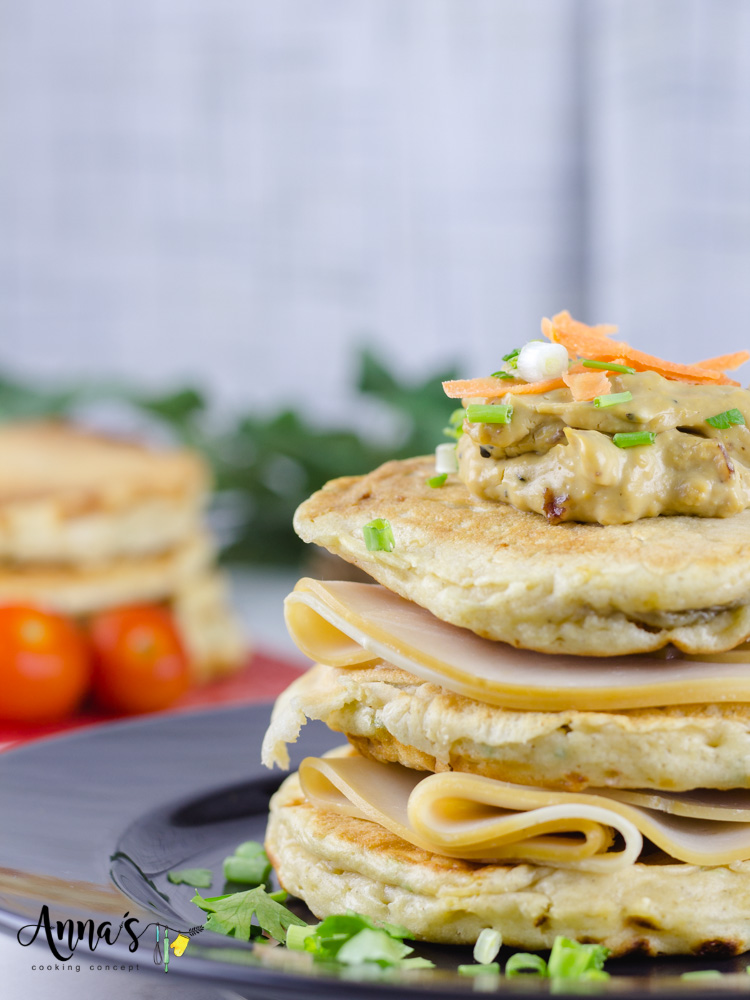 Cheddar and feta cheese pancake with bacon sweet and sour white sauce is a mind-blowing meal that goes as breakfast, brunch and why not dinner as well!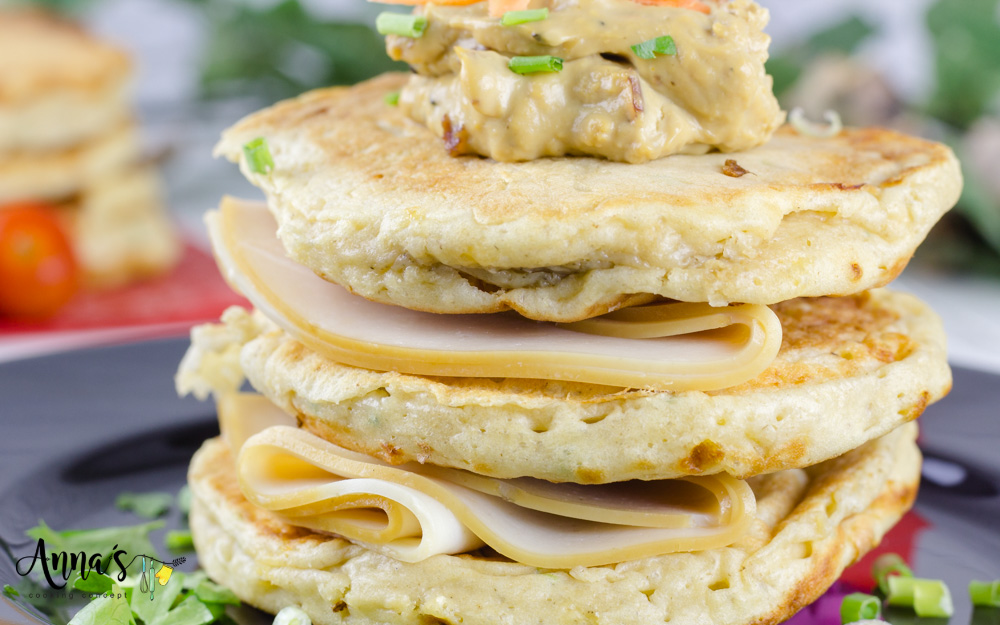 the cheddar and feta in this recipe is in the batter itself not aside, with the white sauce drizzle over the warm pancakes will fill your heart with joy.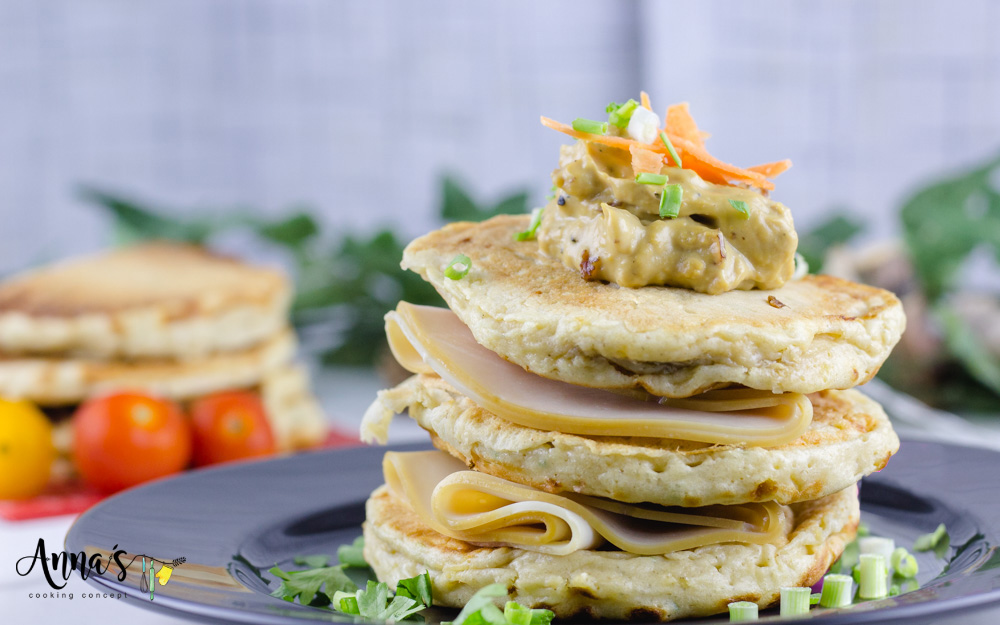 as usual I made this savory pancake in a healthy way but the use of wholewheat flour is not only for its health benefits but it also tastes better in baked goods like pancakes.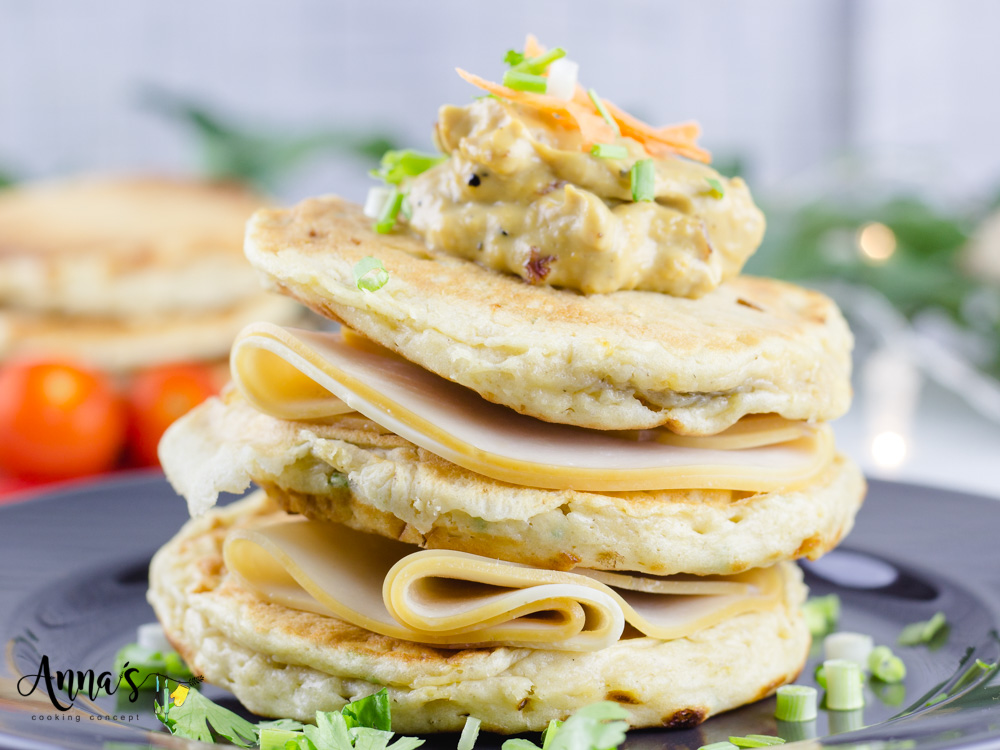 The combination of few healthy and earthy ingredients and the result was delicious but the even more interesting and new is the sauce game-changing ingredient that will make it very special and interesting.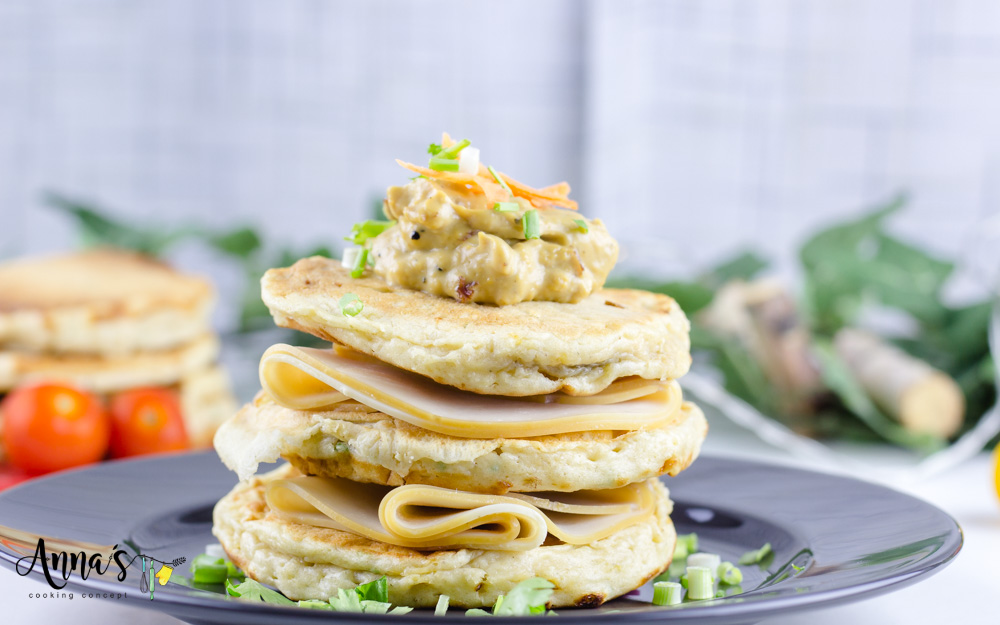 store the leftovers very well in the fridge for up to 1 week and in the freezer for up to 3 months.

for the batter you can prepare it the day before and store it in the fridge so you have everything ready the next morning to start having some fun on the raclette or you can bake it in a normal skillet.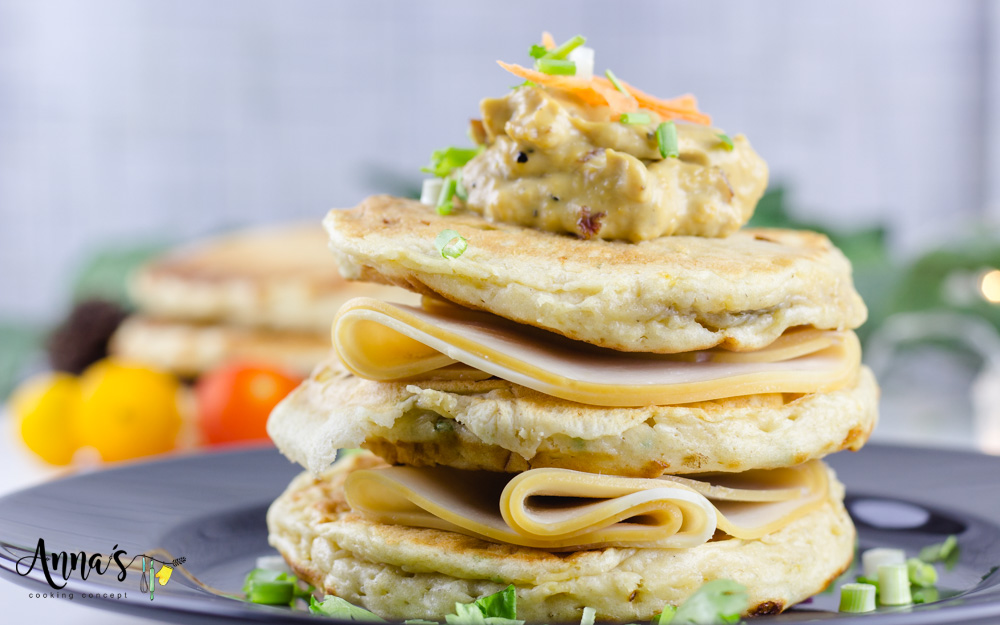 so check out this amazing savory pancake with white sauce recipe and let start making some pancakes!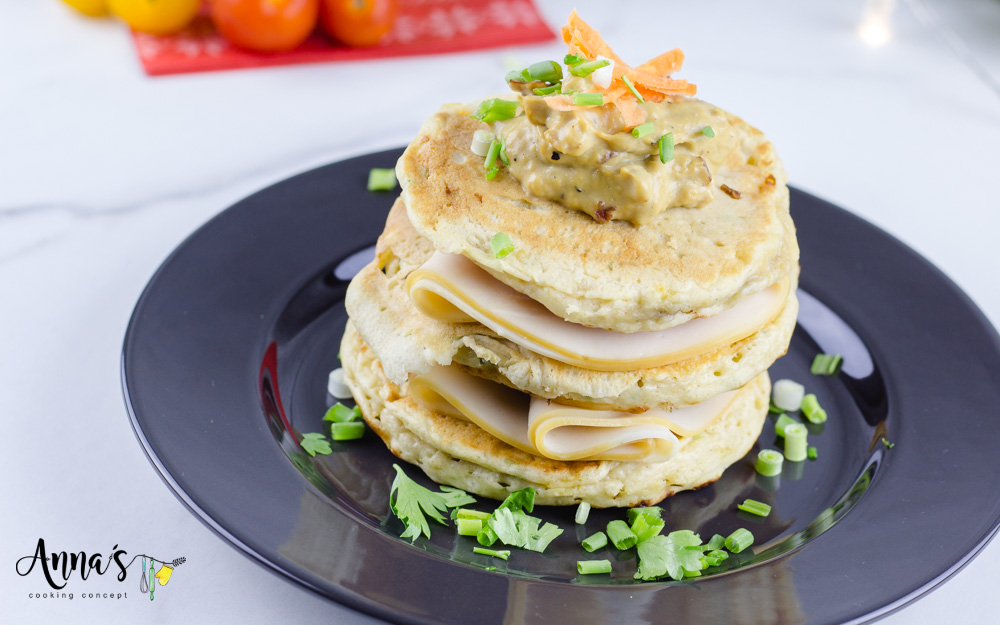 DON'T FORGET ! to check all the Christmas Raclette brunch recipes in this article ! I will keep on adding recipes to the list!

Savory Brunch Pancake With Sweet White Sauce
An amazing healthy savory pancake for your next breakfast or brunch with a mind-blowing new white sauce !
Course:
Appetizer, Breakfast, brunch, Side Dish
Keyword:
appetizers, breakfast, brunch, christmas, egg, healthy, high-protein
Ingredients
for pancake batter:
2

cups

whole wheat flour

2

tbsp

brown sugar

2

tsp

baking powder

1

tsp

baking soda

1

tsp

salt

2

cups

plain yoghurt

(laban)

2

large

eggs

1/4

cup

cheddar cheese

1/2

cup

feta cheese

1/4

cup

chopped parsley
for the sweet white sauce
1/2

tbsp

grapeseed oil

3

clove

garlic

minced

6

strips

bacon*

cut into cubes

300

ml

cooking creme *

3

tbsp

date syrup*

1

tbsp

mustard

1/2

tsp

salt

1/4

tsp

white pepper

1/4

tsp

nutmeg

1

tbsp

fresh rosemary* chopped

1/4

cup

water

1

tbsp

cornflour
Instructions
for pancake batter:
mix together the dry ingredients: flour,sugar, baking powder, baking soda and salt in a deep bowl and set aside.

in the food processor (or you can in a deep big bowl by hand) whisk together the wet ingredients: egg and yogurt and pulse or whisk until you have a smooth yellow mixture.

add in half of the dry mixture and mix than add the other half and mix again till everything is well mixed.

stir in the cheese and parsley and pulse it once or twice until just the cheese is broken up into the mixture you don't have to over mix it, 30 seconds is enough or a couple of pulses.

set the batter aside so it rest a little for 15 minutes minimum . while the batter is setting prepare the white sauce.
for the sweet white sauce
add oil to a skillet on medium heat and after the oil is heated add the bacon cubes and mix with a wooden spoon .

sautee for 3-4 minutes till there color start to get this crispy brown look.

add the garlic and cook through until you can smell the fragrance of the garlic

add the cooking cream along with the date syrup, mustard , salt , white pepper , nutmeg and fresh thyme and mix it all together.

bring the mixture to boil

mix aside the cornflour and water till the cornflour is dissolved.

add the cornflour mixture to the skillet .

when the mixture start to boil lower the heat and let it simmer while keep on whisking gently the mixture until it have a thick texture .

the moment the mixture start to thicken . turn off the heat and pour the sauce in the serving bowl.
for assembly:
now to cook the pancakes on the raclette or in a pan on stove you can use the same concept:

preheat your raclette pallet or skillet on stove on medium to low heat.

pour over 1/4 cup of the batter/pancake

let it cook for 4 min approx. when you see the edges has started to harden and all the pancake is cooked through and bubbles shown on the top .

gently flip it with a spatula and let it cook on the other side for 3 to 4 minutes also.

stock up 3 pancakes and drizzle the white sauce on top of it .

you can enjoy also with some turkey slice in between for an extra boost of protein like it is shown in the pictures above.

enjoy!
Recipe Notes
the bacon doesn't have to be pig bacon you can use beef bacon or veal bacon instead but use bacon it add a smoked taste to the taste .
i use a organic low fat cooking cream it is the best so the sauce will be not to much heavy and hard on your stomach.
date syrup add a original earthy taste to the sauce but if you cannot find it you can replace it with honey or maple syrup or molasses, but if you can find date syrup i highly recommend to use it add a very significant taste.
you can use 1 tsp dry oregano if you cannot find rosemary
the batter can be prepared the night before and store in the fridge.
as for the leftovers the baked pancake can be stored in fridge for up to 5 days and in the freezer for 3 months.
as for the sauce you can store it in the fridge for 3 days if it is not spreadable anymore and it is thicken in the fridge you can preheat it in the microwave for 30 sec and whisk it to loosen up a little bit but it always to use it fresh for the best texture.
you can also make some cheese sauce and spread it on the pancakes.