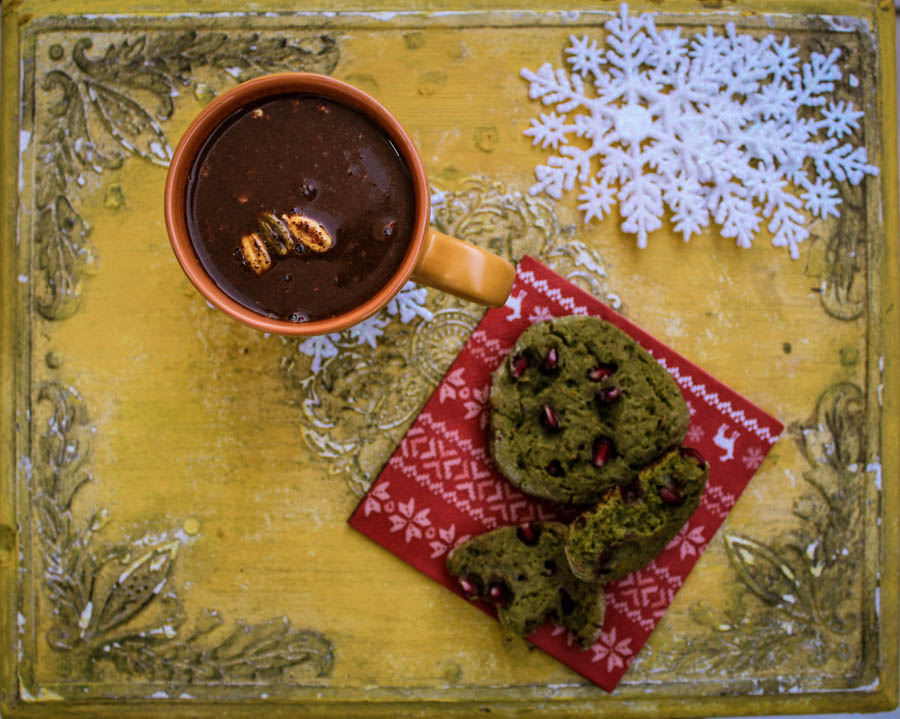 We all know that no Christmas holiday passes without some hot chocolate involvement!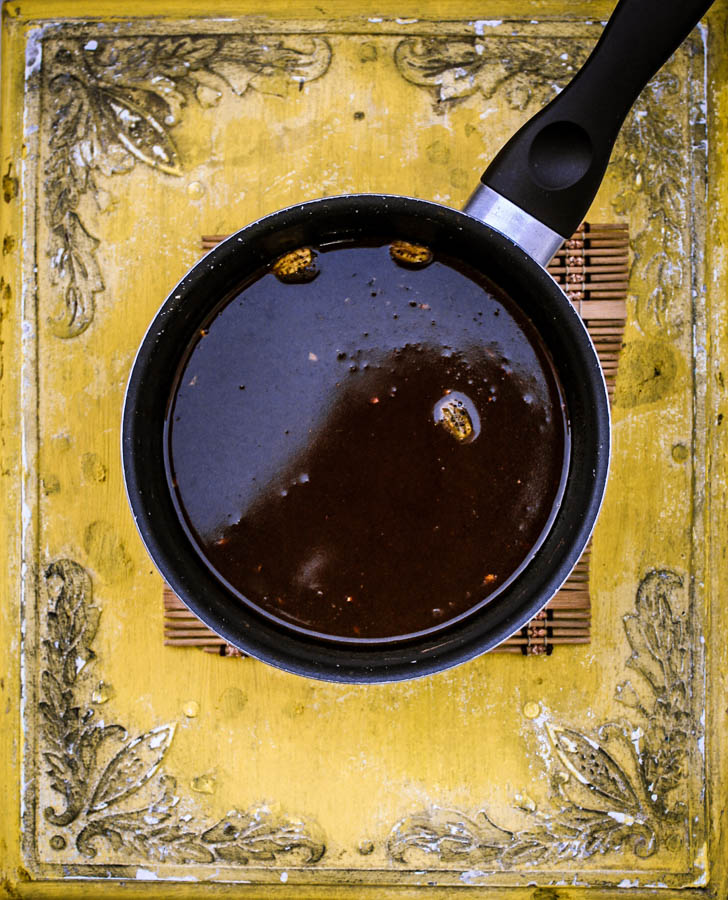 Well hot chocolate brings up a lot of good memories for me, back home we used to do some and sit next to the chimney watching the snow fall outside and play board games and fight over it! 😛 best times ever.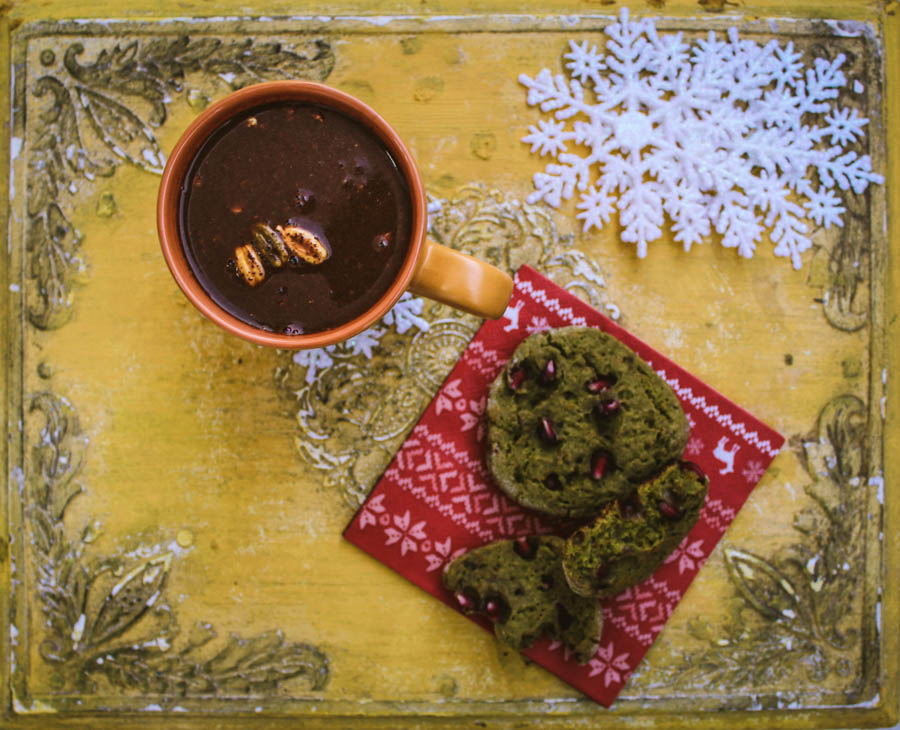 Well here in Dubai, it is not quit the winter weather that makes you feel the Christmas spirit like back in my home town. But still a good hot chocolate cup is ALWAYS a good idea in this season.
Well you all are now wondering why she is sharing a hot chocolate recipe?
It is just a prepared jar you buy from store and mix it with hot water. Well it is not! Next time you are buying some hit chocolate powder from the grocery try reading the ingredients before.
Yep! That what I thought, full of sugar and processed additive that you and your kids don't need to fuel your body on. And this why I am sharing this Super-hot chocolate recipe full of benefits and nutritional ingredients, and it is not that hard to do trust me!
Why buy processed products when you can just prepare some fresh delicious and sweet substitute at home!
Now the super ingredients I added , is what I happen to have on my pantry you can mix and match as you like, I developed a Arabic hot chocolate that taste so deep and sweet but as for the extra boost of Moringa powder you can switch to some spirulina, matcha or any super powder you like!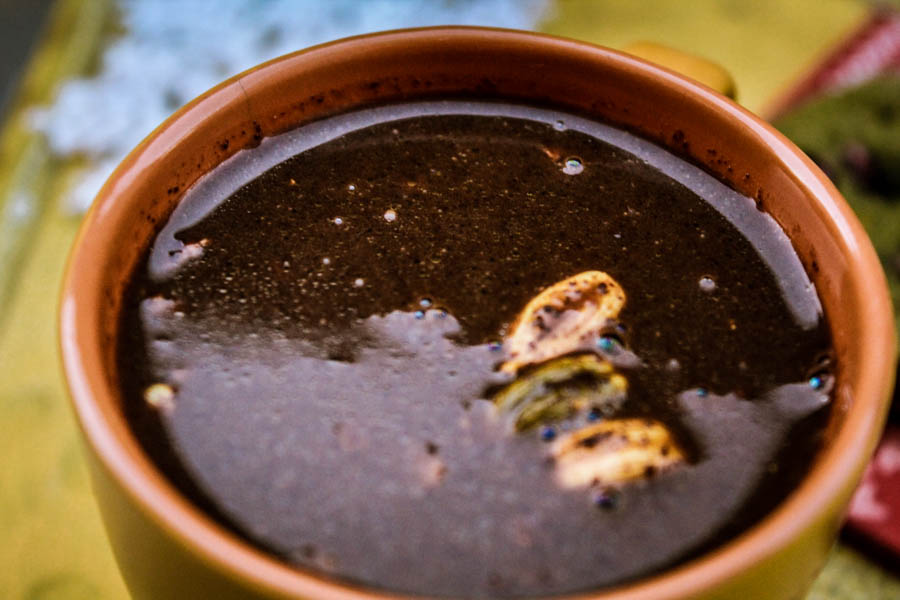 Now for the ones asking what the Moringa is and what the benefits. Like any other super natural powder, Moringa is made from naturally dried Moringa leaves. It have a taste very similar to spinach which makes it perfect additive to anything you like from baking to smoothie to drinks …
It contain 25% plant protein including all 9 essential amino acids; 24% fiber; a very important source of iron, vitamin K &E that help controlling the fatigue and tiredness and help you building a healthier skin texture and healthier bones; it is also a very rich source of vitamin A and Calcium with help boosting your immunity and digestion system and it is also a great antioxidants. Moringa powder is a natural source of all these nutrients and more and what is even better that it is highly bioavailable, so our body can absorb the benefits more easily by taking synthetic supplements. You can know more detailed information about it in this article.
I just gave you a quick idea of why having a small bag of this super powder in your pantry won't do you any harm in fact will do a lot of good stuff for your body and system.
Now for the recipe, very easy and you will be wrong to think that it is not as sweet as any store bought version, and it has even a better deep taste of chocolate mixed with an Arabian twist!
This is a recipe that will definitely impress your guest and kids for Christmas.
Arabian Super-Hot Chocolate:
Serve 4 small espresso cups
INGREDIENTS:
1 cup unsweetened almond milk
1 Tbsp. cocoa powder
¼ tsp. grounded turmeric
½ tsp. grounded cinnamon
1 tsp. ginger powder
¼ tsp. nutmeg
¼ tsp. grounded clove
3 seeds of cardamom*
½ tsp. vanilla extract
1 Tbsp. Moringa powder
1 Tbsp. date syrup
1 Tbsp. coconut oil
100 g dark chocolate chunks.
INSTRUCTIONS:
In a sauce pan, mix the cold almond milk with cocoa powder, whisk until the cocoa powder is dissolved in the milk.
Put the sauce pan on high heat and bring to boil.
Lower to simmer and start adding the other ingredients.
Start with the peppers: turmeric, cinnamon, ginger, nutmeg, clove, cardamom. Whisk all good till it dissolve
Add the vanilla extract and the Moringa and whisk it all good.
Add the date syrup and give it another mix.
Once the syrup is dissolved, add the coconut oil and mix it till it get thicken a little bit from the oil.
Remove from heat and add the chocolate chunks and whisk it all together.
Serve warm with some biscuits.
Enjoy!