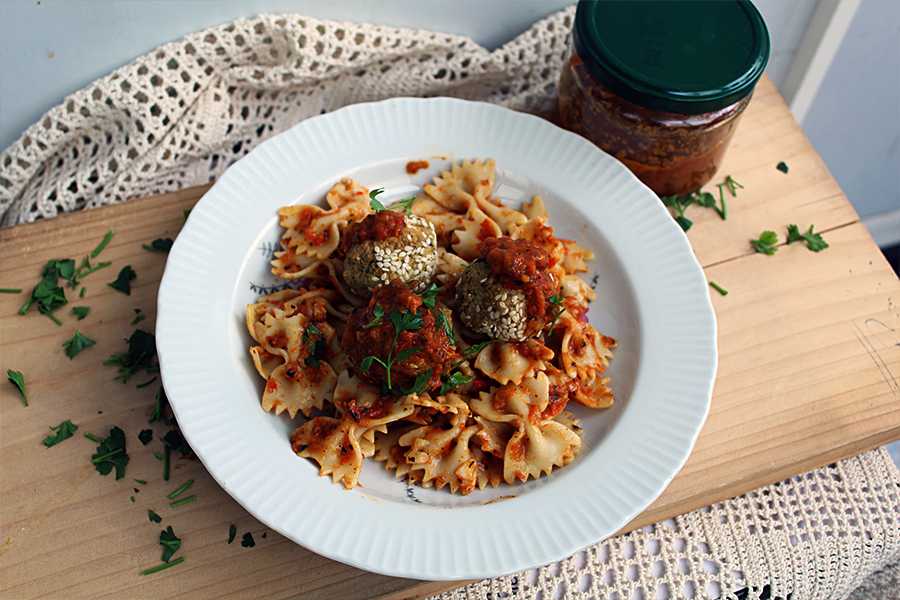 Just when I thought that pasta couldn't get any better, I found this perfect combination!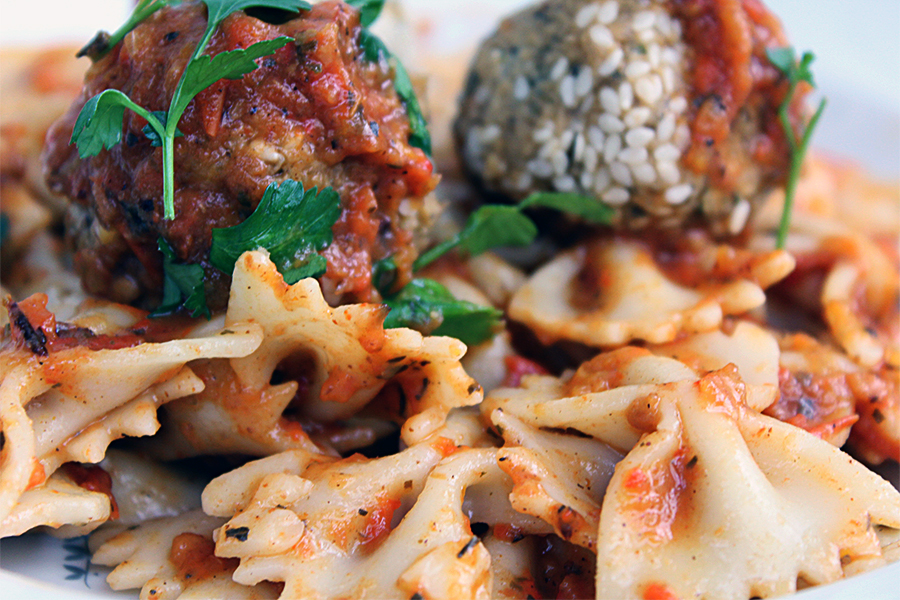 It is a vegan, and a gluten free recipe. It is creamy, savory and super filling for your days of fasting or any other regular vegan days.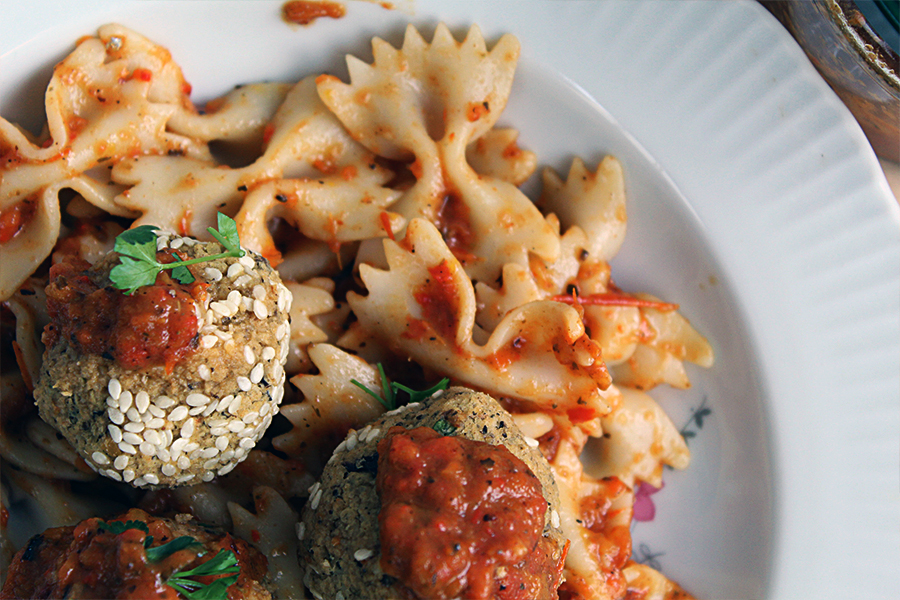 The combination between pasta and the roasted red pepper sauce, topping it with the meatless meatballs is just perfect!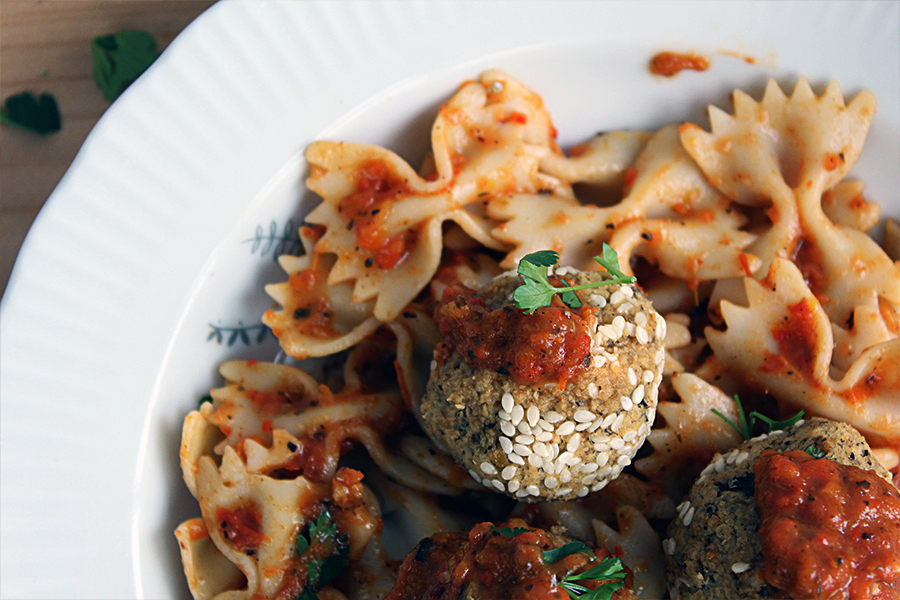 It is a creamy, healthy vegan recipe that is totally satisfying.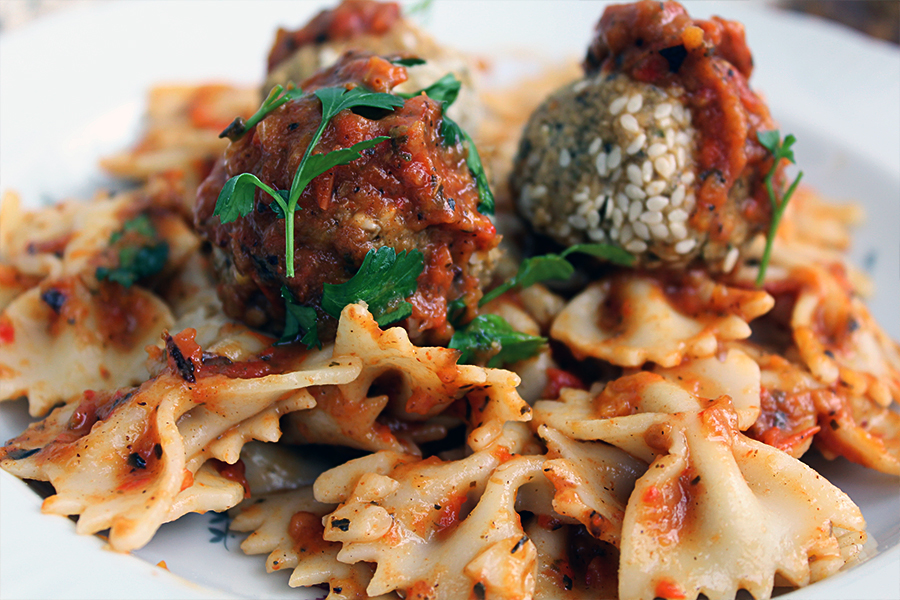 Make this dish for simple and healthy weekday's lunch, when you are out of ideas of what to eat.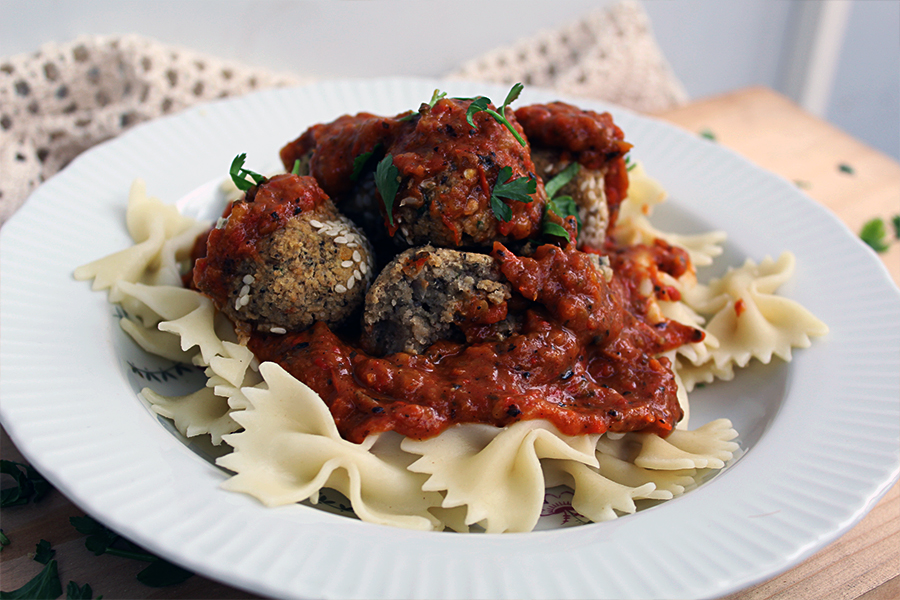 Use whatever pasta you like, I used here the farfalle pasta. I added the meatless meatballs for an extra boost of protein to my vegan dish, but feel free to just mix the sauce with the pasta and enjoy.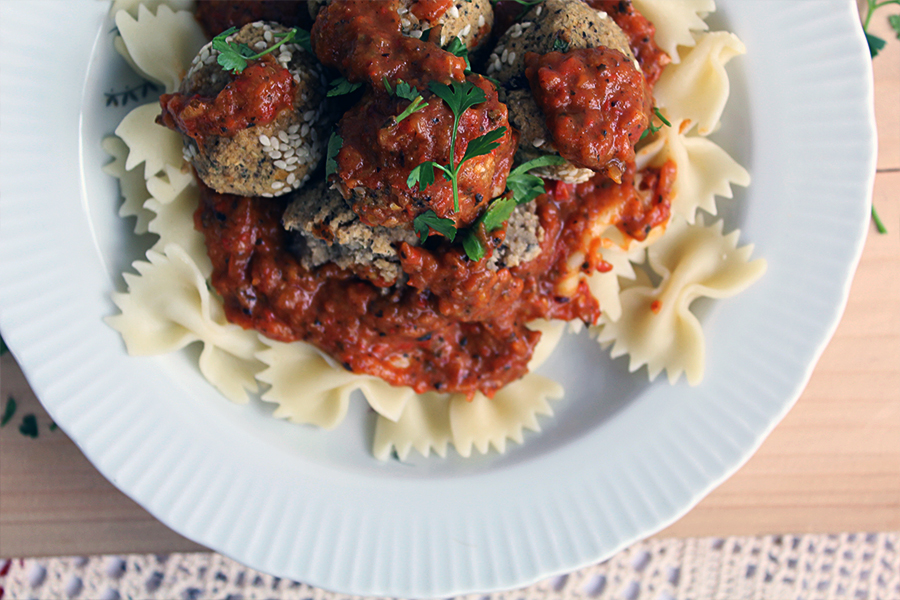 A perfect red pasta dish that will make your day better no matter what stress you are going through.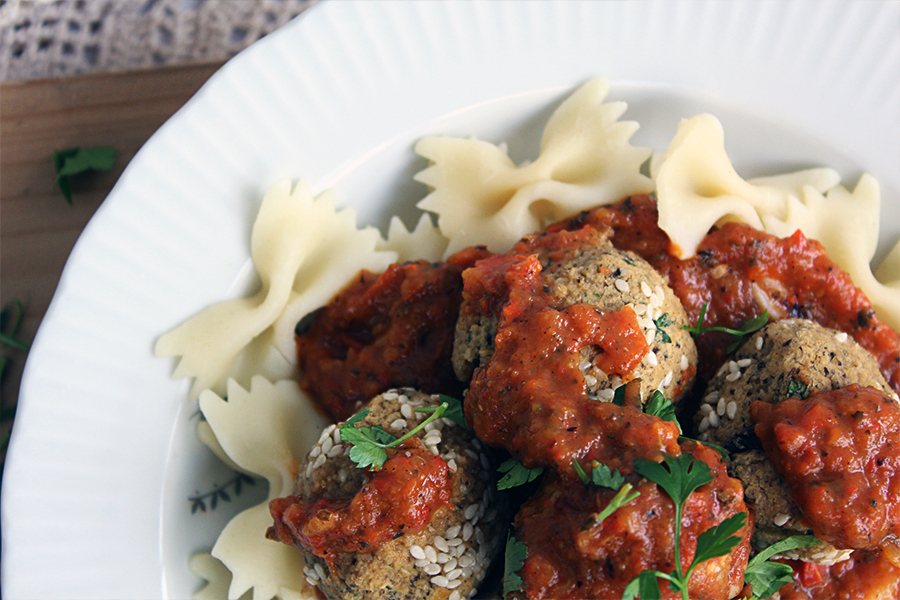 Add a little extra color, top it with some fresh parsley. Then serve it up and enjoy every last bite with zero guilt.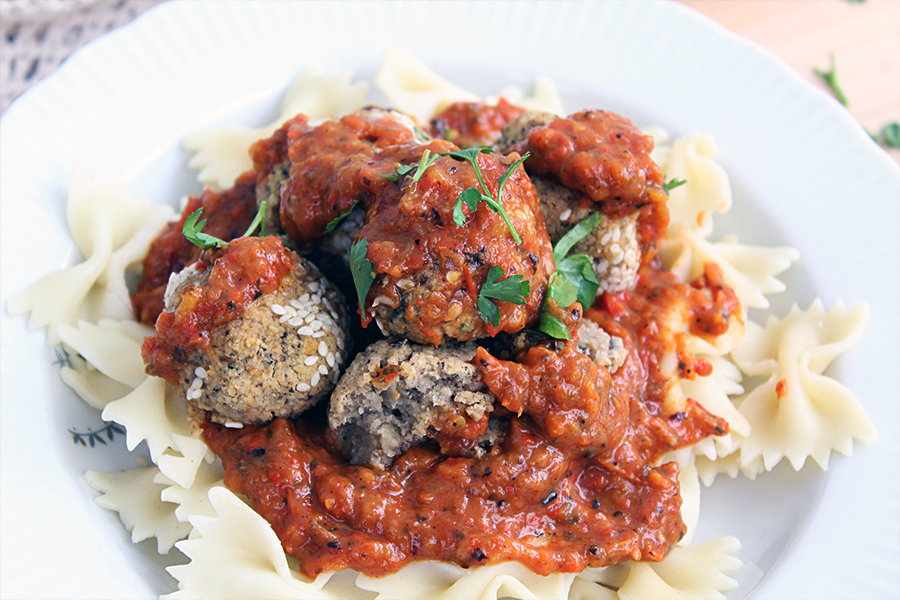 You may look at it and think that it is a lot of work, BUT really it is not!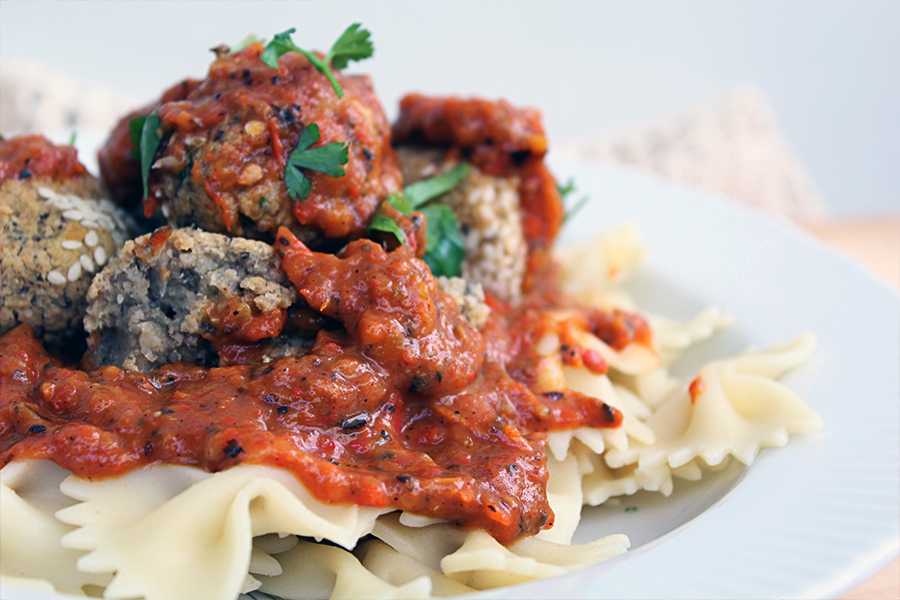 I prepared the roasted pepper sauce alongside with the meatless meatballs, it is very easy really. And once you prepare the sauce and meatballs and you store it. You can remake this recipe any time you like in minutes!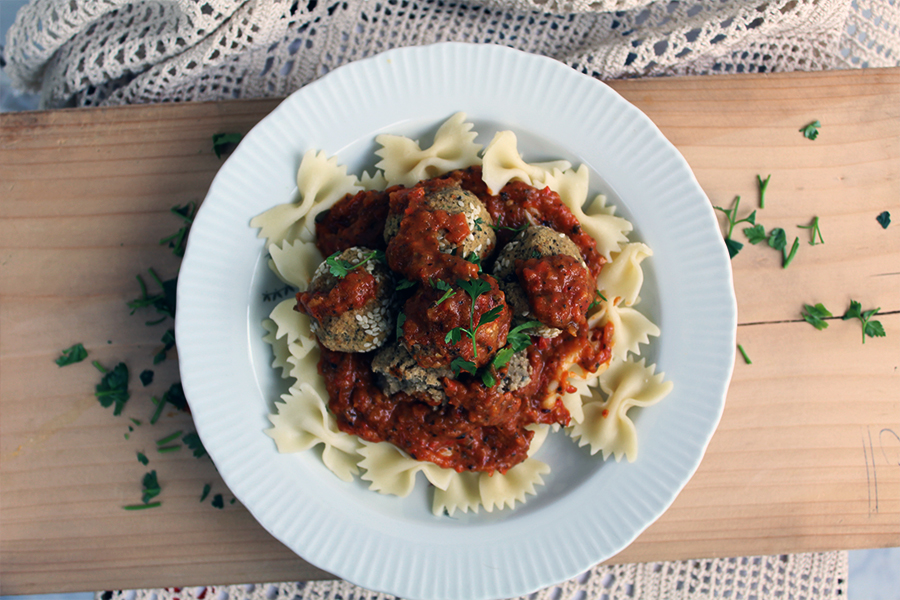 Roasted Red Pepper Vegan Pasta:
Yield 1-2 servings 
Ingredients:
Instructions:
cook pasta according to package, wash and drain and set aside.
prepare meatless meatballs according to this recipe
prepare vegan red sauce according to this recipe 
toss pasta in a skillet with the red sauce and a couple of Tbsp. of the pasta water to smooth it
toss it all for around 5 minutes.
divide pasta mixture in two plates
add the meatballs
serve and enjoy!
Nutritional information: 
the nutritional information is a rough estimation of one plate of pasta with 4 meatless meatballs and 3 Tbsp. roasted red pepper sauce
Serving Size: 1 serving  • Calories: 365 • Fat: 11 g • Carbs: 51 g • Fiber: 5 g • Protein: 15 g