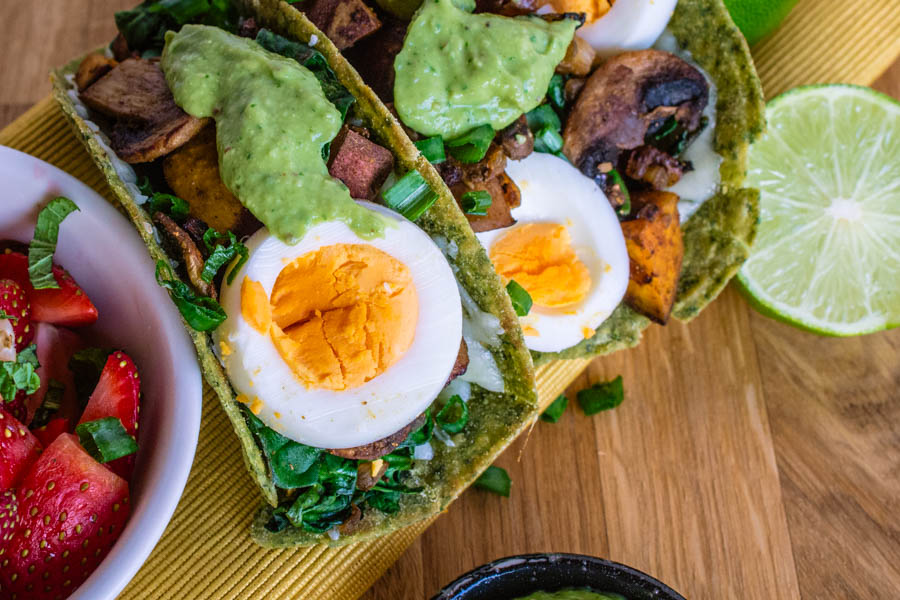 These egg tacos are so delicious and simple to make! After all what is better than a tacos party for dinner? And maybe you are surprised how I am eating tacos while doing a detox!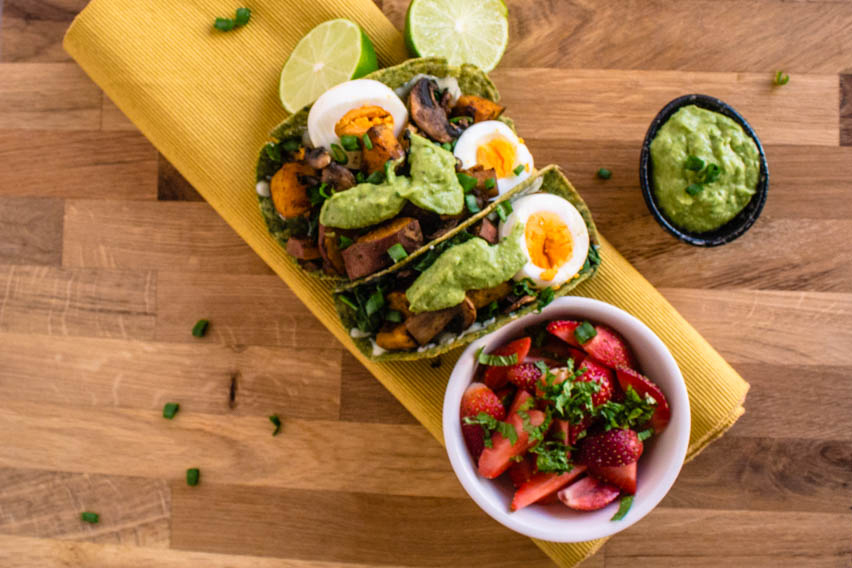 Well! First it is a clean tacos recipe with a balanced amount of healthy ingredients so why not? if I am eating clean doesn't mean I have to eat boring food, I can even have a burger , the difference that I use clean organic ingredients and I watch out my quantities and the way I cook stuff, so there is no deep frying stuff for sure! 😛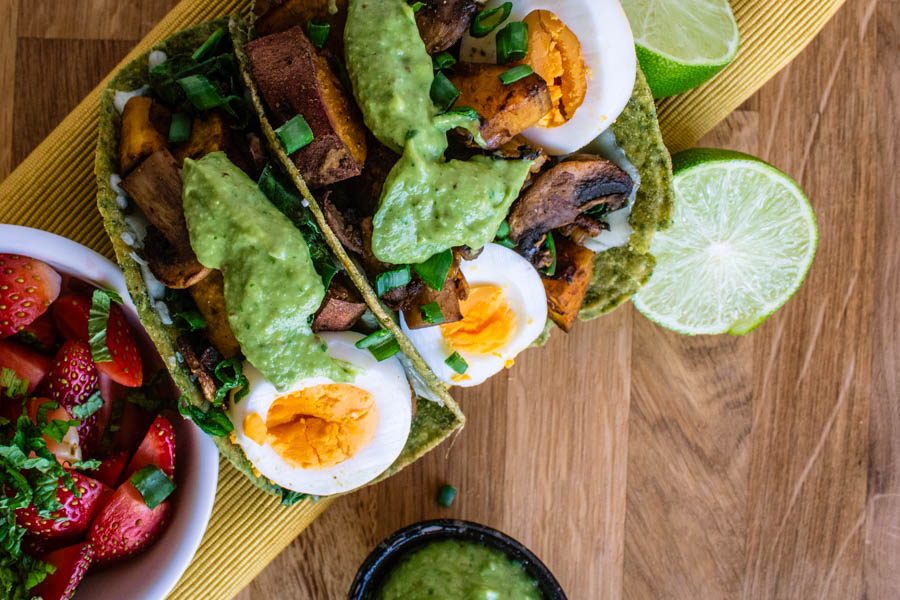 Anyway back to our tacos dinner party please!
This tacos recipe as I mention before is no brainer, you just need to throw those veggies in a pan cook it through and start assembling your tacos shell.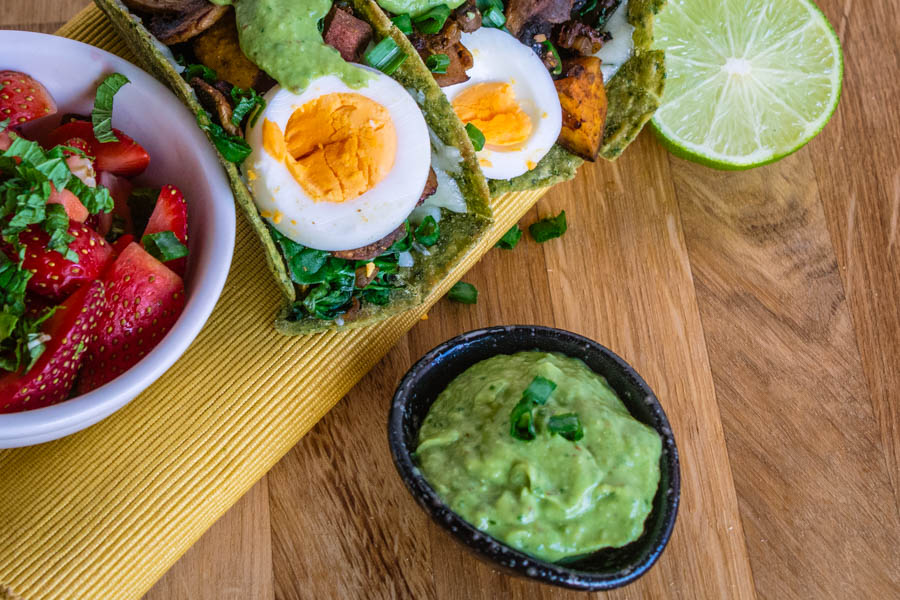 Now there is few point I would like to talk with you about.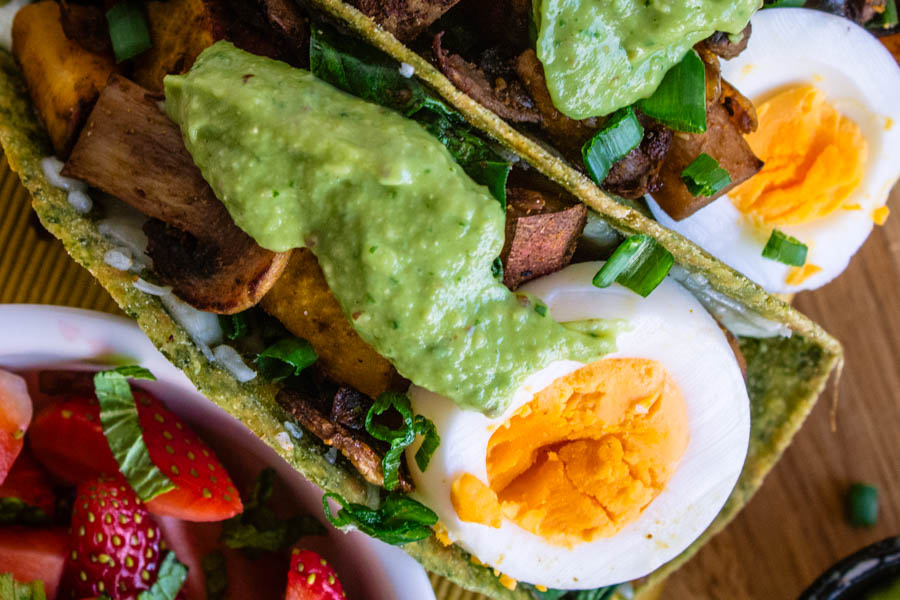 First the wrap, in this recipe I made my own homemade spinach wrap that I used, you can try it! It is really good and easy to do ahead and store in the fridge up to 3 weeks and freezer for 6 months. But if you don't have time and you just trying to start with the clean eating process and don't want to overwhelm yourself from the first week, I totally understand and in fact I recommend to take it easy on yourself the first month till you get used to it and to start adapting and adjusting your time to cook clean, all that said I recommend you to buy some wraps from the grocery stores , look for whole wheat wraps or corn wraps that contain the minimum ingredients and no chemical stuff, avoid the ones who are prepared with palm oil. And girls when I say 2 tacos per serving, I mean two SMALL tacos not the 30 cm tacos: P. the smaller size deal!!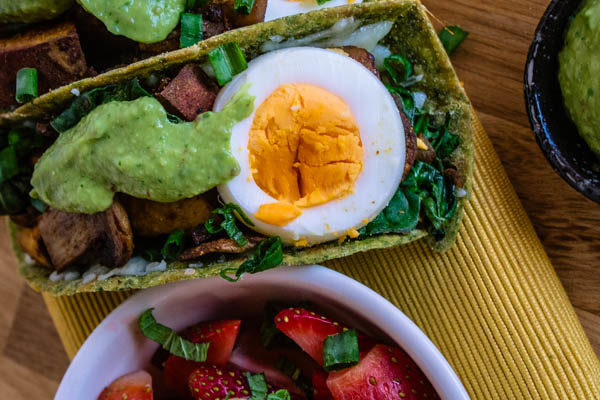 Second the protein choice: I used the egg and some cheese, for two reasons, first I wanted to try more recipes with eggs in it because it is easy to prepare in advance and so a bigger portion of people can try this recipe with a vegetarian option, BUT you can freely switch to chicken or lean meat and the more exciting think that it is amazingly good even in the vegan version without the eggs and cheese , I tried it and the veggies combo with the avocado is just amazing without no adding. So whether you are vegan, vegetarian or on normal type of diet you can adjust this recipe and it will still be very delicious in all of the cases.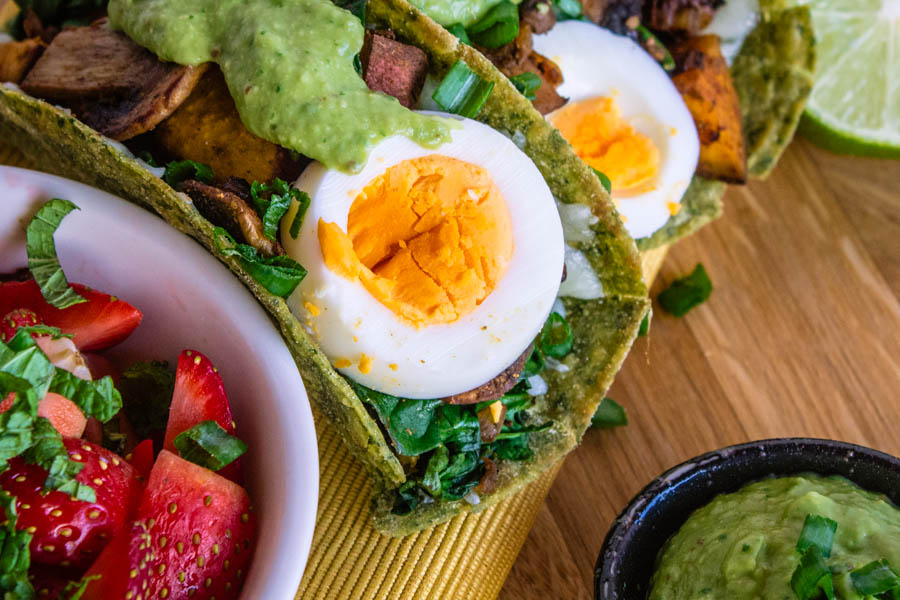 Third the veggie combo:  now for the vegetables choice, I really choose a very tasty combination  that suit all the options above, you can always play with your ingredients but I recommend to try this combo first and then mix and match after. The onions, spinach and mushrooms with the right combination of seasoning and the sweet potato wedges is just very flavorful and the avocado made the perfect complement to the overall taste.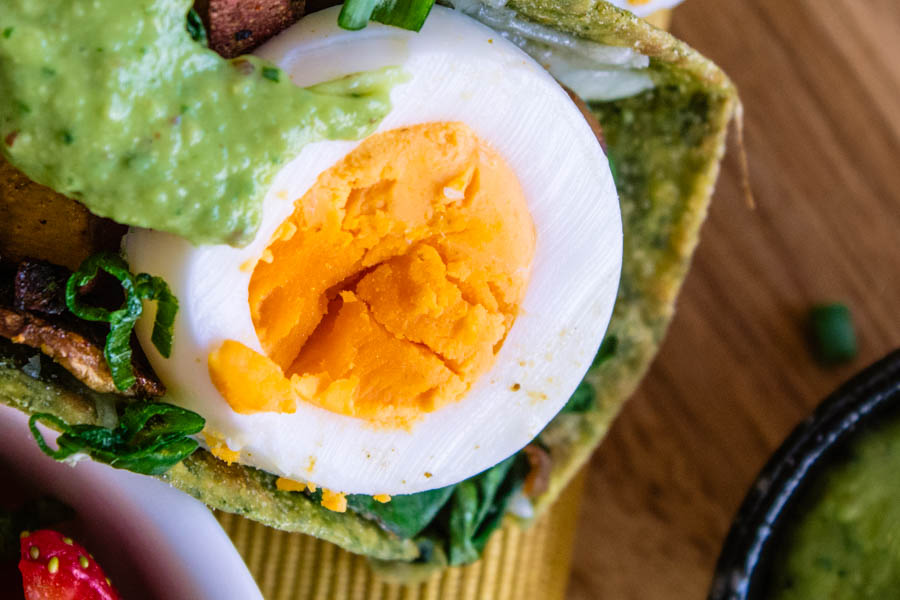 Finally the avocado: the avocado can be introduced to this recipe in two ways, the simple cut into slices and add it to the tacos way and the second way which I used the must honestly , is the mashed dressing kind of way. Why I think it is better? Glade you asked 😛 let me tell you why. Now each serving of tacos for dinner is two wraps with 2 slices of avocado which is ¼ avocado for the two tacos, now if I want to cut ¼ avocado each night the rest will be dark in color the next day and it won't survive for 4 days in the fridge, so I found this solution especially for those who cook for one, an avocado dressing, that is so delicious, easy to spread in the tacos and live in the fridge for longer than the avocado cut and stored. I will mention the details below in the recipe.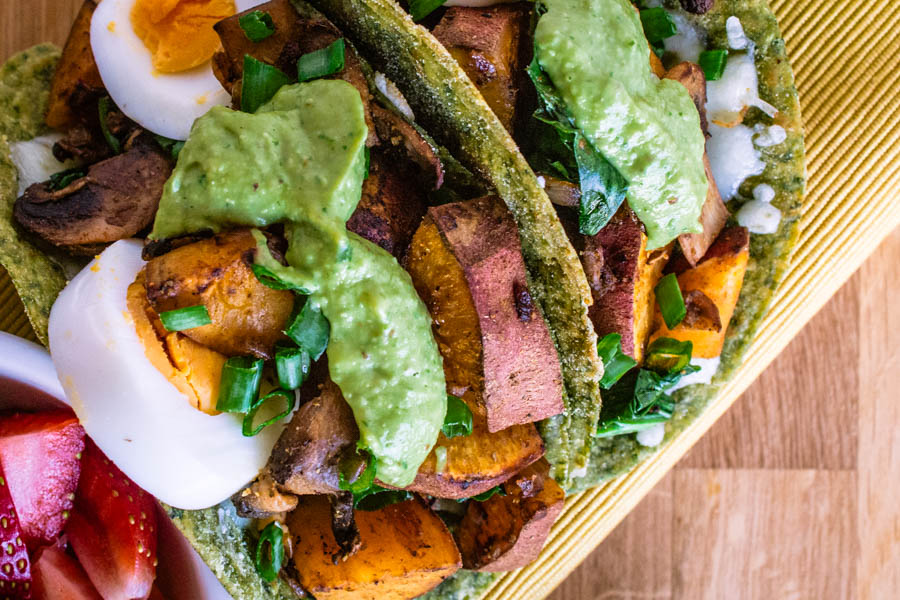 And you may noticed those beautiful strawberries in the pictures. They are not just for decoration in the photo 😛 . I prepared some strawberry and fresh mint salad as a side salad, it was refreshing and a very tasty side salad with this tacos and really pleasant to look at.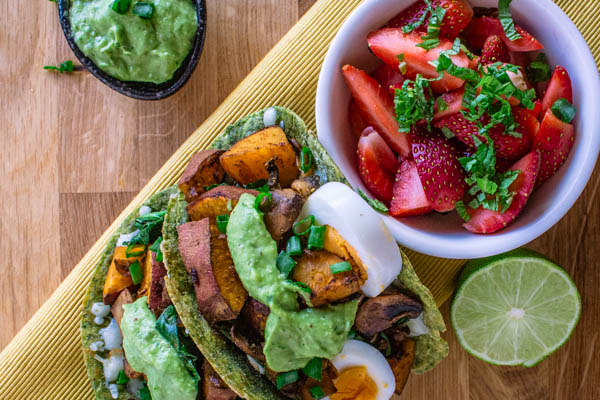 Those amazing tacos are not just for you if you are on a detox or diet, they are for everyone, you can enjoy it with your spouse, family and even for a tacos party with friends.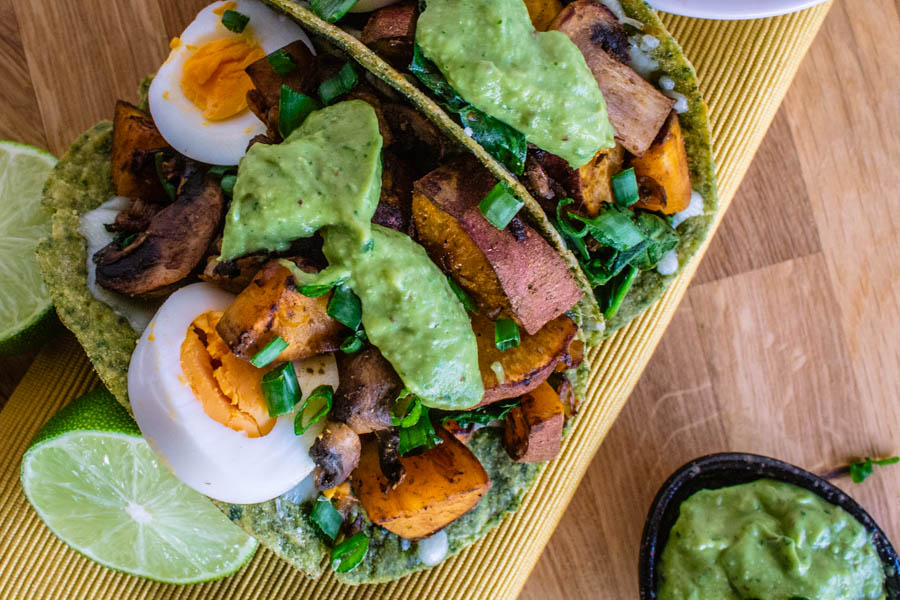 Hope you like this recipe and I will be thrilled to hear your thoughts and feedback if you tried it.
Egg dinner tacos meal prep:
Serve 2 tacos for 1 serving
INGREDIENTS:
For the tacos filling:
1 small onion chopped
1 tsp. olive oil (or spray)
½ cup fresh mushroom, chopped
1 cup spinach leaves
½ sweet potato (1/2 cup) , cut into wedges
Tacos seasoning: ½ tsp. chili powder , ¼ tsp. garlic powder, ¼ tsp. dried oregano, ½ tsp. sweet paprika, 1 tsp. cumin grounded, 1 tsp. black pepper, 1 tsp. salt
For the avocado dressing:*
¼ avocado
1 Tbsp. chopped fresh parsley
1 tsp. mustard
1 tsp. mustard seeds
½ tsp. hot sauce
1 Tbsp. fresh lemon juice
½ tsp. white pepper
Salt to taste
¼ cup Water (optional you may not need)
For tacos assembling:
2 small soft green tortilla wraps , or any other type of clean store bought tortilla
¼ cup fresh mozzarella cheese, shredded
1 hardboiled egg
Some chopped parsley for garnish
5 strawberries, sliced
1 Tbsp. chopped fresh mint
1 tsp. cinnamon
INSTRUCTIONS:
For the tacos filling:
Start with the sweet potato, wash and cut into half than split one half into two pieces and cut into wedges, line in a microwave safe dish and cook for 2 minutes, and set aside to cool.*
On medium heat, add olive oil in non-stick pan, and add onions and cook through till tender and transparent.
Add the mushrooms and cook it for 5 minutes
Add the precooked sweet potato and the tacos seasoning and mix all the ingredients together, until the sweet potato wedges are toasted and golden brown
After all the ingredients are almost done add the spinach and cook it through with the remaining ingredients until wilted. Remove from pan and set aside.
In the same pan lay the tortilla wrap and pour half the mozzarella cheese on each and let it cook until the cheese is melted. And set aside
For the avocado dressing:*
I would like to note here, that the quantities I mention here is for 1 serving of two tacos but I usually do 1 complete avocado for 4 servings and store the remaining ¾ of the dressing in the fridge to use later. I add the same quantities for the ingredients but with 1 avocado instead of ¼:
In food processor pulse all the ingredients together till you have a smooth mixture add water gradually till you have a dressing texture that is not too thick.
For tacos assembling:
divide the filling into two equal part
Add each part in the tacos wraps with the melted cheese on it.
Cut the boiled egg into 6 equal slices. And add 3 slices to each wrap
Drizzle the avocado sauce over the tacos and garnish with some parsley
In another bowl mix the strawberries slices with the fresh chopped mint and cinnamon and enjoy as a sider.
Nutritional Information:
Serving size: 2 tacos | Calories: 450 calories | carbs: 44 g | fat: 23 g | protein: 20 g | fiber: 9 g | sugar: 8 g