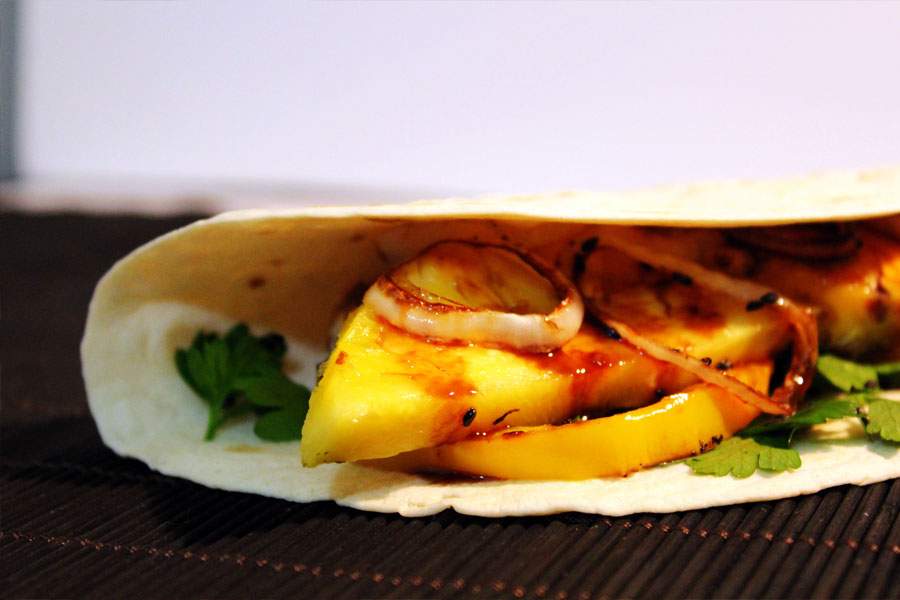 Perfect recipe for summery outdoor dinners.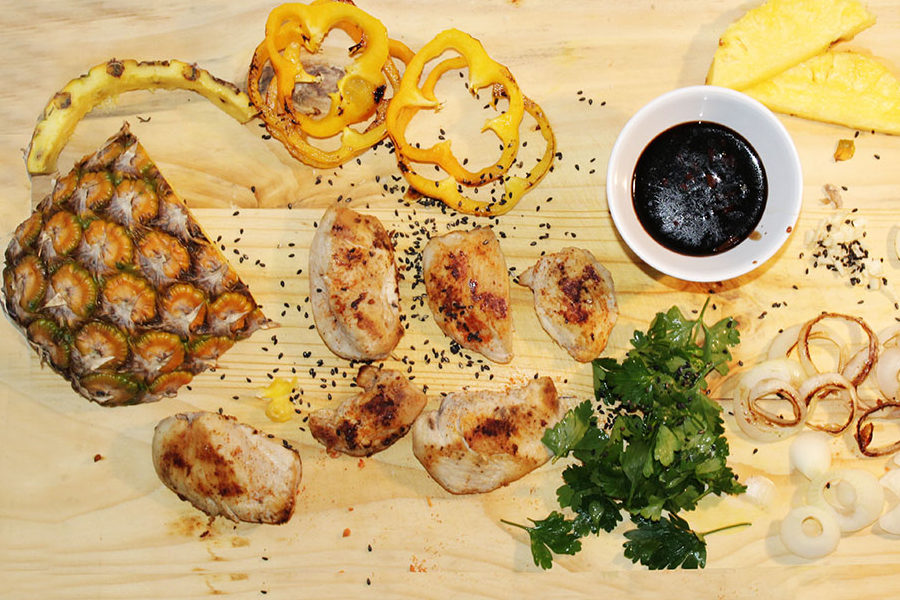 Easy and fun to make; just cut those fruits and vegetable, throw them on to the grill and enjoy.
Super juicily seasoned grilled chicken topped with fresh pineapples and some tangy teriyaki sauce, wrapped in soft pita bread. A delicious quick summery dish.
Not to forget the Pineapple's benefits that you are adding to your dish.
I like to add pineapple whenever I can in my cooking because of its health benefits.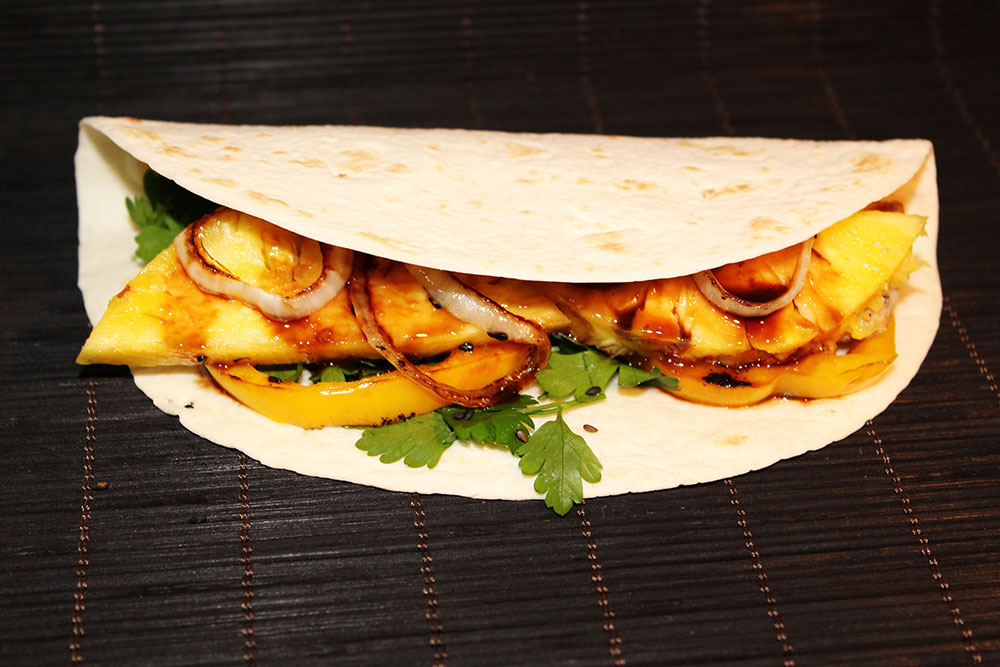 It's high in fiber and, unlike any other fruit, pineapples contain a significant amount of Bromelain which an enzyme that helps digestion.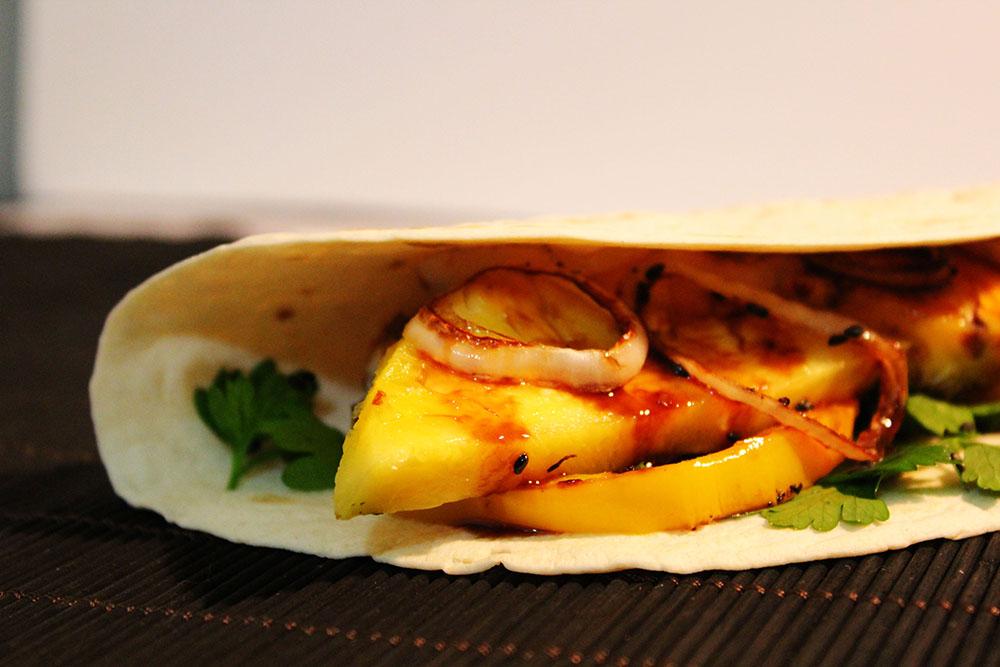 And because of its bromelain levels, pineapples can help reduce excessive blood coagulation.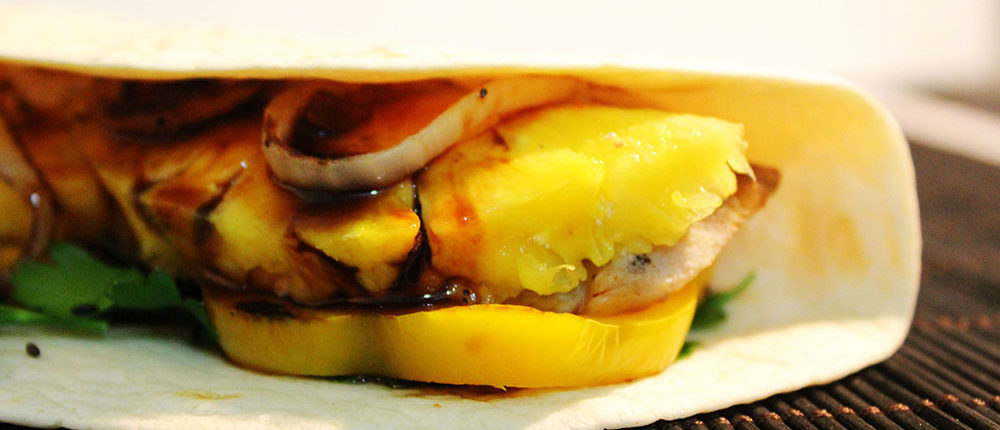 This makes pineapples a perfect and healthy addition to your recipes, as well as a very good snack on its own. Not to mention how refreshing and moist it is. It is perfect for hot summer days.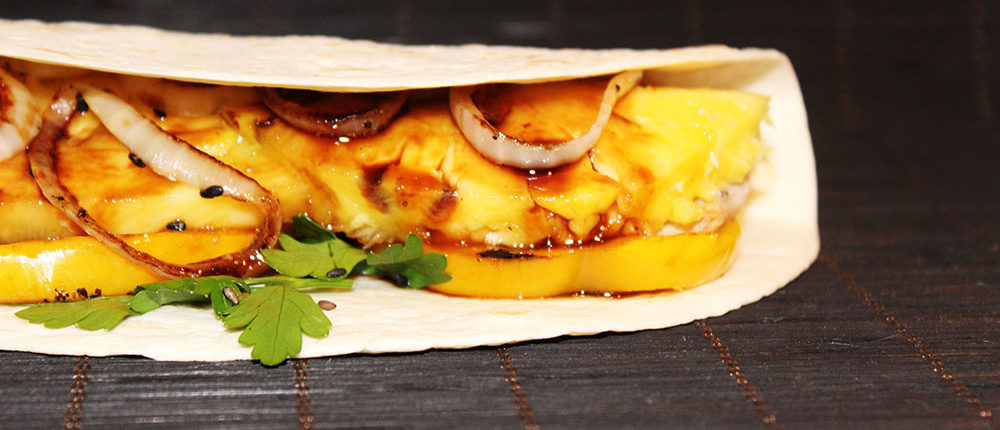 Even though this recipe's instructions are for indoor cooking, it is very easy to switch from pan to grill and take it to your backyard BBQ.
---
Serve 2 wraps
INGREDIENTS
1 boneless skinless chicken breast
¼ tsp. garlic powder
¼ tsp. chili powder
¼ tsp. sweet pepper
1 onion, cut into rings
1 small green or colored pepper, cut into rings
2 slice pineapple rings
Sesame seeds, tomato rings, cilantro, lettuce or cabbage for wraps filling.
2 Pita wraps
Homemade teriyaki sauce:
1/4 cup soy sauce
1 Tbsp. Rice vinegar
½ Tbsp. Sesame oil
3 Tbsp. brown sugar
¼ tsp. grated fresh ginger
½ tsp. garlic, minced
1 tsp. cornstarch
½ Tbsp. hoisin sauce (optional)
INSTRUCTIONS
Season chicken with garlic, chili salt and pepper. Grill for 8 to 10 minutes on high heat. Until golden brown and completely done.
Remove chicken from heat and in the same pan grill the onions rings and the green pepper rings.
Assemble wraps by placing chicken slices, onions rings, pepper rings and pineapple with your desired filling option from cilantro, cabbage, sesame seeds …
Top with 1 Tbsp. of Teriyaki sauce or more if you like a saucier wrap.
Add the diced tomato and the tomato paste with ½ cup water and mix all the ingredients in the pan well.
For the teriyaki sauce:
Whisk all the ingredients together and boil for 2-3 minutes on high heat until thicken. Don't worry if it's not very thick it will get thicker while cooling down. Pour into a jar, and store in refrigerator after it is cooled completely to use later.
NUTRITIONAL INFORMATION
Serving size: 01 wrap / Calories: 253 calories / carbs: 44 g/fat: 5.1 g/ protein: 15.5 g / fiber: 5 g /saturated fat: 1 g/ sugar: 15.3 g