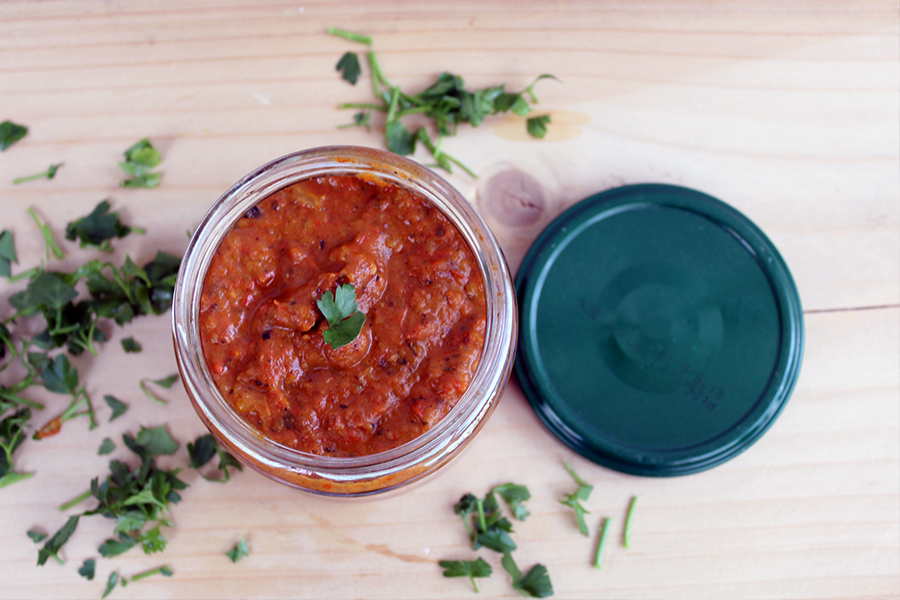 Homemade roasted tomato and red pepper sauce is a must have in every refrigerator especially for vegan dishes. It is a flexible sauce and very simple to make. Super flavorful and can be used on top of any of your favorite dishes from pasta, pizza to any other dish that recommends red tomato sauce.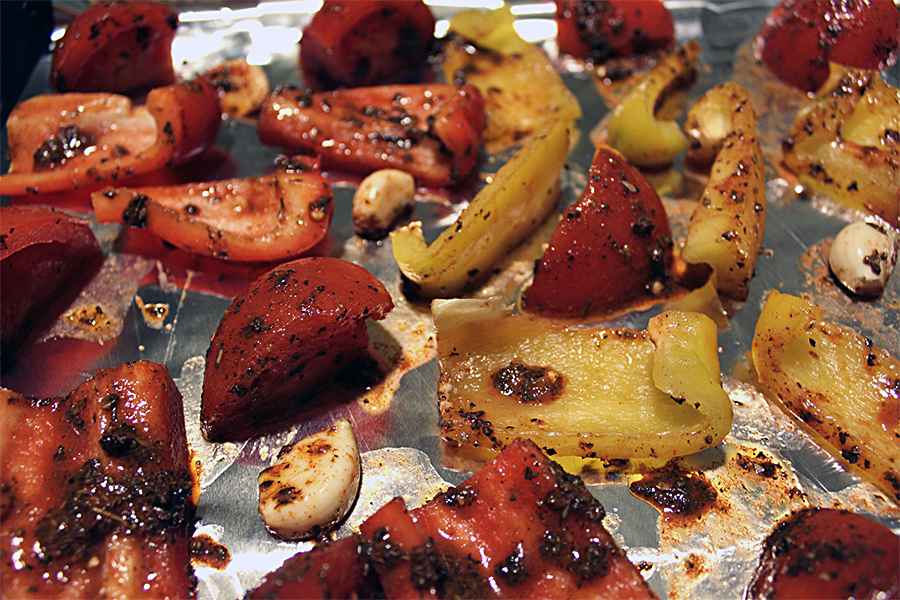 So you may wonder what is it that special about this recipe?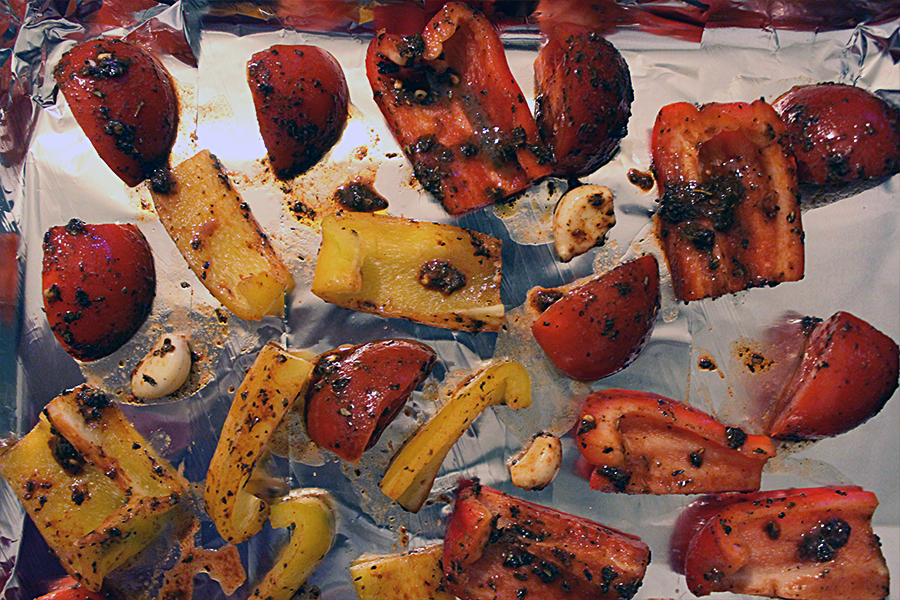 It has pepper and tomato like my other sauces, yes it may be same ingredients but the secret lays in the way of cooking the veggies .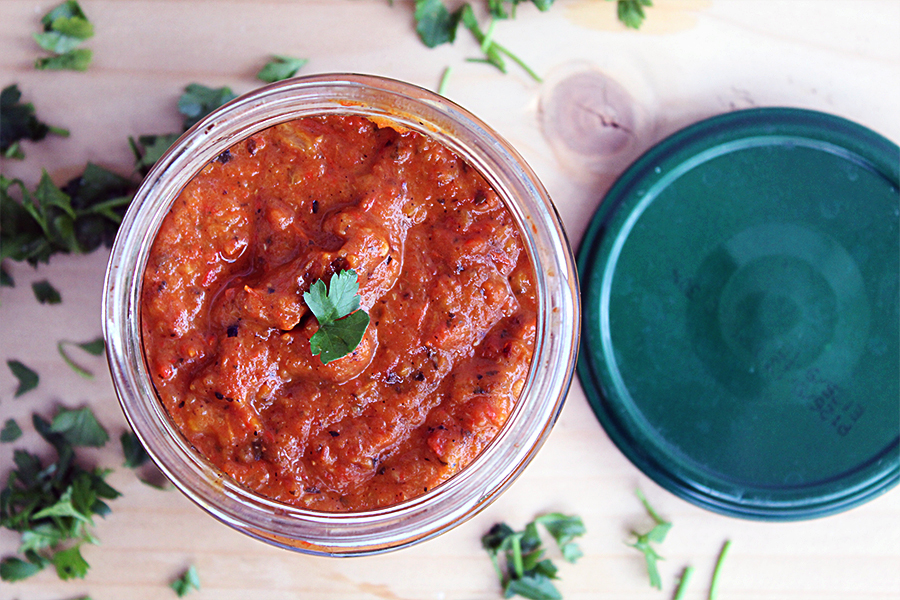 I have a thing for sauce and dressing, I love my food creamy and overdressed most of the time, so when I tell you to try this sauce recipe next time you want to do some pasta; trust me because it is the best!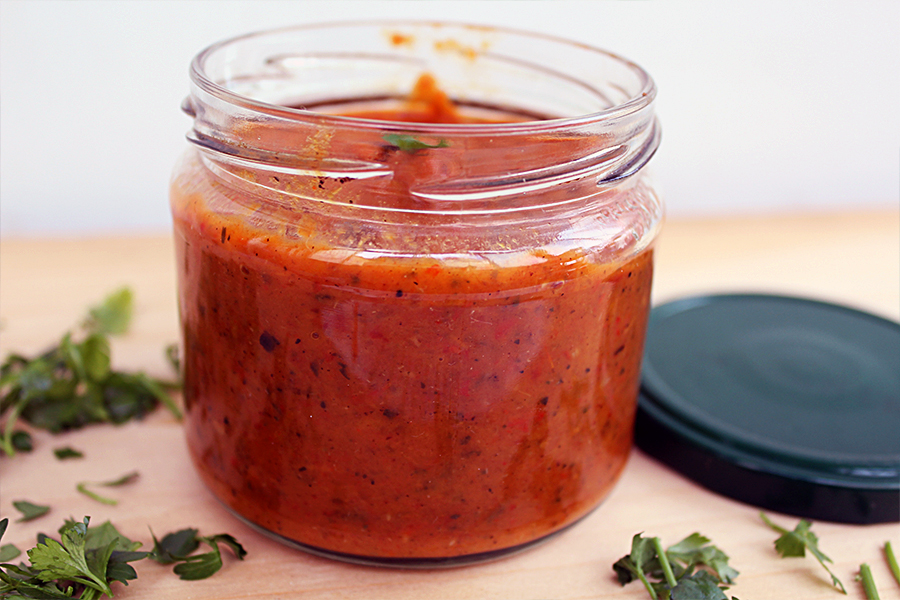 The secret of the best red pepper sauce is slow roasting.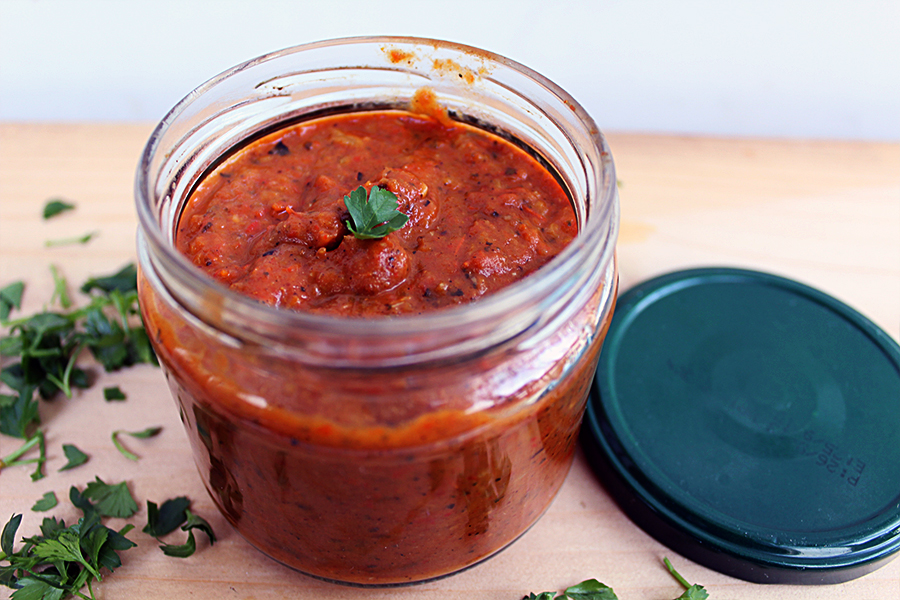 Slow roasting the veggies brings out their flavor. The combination of pepper, tomato and garlic roasting in the oven is so yummy! Your kitchen will smell like an Italian heaven while this is cooking.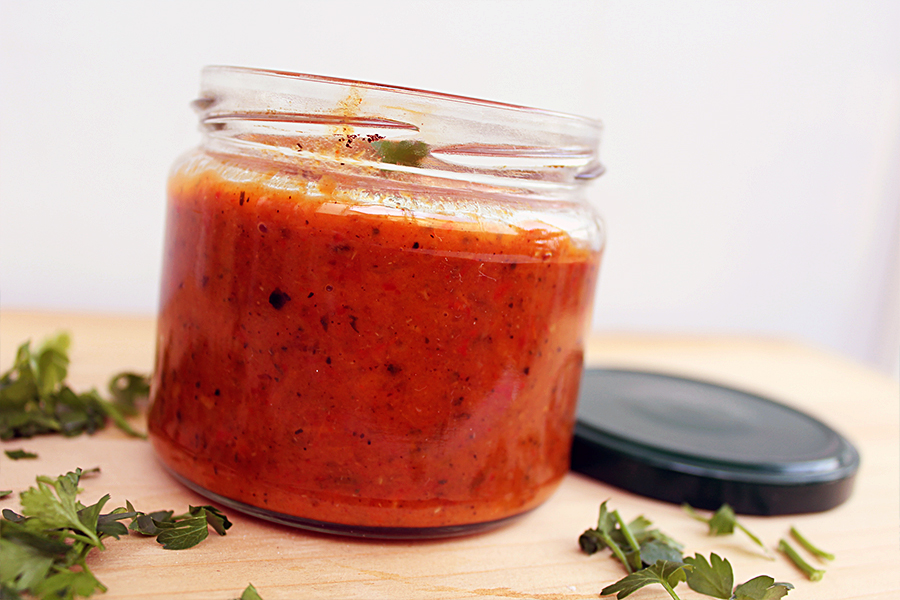 The herbs I put in this recipe are my favorites. Feel free to sprinkle any of your favorite herbs.
The roasting not only brings out the flavors but also the natural sweetness in the tomatoes and peppers, so no sugar or any artificial additive is needed in this recipe.
This roasting red pepper sauce belongs on everything! Once you tried it you will never go back to tinned sauces.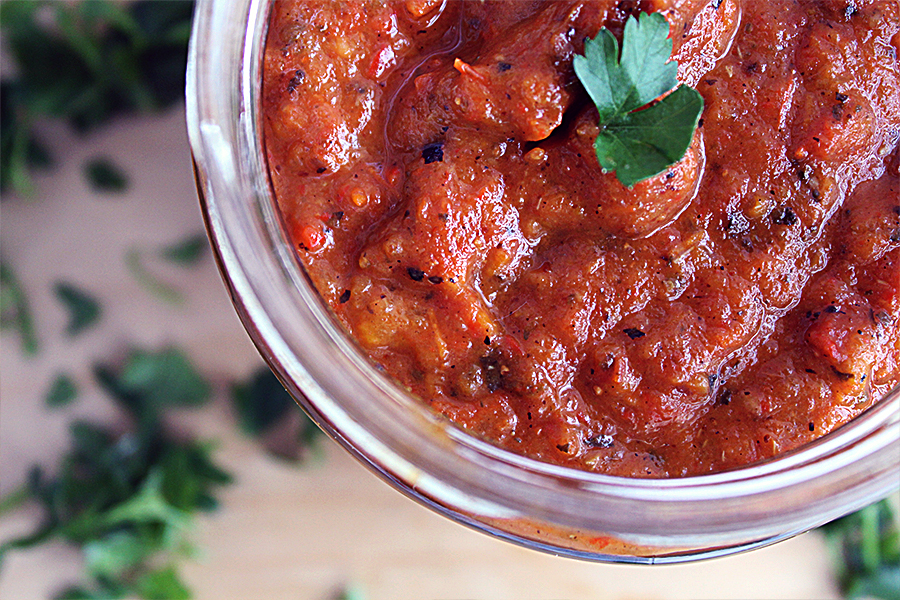 This recipe can be edited in so many ways, you can add some almond milk and make it creamier or you can add more onions or more chili, it is very flexible.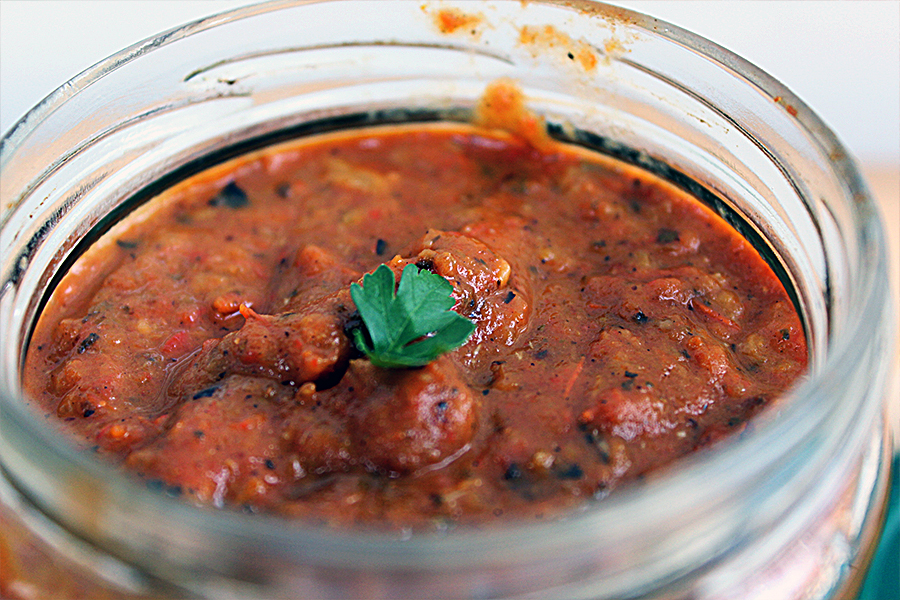 Just roast those veggies, blend and place in a jar and store in the refrigerator so you can use whenever you are craving some red creamy goodness. It should last at least a week and can be frozen for longer storage. I would say for up to 3 months.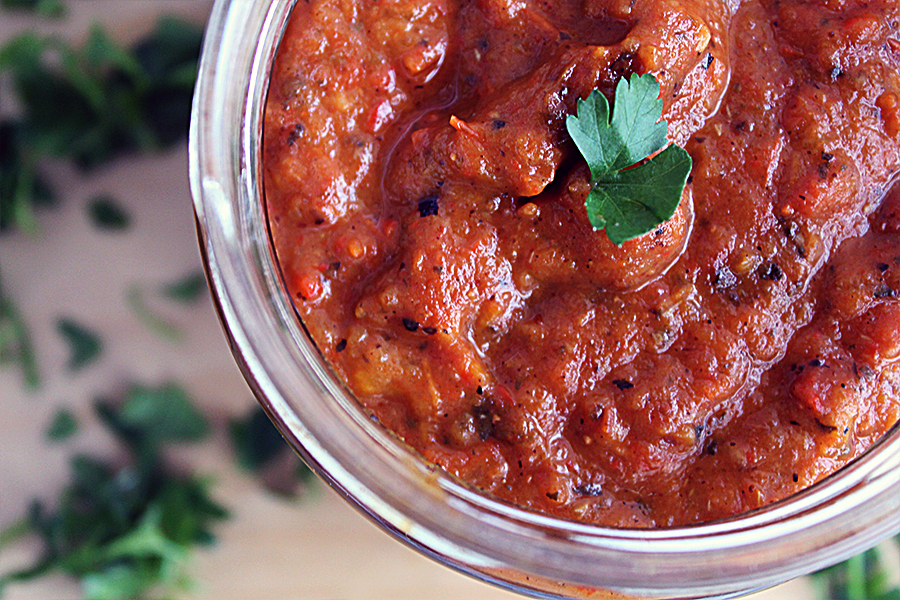 Roasted red pepper vegan sauce
yield about 12 Tbsp.
Ingredients:
6 medium tomatoes
2 redbell pepper
1 yellow pepper
2 Tbsp. olive oil
½ tsp. dried oregano
½ tsp. dried thyme
1 Tbsp. basil (dry or fresh)
1 tsp. paprika
3 clove garlic
Salt and pepper to taste
Instructions:
Preheat oven to 260 °C
Cut tomato into half
Cut peppers into quarter
In a large bowl, mix seasoning and olive oil
Toss into the bowl, the tomato and pepper
Spread some aluminum foil on the roasting pan
Spread the pepper and tomato and add the whole garlic glove between the veggies.
Bake for 25 minutes.
Remove from oven and let it sit for 10 minutes
Blend all on high speed.
Store in a jar.
Serve and enjoy!
Nutritional Information:
Serving size: 01, Calories: 27, fat: 2 g, carbs: 2 g, fiber: 2 g, protein: 1 g