Jump to Recipe
I won't lie to you guys, I am not a big fan of pickles, especially the store bought ones. I have trust issues in the whole food industry out there and this section is one of my highly doubted ones.  Therefore I just stopped eating it once and for all.
I only enjoy fermented food of any kind just at my mum's house when she does it.Since it is a little bit hard to just grab a jar from my mum's pantry since we live in two different countries now, the need for pickles sparked my urge to do some!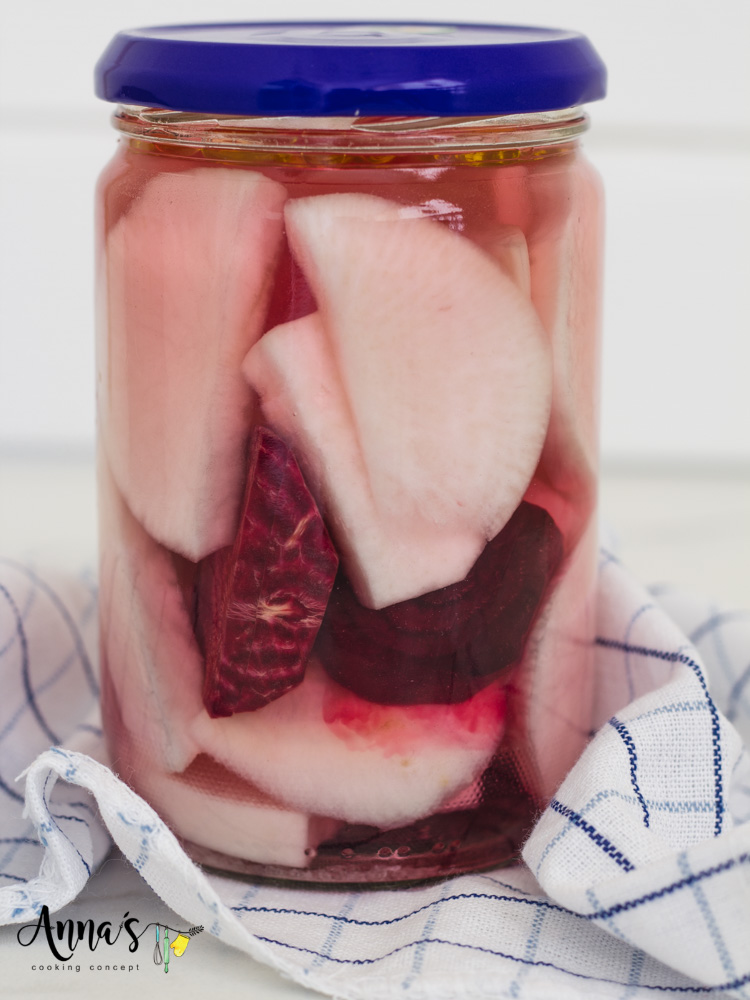 Basically the whole concept of fermentation in our traditional cuisine is not that complicated, and we enjoy it along our meals from breakfast to dinner.Today I wanted to prepare one of the easiest; as a starter so I don't mess things up. It is so colorful and delicious with a tangy earthy taste.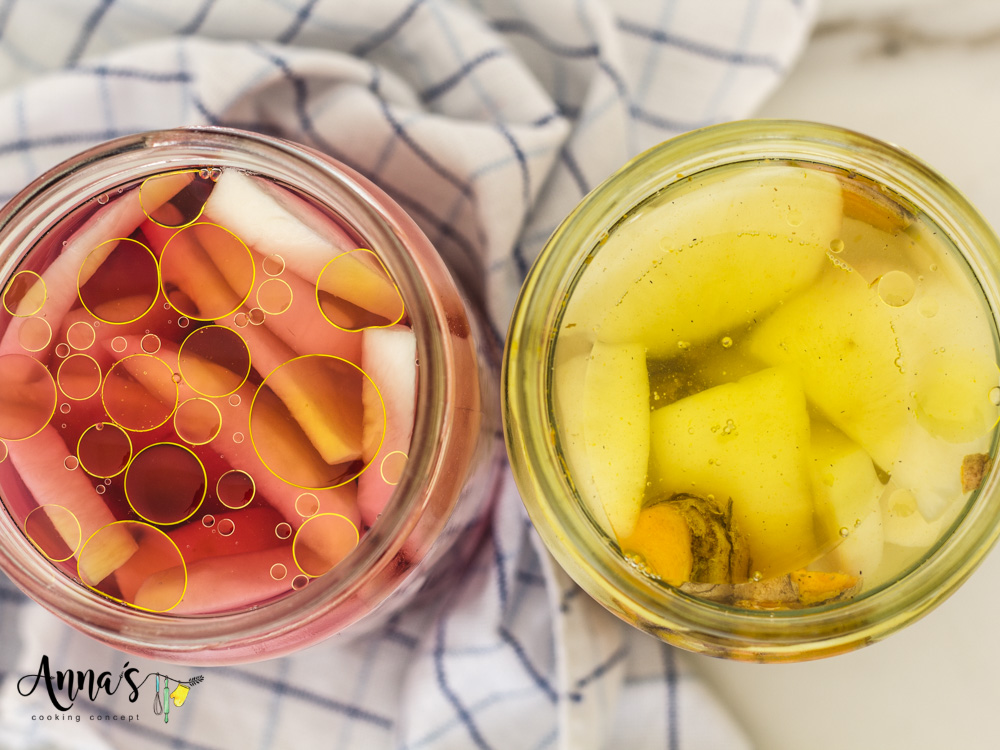 I prepared the pink traditional one and I tried a new twist with a yellow color check it out!

Fermented pickled turnips
tangy crunchy colorful fermented pickled turnips that goes with a lot of dishes especially falafel .
Very easy to put together and have a lot of benefits.
Servings
:
1
glass jar (500ml)
Ingredients
1

tbsp

sea salt flakes

2

tbsp

apple cider vinegar

1

tbsp

brown sugar

(optional)

1

small

beetroot

washed and cut into strips (check notes for the yellow version)

4-5

small

turnips

washed and cut into stips

1

tbsp

virgin olive oil

2

cups

water

1

jar

glass with air tight cover

(500ml)
Instructions
add half of the water and mix with salt,vinegar and sugar.

add the beetroot and turnips and mix it all together.

add water if you need to to fill the jar. drizzle the oil on the top and close the jar

keep it in your dark dry cold pantry for 4-5 days until it ferment and if you live in a warm place like me after 5 days put in the fridge to stay fresh and good to eat.
Recipe Notes
for the yellow version :
instead of adding beetroot , add one small piece of fresh turnip washed and cut into rings.