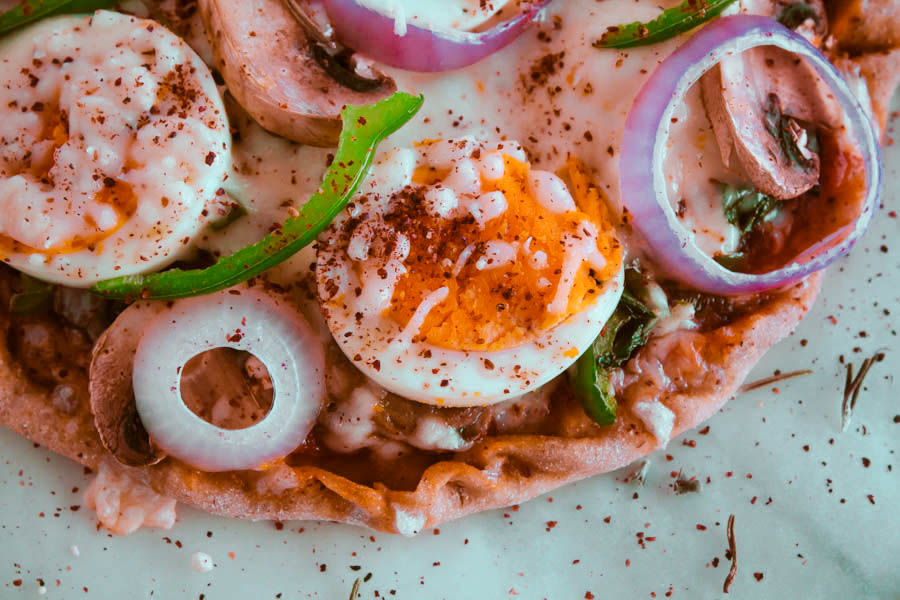 Whoever told you that eggs and pizza do not go together is totally wrong and have never even tried it!
My take on Italian vegetarian pizza for today is my idea of the perfect dinner of my dreams while doing detox!
You may wonder pizza and detox?! How did that work out for her! Well it worked perfectly fine!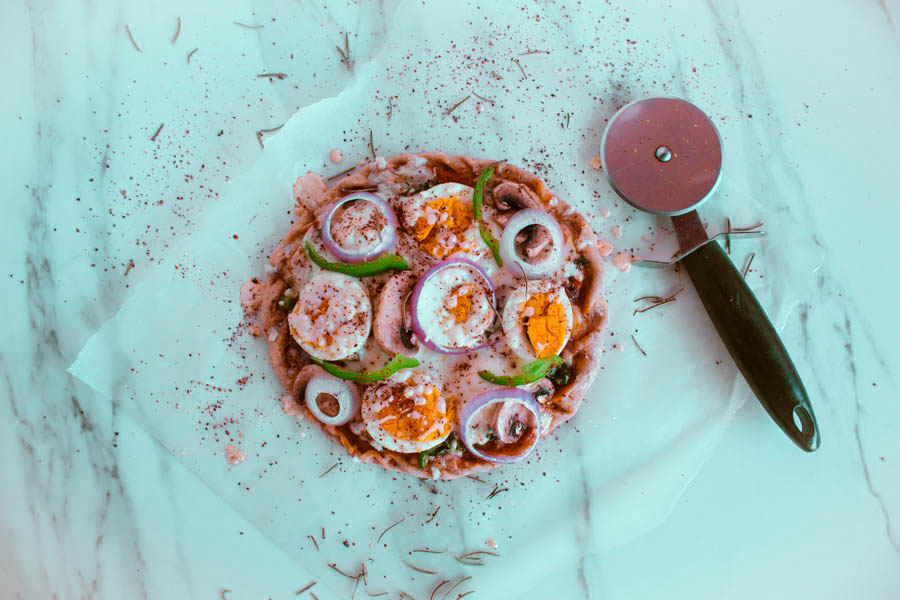 The dough is a very easy 2 ingredients recipe. I prepared and baked 6 portions of pizza crust and stored for other nights.
And the toppings are all fresh, clean ingredients with no need of any extra oil or butter.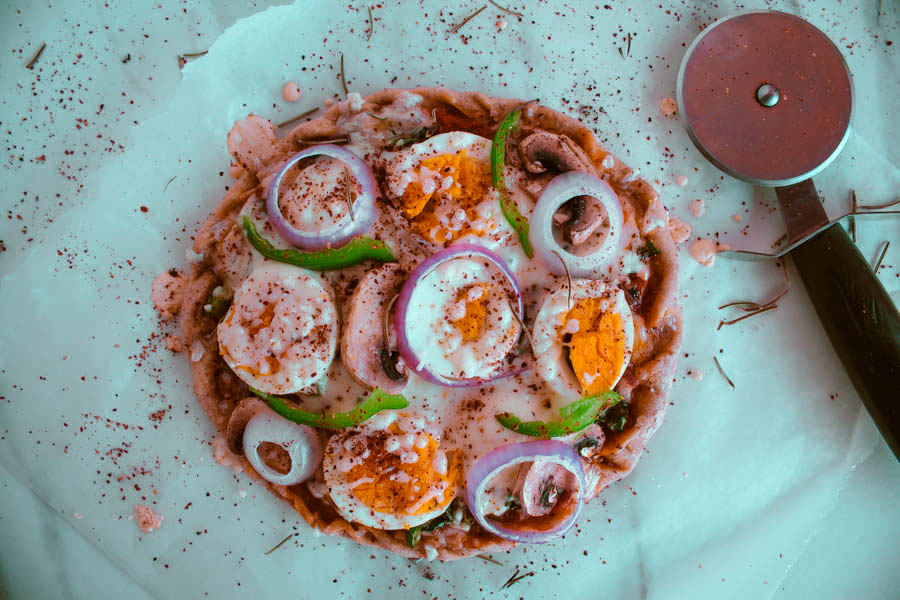 My husband saw me doing this pizza and he had that look on his face! That confusing look of "what the heck is she doing with boiled egg and pizza ingredients together!" he was observing what I am doing with a big surprise thinking that maybe I am going crazy !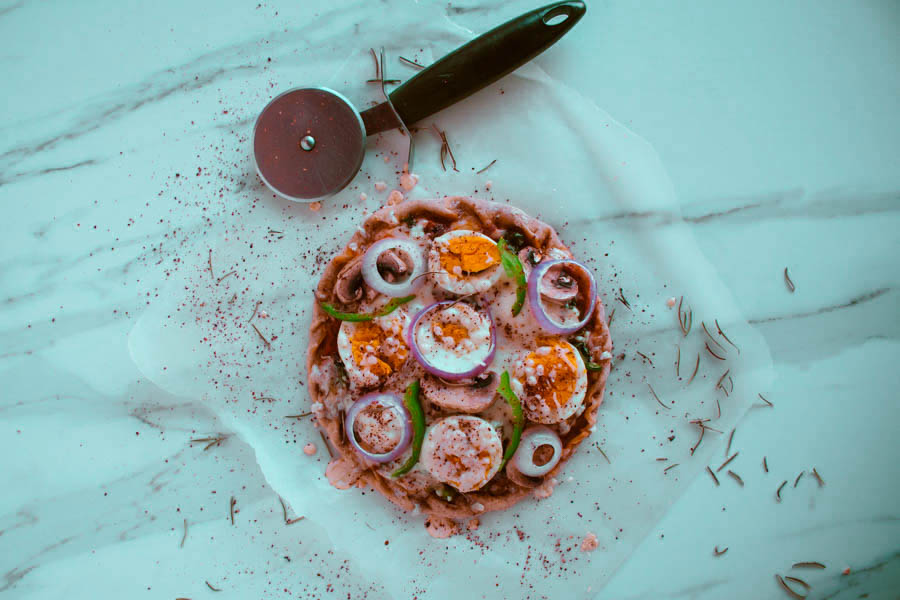 And as usual after I cooked it and he tasted it, he ended up eating my whole pizza! But I like when he does that l, it means the recipe succeeded. He is so sceptical in trying new things in food, and when he does try mine and likes it, I feel very happy and proud of myself!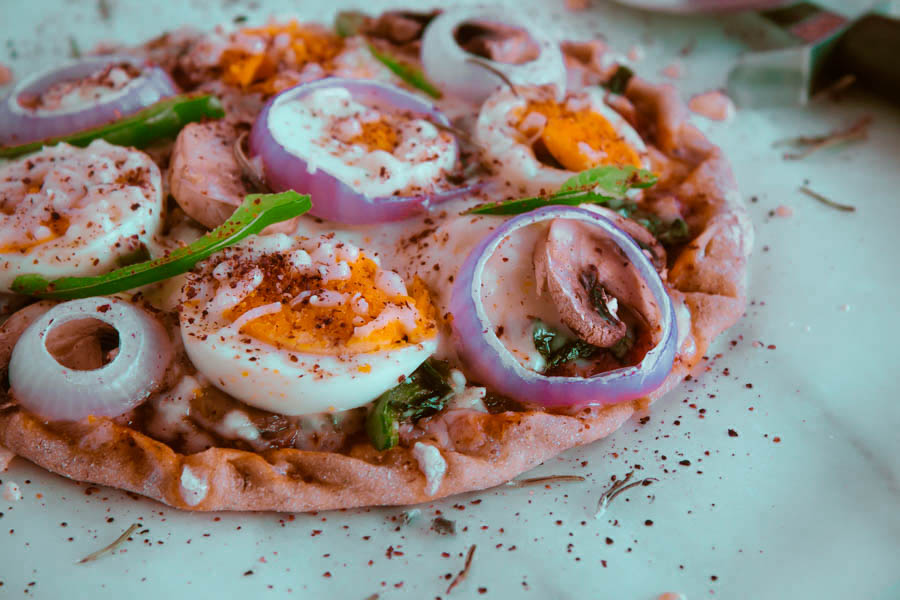 Anyway enough with the husband, back to the recipe. This recipe is easy, fresh and full of delightful flavors with a crispy thin crust and the egg just adds an amazing color and taste to the whole composition, not to mention a great protein source for dinner.
I prepared this recipe for 3 days of the 7 days for dinner this week, I have it after gym with some kale salad. Kale salad has been my best friend this week, it is so tasty and amazingly filling!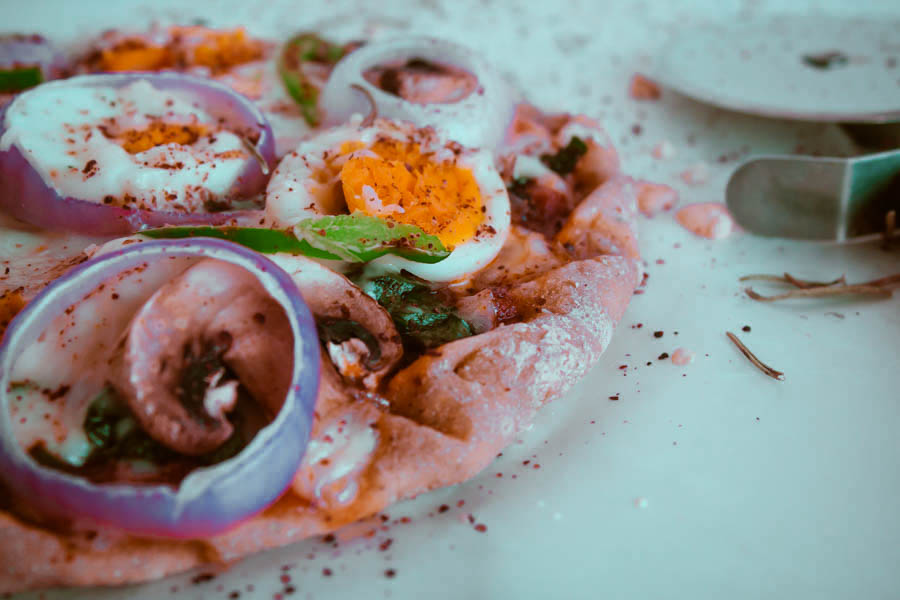 I am going to share the dough recipe and the topping recipe and feel free to mix and match with the toppings as you like!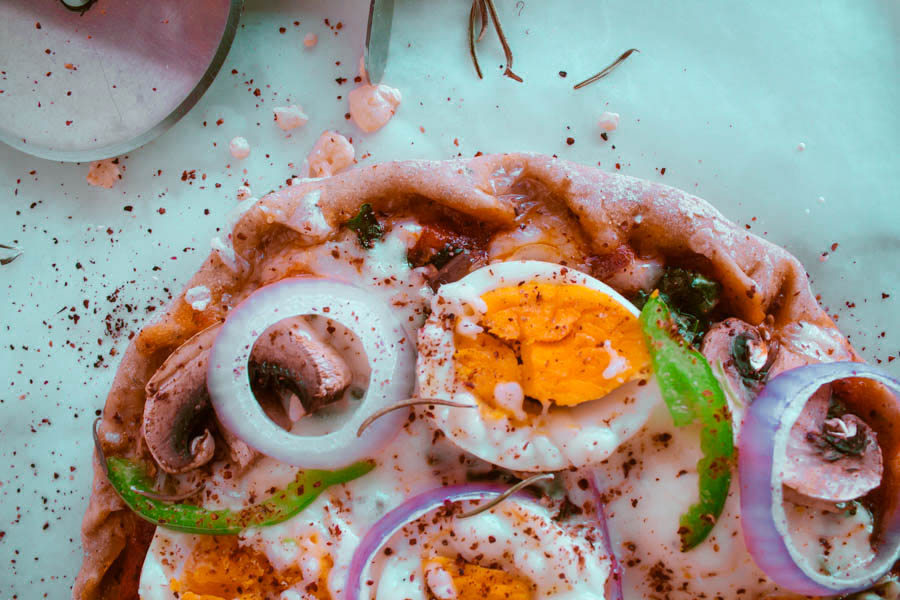 The dough recipe is so easy and very tasty, and freezer friendly!
So let us start with the recipe details.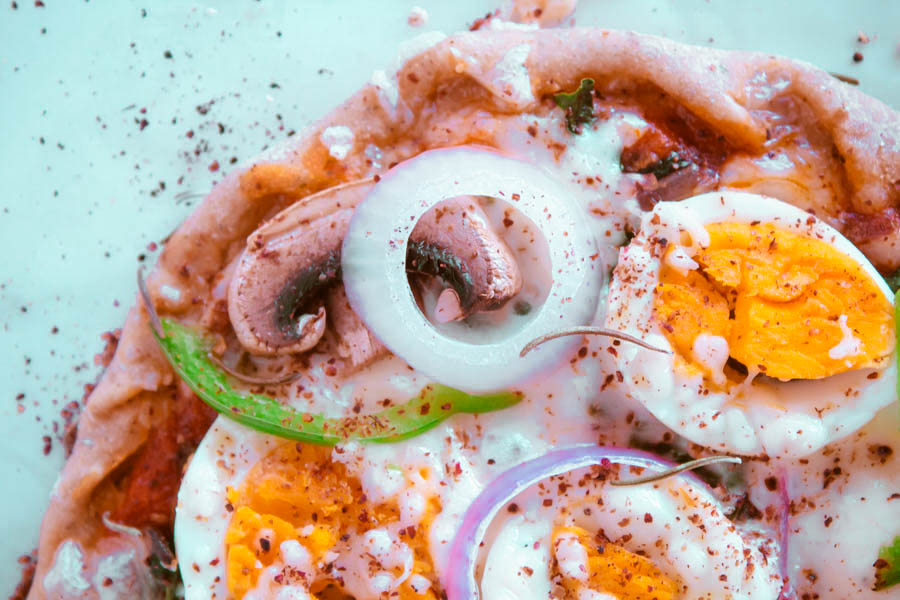 High protein egg pizza:
INGREDIENTS:
For the dough: (serve 6 dough crust)
2 cups whole wheat flour
1 cup Greek yoghurt (laban)
1 tsp. baking powder
Seasoning: 1 tsp. dry oregano, 1 tsp. dry basil, 1 tsp. dry thyme, 1 tsp. dry zaatar (optional)
For the topping: (serve 1 pizza topping)
2 Tbsp. of your favorite clean tomato sauce (I used the arrabbiata tomato sauce from organiclarder)
¼ cup fresh mozzarella cheese, grated
¼ cup fresh mushroom, sliced
1 small green bell pepper, sliced into rings
Handful of spinach
1 small onion, sliced into wedges
1 hardboiled egg
1 tsp. olive oil
½ tsp. salt
Pepper to taste
Sumac for garnish
INSTRUCTIONS:
For the dough: (serve 6 dough crust)
Start first with the dough:
Preheat oven on 180 C◦, and lay some parchment paper in a baking tray
In a big deep bowl, mix all the dry ingredients including the seasonings.
Then pour the yoghurt over and mix it, I am a hand work person but you can also do it with a spatula or with the food processor or dough maker.
Keep working it until you have a smooth dough, like any normal pizza dough.
Cover and let it rest for few minutes it doesn't need too much, I let it rest while I prepared my working space and prepared the topping.
Divide the dough into 6 smaller pieces, or you can divide it depending on how big you want your pizza, this was divided to 6 to make 6 pizza crust of 15 cm diameter each.
Sprinkle some flour on your working top, put your dough piece and roll it over until you have a circle of 15 cm, you may need to add some flour on the top before rolling so it won't stick.
Transfer to the baking tray and set aside preparing to bake.
While the dough is resting let us prepare the toppings.
For the topping: (serve 1 pizza topping)
Prepare the hard boil egged and set aside to cool.
heat olive oil in a medium nonstick pan, on medium heat
Add the onions leaving some for garnish, and stir it until tender.
Add the green peppers leaving some for garnish, and cook until tender
Add the chopped mushrooms and sautéed for extra 5minnutes until cooked
Add the salt and pepper and mix it all
Add the spinach and cook it through until they are cooked.
Turn off the heat and set aside to cool.
For assembling the pizza:
Now for the pizza there is two parts:
First the pizza crust that we need to prepare to eat right away:
on the none baked crust, spread the tomato sauce
Add the cooked mushroom mix.
cut the egg into slices and line it above the mixture, sprinkle the cheese on the top
Garnish with the extra bell pepper, onion and mushroom slices.
Sprinkle sumac as a final touch
And bake for 10 minutes in the preheated oven
And the second one to store for later use:
For the crust with no topping, to prepare for later use, you can bake at the same time with the previous one, but instead of baking it for 10 minutes, remove it from oven 5 minutes earlier.
So basically for the crust to store in freezer, just bake them a half bake for 5 minutes and remove from oven and let them cool before storing in a zip lock bag in freezer for up to 3 months.
When you want to use, remove from freezer, put your favorite top on, and bake in an 180C◦ preheated oven for 5 minutes until the cheese melt.
Nutritional Information:
Serving size: 01 | Calories: 404 calories | carbs: 40 g | fat: 14 g | protein: 23 g | fiber: 10 g | sugar: 17 g