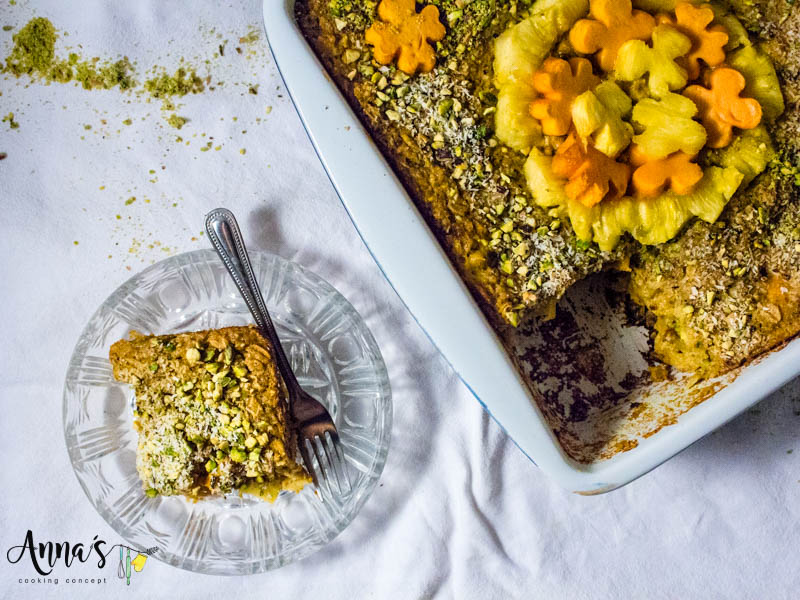 Time is passing by so fast.
I am super immersed in my new house decoration to finish and settle everything down before I travel that I barely have time sharing anything on my blog.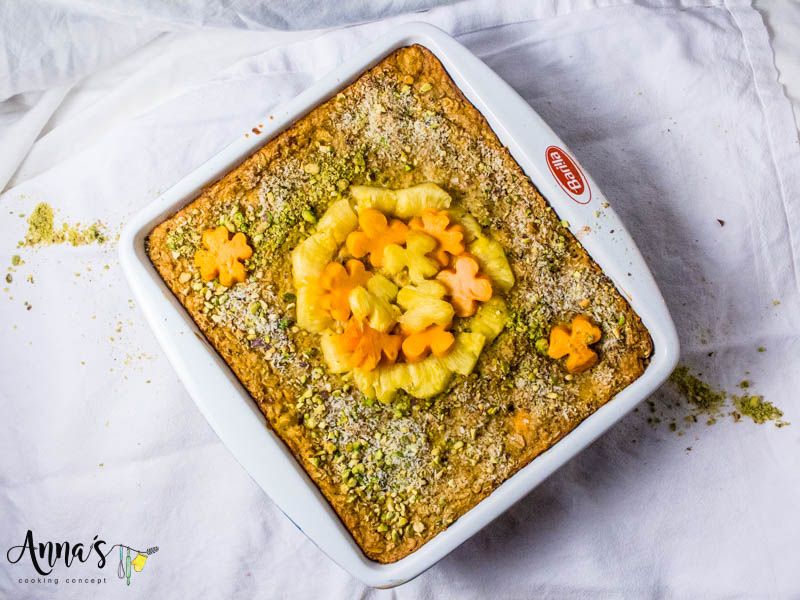 You have to hang on just a few more weeks guys until I'm fully settled down.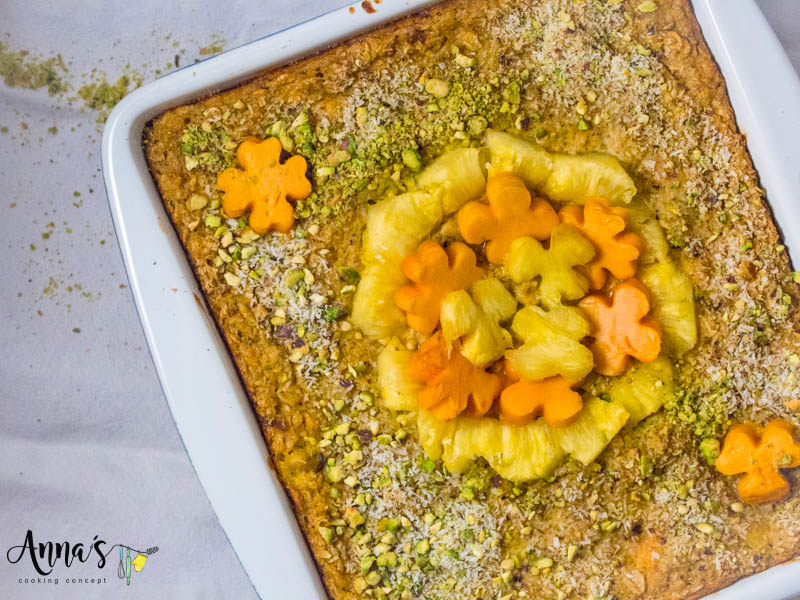 I love cooking for too many reasons but one of them is that cooking always reminds me to slow down for a minute in those rush days to enjoy and relax.
Adding to that; I'm short on time with too much to deal with lately, I don't find the time everyday to prepare my meals and mainly the most important meal of the day "the breakfast".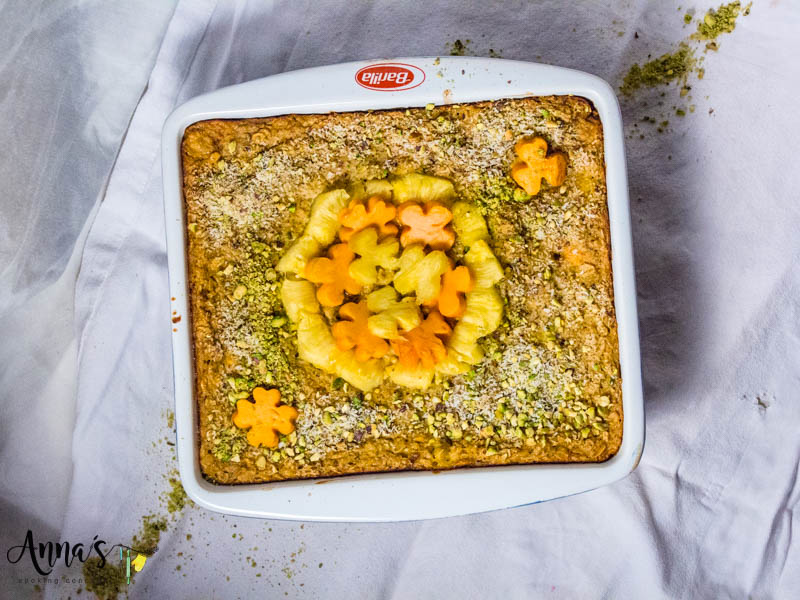 As we all know it is a very dangerous game to skip your breakfast.
I felt really tired and dizzy those last few days which was a reminder from my body that I need to slow down and get back on my regular healthy eating diet.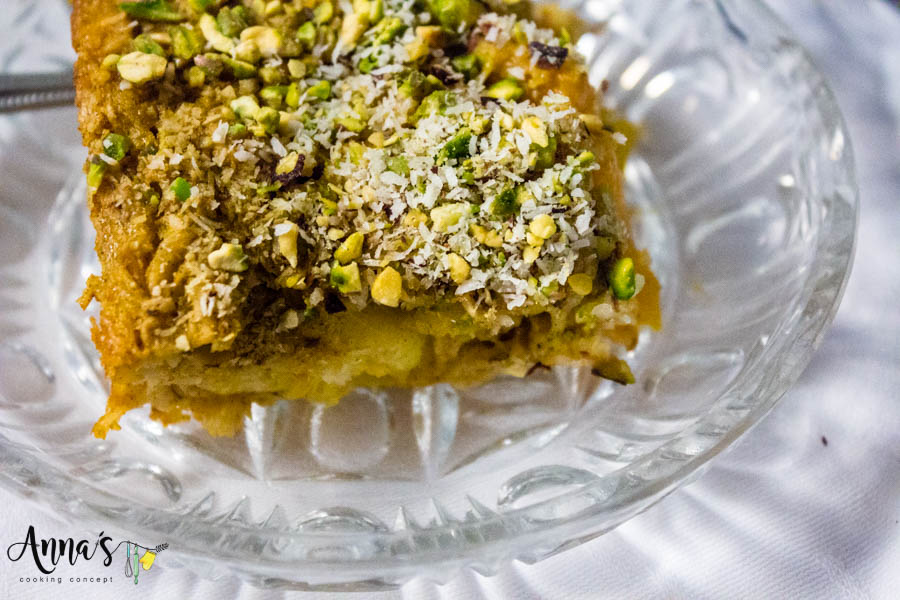 I cook with healthy clean wholesome ingredients so I properly fuel my body. This is what made me find this great purpose of sharing this recipe with you guys.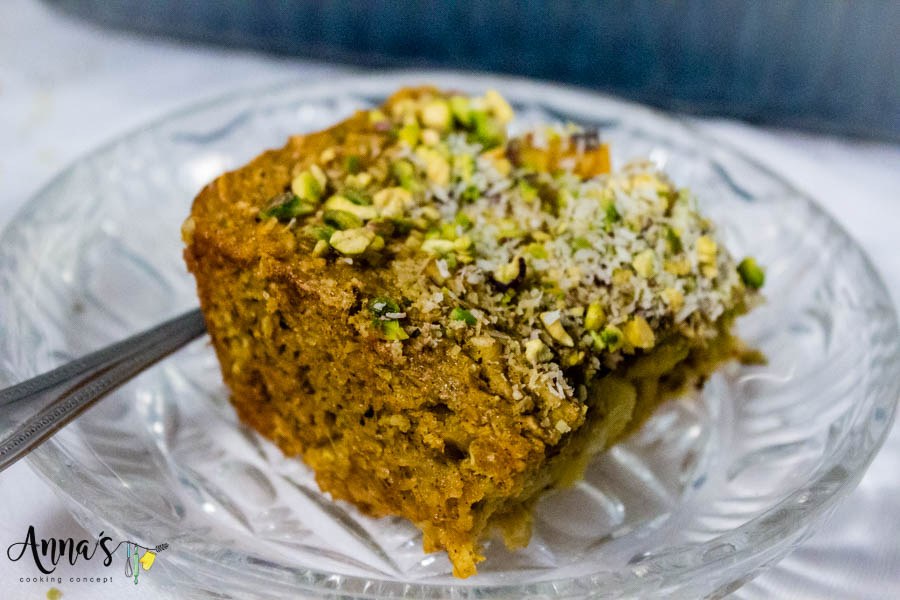 I feel good when I pull out a healthy tasty recipe and share it with you!
So as a reminder for me to stay healthy, I prepare this baked oatmeal pan that I can store in the fridge and cut a piece and take it with me on the go for breakfast or even for a snack, in that way I won't skip my breakfast when I am in a hurry.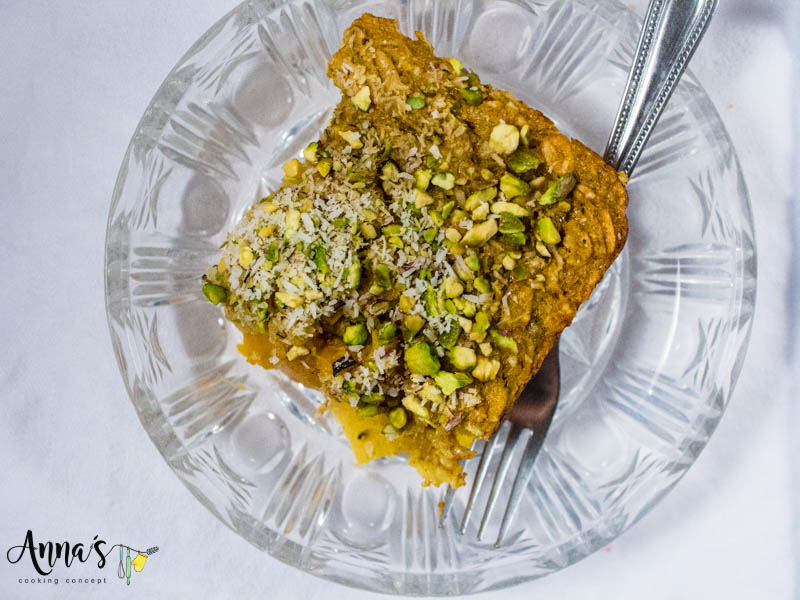 with the balanced ingredients in it that have the protein, fats, and carbs this baked oatmeal keeps me full all morning long.
I did some other version of this baked oatmeal before which turned out to be amazing!
you can check it out here:
but this time I wanted something more exotic, more fresh and summery so I went out with a mango/pineapple version and of course from the colorful look of it you can totally notice how fresh and bright it is.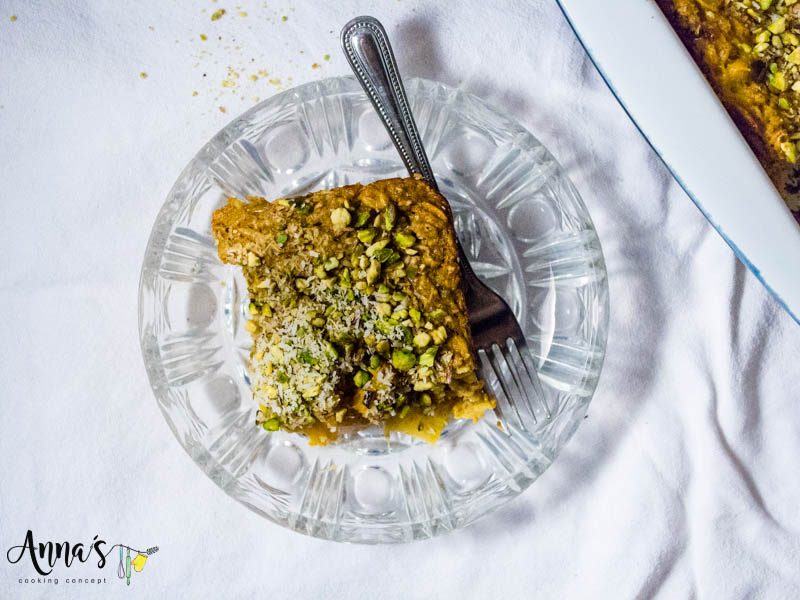 This naturally sweetened baked oatmeal recipe features mango and pineapple, with oat, nuts and refreshing spices. You can bake a big tray and enjoy oatmeal for the rest of the week like I did.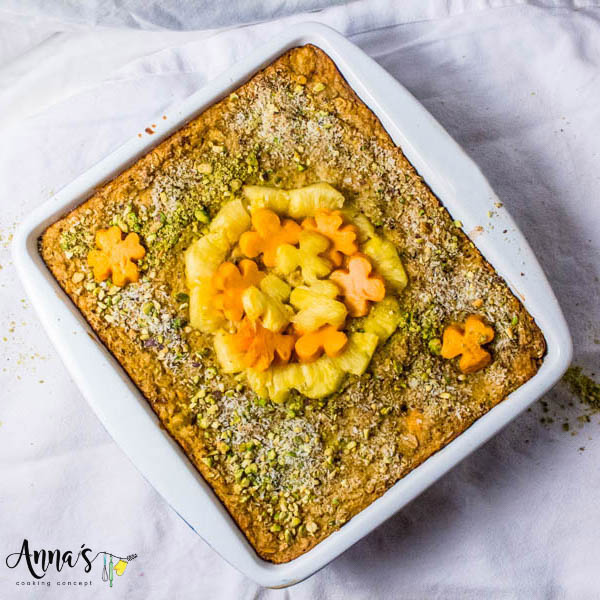 Tropical Baked Oatmeal
2018-06-24 13:35:05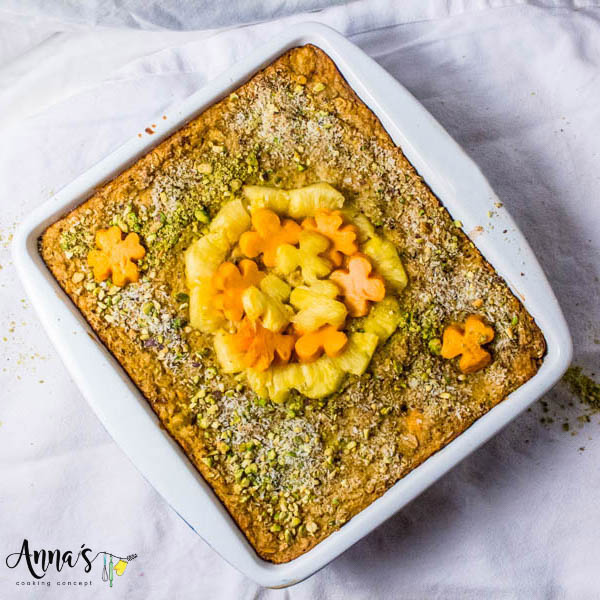 Serves 9
This naturally sweetened baked oatmeal recipe features mango and pineapple, with oat, nuts and refreshing spices. You can bake a big tray and enjoy oatmeal for the rest of the week like I did.
Dry Ingredients
2 cups old-fashioned oat
1/2 tsp. baking powder
1/4 tsp. baking soda
1/4 tsp. salt
1/2 cup pistachio, finely chopped
1/4 cup coconut flakes
1 tsp. fresh ginger grated
1/4 tsp. nutmeg
1/2 tsp. turmeric
2 Tbsp. psyllium husk *
Wet Ingredients
1 cup fresh mango, chopped into cubes
1 cup fresh pineapple. chopped into cubes
1 cup coconut milk*
1 cup vanilla Greek style yogurt
2 eggs
50 g date paste*
Topping
chopped pistachio
coconut flakes
mango flowers
pineapple flowers and rings
Instructions
preheat oven to 190 °C. and prepare a 20x20 cm Pyrex oven safe dish.
In a deep mixing bowl, combine all dry ingredients.
In another mixing bowl, whisk the egg white lightly and add the remaining wet ingredients and mix it all together.
pour the wet ingredients over the dry ingredients and mix it all together with a spatula.
pour in the baking dish and set aside.
chop or blend the pistachio for the topping.don't over blend it to keep the nuts texture .
mix the pistachio with the coconut flakes .
scatter the topping mixture over the oat batter in the baking dish.
and garnish with the mango and pineapple flowers and rings.
bake for about 35 minutes until the mixture is set and the edges start to get a golden brown color.
check it with a toothpick in the middle to make sure it is settle.
let it cool down for 15 minutes before cutting and serve with some Greek yogurt, milk or some coffee aside!
Notes
*you can use any baking dish of your choice , but i prefer the Pyrex because it have her own cover so i can store in the fridge.
*after it cool down completely you can cover and refrigerate to reheat later.
*you can store it covered in the fridge up to 1 week.
*I use the psyllium husk for an extra dense texture it work as binder and for the extra boost of fibers but if you couldn't find it , it won't affect the recipe if you skip it.
*you can substitute the coconut milk with any kind of milk you like but I choose the coconut milk to maintain that tropical mood of the recipe.
*for the date paste just soak 30 g of pitted dates into some warm water until you have 50g and let it sit while you are preparing the ingredients as long as you can soak, and give it mix until you have a smooth mixture.
annacookingconcept.com http://annacookingconcept.com/