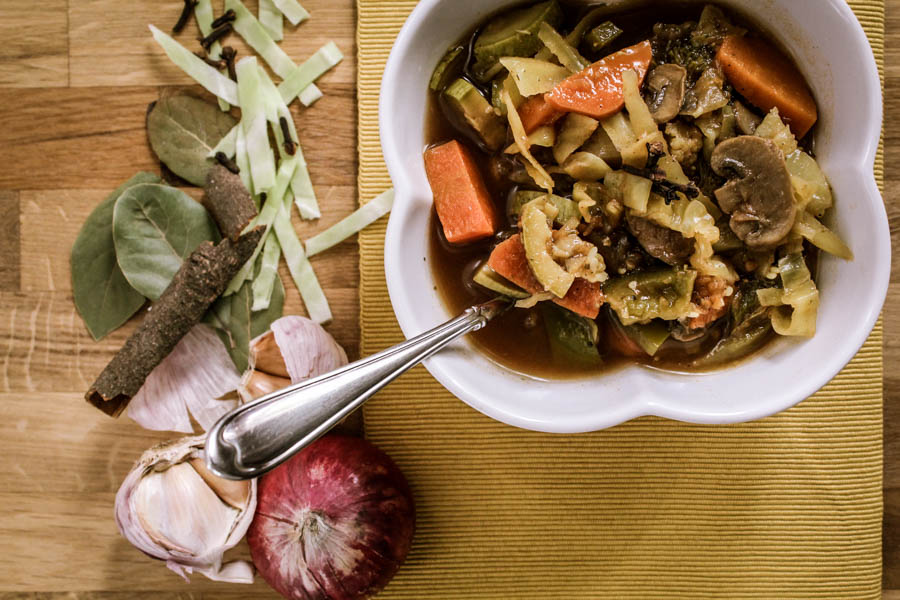 What a better way to start this year than a detox delicious and very easy soup.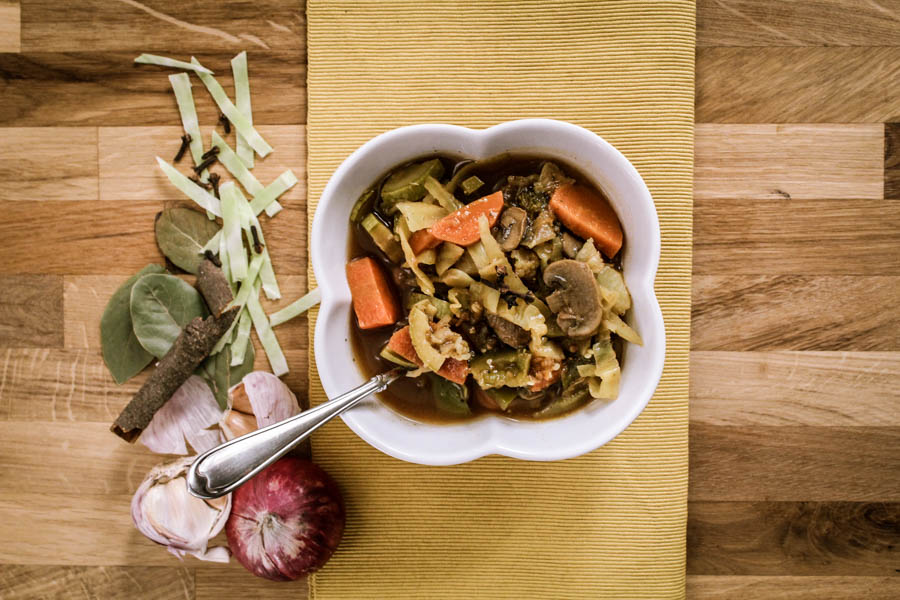 Very easy to make and pack for later which make it perfect for those of you who are new in the clean eating process?
What is more interesting about is that's you can adjust anyway you like.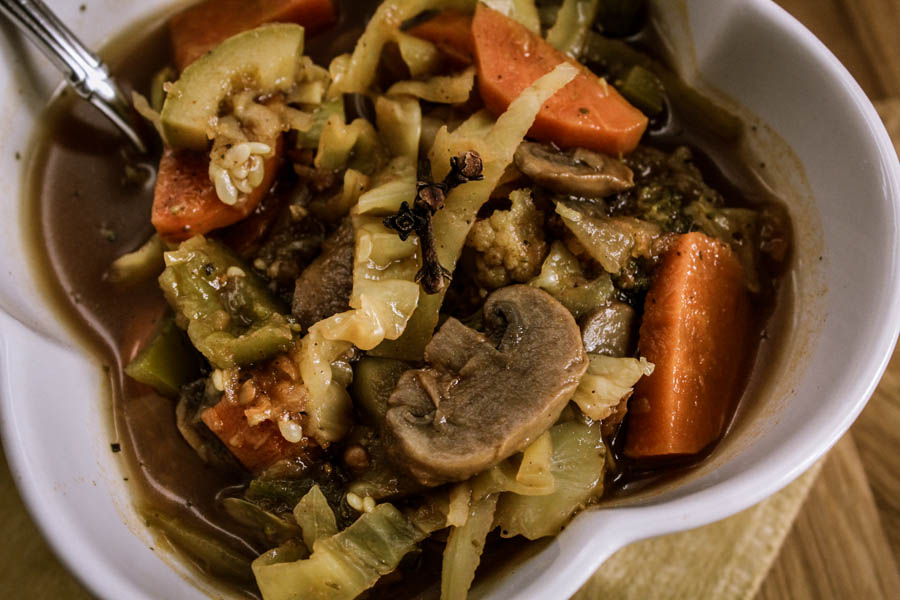 I do the vegetable detox soup version, and I divide it into portions and I freeze each portion separately in a zip lock bag.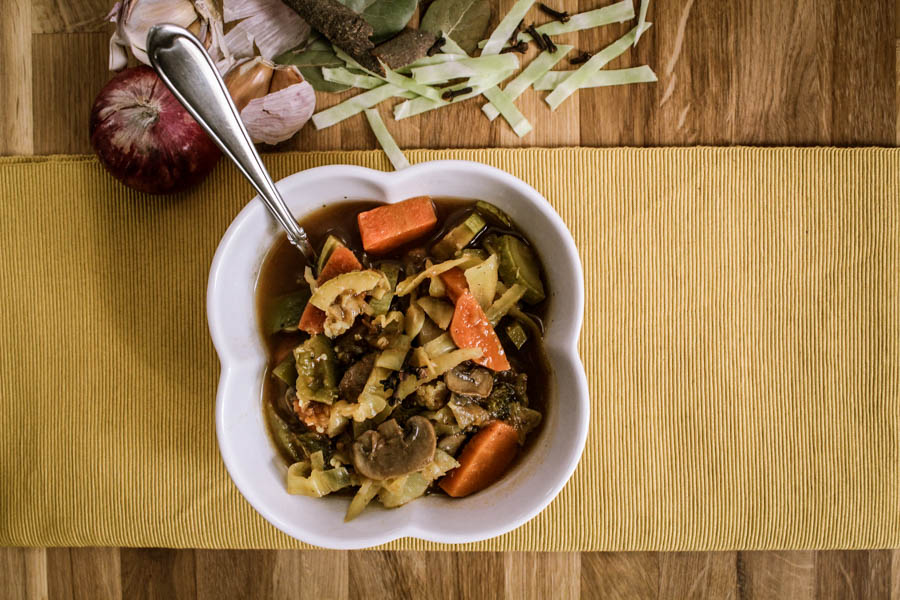 And I enjoy it for a whole week for dinner.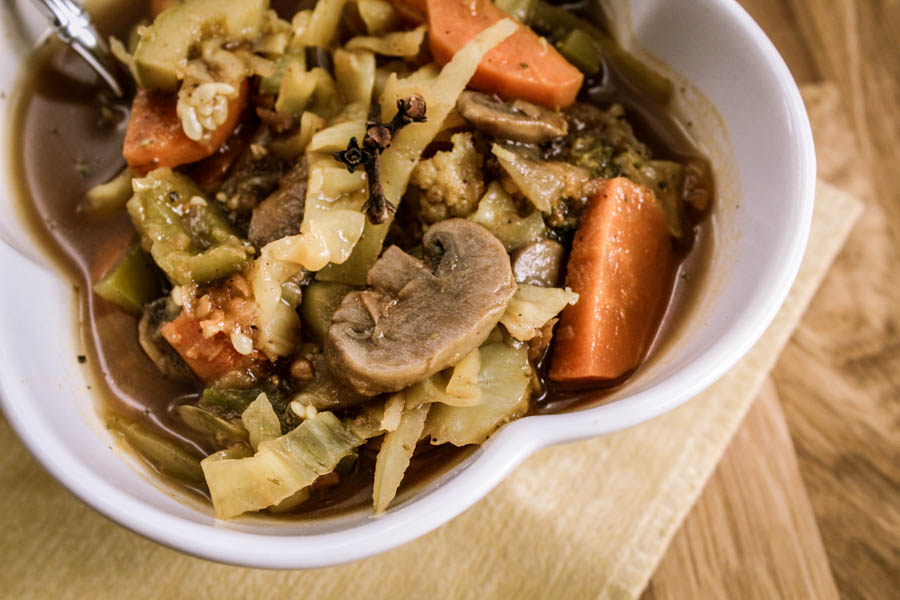 Sometimes I add some grilled chicken breast while boiling it to defrost, sometimes I add some beef meat and sometimes I enjoy it with a hard boiled egg aside, it goes great with any adding you like. I like to add some protein to it if I am having my dinner after a workout but even if you don't want to add it is so tasty and filling without any additional adding.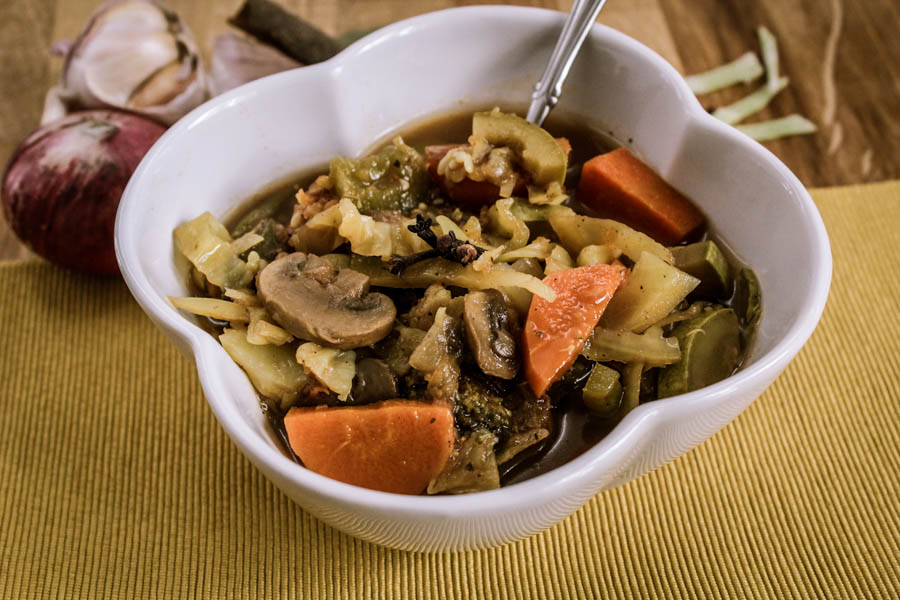 A colorful, tasty and easy way to start getting used to clean eating, what I really recommend if you are trying to get back on track after the holidays and you are new to clean eating and not a very skilled cooker to do the following:
–              Start you day with a Clean Breakfast:  I have a lot of recipes that can help you in this matter, I recommend the breakfast smoothies, use the seasonal fruits from your local groceries for cleaner result, the smoothies is a good way to start with your clean eating journey because it is easy to prepare and pack to take with you at work, just cut all the ingredients and pour in the blender container the night before, and the next day just blend it.
–              For your lunch as a beginner I recommend to just avoid junk food and take outs and eat homemade food : we have a good opportunities her in the Arabs country that we still live with our parents and enjoy our mums meals so eat whatever your mum is cooking in reasonable portions, if you are not still living with your parents, try to prepare something easy to take with you the next day for work, avoid junk food and fried food, if you cannot prepare something enjoy a protein packed salad for lunch.
–              For your dinner, enjoy the detox soup: with some additional protein if you are feeling really hungry and you have dinner after workout like me.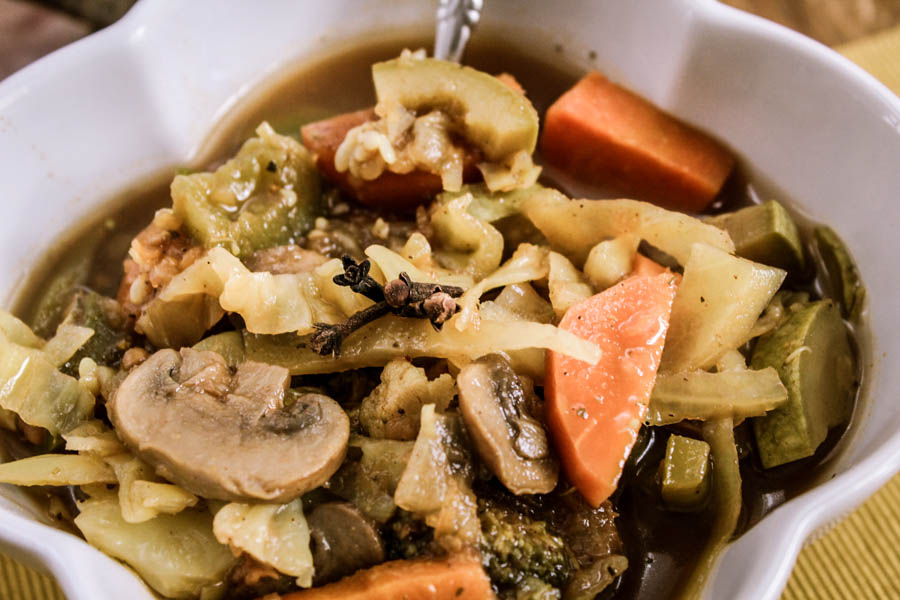 Try this uncomplicated plan for a month to start to get use to the program and to clean your body easily not in a very extreme way that will keep you miserable you can enjoy snack between the meals of course but try to keep it as clean as you can, focus on fresh fruits and vegetables with some nut butter or some cottage cheese maybe. I always like to enjoy a handful of berries with some cottage cheese on the top it is easy with no need of any cooking skills you can pack the day before to take with to work and it is delicious and refreshing when you feel hungry.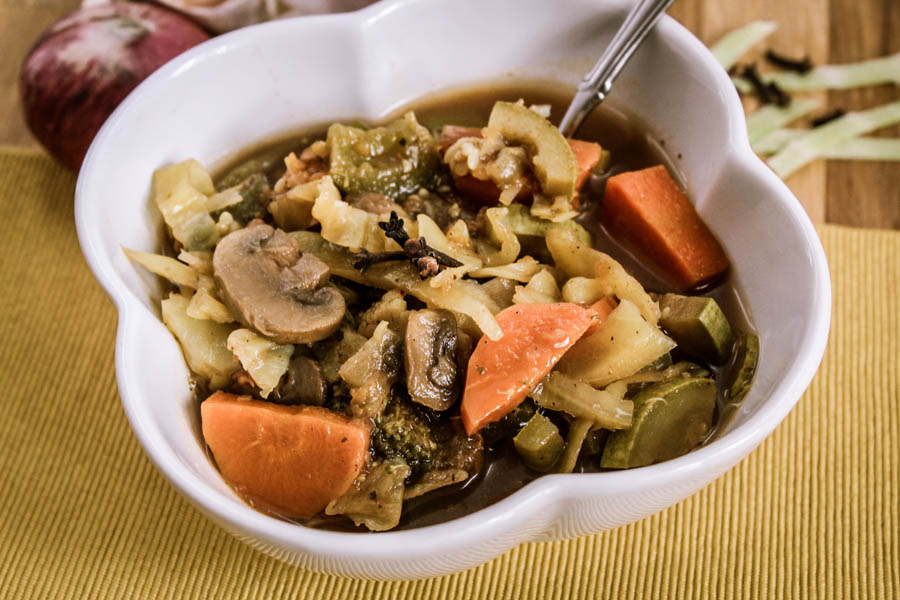 It is really not that hard to do it, you just to be really convinced and fully aware of what you are doing to your body each time you feed on unhealthy junk food, nothing good come easy in this life, you need to know that. But with just a little bit of commitment and some time to prepare and cook and you are on the right track.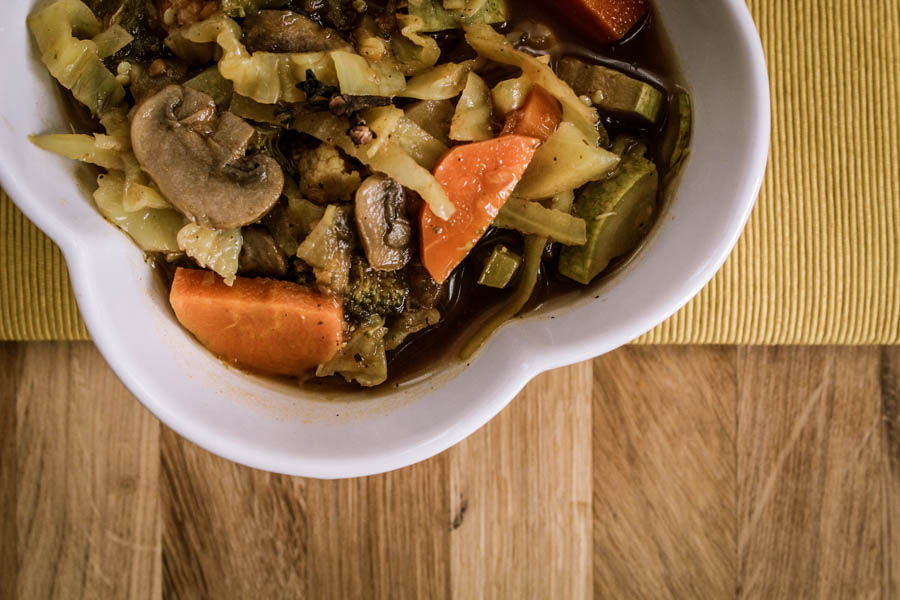 So prepare this detox soup today, very easy to do and don't be restricted with only the vegetables I put in, you can add anything you want to it from kale to spinach to red cabbage to any kind of vegetables you like but avoid the very starchy ones like potato and don't overdo it with carrots because it have a good amount of sugar in it. Focus on green rich in fiber and vitamins vegetables.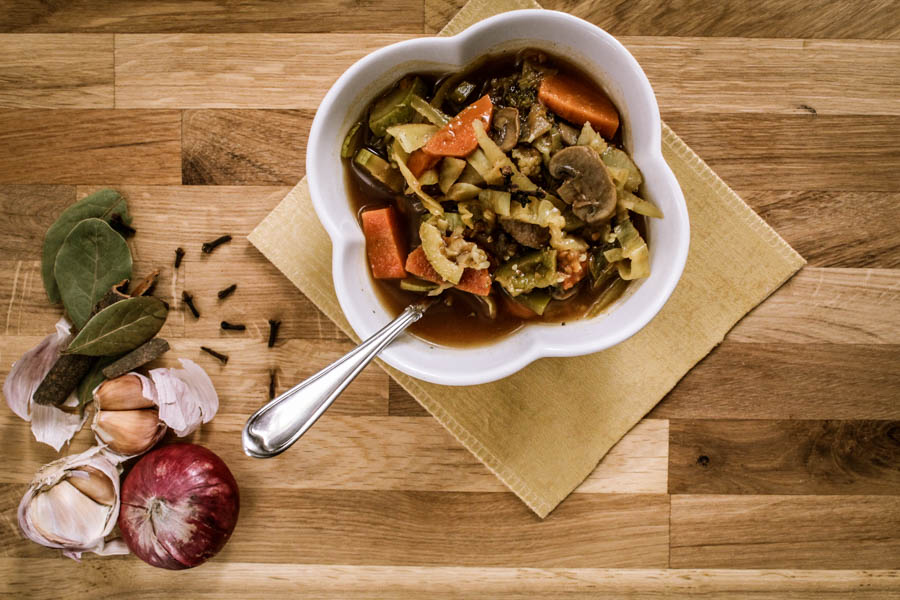 Enjoy this amazing as I like to call her reset soup that is perfect to warm you up this winter season.
Detox Reset Soup:
Serve 15 cups of soup
INGREDIENTS:
1 big onion, diced
2 garlic cloves, minced
1 cup carrots , sliced
4 cups of chopped cabbage, (1/4 big head approx.)
1 cup green bean (fresh or freeze)
2 cups broccoli florets
2 cups cauliflower florets
2 green bell pepper, roughly chopped
1 cup fresh tomato diced
2 cups fresh mushroom, sliced
2 cups zucchini, sliced
2 bay leaves
Spices mix: 1 tsp. fresh or dried rosemary;1 tsp. fresh or dried mint;½ tsp. curry powder; ½ tsp. dry oregano; ½ tsp. dry basil; 1 tsp. freshly grated ginger; 1 tsp. sweet pepper; 1 tsp. grounded cinnamon; 1 tsp. whole clove; 1 tsp. turmeric; ½ tsp. white pepper; ½ tsp. black pepper; 1 tsp. dry thyme; 2 Tbsp. sweet paprika
Salt to taste
1 Tbsp. olive oil
8-9 cups Vegetable broth or water
INSTRUCTIONS:
In a large deep pot, on medium heat, cook onions and garlic until u smell the garlic and the onion is softened.
Add the carrots, cabbage and green beans mix and cook for 5 minutes.
Add the broccoli, cauliflower mix and cook for another 5 minutes mixing the whole ingredients once or twice.
Add the green pepper, tomato, the vegetable broth and the spices mixture with the bay leaves and mix it all together and let it simmer on medium heat for 5-6 minutes.
Add the zucchini and the mushroom and mix it all together and cook for 5 minutes.
Increase the heat to high and bring it to boil.
Taste for salt and add to your liking.
When the soup start to boil, lower the heat and let it simmer for 5 minutes so all the ingredients absorb the seasoning and fuse well.
Remove the bay leave before serving.
Serve and enjoy!
NOTES:
*let it cool completely, before you start packing for freezer, I use small zip lock bag of 250ml each, I fill each one and close it very good and store into the freezer. Whenever I want it I remove it from freezer, add it to a pot with some extra water and bring it to boil, and I add my extra cooked chicken or meat and let it simmer together for 3 minutes. You can also defrost it in the microwave, but when I add chicken or meat I like to simmer all together so the chicken fuse with the whole soup mixture.