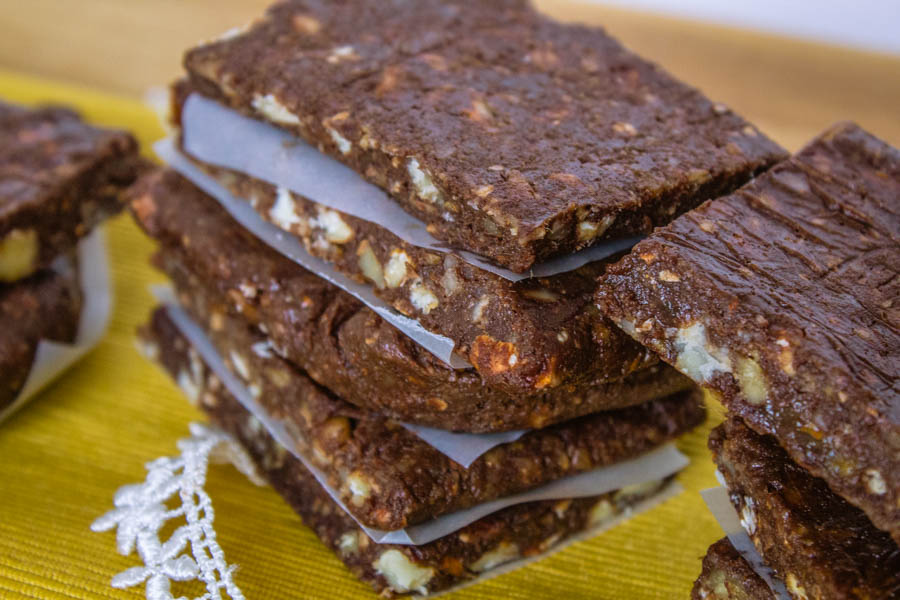 This is one of my favorite afternoon snacks. I have it usually before hitting the gym.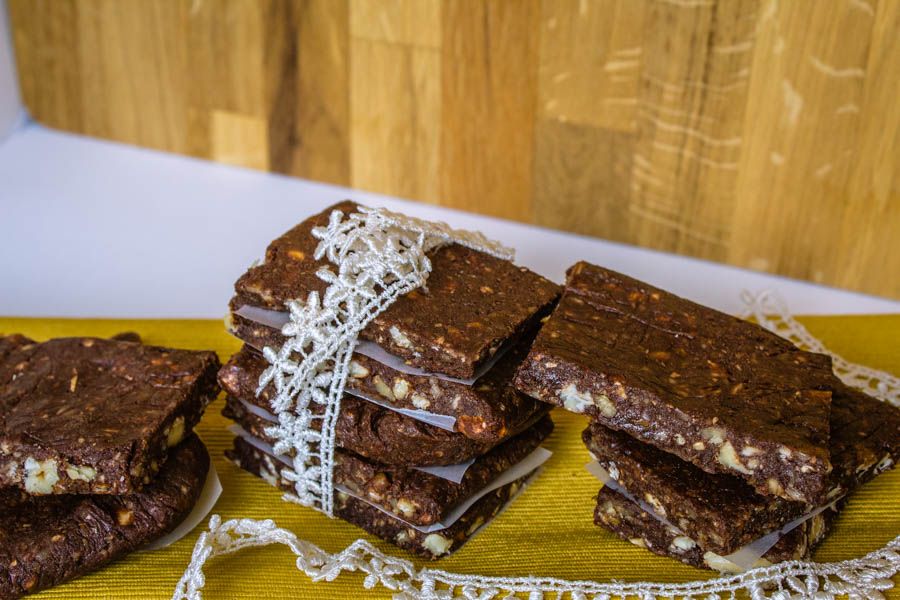 It is my favorite for many reasons, but the top 2 reasons are because it is so easy to do and pack for later and it is so delicious with very simple ingredients.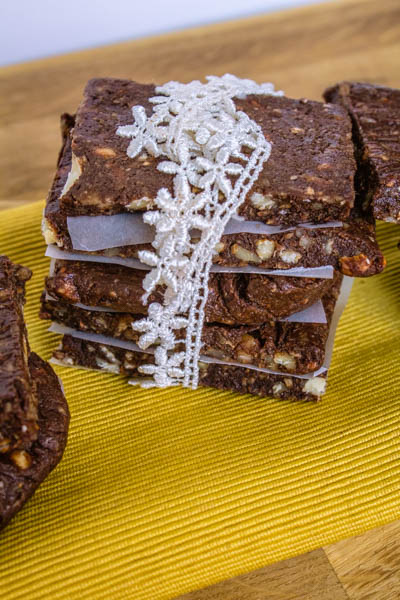 My philosophy for snacks that it is called a snack for a reason: "you can't just work in the kitchen for 1 hour to prepare a snack that needs 1 minute to eat!!" that is totally unreasonable and unfair 😛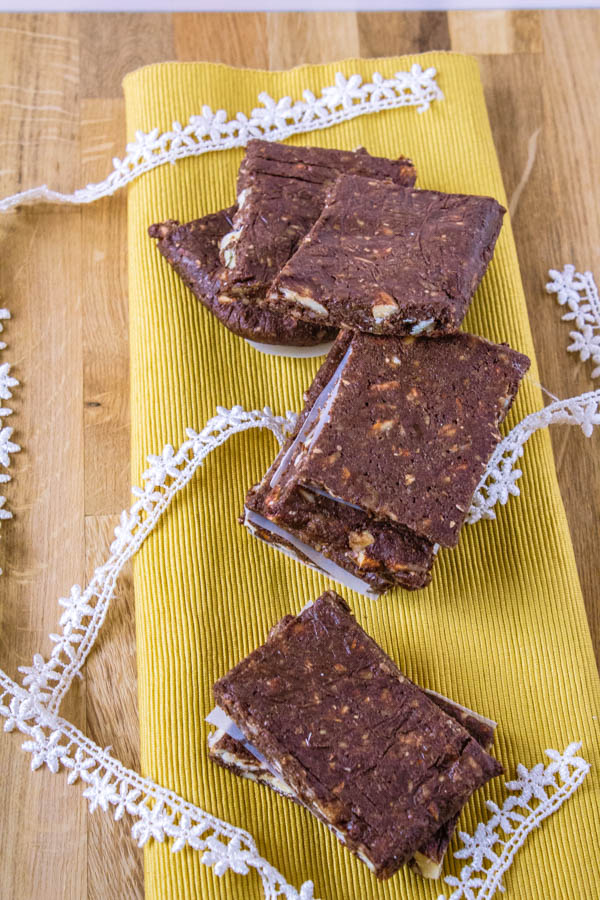 This snack is so quick and easy to pull out, you just need to throw those ingredients in the processor and 1 minute later you are ready to go, roll it out cut into smaller pieces and store it for later.
Whenever you feel that need for sweets and chocolate, grab one on the go.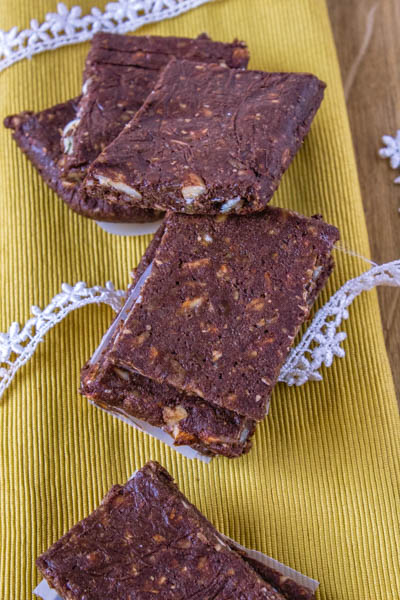 Well my recipe for today is totally a basic one that I am going to experiment with more and more in the future but for now I just needed a quick easy recipe that I can keep aside for whenever I need something sweet and some energy.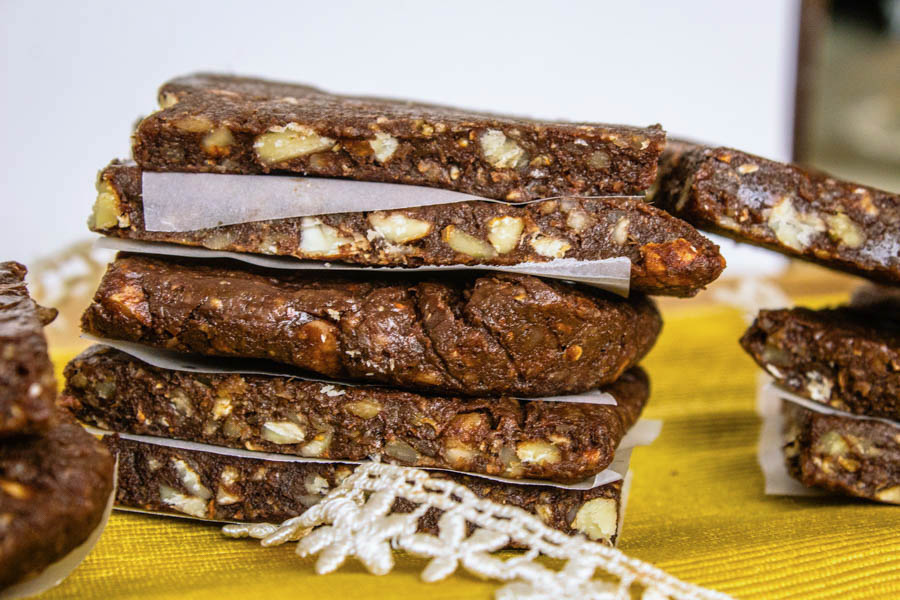 And now with all the chaos of changing from house to house, I don't really have so much time to spend in the kitchen and stress makes me want more chocolate and I am still on my clean eating detox, so this recipe was just perfect for the occasion!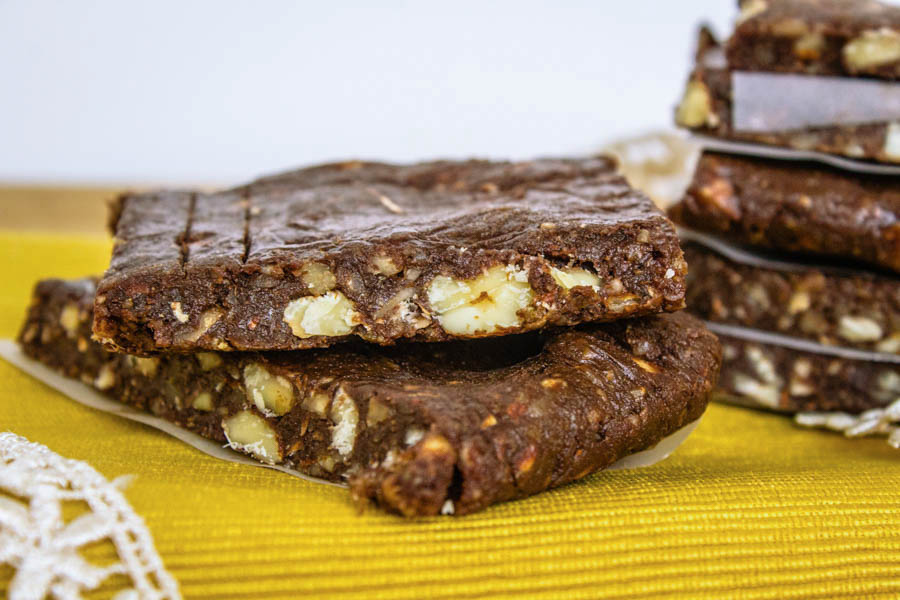 So let us start making some chocolate bars guys! So let us start making some chocolate bars guys!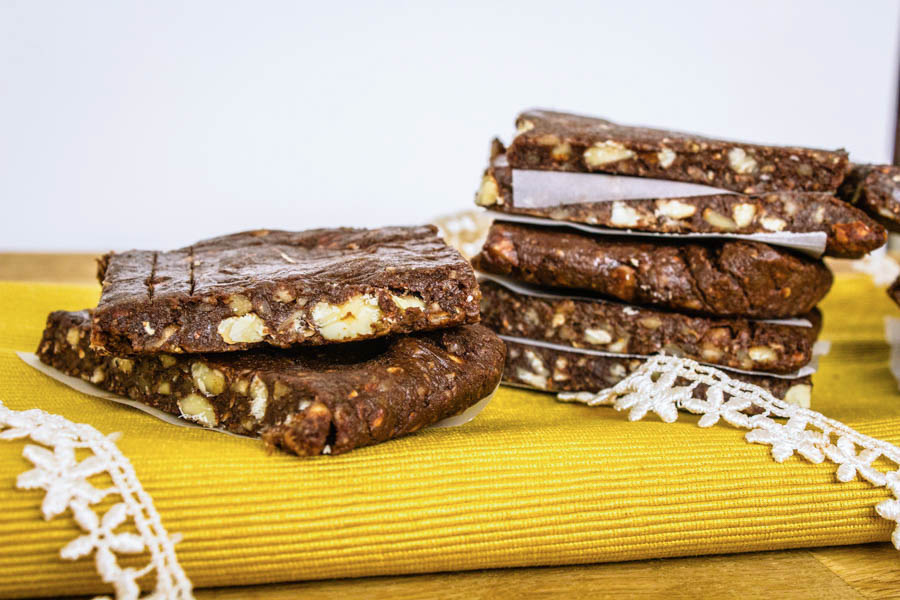 Chocolate energy Bars:
Serve 10 to 15 bars
INGREDIENTS:
15 pitted dates *
¼ cup water
3 Tbsp. cocoa powder
1 cup almonds, roughly chopped*
½ cup walnuts, roughly chopped *
½ cup shredded coconut
INSTRUCTIONS:
In a food processor or high speed blender, add the pitted dates and the water and blend on high speed till al the dates is processed and no big chunks still
Add the remaining ingredients and pulse all together on high speed till u have a dough consistency mixture
Bring a 20 X 20 cm tray and line some parchment paper in it than put the dough and top it with another paper and roll it with your fingers until you cover all the tray with a smooth same thickness layer.
I usually, for an easier way and much smooth layer, put the dough between two layers of parchment paper before I put it into the tray and roll it over until I have an 20×20 cm square approx. Then I put it in the tray and fix the edges.
Put into the freezer for 2 hours, than remove cut into squares and store in a close container into the freezer again, for later use!
Whenever you want a bit just eat right from the freezer, enjoy!
NOTES:
*you can use any date of your liking, but it depend on the size of the dates you may want to add few more pieces, I used "barhi" dates in this recipe.
*If you don't like your nuts to be very obvious in the bars, you can grounded to a fine texture before adding, for me I like to feel the crunch of nuts for that I only chopped them roughly before adding.
Nutritional Information:
Serving size: 01 bar | Calories: 125 calories | carbs: 12 g | fat: 9 g | protein: 3 g | fiber: 4 g | sugar: 7 g