These mushroom chicken pilau are perfect for your weekly meal prep!
A perfect healthy way to enjoy Indian cuisine and it cooks in one pan and in less than 30 minutes!
I prepare my whole week meals on Saturday because I work all week so preparing quick easy recipes is my goal so I can finish off the whole week meals!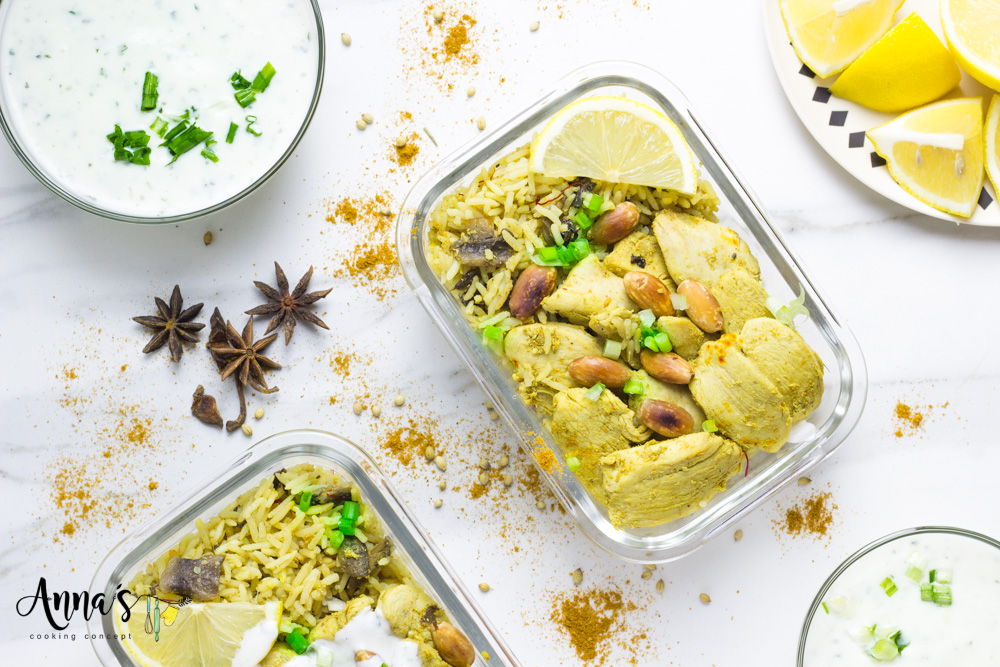 This recipe is very fragrant with a complex of flavor from the masala spices.
Simple dishes like this one are great way to get use to a new cuisine like Indian that you never cooked before.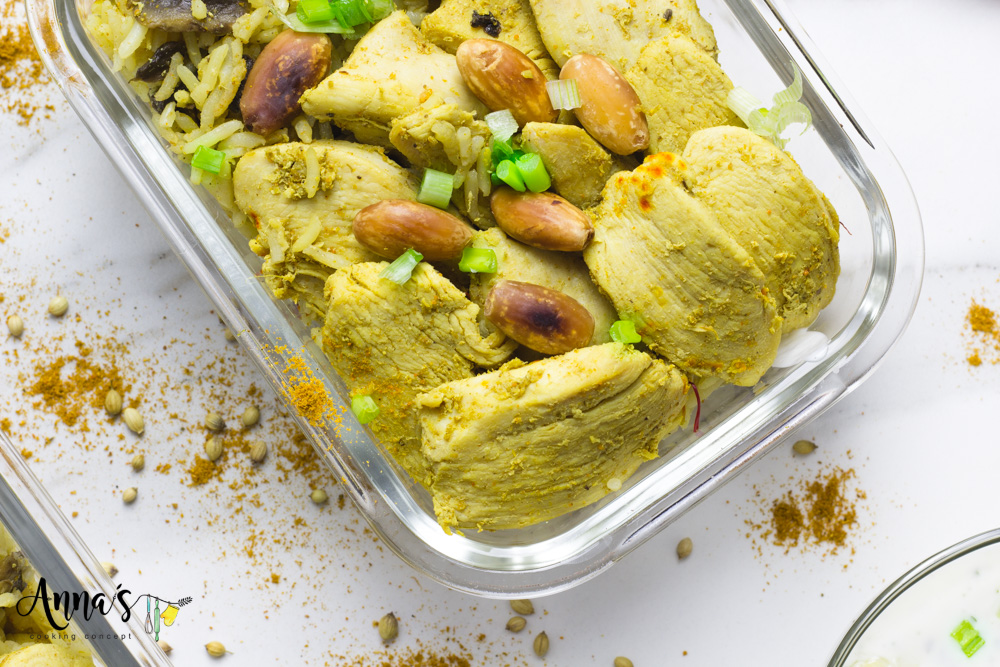 This recipe is cooked in one pan and steam slowly on low heat. But don't worry even with the steaming time it is still less than 30 minutes.
And you may be thinking Indian cuisine that's mean there is a lot of ingredients and spices to add but you are wrong! It is with very simple ingredients. And a perfect way to start your journey with Indian food.
And the sauce! oh! Let me tell you about the sauce, a refreshing yoghurt sauce that is a must try with this recipe to have the full Indian food experience!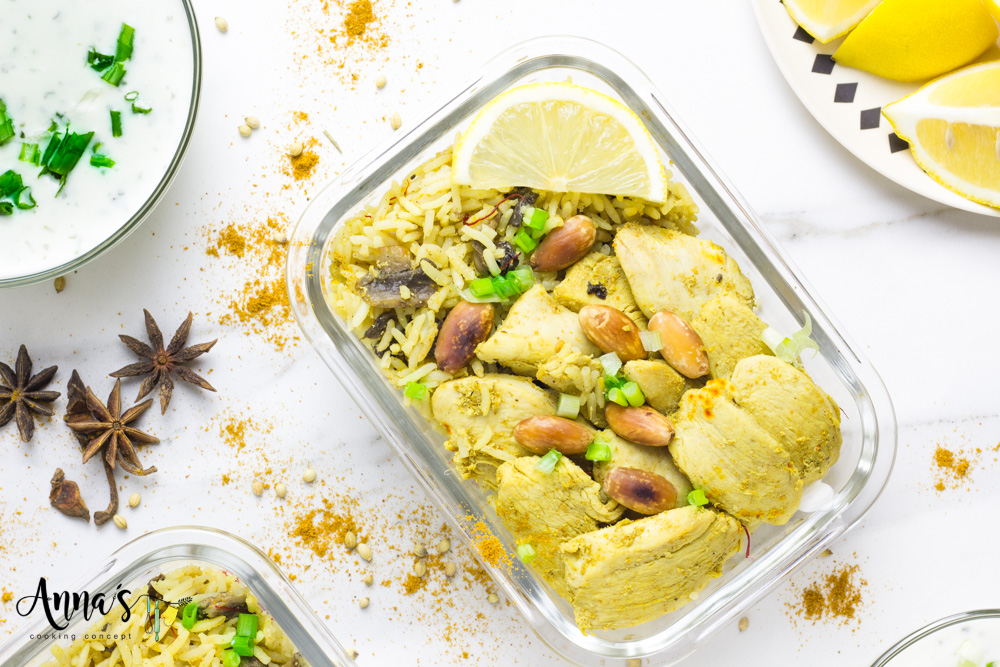 Who said you can't enjoy some various cuisine during the week is so wrong you can still enjoy delicious and healthy food even if you work full time job and with no time to cook!
if you like Indian food you can go and check out my amazing butter-chicken recipe that is also perfect for meal prep just like this one !
for more meal-prep recipes ideas check out this link !
Chicken Mushroom Pilau Bowl
Meal prep here we go again! A perfect easy recipe to start with your adventure in the Indian cuisine !
Keyword:
healthy meal, meal preparation
Ingredients
1

kg

chicken breast cut into small pieces

2

tbsp

grape seed oil

2

large

onion , cut into wings

6

cloves

garlic, minced

1

tbsp

fresh ginger , grated

300

g

mushroom, sliced

1/2

cup

silvered almonds, toasted

1

tbsp

garam masala seasoning *

1

cup

basmati rice

1

cup

plain yoghurt

1

tbsp

fresh coriander, chopped

1

pinch

salt
Instructions
rinse the rice under the cold water until the water runs clear. drain and soak in warm water for 30 minutes. set aside.

heat the oil in a large saucepan over medium heat and stir in the onion. garlic and ginger. cook,covered for 5 minute keep stirring until the onion is browned.

increase the heat to high add the the chicken and cook for 5-6 minutes until the chicken is lightly browned.

stir in the mushrooms,almonds and garam masala. and mix everything together well.

cover and cook for 3 minutes or until the mushroom are soft. remove the lid and cook while stirring for 2-3 minutes, or until the liquid evaporates.

remove the chicken pieces from pan, add the rice with the remaining sauce in the pan and mix it for 30 seconds.

pour in 2 cups of warm water and bring to boil, boil for 2 minutes while stirring.

reduce the heat to the lowest return the chicken to pan on top of the rice .

cover and cook for 15 minutes , steaming on low heat.

meanwhile, combine the yoghurt and chopped coriander and salt to taste whisk well until you have a combined smooth mixture.

after the rice is done , fluff with a fork , divide among the servings bowls or the storage containers for meal preparation add the chicken next to it .

top it with the yoghurt just before you want to eat and enjoy!
Recipe Notes
* this meal can be stored in glass containers in the fridge for up to 5 days . store the yoghurt separately in a small bowl and drizzle it on top of meal when you want to eat it!
* *garam masala is an Indian spices mix that you can find at any grocery store in Indian food section, but if you couldn't find it just replace it with a mixture of (1/2 tsp. Turmeric, ½ tsp. cumin powder, 1 tsp. coriander powder, ½ tsp. Black pepper, ½ tsp. nutmeg, 1 tsp. ginger powder, 1 tsp. garlic powder)