Lately I have turned into a meal-prep freak!
Ever since we moved to our new house and with working a full time job the whole week and barely having the energy to assemble a quick dinner and finish some house chores, cooking a healthy lunch each day was a little bit to much for me!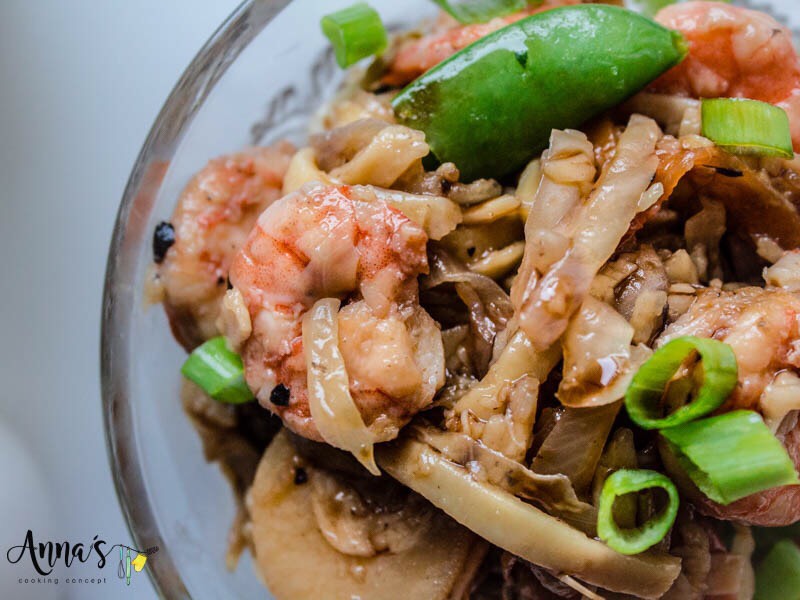 So meal-prep was the best solution and it is working great! we are eating healthy delicious various meal during the work days without the need to grab some junk food on the run.
each week I plan and prepare 4 various meal: chicken,meat,seafood and a vegan or vegetarian meal and for the 5th day we eat leftovers.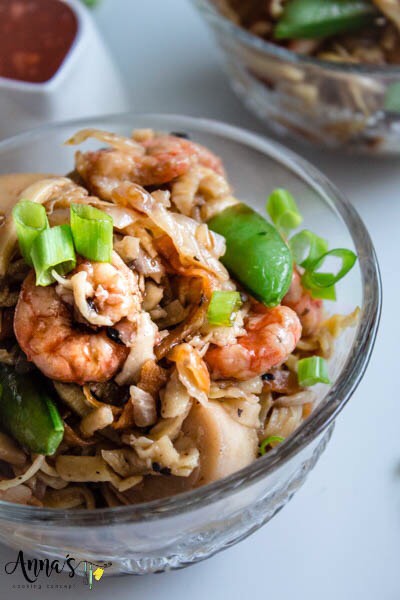 so after we set the plan the second step was choosing quick and easy recipes to assemble and that holds well in the fridge for the next 4 days.
cooking 4 meals for two in just 2 to 3 hours in the weekends can be the easiest or the hardest task ever depending on how you plan and on the meal you choose to cook.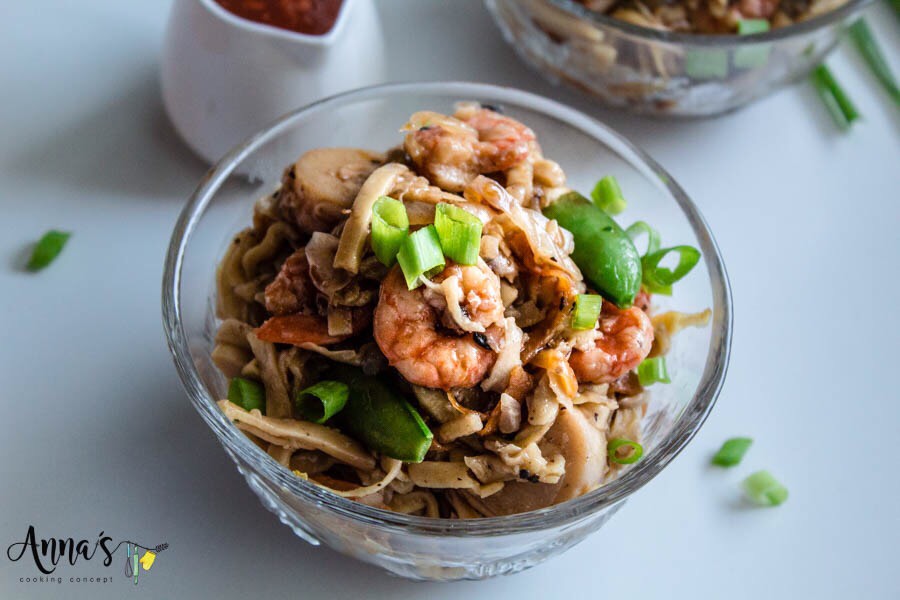 I always assemble some easy to cook and prepare recipe so I can finish meal prep the fastest I can.
We basically crave Asian food every week so an Asian meal in the weekly menu is a must!
There is something so comforting about those noodles and vegetables that I just love.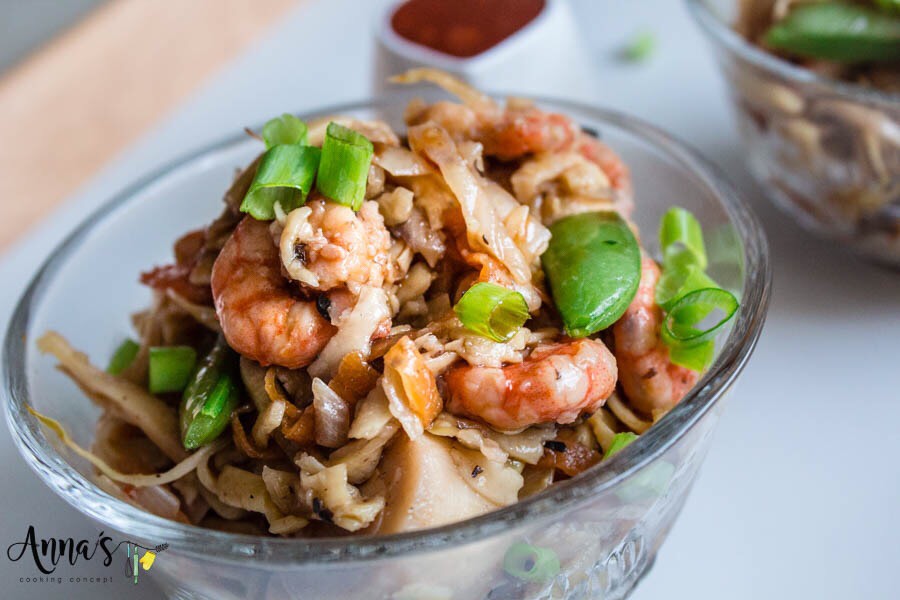 A clean and easy lo-mien recipe that you can assemble from scratch whenever you are craving Asian food.
A great meal to pack for your weekdays lunch, to spice up your weekly menu. Meal-prep doesn't have to be boring you can enjoy different meal with various nutrition each day.
This easy homemade lo-mein is even better than the take-out version with the absence of preservative and extra fats and so quick to do.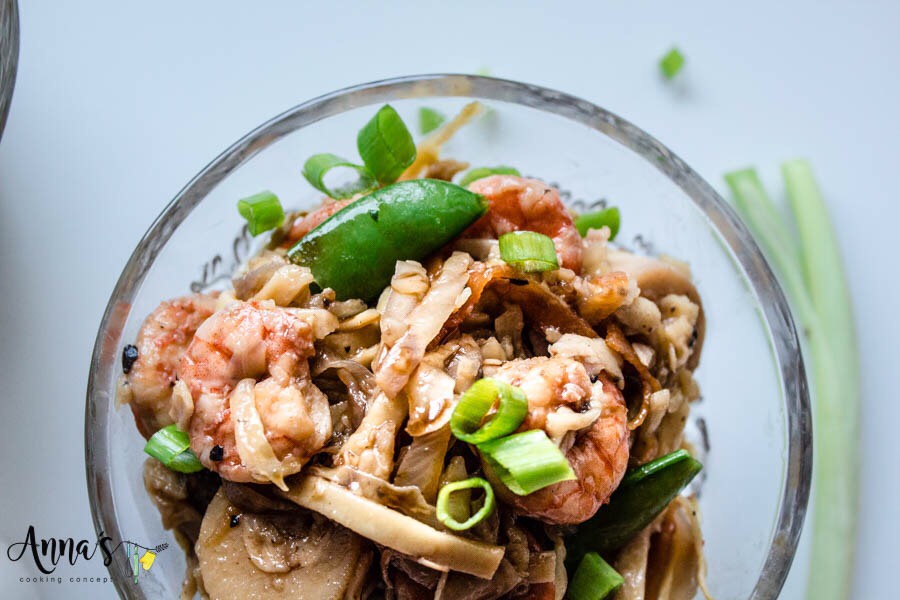 You can mix and match it as you like add some different kind of veggies to it and replace the shrimp with chicken or beef.
Even make it a vegan version with only veggies, it is Delicious in any version and the leftovers taste even better after few days.
Enjoy a big bowl for your weekdays lunch or you can enjoy the leftovers for dinner when feeling to lazy to do anything for dinner.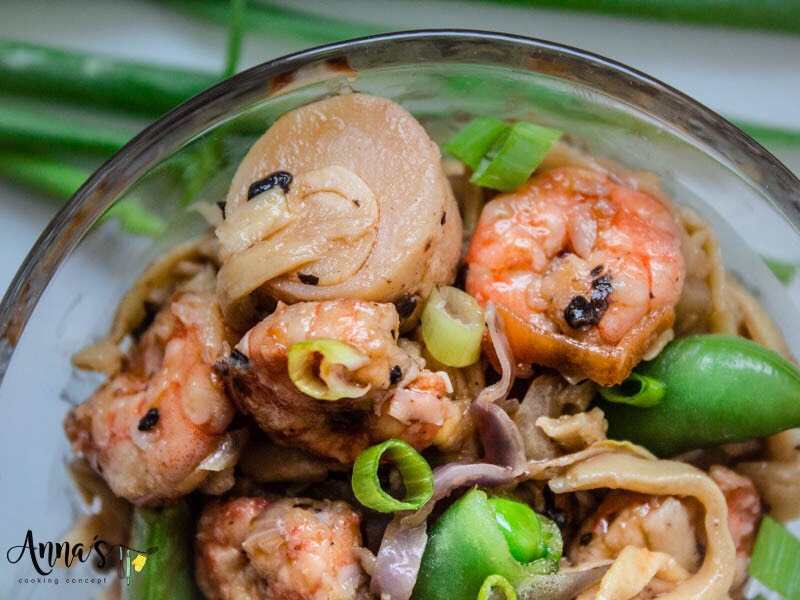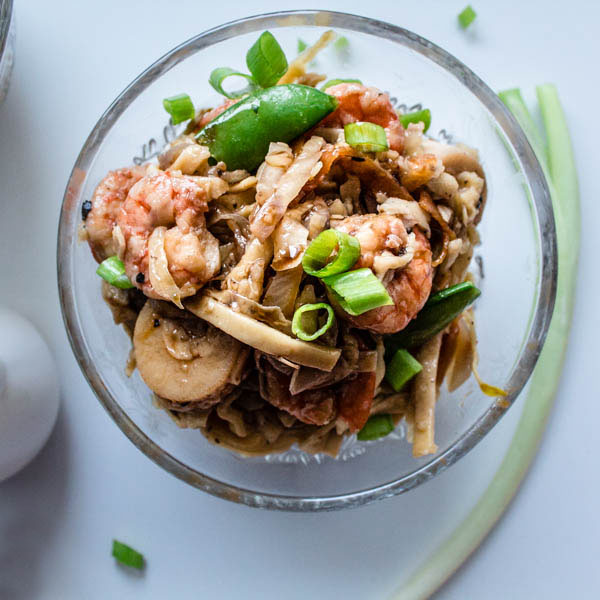 Homemade Shrimp Lo-Mein
2018-07-29 12:26:09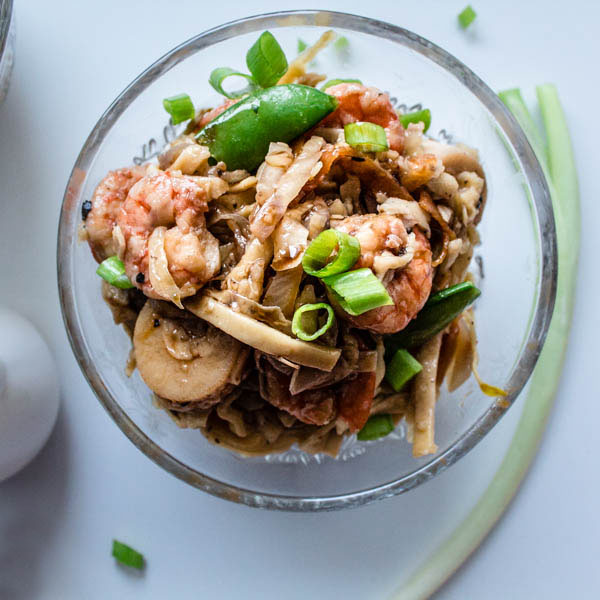 Serves 3
There is something so comforting about those noodles and vegetables that I just love. A clean and easy lo-mien recipe that you can assemble from scratch whenever you are craving Asian food.
Ingredients
350 g of peeled and deveined white shrimp.
350 g lo-mein noodles *
2 garlic cloves, minced
6 fresh mushrooms, sliced
1 medium carrots, julienne
1/2 cup palmito (heart of palm)
1 cup snow peas
2 onions
3 cups shredded cabbage
1 cup fresh beans sprouts
2 Tbsp. Rapeseed Oil*
for the sauce
1/2 tsp. coconut sugar*
2 Tbsp. soy sauce
1 Tbsp. oyster sauce
1/2 tsp. sesame oil
1 Tbsp. rice vinegar
4 Tbsp.sweet chili sauce
1/4 tsp. white pepper
Instructions
Start with taking the shrimps out of the fridge so it take the room temperature before cooking.
Soak the noodles in room temperature water while preparing the other ingredients.
Combine the sauce ingredients and set aside
Heat a large wok or deep pan over high heat and add 1 Tbsp. of rapeseed oil.
Add the shrimp right after and let it cook quickly for 15 seconds on each side.remove from pan and set aside.
Add the remaining rapeseed oil, add garlic and saute quickly , keep eyes on it so it won't burn.
Add mushrooms,carrots,palmito,snow peas, onions and stir fry for 30 seconds.
Add the shredded cabbage , mix and cook for 30 more seconds.
Drain and add the noodles and cook it all together folding gently the noodles for 1 minute.
Add the sauce mixture and scoop the mixture gently until all the noodles are covered with te sauce for 30 seconds.
Add the shrimp back to the pan with the bean sprouts and mix everything well.
Cover and cook on medium heat, scooping occasionally for 2 minutes.
Serve and Enjoy!
Notes
for the noodles you can found those noodles in the Asian food section in grocery store and it is the same as the egg noddles so you can use it instead.
if you don't have rapeseed oil you can use any vegetable oil that has no strong flavor instead avoid strong flavored ones like olive oil and mustard oil.
for the coconut sugar you can substitute it with brown sugar.
*for meal packing, i packed the whole meal in a big glass airtight container in the fridge up to 4-5 days and actually the leftovers tasted even better than the fresh eaten ones!
annacookingconcept.com http://annacookingconcept.com/