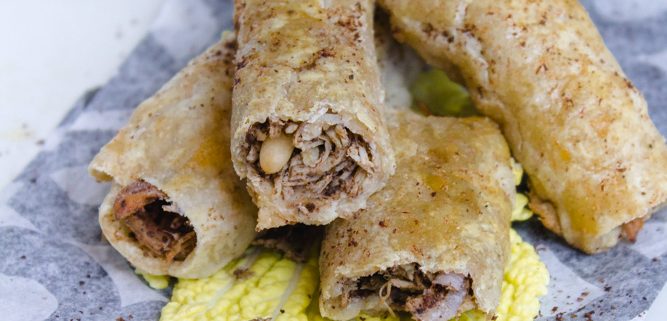 musakhan is one of my favorite traditional plates. it has my two favorite ingredients : chicken and sumac!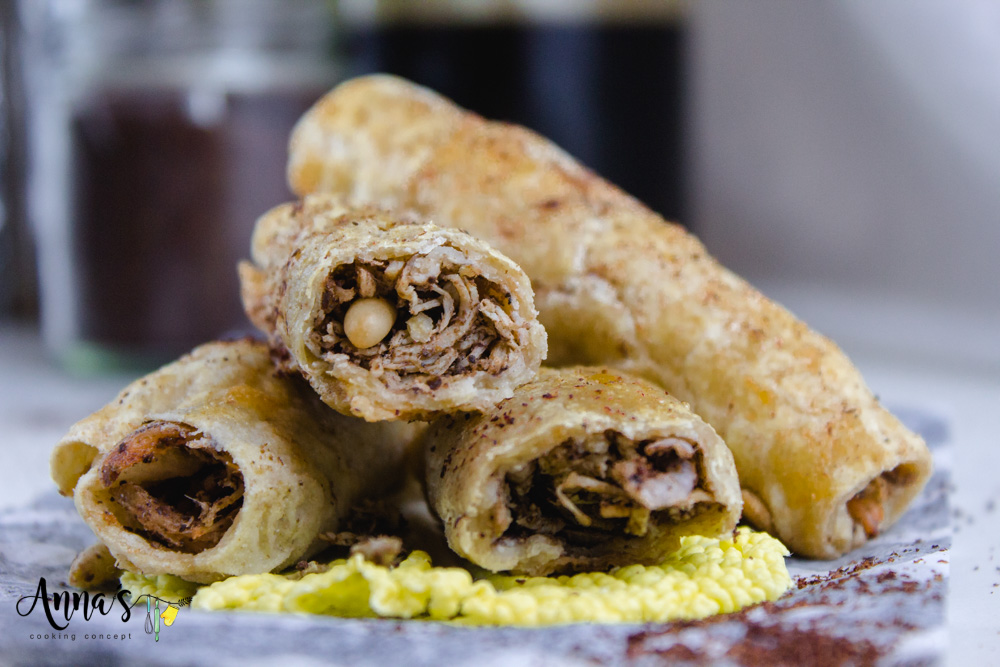 well I am a big fan , HUGE fan of sumac and this traditional Palestinian dish it is a big SUMAC recipe that feeds my passion to this vibrant red ingredient.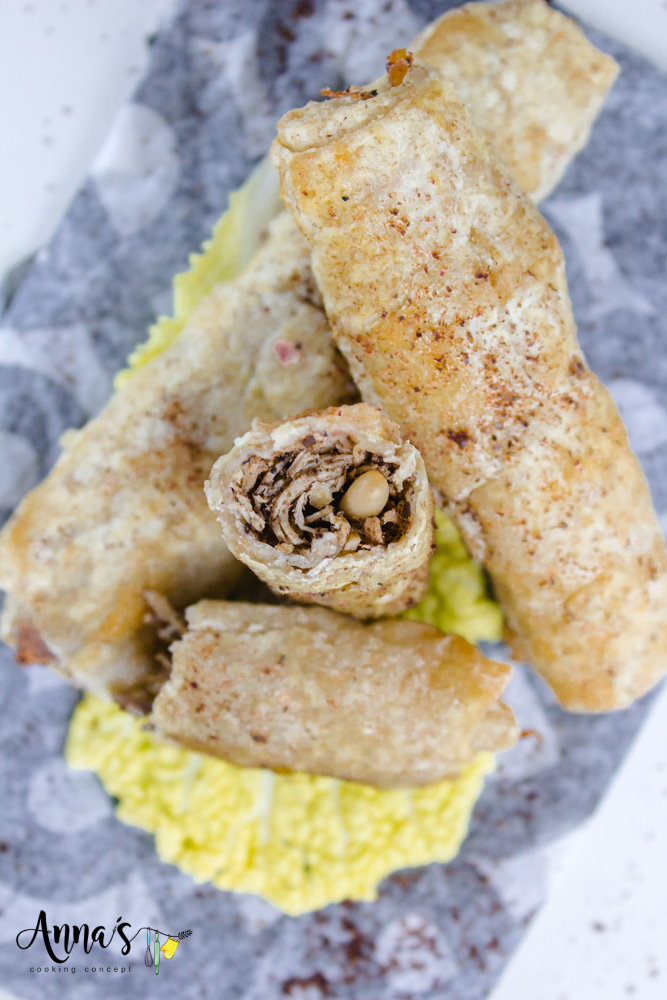 Sumac is a spice that comes from the berries of the Rhus shrubs. the berries are dried and then ground to give a burgundy deep red powder that is sour and slightly fruity.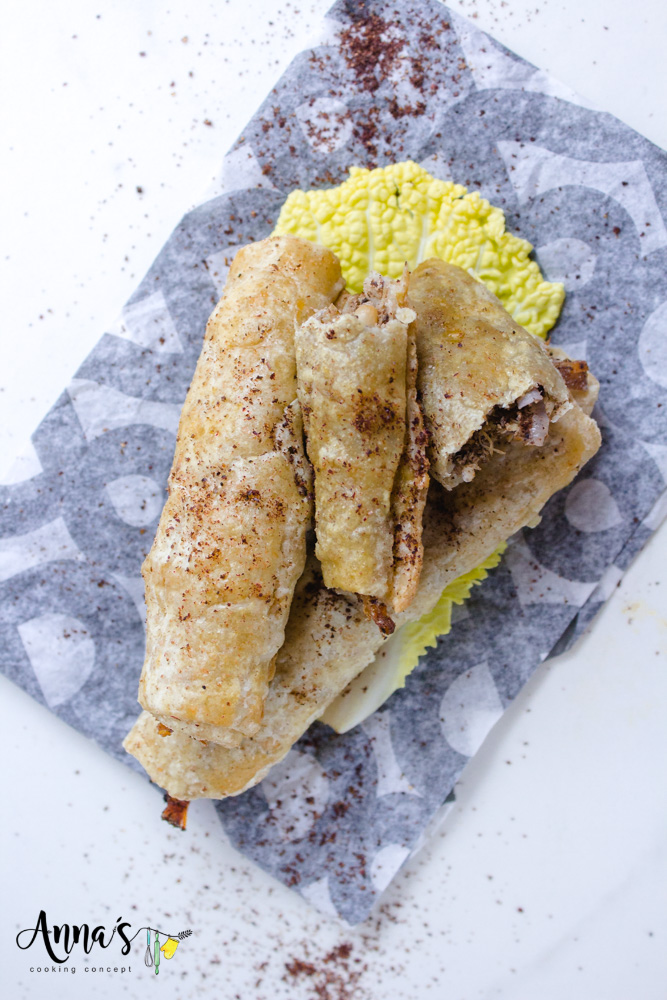 it is used in the middle eastern kitchen in almost all the recipes to give that tangy lemony taste to chicken, meat, salads and salad dressing.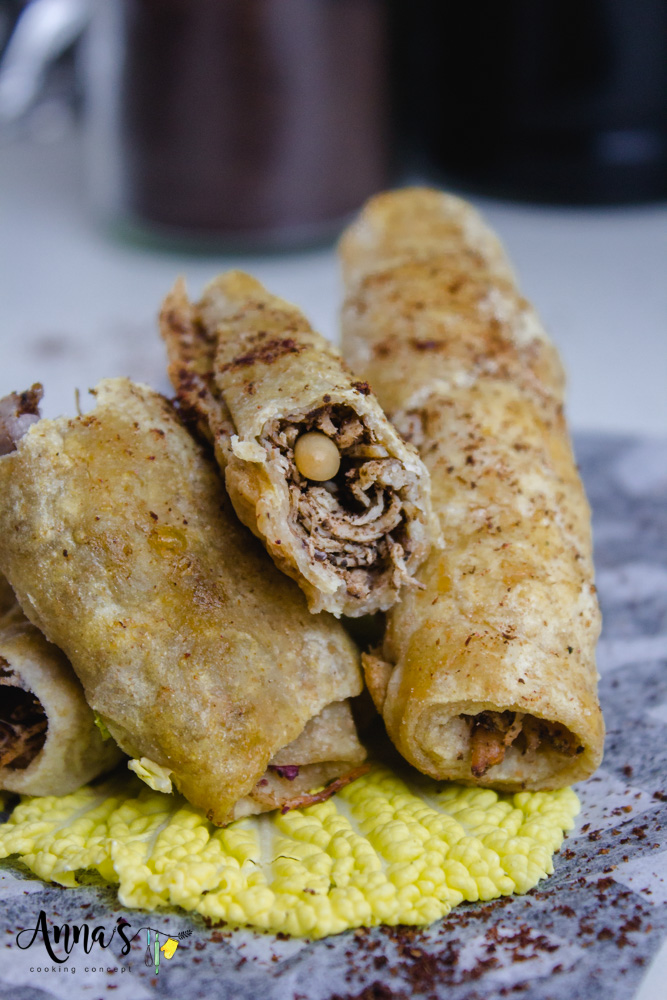 the amount of sumac in this recipe is totally a personal preference, you can use as much as you like. start from the amount I put in this recipe and build up from there.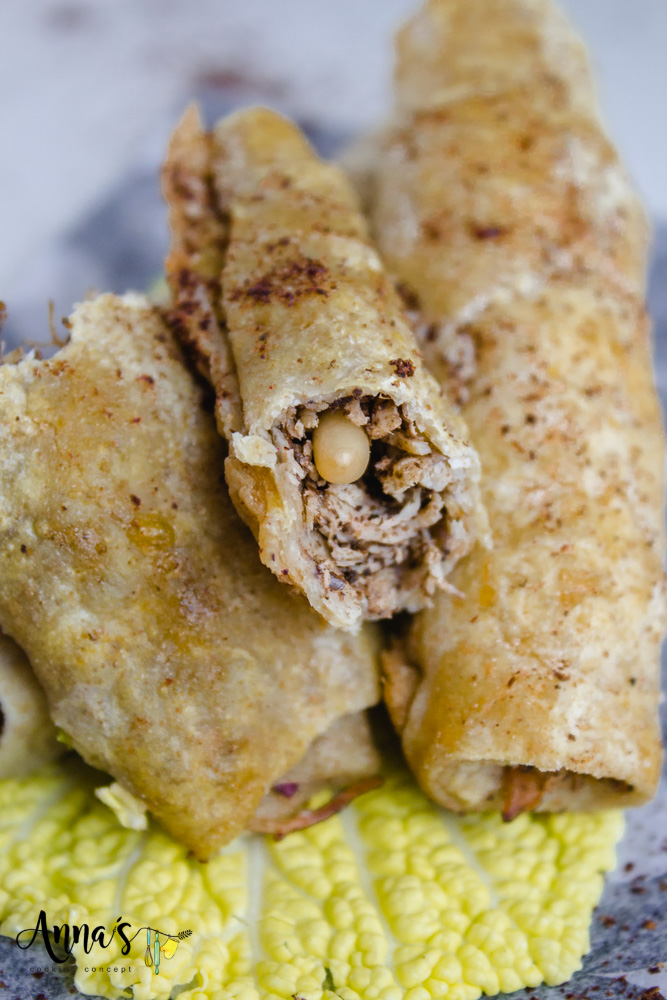 now for the TWIST! in the traditional recipe they use Taboon bread.
taboon bread is a traditional big pitta bread that is baked in stone hot oven . it is thicker than the Saj bread so it can hold the ingredients in.
BUT in this recipe I am not going to use the taboon i wanted to add a modern twist to this recipe to make it a finger food recipe that is delicate to present as appetizers.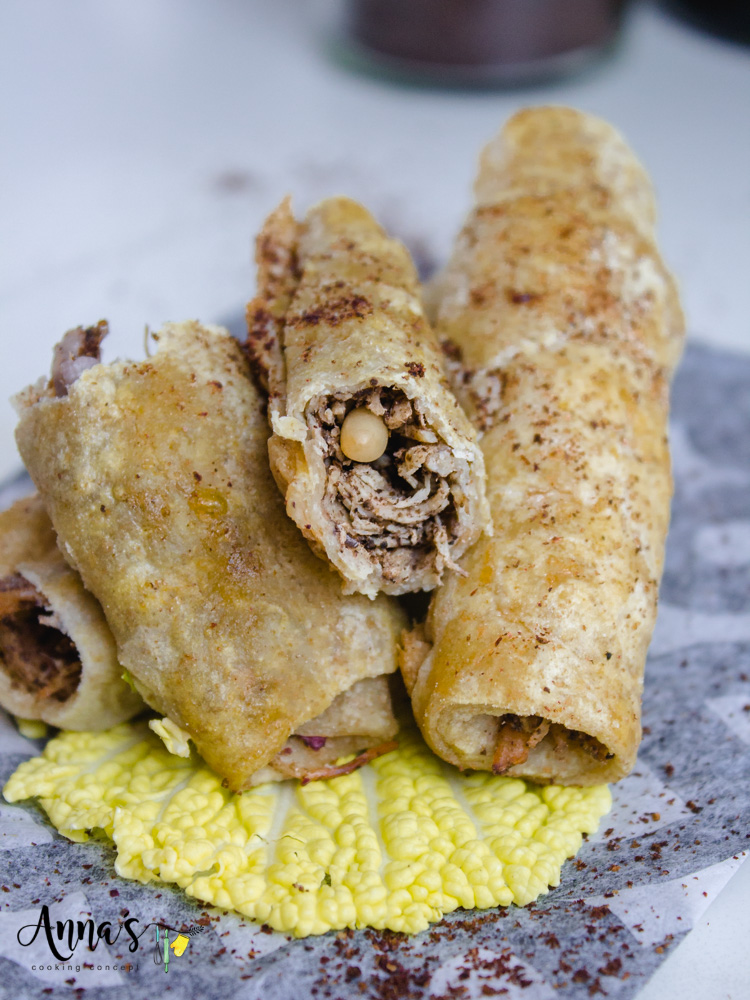 for that I used the traditional bread puff pastry!
these whole wheat puff pastry squares I found made my day in so many recipes.
this is one of them . I made the traditional chicken msakhan filling in a healthy annacookingconcept way and fill those crispy squares with it ! and well i think you can guess how delicious those bites from scrolling down on those delicious pictures !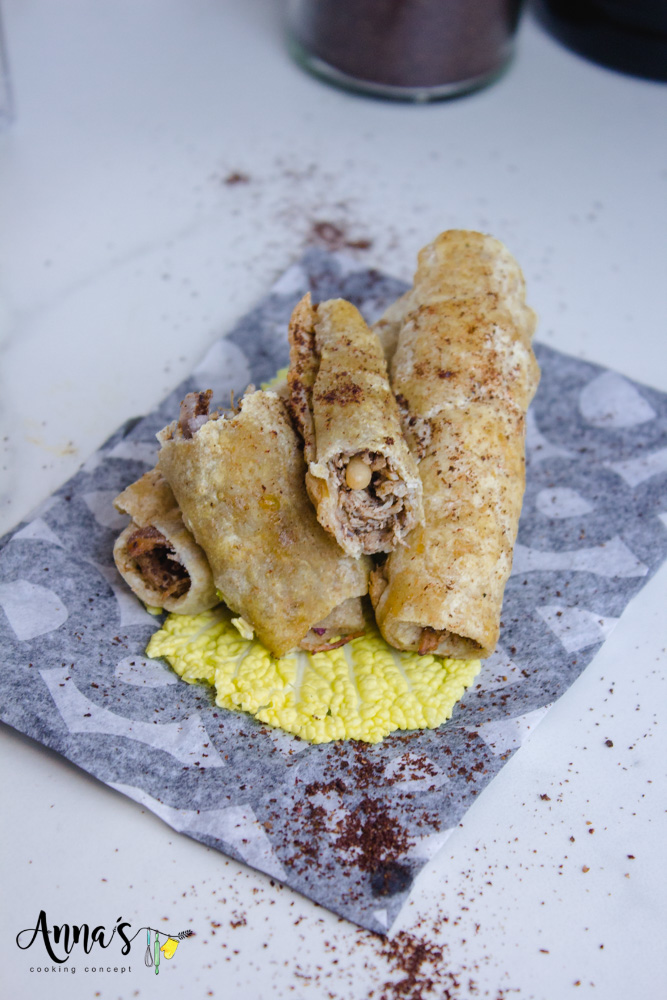 next time you have some guest over you can assemble this recipe in no time because all can be prepared at head of time! so let get this oven preheated and bake some bites guys!!
If you like this recipe you can go ahead and check my other authentic finger food recipe with puff pastry
in this link!

Chicken Musakhan Bites
this recipe is an adaption of the traditional chicken musakhan rolls . it is comfort meal with simple few ingredients that you can prepare all in advance and impress your guest with this delicious authentic appetizer bites.
Course:
Appetizer, Side Dish, Snack
Cuisine:
arabic, lebanese, Mediterranean, palestinian
Keyword:
chicken, musakhan, rolls, sumac
Ingredients
for the chicken
4

pieces

boneless chicken breasts

2

medium

onion , peeled, washed and cut to half

4 to 5

cloves

garlic

2

medium

carrots, peeled, washed and cut to half

1

stick

celery , chopped roughly itno big pieces.

1

handfull

parsley leaves

2

sticks

cinnamon

2

whole

cloves

(كبش قرنفل)

2

leaves

bay

1

tsp

salt
sumac dressing
2

tbsp

rapeseed oil *

4

medium

onion,cut into thin wings

1/4

tsp

sweet pepper

1/4

tsp

black pepper

1/4

cup

pine nuts

1/4

cup

sumac

1/4

cup

chopped parsley

salt, to taste

3

tbsp

pomegranate molasses

(دبس الرمان)
for assembly and serving
1

pack

whole wheat puff pastry squares *

1/4

cup

parsley chopped

1

tbsp

pine nuts

2

tbsp

pomegranate molasses

(دبس الرمان)
Instructions
for the chicken
in a deep pot, put the chicken with all the aromatic ingredients (onions,garlic,celery, ...)

cover the chicken with enough water , let the water be around 3 fingers above the chicken, and bring to boil.

Bring to a boil over medium-high heat. You'll see some white scummy foam collecting on the surface as the water comes to a boil — can skim this off.


As soon as the water comes to a boil, reduce the heat to low, cover the pot, and let the chicken simmer for 10 to 15 minutes.

Transfer the chicken from the pot to a clean plate set aside and let it cool. *

for the sumac dressing
heat the oil in a pan, add the onion and black pepper and sweet pepper.

cook on medium heat , stirring occasionally until caramelized for 15 minutes.

add in the pine nut and toss it for 3 minutes . remove from heat and set aside

shred the chicken and add in deep bowl, add the caramelized onions mixture,

add the sumac, parsley and pomegranate molasses and mix it all together.

taste and add salt to taste . taste and add gradually so you don't over do it.

mix the mixture and set aside.
for the assembly and servings:
preheat oven on 200 C

defrost the puff pastry squares according to package.

roll out the squares to make it thinner and bigger, as much as you can.

cut it to 2 pieces .

roll each piece separably as much as you can than to make it wider.

spray some oil on a baking tray .

put around 1 to 2 tbsp. of filling in a long rectangle shape, folding in from the sides and rolling the wrappers closed tightly.

lay the rolls in the baking pan . don't put it close to each other because it will double in size when baked.

bake it in the oven for 10 minutes. if it is not yet golden brown add 5 minutes more till it get this golden color.

remove it from oven.

let it cool for a little and remove from the baking tray .
for garnish and serving:
lay in the serving plate

and before serving drizzle some pomegranate molasses .

and sprinkle some parsley and pine nuts .

serve and enjoy!
Recipe Notes
if yo don't have rapeseed oil you can use any kind of neutral vegetable oil .
I found those whole wheat puff pastry squares n the supermarket in the freezer section, it is easy to find and a much healthier choice of the normal ones.
chicken can be stored in an airtight container in the refrigerator for up to 4 days or frozen up to 3 months.
you can prepare the chicken and put in the freezer and whenever you have some unexpected guest you can quickly prepare the sumac dressing and bake it .
and even you can prepare the whole recipe up to 4 days before and store in an airtight container in the refrigerator . and just before serving heated in the microwave for 1 minutes on high or in preheated (200 C) oven for 5 min until warm. drizzle the molasses and garnish with parsley and pine nuts.