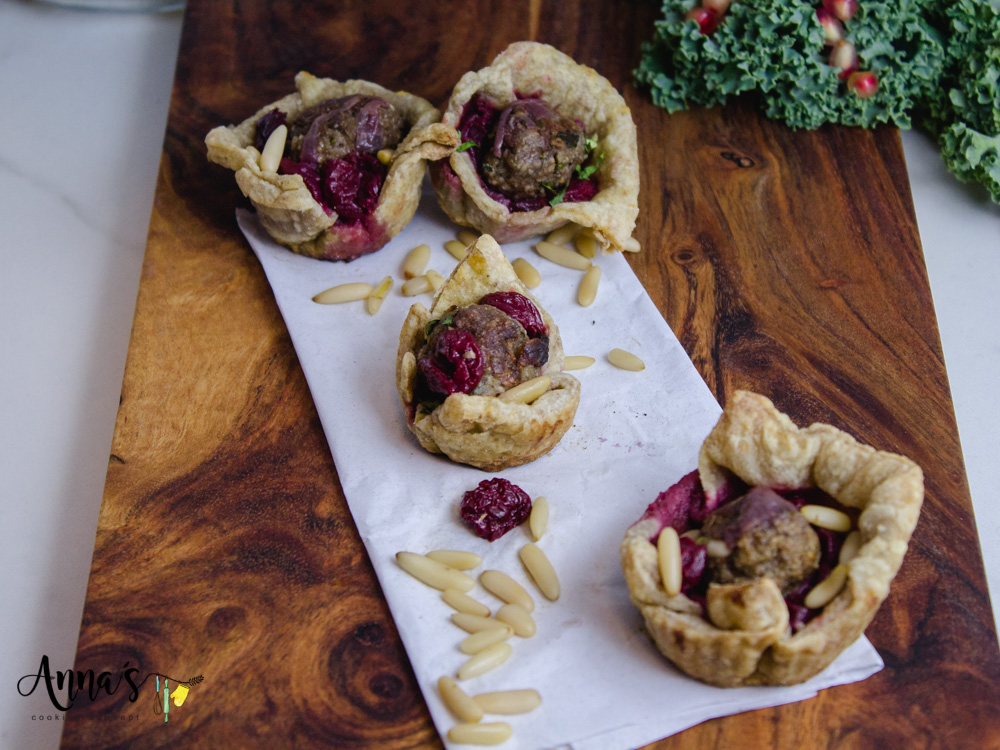 these cute little bites are meatballs cooked to perfection in a cherry sauce.
an easy party snack that is ready in less than 30 minutes.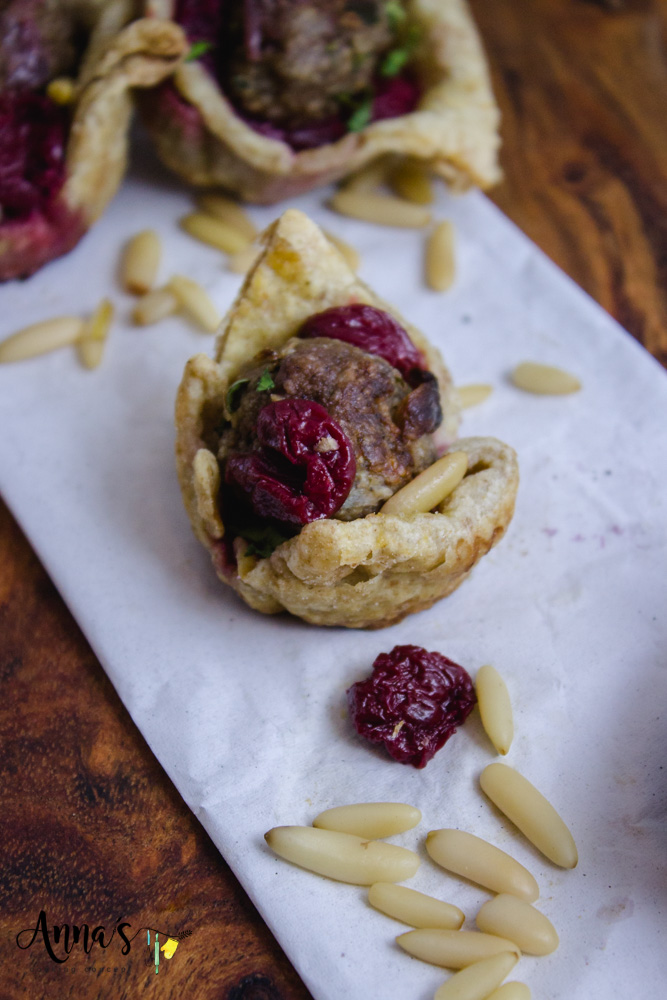 I first got this idea when I was cooking my famous
sweet and sour cherry kebab
.
I loved those meatballs so much that I got this amazing idea! why I don't create a way to present those sweet and sour meatballs to my guest in a easy way as finger food? so they can simply grab and eat it right from the plate.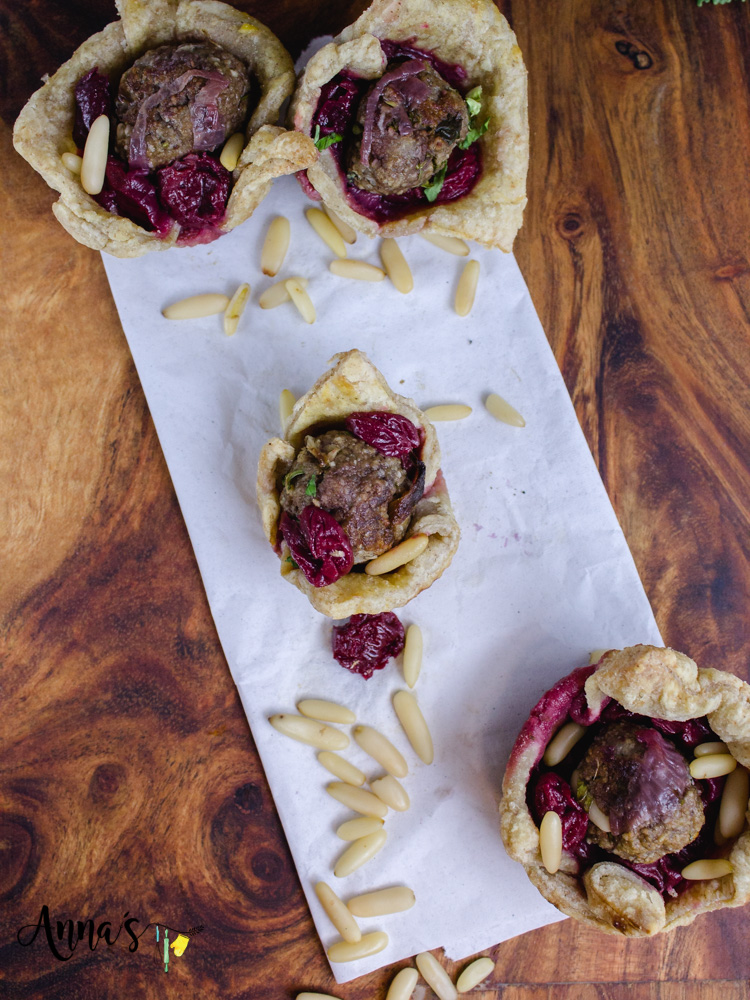 these small meatballs bites make a unique authentic/modern combination that you can impress your guest with.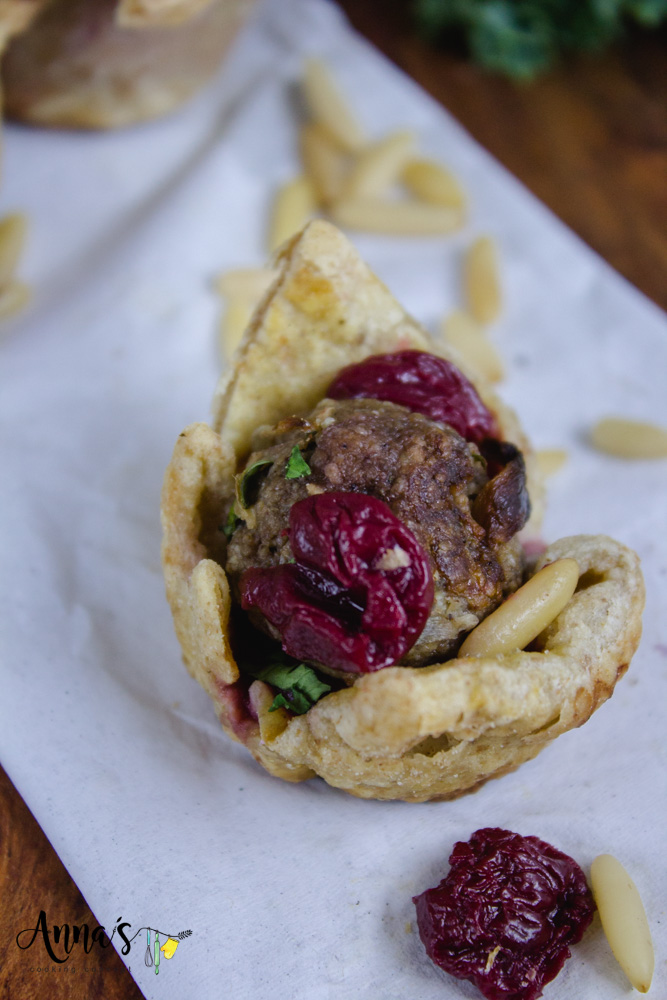 it looks really good with the touch of green parsley and some extra pomegranate syrup drizzle before serving! to complete the vibrant look of those meatballs.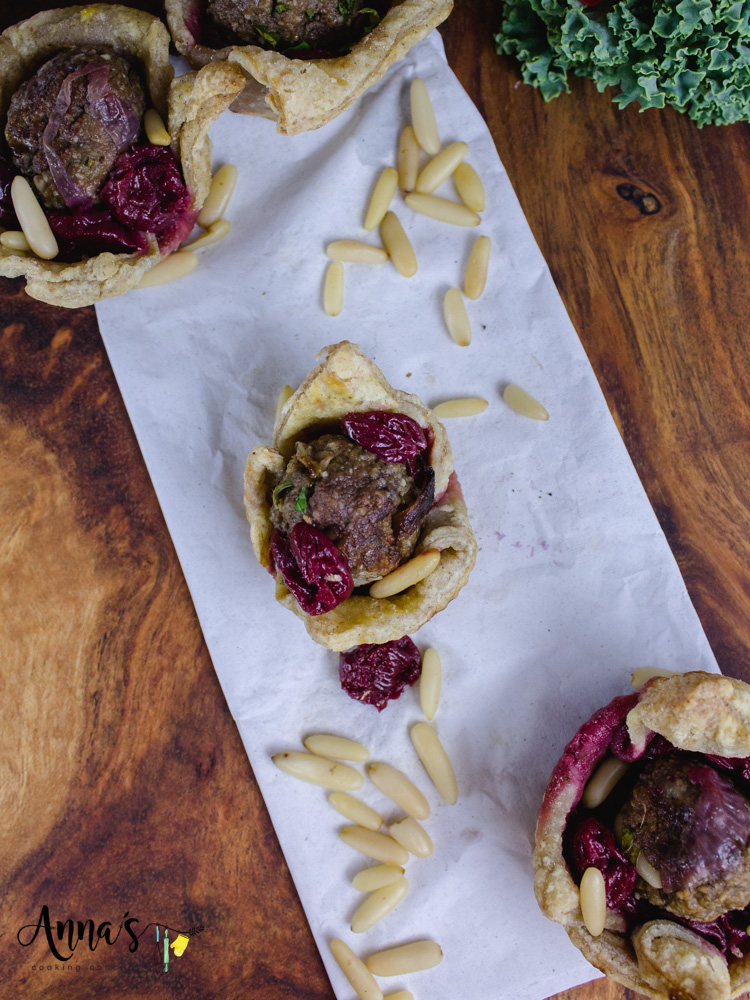 more of these authentic/modern finger food is yet to come stay tuned!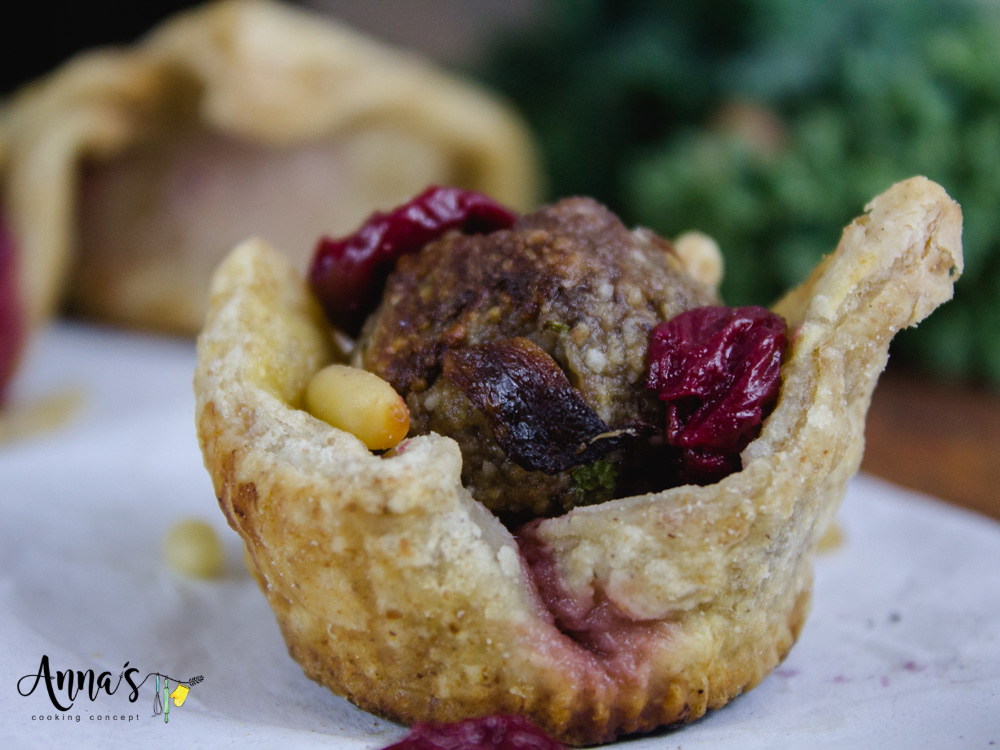 Cherry Kabbab Party Bites
check out this marvelous finger food recipe! a delicious authentic/modern combination to impress your guest with !
Course:
Appetizer, Side Dish, Snack
Cuisine:
arabic, lebanese, Mediterranean, syrian
Ingredients
for the meatballs
600

g

minced lean beef

1

big onion grated

4

gloves garlic minced

4

tbsp

pine nuts

1

tsp

grounded cinnamon

1

tsp

sweet pepper

1

tsp

salt

1/4

tsp

grounded nutmeg

1

tsp

seven spices
for the cherry sauce
2

cups

vachna* cored Cherry can be frozen

4

onions slice into wedges

1/4

cup

lemon juice

2

sticks cinnamon

3

tbsp

brown sugar

1/2

cup

water

1/2

tbsp

rapeseed oil *
for assembly:
1

pack

whole wheat puff pastry squares

*
for garnish:
1/4

cup

parsley chopped

1

tbsp

pine nuts

2

tbsp

pomegranate molasses
Instructions
for the meatballs
mix all the ingredients together and let it chill in the fridge for 30 minutes.

after 30 minutes remove from fridge and form into balls equal to the size of a walnut. around 1/2 tbsp per ball.

I cooked mine in an air-fryer but you can wipe a non-sticking pan with some oil and grill the meatballs turning over occasional so it brown evenly for about 5-7 minutes.

set aside while preparing the cherry sauce.
for the cherry sauce
soak your cherries for 30 minutes and drain it well before start cooking with it.

keep 1 cup of the cherry water.

heat the oil in a non stick deep pan .

add the onion and saute until it turn transparent.

add the cherry, lemon juice, cinnamon stick and 1/2 cup of the cherry water.

bring to boil . lower the heat and let it simmer for 10 minutes till thicken.

add the meatballs and let it simmer for an extra 10 minutes so the meatballs are completely done.

if the sauce get to dry after simmering you can add the remaining 1/2 cup of the cherry water and simmer it for an extra 5 minutes.
for assembly:
preheat oven on 200 C

defrost the puff pastry squares according to package.

roll out the squares to make it thinner and bigger, as much as you can.

cut it to 4 pieces .

roll each piece separably as much as you can than to make it wider.

spray a mini muffin tray with some oil and put in each mini muffin a piece of puff pastry than push it down in the middle.

put one meatball in each hole with cherry sauce . add as much sauce as you can.

and bake it in the oven for 10 minutes. if it is not yet golden brown add 5 minutes more till it get this golden color.

remove it from oven.

let it cool for a little and remove from the baking tray .
for serving
arrange in the serving plate.

drizzle the pomegranate syrup before serving on the bites.

sprinkle the parsley and pine nuts on top of it and serve it with some mashed potato , rice or toasted Arabic bread on the side.

enjoy!
Recipe Notes
vachna cherry or wachna cherry is a type of cherry that have a sweet and sour taste , it is normally Turkish or Serbian cherry that you can find in the frozen section.
if yo don't have rapeseed oil you can use any kind of neutral vegetable oil .
I found those whole wheat puff pastry squares n the supermarket in the freezer section, it is easy to find and a much healthier choice of the normal ones.
even you can prepare the whole recipe up to 4 days before and store in an airtight container in the refrigerator . and just before serving heated in the microwave for 1 minutes on high or in preheated (200 C) oven for 5 min until warm. drizzle the molasses and garnish with parsley and pine nuts.