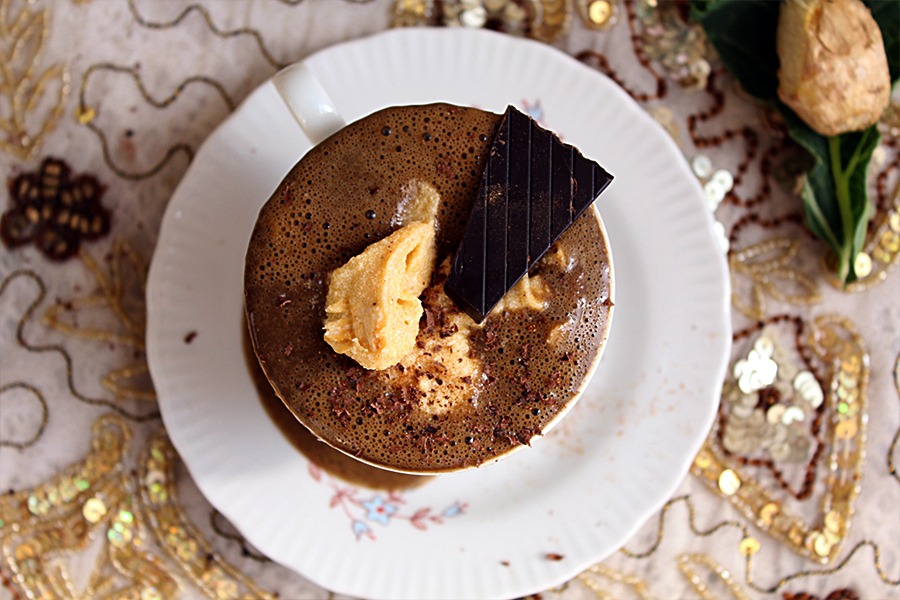 Some people, if not most of them, may not like greens, but almost everyone loves chocolate. From the youngest member of your family to the oldest one, all will gather for some chocolate smoothie tasting.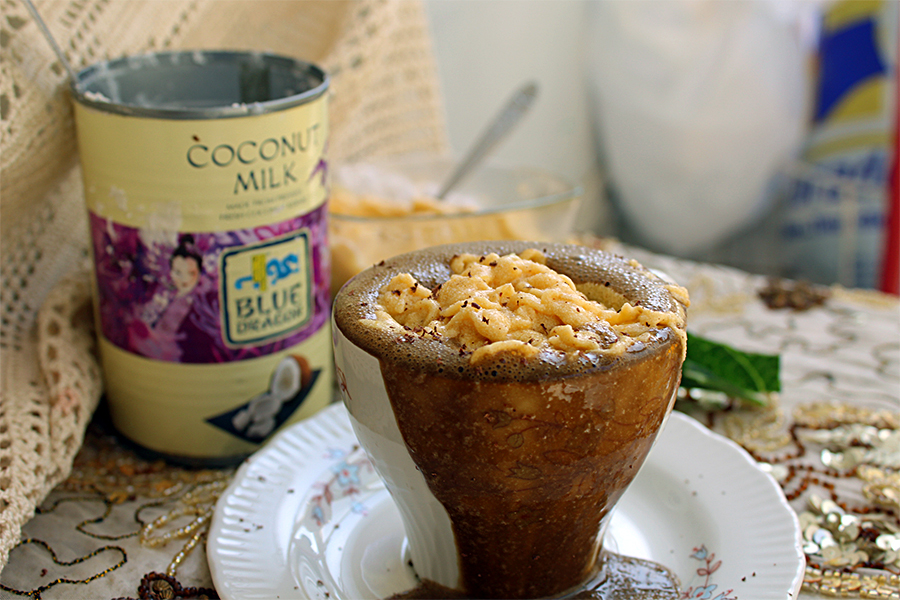 And in this thick irresistible shake, all that you will taste is pure sweet chocolate!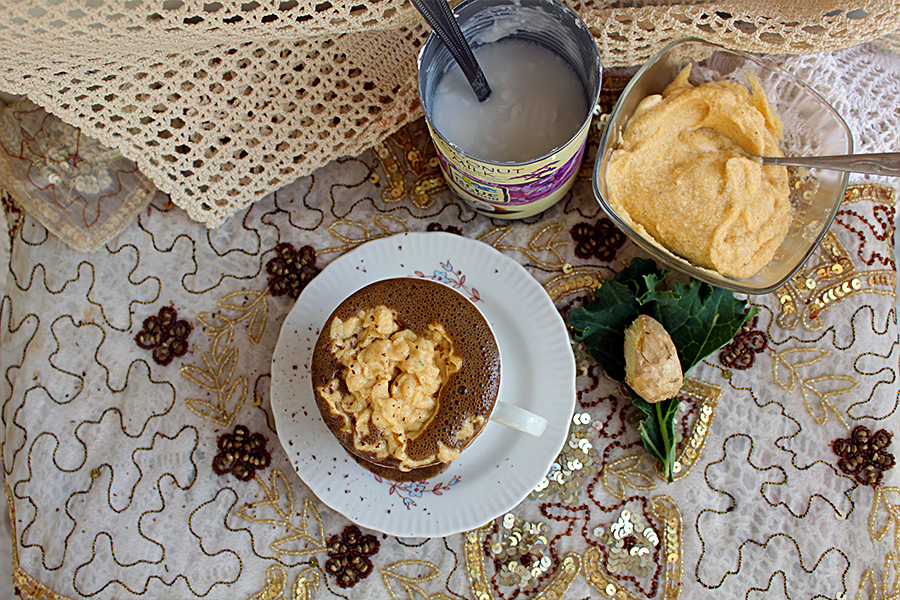 For me it's really important to keep exploring and discovering new flavours and combinations to keep things fresh and exciting! I get bored easily! (:P)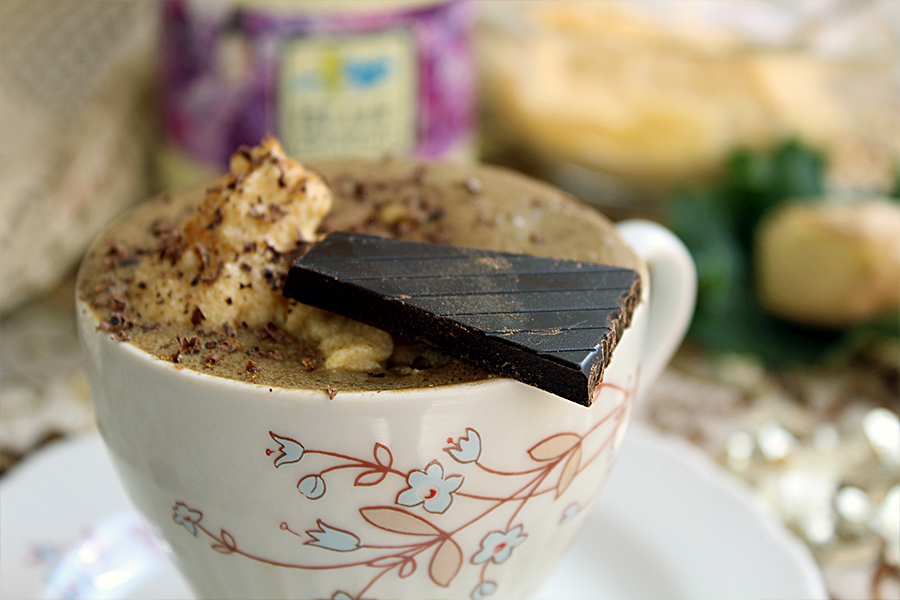 But in the middle of the week, waking up early is already a big deal for me, that I don't have enough energy to think and create something new and delicious to grab before going to work. So I stick with my traditional few smoothies that I already nailed.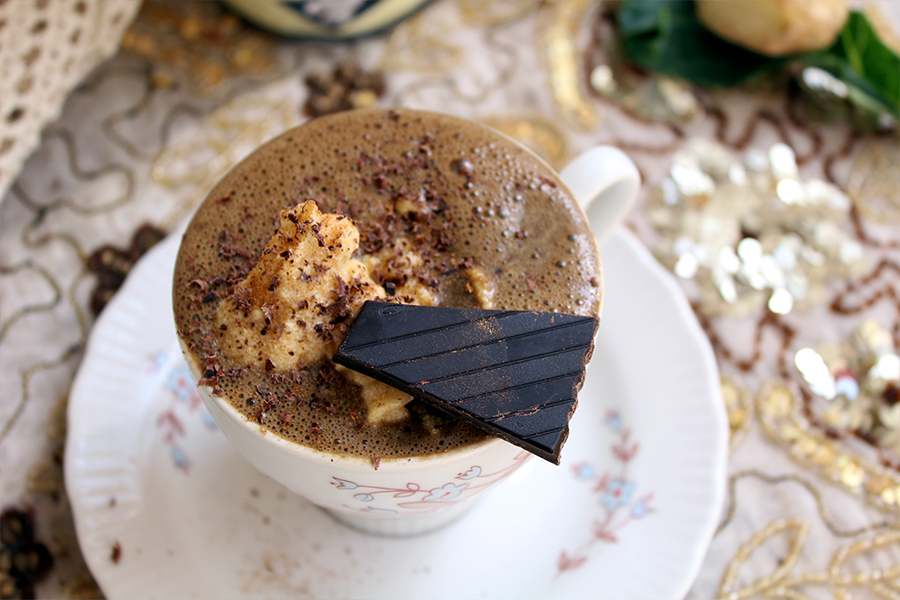 But in the weekend, it's experimentation time! I test recipes and the one that checks out, gets added to my mid-week recipes!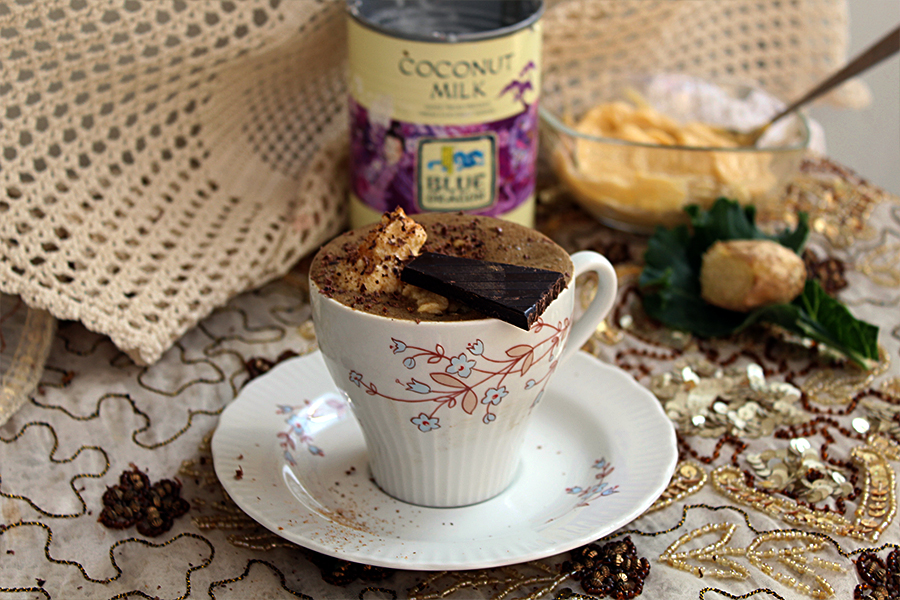 Today I slept in for a couple of hours in the morning, I woke-up with no rush to finish any tasks and I had a sweet tooth but still wanted to have my greens.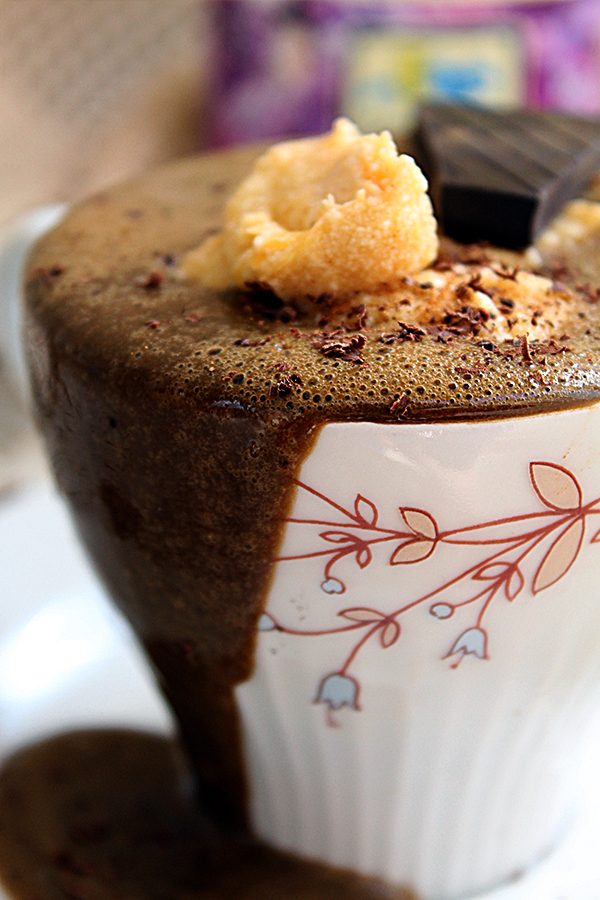 I had this fancy urge for a mocha shake with some whipped cream on top it!
So maybe you are confused, how is it going to be a healthy breakfast smoothie, let alone having CHOCOLATE and some WHIPPED CREAM in it!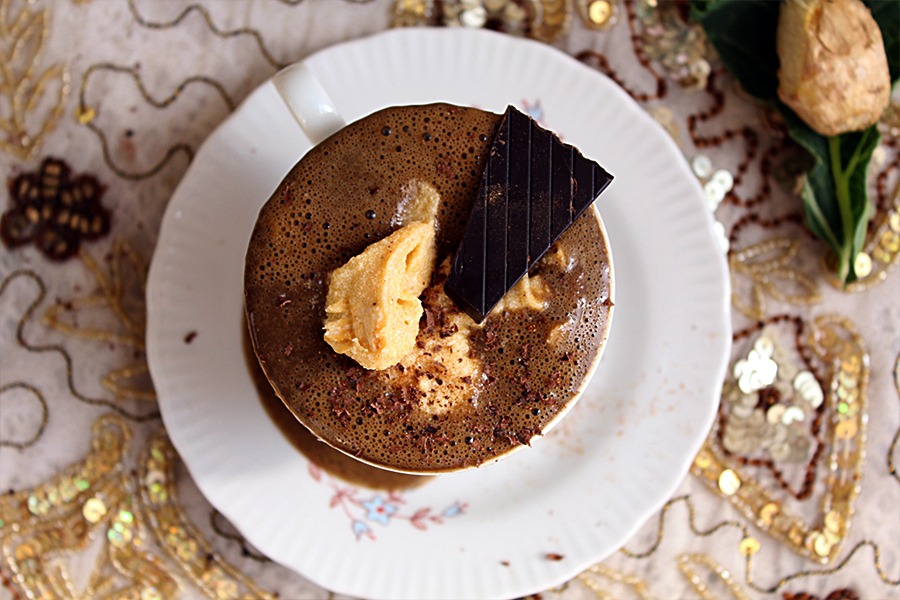 Don't be surprised!! This is the perfect sweet healthy smoothie for days when you need to spoil yourself in the morning with no guilt at all!
It has coffee, chocolate, protein and your lovely greens!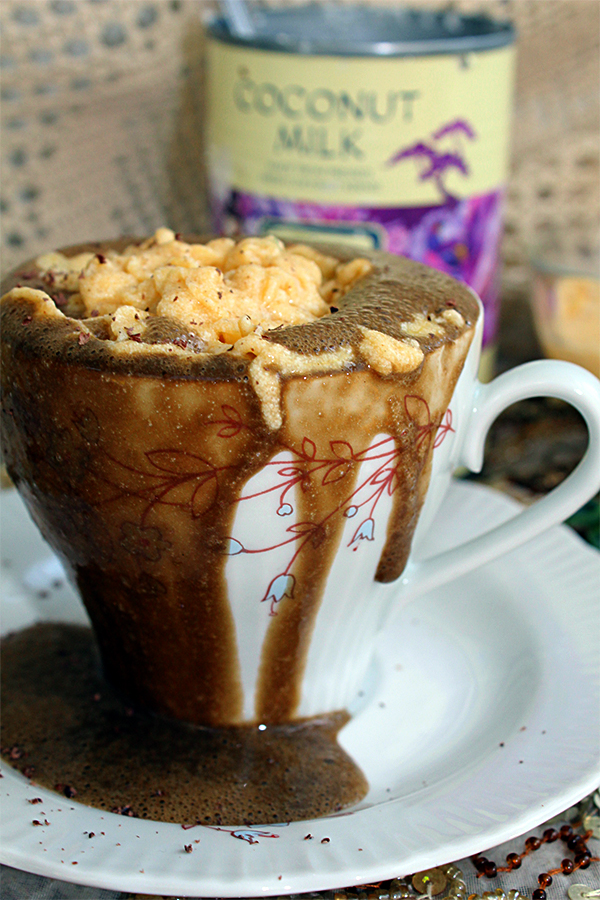 A vegan whipped cream with no dairy in it that will leave you light and fresh without the bloating side effect of dairy.
So what are you waiting for? Whenever you fancy treating yourself, grab those few ingredients and prepare this easy fresh smoothie!
A plus point is that this smoothie can easily be transformed in to a warm hot chocolate! All you need to do is: after you blend it, pour it in a pan and heat it up to your taste!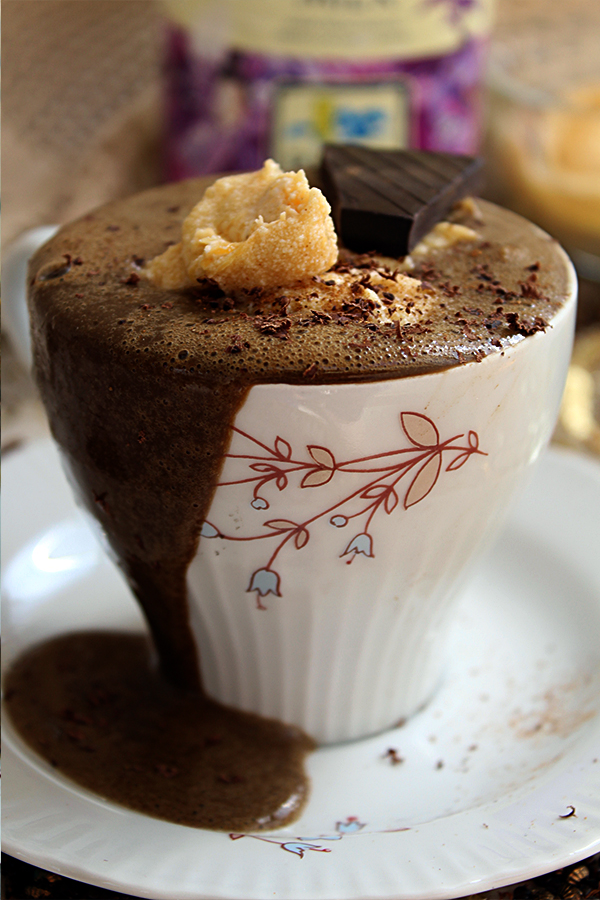 Café mocha smoothie:
Ingredients:
Yield 1-2 serving
For the vegan whipped cream:
1 can full fat coconut milk (chilled overnight in the fridge)
½ cup unsweetened, pumpkin puree
¼ tsp. pumpkin spices *
Pinch of salt.
Stevia or any sweetener you like
For the chocolate smoothie:
1 unpacked cup kale.
1 banana
1 Tbsp. cacao powder
1 Tbsp. kharoub molasses
1 cup Almond milk
1 espresso shots (or 1 Tbsp. ground coffee)
¼ cup cooked quinoa (or oatmeal)
Instructions:
Start with the whipped cream.
After you chilled the coconut milk can overnight, open the can without shaking it and scoop all the butter condensed on the top without any of the liquid.
Store aside the coconut liquid for later use.
Put the coconut butter in a whipping machine and start for a couple of minutes on the first speed, increase the speed and add the pumpkin puree and spices and keep whipping, for around 5 minutes until the cream is fluffy.
Pour into a container and set aside for later.
For the smoothies pour all the ingredients into the blender and blend all on high speed.
Pour into a jar; scoop 1 Tbsp. of the pumpkin whipped cream.
Serve and enjoy!
*notes: for the pumpkin spices: 1 tsp. cinnamon, ¼ tsp. nutmeg, ¼ tsp. ginger, 1/8 tsp. ground cloves.
The rest of the pumpkin whipped cream can be stored for up to 2 weeks into the fridge, whipped a little bit before re-using it.
The overnight chilling is very essential for the whipping cream process.
Nutritional information:
Serving Size: 1 serving • Calories: 394 • Fat: 9 g • Carbs: 64 g • Fiber: 15 g • Protein: 20 g