Jump to Recipe
I have been thinking of this recipe since forever.I always have this passion to infuse the Arabic/Lebanese authentic ingredients in western recipe and make a new authentic recipe .
so what if the combination was with the delicious brownies .brownies is already super delicious and everyone's favorite.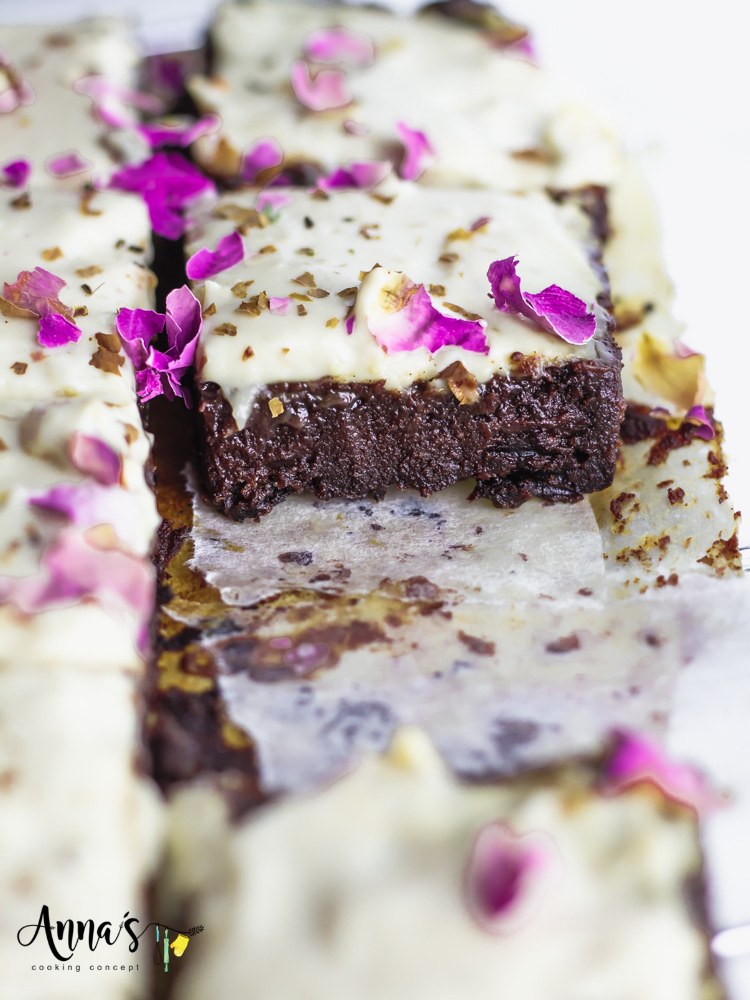 so imagine what will happen if it is merged with our favorite traditional ingredients in the Arabic cuisine.you are probably wondering what on earth I am talking about!!
Well I am talking about my newest flavor combination that turned out to be amazing!!!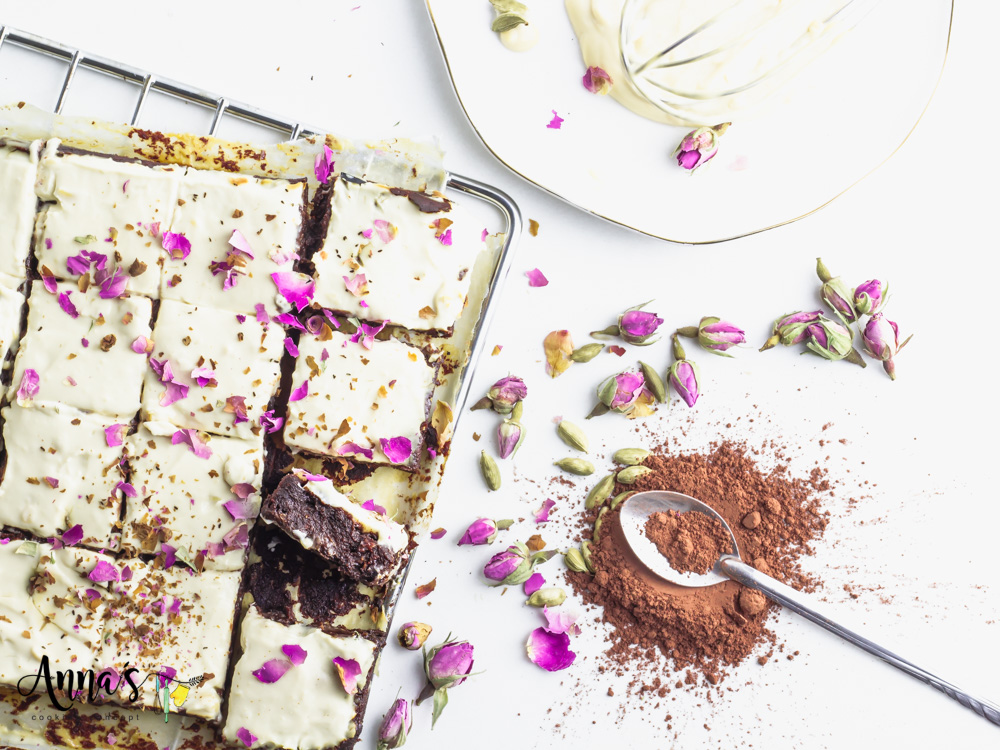 dates, tahini , rose water, cardamon… we all heard of those ingredients of course but in brownies ?! 
I guess you never thought about that !!well I did! & I tried it! & it is amazing!the perfect sweet bites for a perfect valentine indulgence !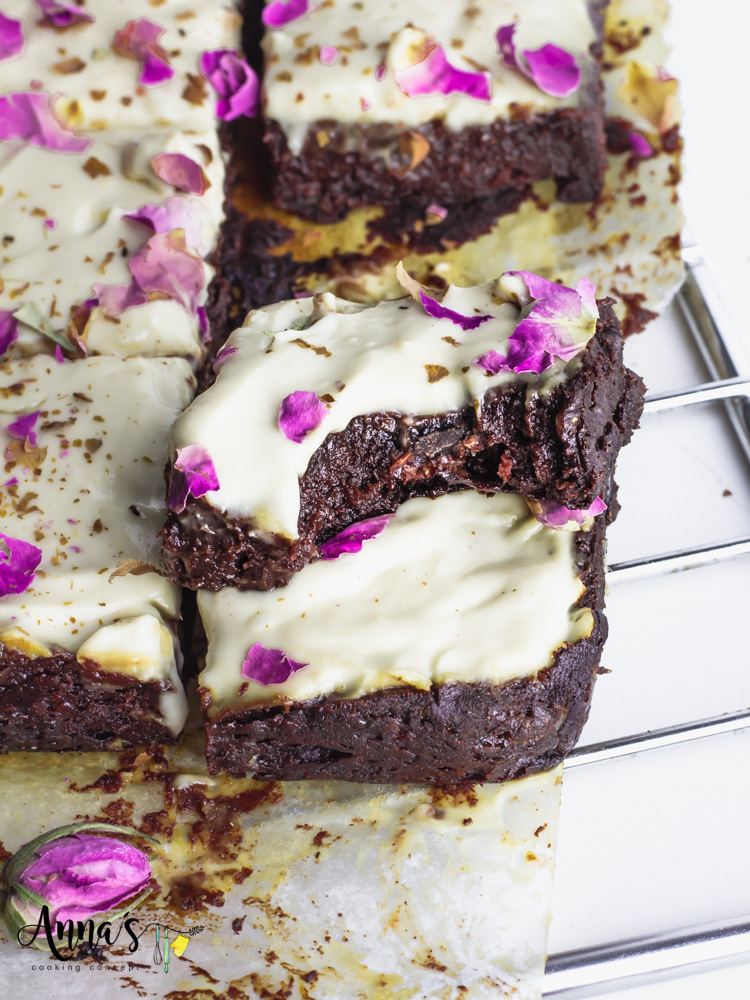 I make it extra sweet because it was build for my husband on valentine and he has a super sweet tooth!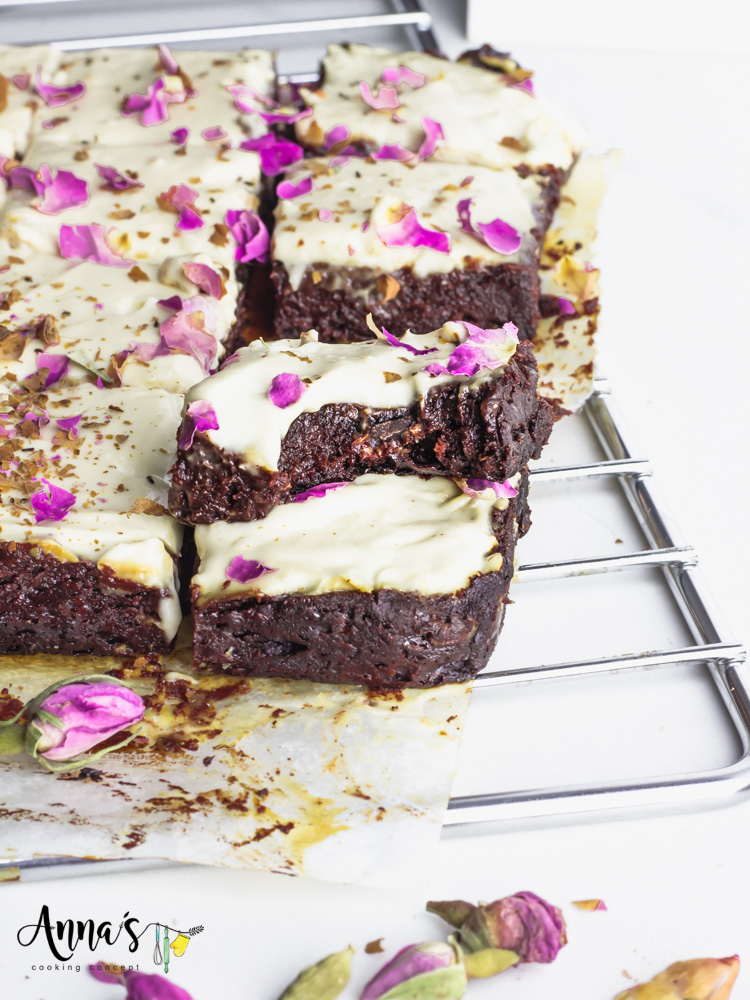 if you like unique brownies recipes you can check my other brownies recipe in this link! and for a great valentine breakfast idea check out also my famous valentine smoothie! 

authentic tahini brownies
a very original brownies recipe with a twist of authentic ingredients like tahini, dates and rose water.
Cuisine:
arabic, lebanese
Keyword:
appetizers, brownies, chocolate, dates, desserts, sweets, tahini
Ingredients
For the brownies batter:
– 2 tbsp. rose water

– 2 cups pitted dates*

see notes

– ¼ cup warm water

– ½ cup apple sauce

– Pinch of salt

– 2 tbsp. tahini

– 1/3 cup of raw cacao powder

– 1/4 cup chocolate chunks *

see notes
For the tahini frosting:
– 230 g of Greek yoghurt

drained overnight * (see notes)

– 2 tbsp. honey

– ¼ cup tahini

– ¼ tsp. grounded cardamom

– Pinch of salt

– 2 eggs

– 2 tbsp. corn flour

– ½ cup almond milk divided on two parts equal
Instructions
For the brownies batter:
– Start by soaking the dates in the water and set aside

– Preheat oven on 180 C°

– Add the soaked dates with their water to the food processor and add the rose water and pulse until everything is mixed and you have a paste similar texture.

– Add the apple sauce, salt and cacao and mix all together.

– While the food processor is on, drizzle the tahini in the mixture and keep mixing until everything is one big sticky and wet dough.

– Add chocolate and mix it a little bit with a spatula or give it a few pulse until it is mix only.

– Pour into the baking sheet and bake for 25 to 30 min until the edge is dry.

– Remove from oven and let it cool for 10 min. then remove from tray and let it completely cool before adding any frosting or cutting.
For the tahini frosting:
– Start by preparing the egg mixture first so you give it time to cool down.

– In a pan on high heat, heat half of the almond milk until start to boil.

– Mix the corn flour with the other not heated part of the almond milk and add to the egg and whisk it well until you have a well-mixed mixture.

– Turn down the heat to the minimum under the almond milk pan and add the egg mixture while keep stirring.

– Keep whisking the egg mixture on low heat until it start to thicken , after it start to thicken give it 3 more minutes on the stove until it become a very thick mixture . Turn of the heat and set aside until completely cold before mixing the other ingredients.
– After the mixture is completely cold, in a deep bowl mix it with the tahini, honey, drained Greek yoghurt, salt and cardamom powder. Mix all with a spatula and very slowly so you don't break up mixture don't overdo it just mix enough until all it incorporated together.
For assembly and garnish:
– After the brownies is completely cooled down, spread the frosting on top of it and garnish with the edible roses.

– Cut into pieces and enjoy!

– These brownies should be stored in fridge for up to 4-5 days.
Recipe Notes
– you can use pitted dates or date paste that is very easy to find if you are living in a Arab country it is the same used in "maamoul" sweets
– for the chocolate i used dark orange flavored chocolate but you can use any chocolate of your taste but the orange flavored one is a very interesting option with this combination.
– for the Greek yogurt, i used a honey flavored organic Greek Yogurt and the night before i use a cheese clothe to drain the yogurt and get out must of the wheat out , you will have a "labneh" texture mixture or cream-cheese texture.