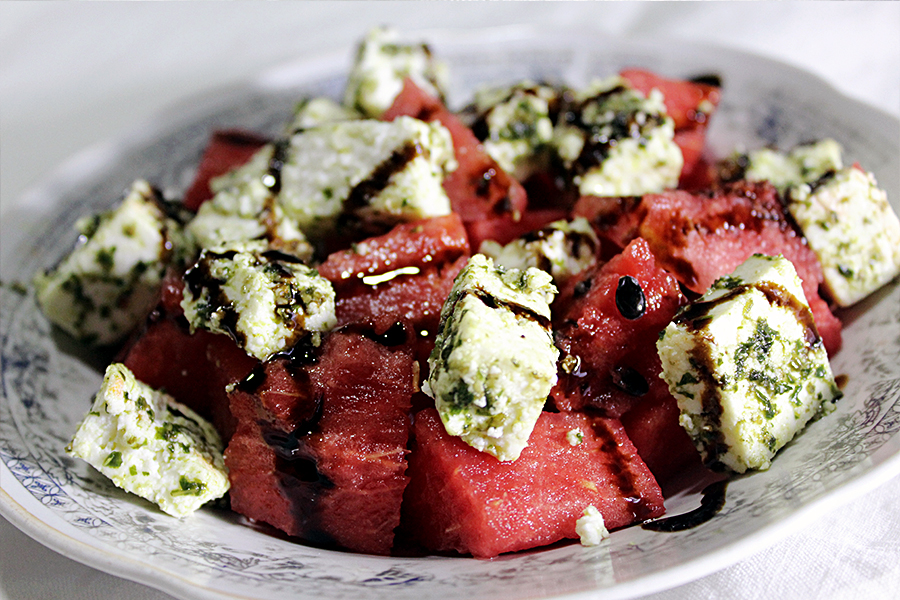 Honestly it can't easier than this! It's such an easy snack that you can even prepare at work!
It is a refreshing full of flavor; crunchy salad that will make you escape the hot summer days.
It's so simple and easy, that I don't know if I can even call it "a recipe".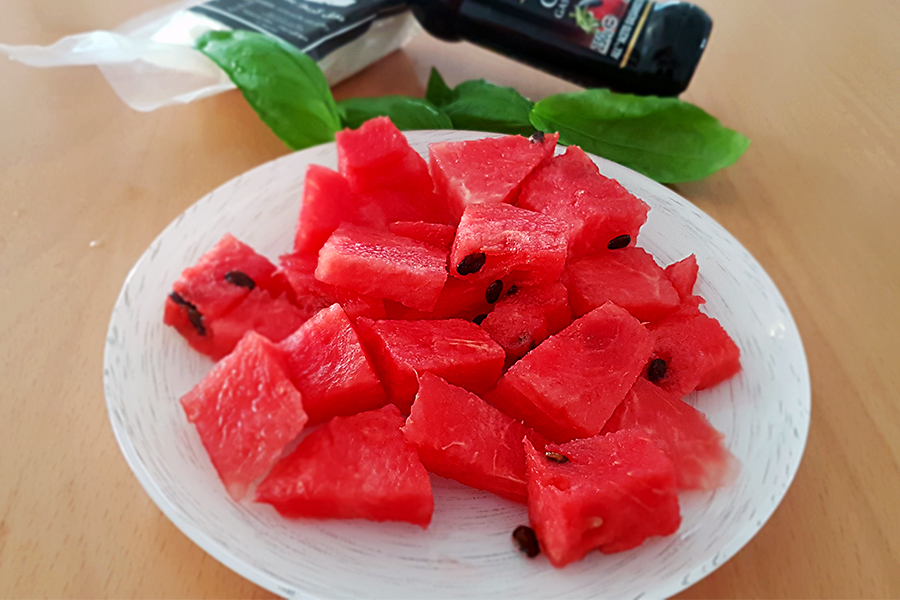 But the key to a delicious watermelon recipe is the cheese; I tried many types of white cheese and found just the perfect one!
A local organic white goat cheese would be the perfect choice!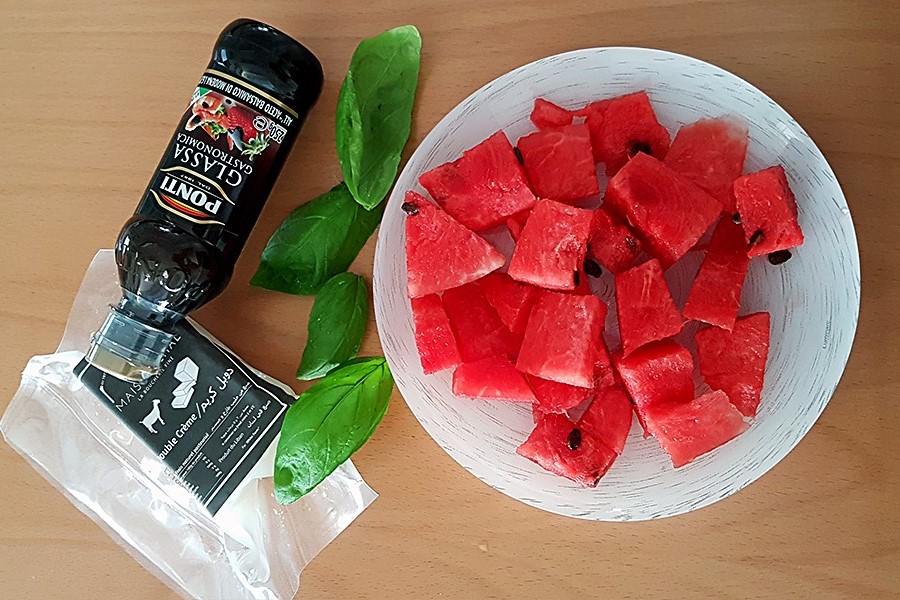 Why goat cheese? Besides being a great adding to this recipe from the flavor side, it is a great substitution for cow cheese for many reasons.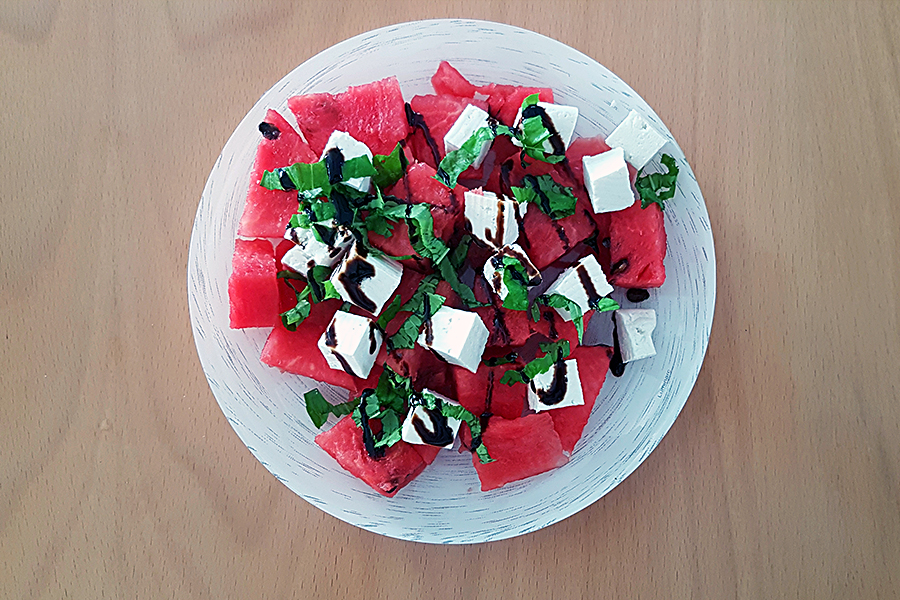 It has fewer calories than cow's cheese and easier to digest.
Goat milk contains significantly lower amounts of lactose than regular milk, which makes it the ideal cheese for people who suffer from lactose intolerance like me.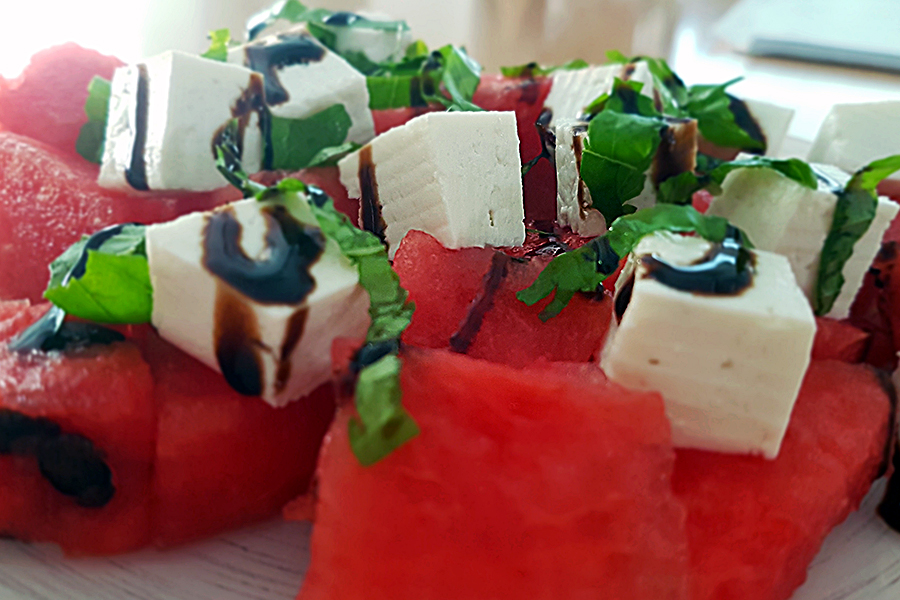 It also has more vitamins and minerals than cow's cheese. And have a greater concentration of calcium than cow milk.
Goat cheese is also a low-fat alternative to regular cheese. It contains lesser amounts of fat, and the saturated fat especially than other cheese forms.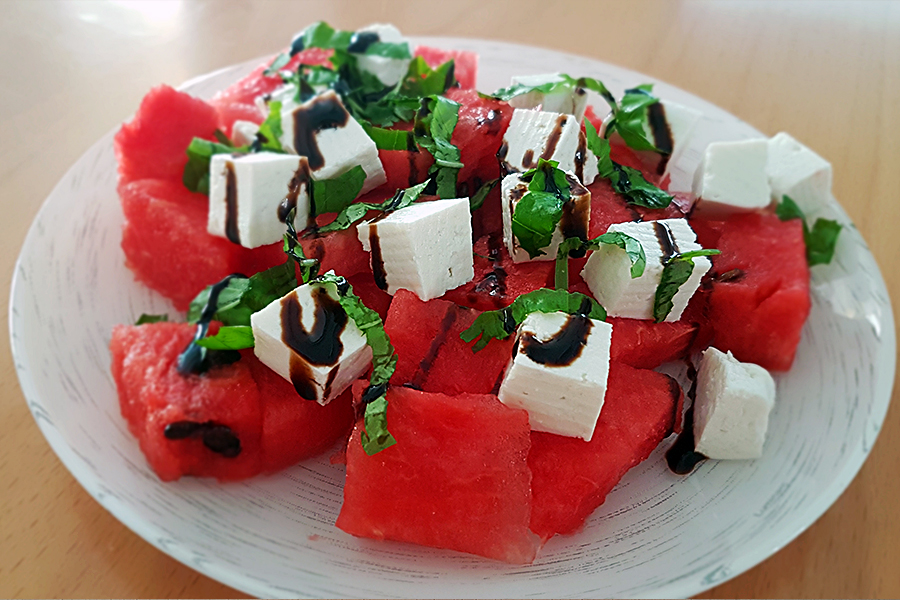 Back to our super easy delicious refreshing summer salad, after you mix your perfect local goat cheese and some watermelon fresh cubes, Garnish with chopped fresh basil and some balsamic vinegar, I found an Italian brand that is perfect with your sweet and sour dishes of all kinds.
I tried two versions of this recipe, one all raw ingredients, so just chop and mix. (like the pictures above)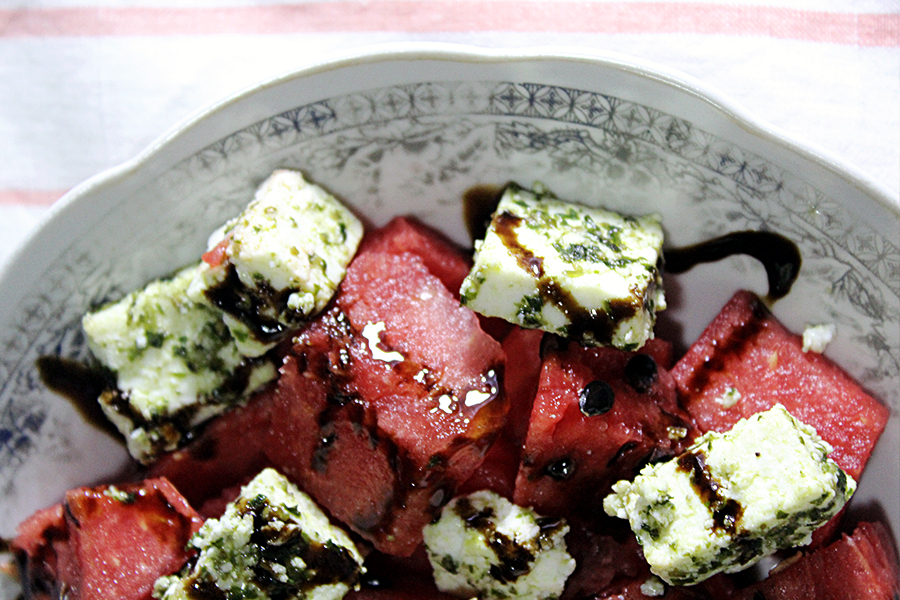 And one more sophisticated great for dinner parties and starters that require a little bit of cooking: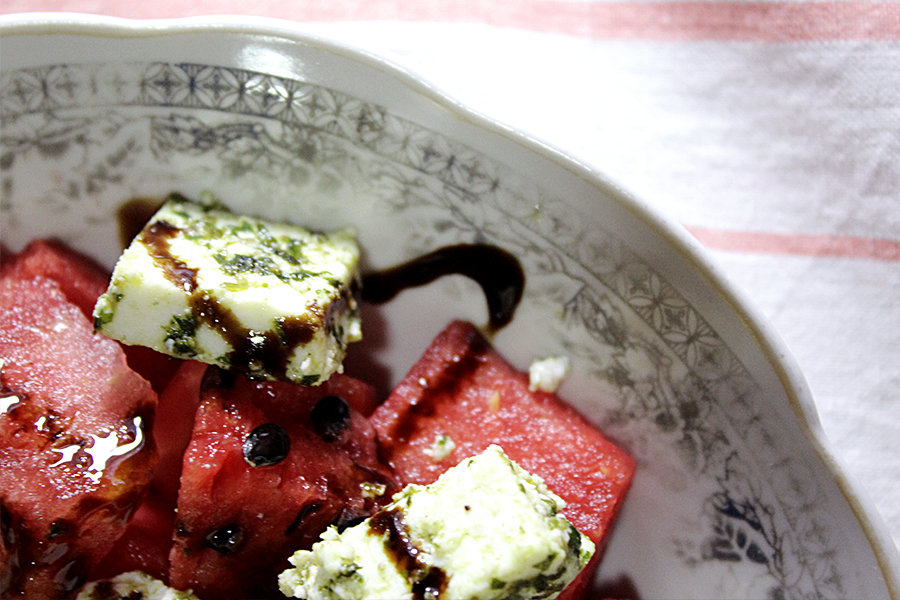 ▪ I put some garlic in a hot pan with some olive oil and I cook ▪ add the chopped basil and cook thoroughly and ▪ add the cubes of white cheese to grill with the basil garlic aroma for around 5 minutes, ▪ toss occasionally till the cheese cubes is grilled from all size. ▪ Set aside to cool a little bit and ▪ then mix with the other ingredients.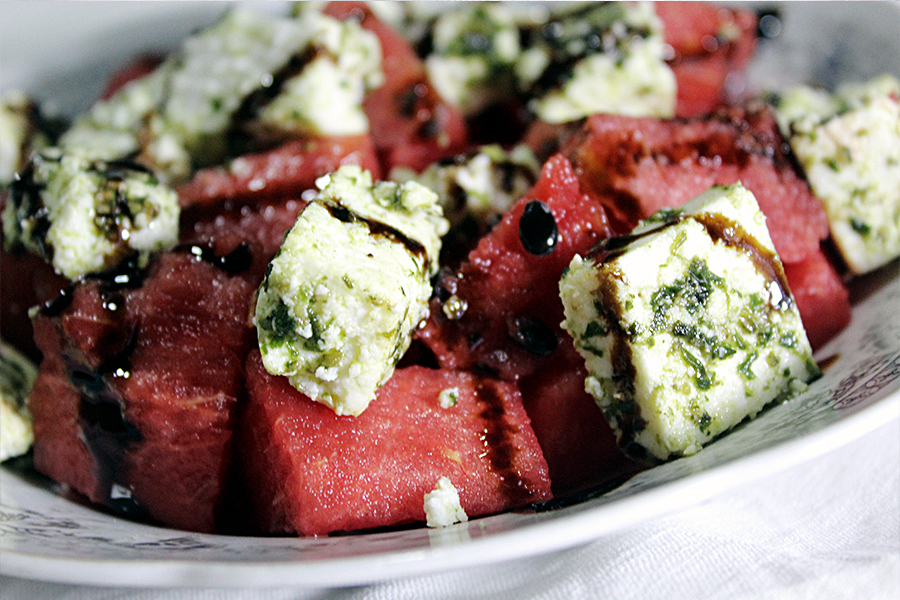 It is my favorite way for a fancy salad recipe with only few steps. It can even be present led as a dessert dish after dinner, afternoon tea or brunch!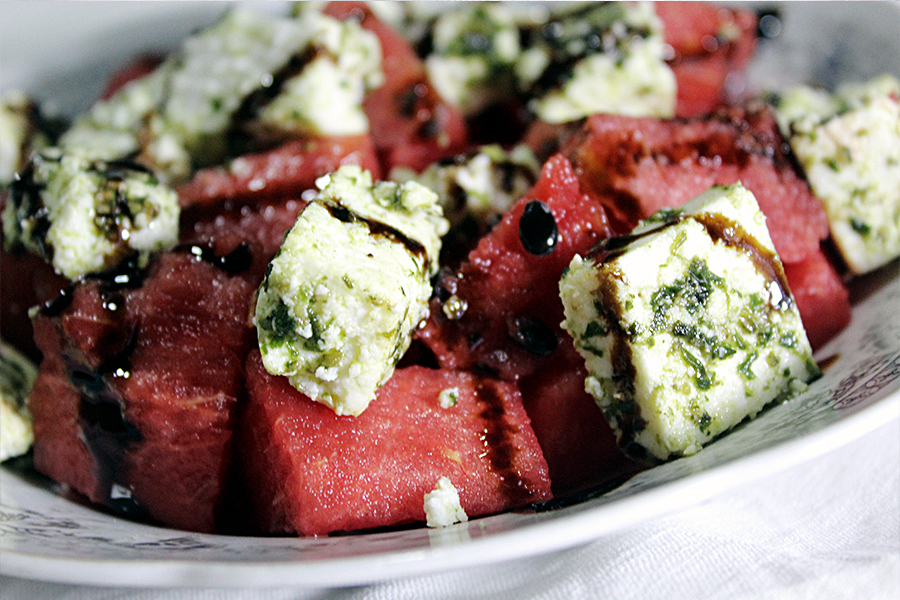 Honestly, you can have it any time you want. It goes with everything and with every occasion!
It is a nutritional fresh summer dish, full of vitamins and calcium.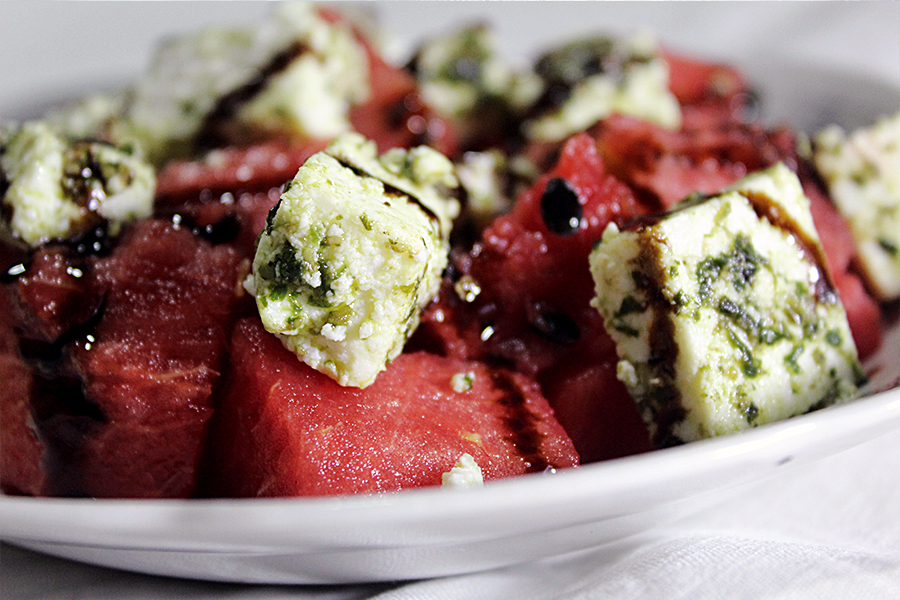 Watermelon salad:
Serves: 1 serving
This is the raw ingredient recipe the cooked one is mention in the article above.
Ingredients:
1 cup watermelon cubes
½ cup white goat cheese cubes
A drizzle of Italian balsamic sauce (Ponti- Glassa Gastronomica)
2 Tbsp. fresh basil roughly chopped
Instructions:
Pour the watermelon cubes in the bowl
Top it with cheese cubes
Sprinkle the chopped basil leaves
And garnish with the Italian balsamic sauce
Enjoy!
Nutritional information:
Serving Size: 1 serving • Calories: 87 • Fat: 3 g • Carbs: 15 g • Fiber: 1 g • Protein: 3 g