Jump to Recipe
If we want to start first with what is Lebanese kafta in the first place so you get what develop from it!
In Lebanon we call it kafta and it is called also Kofta in some other middle eastern and Arabic countries.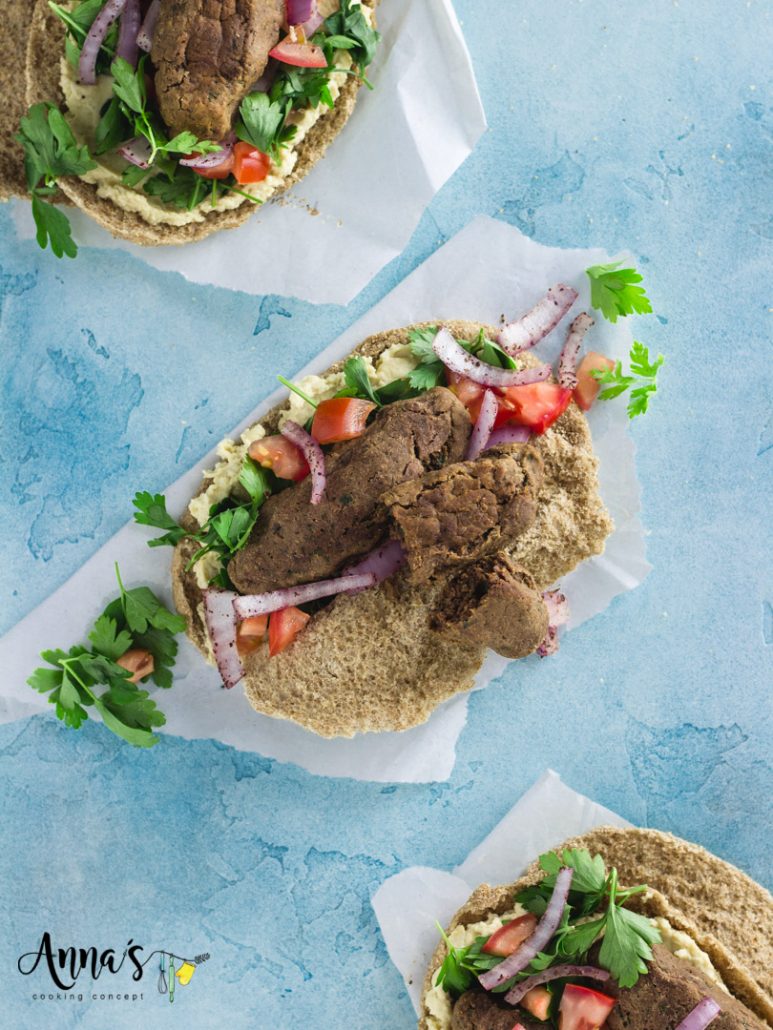 It is normally made from a protein base (ground beef, lamb or sometimes even chicken) mixed with onion and a middle eastern spice mix that differ little bit from country to country but it is basically those 3 main ingredients. It served grilled on the BBQ or baked with tomato gravy with some rice or potato on the side. but the traditional kafta that I am talking about is served on some Arabic pita bread with some hummus and a refreshing kafta special salad, it is amazing!
Personally, I love kafta in all her shapes and flavors and with all kind of adding, this is why maybe I came up with the idea of "vegan" KAFTA.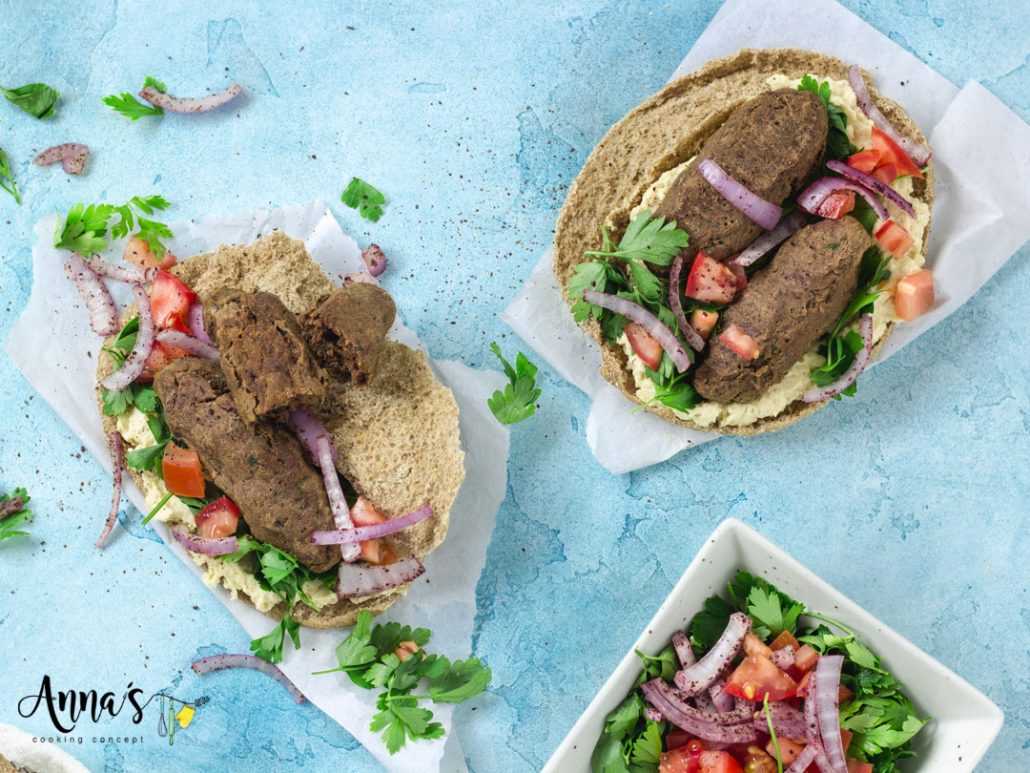 The whole idea sparkled in my head when I was doing my 50 days of vegan fasting and I was craving this charcoal grilled kafta skewers so much! I wanted to taste this same smoke meat taste and texture but in a vegan substitution.
And boy! I nailed it! sometimes the greatest recipe come from a big craving! For me, not sometimes must of the times honestly! 😛
I succeed into substituting the grounded beef with a vegan high protein delicious option: the one and only lentil but I wanted to taste that smoky taste that you taste when you grab a warm skewer of kafta right from the grill. This is why I came up with the "smoking technique"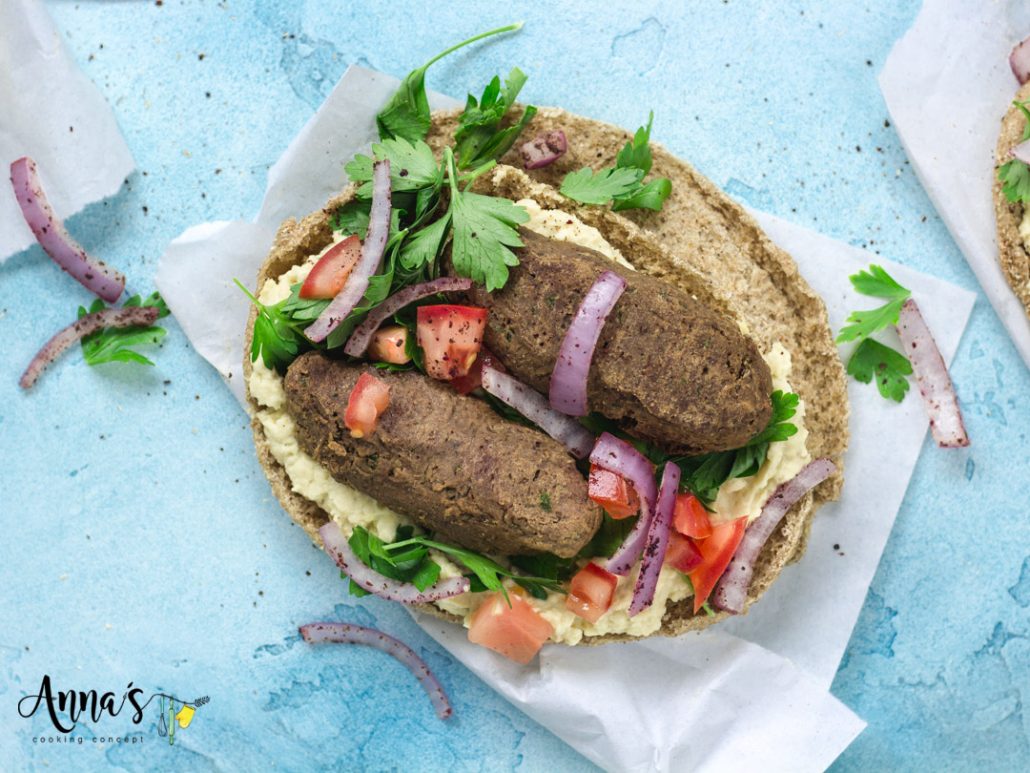 The "smoking technique" ladies and gentleman is absolutely a game changer in this recipe!
I do not recommend to even try this recipe if you are thinking of skipping this step, it will give those vegan kebabs a whole new level of taste and texture.
This recipe is perfect if you have some vegan friend over and you don't want them to feel left out with some grilled veggies and plain recipes on your next BBQ party, they will taste and enjoy the same beef kafta experience. It is also a great way to add some more meatless days to your week after all even if I am not a vegan person, I do like to add more meatless options to my diet and keep the balance. and you should too!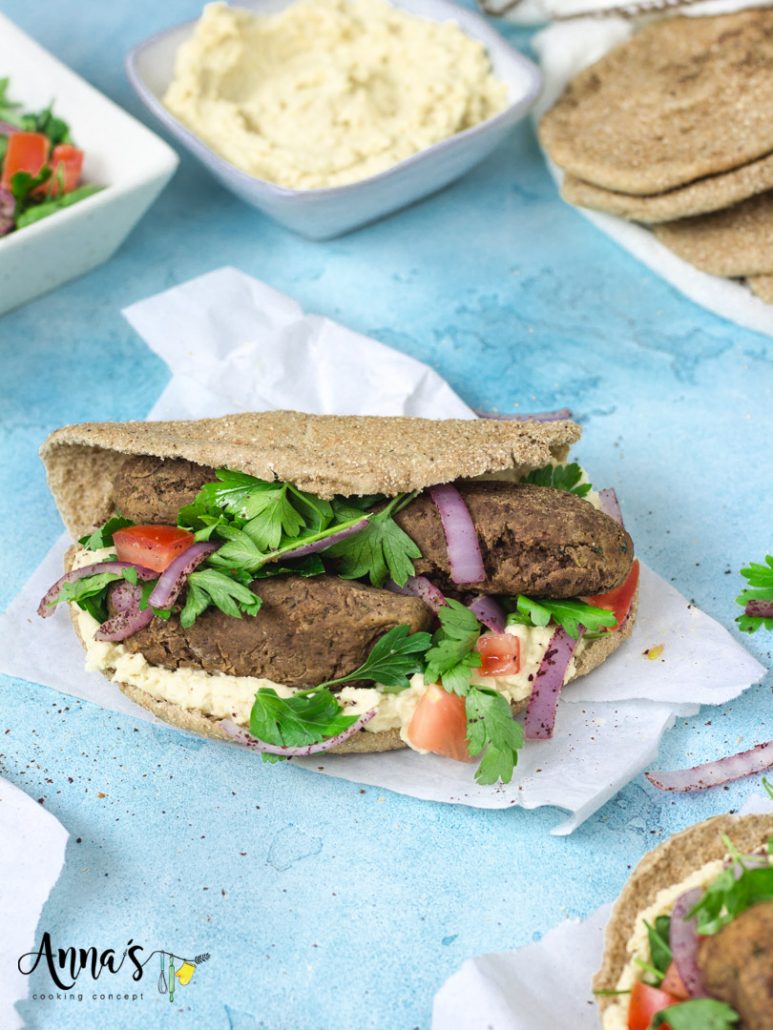 So, let us proceed to this amazing recipe, I tried to explain as much as I can all the steps, if you need anymore information do not hesitate to leave a comment with your questions or you can also contact me on my Instagram DM or Facebook page.

Vegan Lebanese kafta:
Today recipe is a "Vegan Lebanese BBQ kofta" yes you read it right a kofta and a vegan one! This recipe was a big game changer for our meatless days, so the whole family enjoy a rich healthy plant-based meal!
Cuisine:
arabic, Mediterranean, vegan
Keyword:
bbq, kofta, lebanese, vegan
Ingredients
For the kafta:
500

g

Lentils

cooked and drained

1

big Onion

grated (see notes)

½

cup

Fresh parsley leaves

washed

¼

cup

Fresh coriander leaves

washed

1

tsp

of each Salt

7 spices

½

tsp

of each Freshly ground black pepper

sweet pepper, cinnamon, dry mint

¼

tsp

Freshly ground nutmeg

1

Tbsp

Mustard

2

tbsp

of each Sweet paprika

sumac

1

big Onion

grated (see notes)

1

cup

whole wheat flour

1

tbsp

baking soda

For the assembly:
Hummus:
1

cup

chickpeas cooked and drained

or a precooked can

3

tbsp

lemon juice freshly squeezed

2

tbsp

tahini

2

cloves

garlic minced

1

tsp

cumin powder

1/2

tsp

salt

1-2

tbsp

warm water

IF needed
Kafta salad:
2

cup

of parsley leaves washed and drain

2

medium tomato cut into cubes

1

big onion cut into wedges

½

tsp

of each: salt

sweet pepper

2

tbsp

sumac

1

tbsp

tomato paste
Additional:
Arabic pitta bread

2

small charcoal pieces with small aluminum foil paper
Instructions
For the kafta:
Start with grating the freeze onion, drain it well and keep the juice aside we will use later.

Add the grated onion with all the remaining ingredients except the flour and baking soda in a food processor and process on high speed until you have a smooth mixture and all ingredients are mixed.

Transfer to a deep bowl and let it sit in the fridge between 30 minutes up to 2 hours

After you remove from the fridge , give it a mix if it still to sticky add the flour ¼ cup each time and mix with your hand , keep adding the flour until you have a wet dough but not too sticky that you can work with and form some balls that can hold together (I usually don't need to add to much flour, depend on how much you drained the lentil and onion in your kafta mixture) work it well in your hand before proceeding into adding more flour .

Before you want to bake add the baking the soda and mix. (see notes) and mix.

Take 1/3 cup of the kafta mixture and form an oval shaped ball as long and thin as you can, keep doing that until you finish the mixture.

I baked them in my air fryer for 4 minutes on each side, you can also bake them in a preheated oven 180 ˚C for 15 minutes flipping mid time.
For the smoking process: after you bake all the kafta , lay them in a deep cooking pan, add a small piece of aluminum and put on it the two pieces of charcoal that you lighted on before, add a little bit of oi on the charcoal so they start making smoke and cover the pan so all the smoke is retained inside the pan , keep the pan covered for 15 minutes, than open, throw the charcoals make sure it is turn off completely , and set the kafta side. This step will give a deep smoked taste to the kafta it is really a game changer for this recipe I highly recommend you do it.
For the hummus:
Rinse chickpeas and blend in a food processor until powder-like.

Add lemon juice, tahini, garlic cloves, salt and cumin and blend until smooth.

While blending, slowly add boiling water until the texture becomes smooth and creamy.
For the kafta salad:
Cut the onion into wedges, mix the salt with sumac and pepper and rub the onion with the seasoning mixture until all the onions are covered.

In a mixing bowl, Mix the tomato with the tomato paste well, add the onions, the parsley and give it a mix. set aside.
For the assembly:
Divide the hummus between the pittas add the kafta salad than add the grilled kafta, roll them and enjoy!
Recipe Notes
when I prepare a recipe with grated onion, I put it in the freezer before 30 minutes minimum of using so it would make grating the onion easier.
Some people like to serve the kafta also with some tahini sauce instead of hummus: 2 Tbsp. tahini, 2 Tbsp. lemon juice, 1 clove garlic minced 1 tbsp, parsley and salt to taste you can make it thick or light for your liking by adding some water.
This recipe can be easily frozen for later , just after mixing everything and BEFORE adding the bicarbonate , store it in a zip lock bag and put it in the freezer whenever you want to use remove the night before and put it down in the fridge or on the kitchen counter top before few hours.
the most important thing is not to add the bicarbonate of soda in the mixture if you don't need to bake in the next 30 minutes maximum.