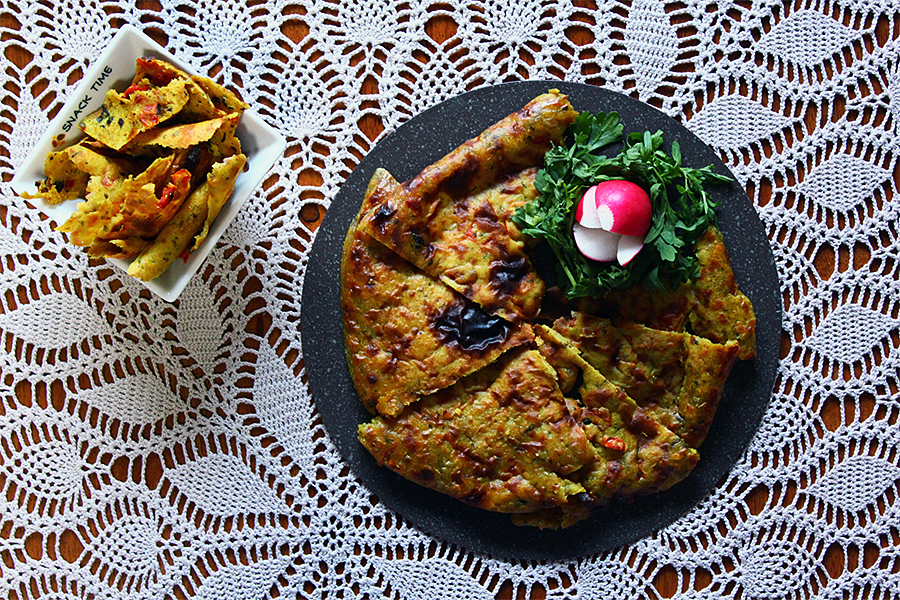 The recipe for today is one of those recipes that start in a place and ends up in a whole different place!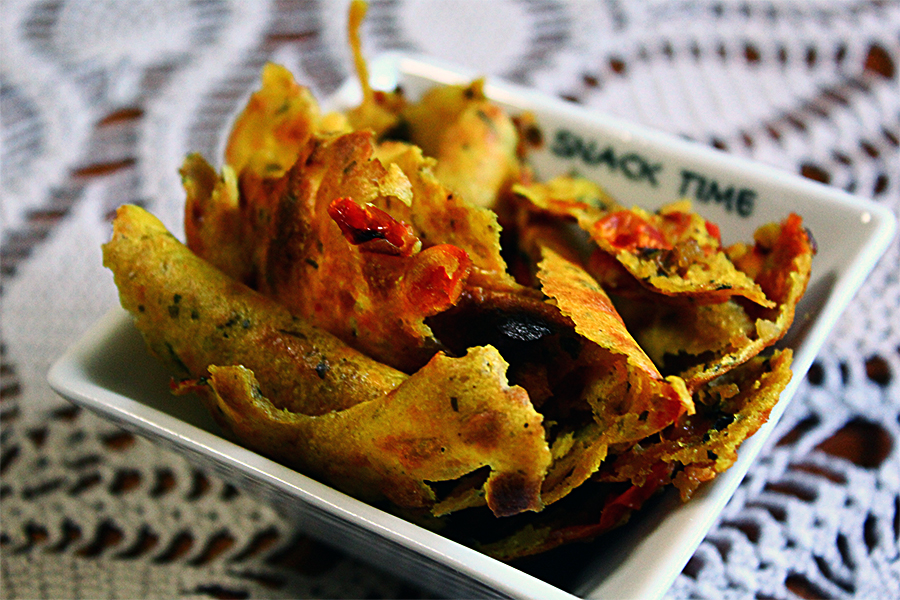 I was experimenting with this one during the lent season, in order to find some kind of a replacement for bread but with an extra protein boost in it because I wasn't taking any from animal products like I usually do!
The base for this recipe here was the "Socca" chickpea flatbread. This thin flatbread originated in Nice, France. It is a hybrid between a pancake and crepe with a savory taste.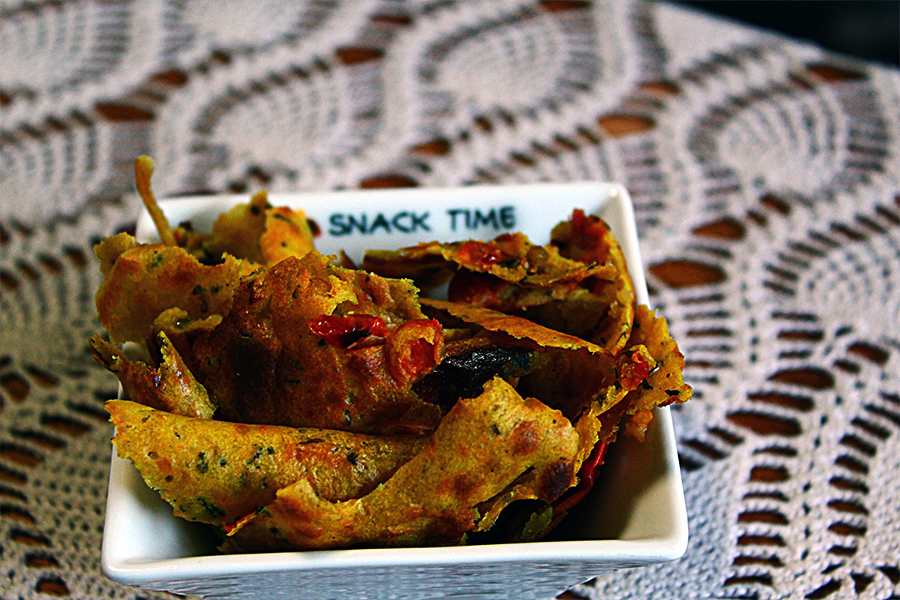 The beautiful thing about it is that you can modify it the way you want to, and make it thinner or thicker to suit your taste!
And that is exactly what happened with me in this recipe; I started with the purpose of making some flatbread and ended up doing some homemade chips also.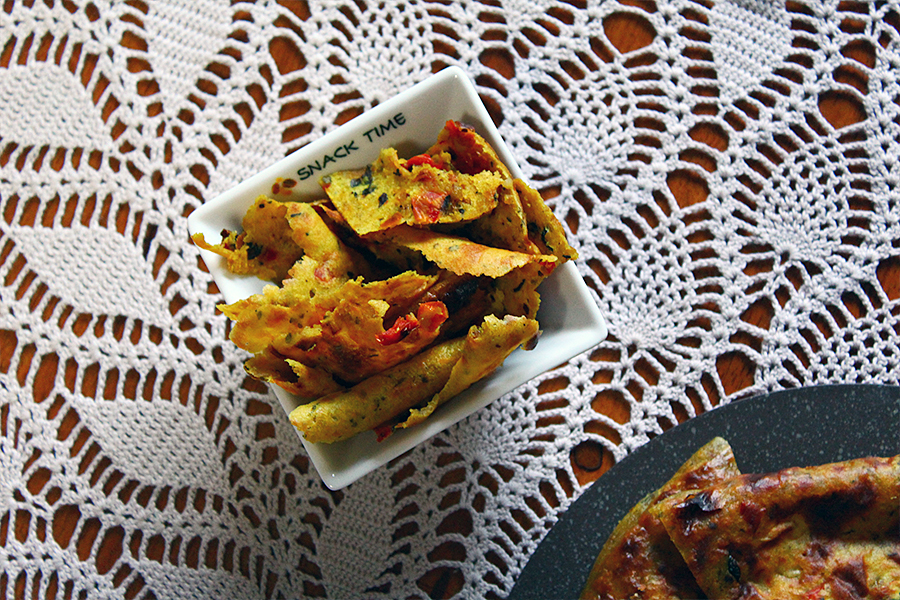 Now the basic "Socca" concept is pretty easy, it is equal parts chickpea flour and water, mixed with a Tablespoon of olive oil and some salt. From this base you can get as creative as you want!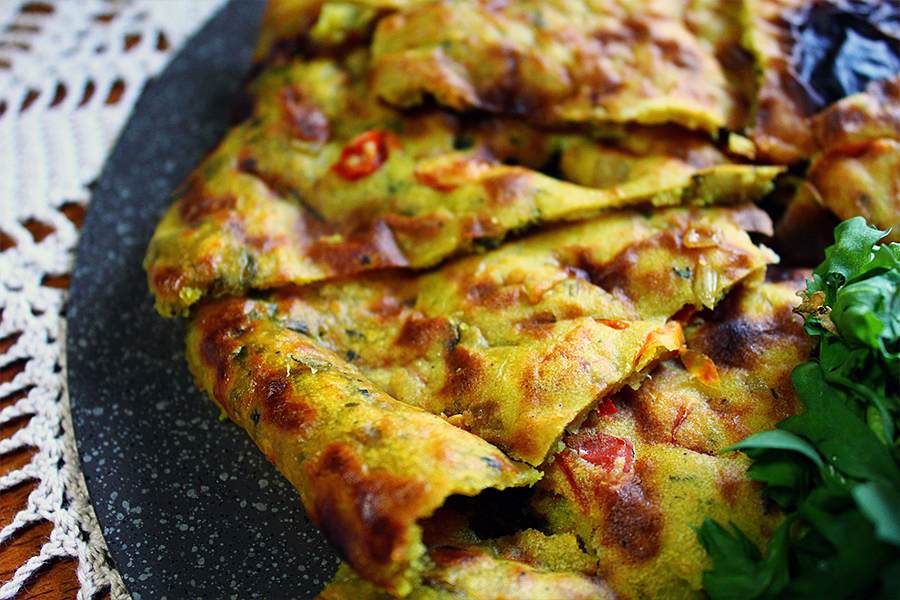 The crispy-edged thin slices have that sweet nutty flavor of chickpeas with a little smoky taste from roasting it under the broiler. It has that perfectly baked crispy taste. And since the recipe is by default gluten-free and vegan, it is a winner for any occasion from dinner, to snack to party appetizer.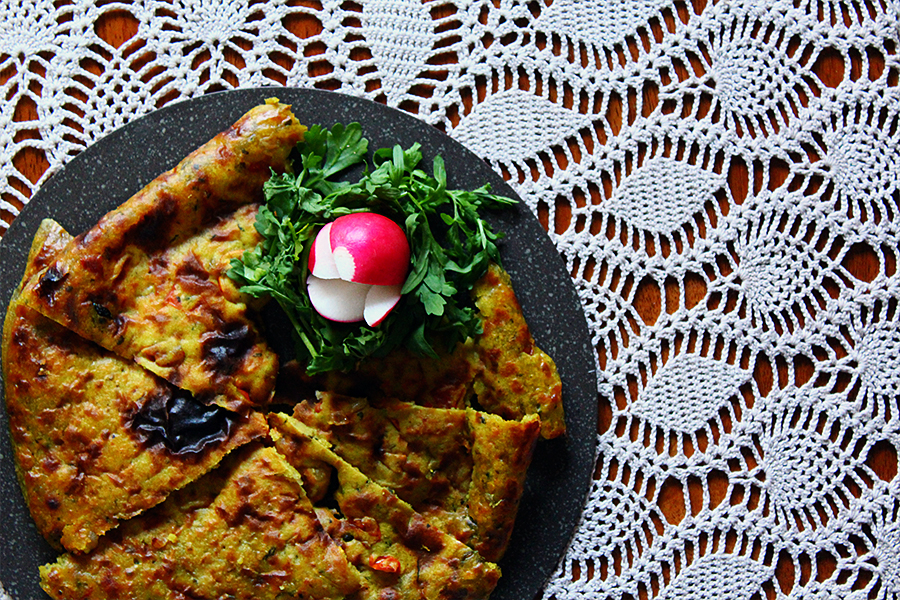 You can have it on its own, or with some dipping just like chips, or as a pizza crust. It is flexible enough to be used as a wrap for sandwiches. The options can be as wide as your imagination.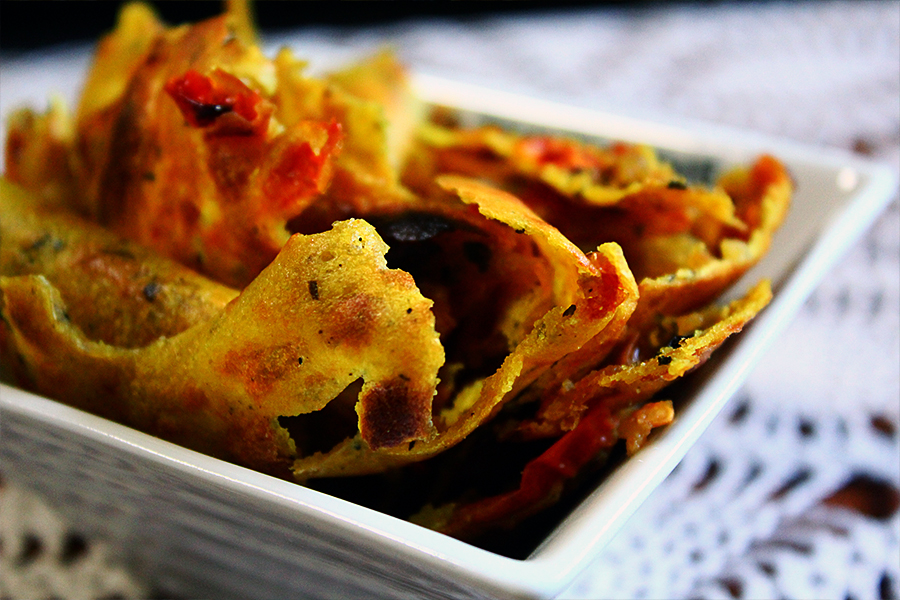 Not only is it very adaptable, but it really couldn't be any easier to make.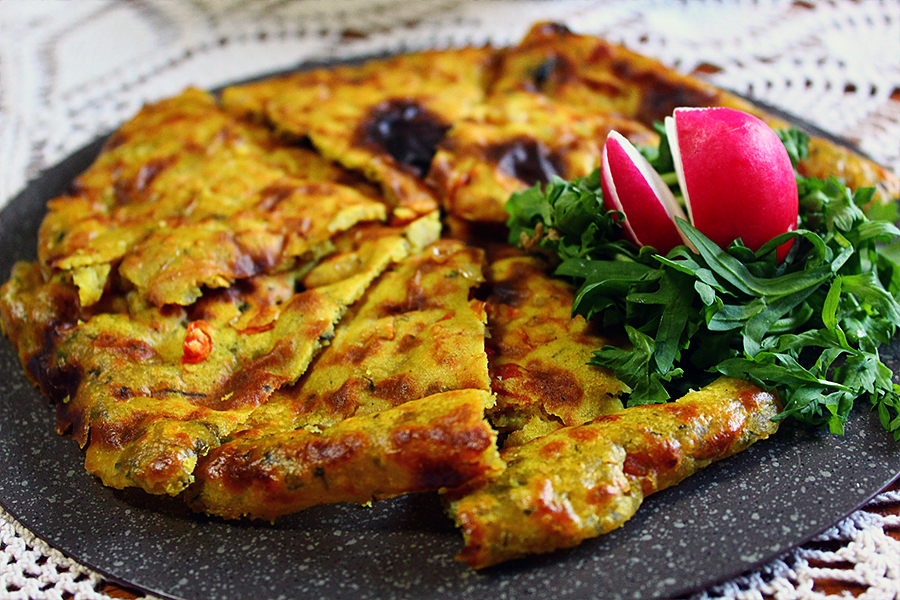 Chickpea flour can be found in all our local grocery stores in the grain section. When planning on making Socca be sure to plan ahead because the batter should sit for a couple of hours, but other than resting the batter, it is a Mix and Bake recipe.
As you all know by now, I can't just make the recipe as is, I need to add my spin to it! So I decided to spice it up a little bit by making it a little more tongue-tingling and exciting.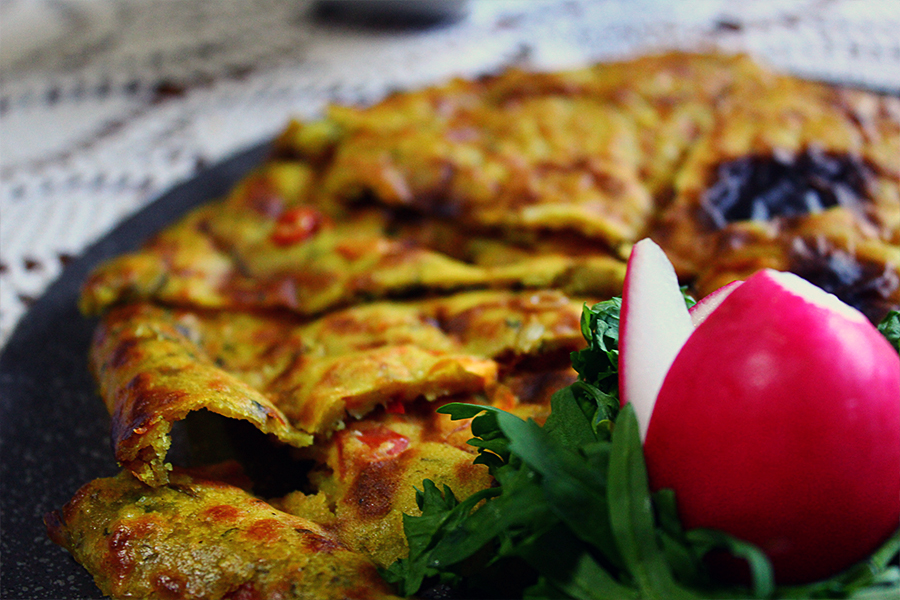 A mixture of spices and savory ingredients gave that flatbread a culinary flavor.
And for my Vegan friend it is a perfect source of protein to add in any meal because of its variety in uses from side dishes as bread, to snack in parties as chips, or as a pizza crust.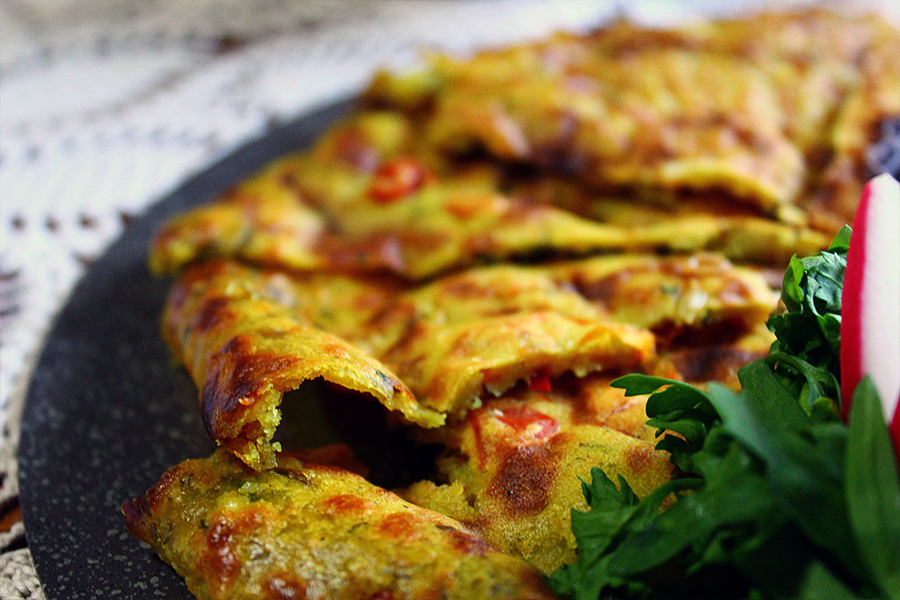 Grab some chickpea flour the next time you are at the store and I promise you will get hooked on this "Socca" for all uses recipe.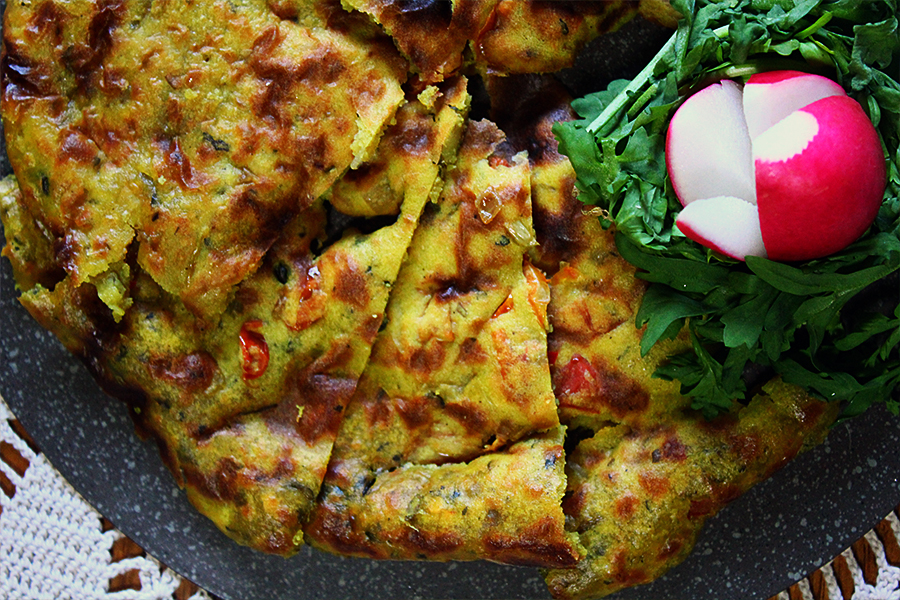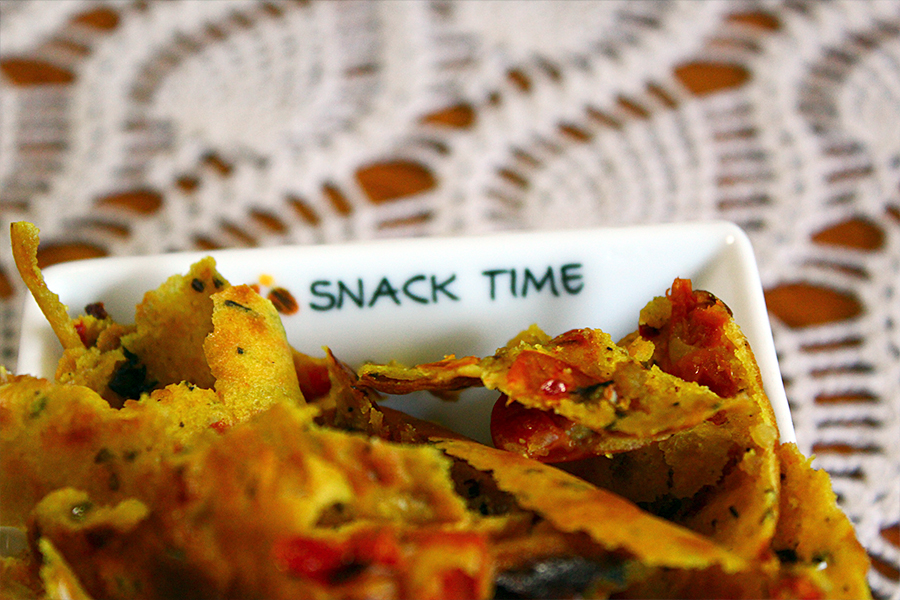 Socca Homemade Chips:
Yield 2 flatbreads of 8 pieces each
Ingredients:*
For the basic Socca:
1 cup chickpea flour
1 cup room temperature water
1 Tbsp. extra Virgin olive oil
½ tsp. salt *
For the extra spices I added:
1 Tbsp. extra virgin olive oil
1 Tbsp. fresh coriander , chopped *
¼ tsp. turmeric, grounded
¼ tsp. red chili flakes.*
¼ tsp. ground cinnamon
1 small onion, chopped
1/3 cup cherry tomato, diced
1 garlic clove, minced
Instructions:
Start with the batter, in a medium bowl; whisk together the chickpea flour, water, 1 Tbsp. olive oil and turmeric.
Cover with plastic wrap and let mixture rest at room temperature for at least 2 hours.*
After the couple of hours have passed, Preheat the broiler, with the rack set 20 cm from the element.
Heat 1 tsp. of olive oil in a large nonstick skillet set over medium heat; add onion and cook through until it start to get brown for about 2 minutes.
Stir in the garlic and cook for 30 second until you smell the garlic , add the coriander and cook through until the garlic and coriander smell start to appear.
Stir in the tomato and cook all the mixture for 3 minutes. Remove from heat and stir the vegetables mixture into the chickpea batter. And mix lightly
Place a large iron skillet (25 cm Ø) or baking pan in the oven to preheat for around 5 minutes.
Carefully remove the skillet from oven with a potholder, coat it with some olive oil and pour half of the chickpea batter in it and quickly swirl it to coat all the bottom and edge of the pan.
Place under the broiler and cook until the top edges start to blacken for about 5 minutes.
Transfer the flatbread to a cutting board and cut into 8 wedges.
Repeat the same procedure in the second half of the batter, but don't forget to preheat the pan again before pouring the batter, preheating the pan before pouring the batter will allow it to cook from both sides and not stick to the pan and get ruined.
In this recipe I tried doing the second one a lot thinner than the first one so I can get the crispy chips effect and it worked both cases as the picture above in the article shown, I just make it a little bit thinner and bake it under the broiler and cut it into small chunks instead of 8 big pieces.
Serve with your favorite dipping or dish, enjoy!
Nutritional information:
(1 serving that equal ¼ of the flatbread=2 pieces=or ½ cup of chips chunks)
Serving: 2 pieces • Calories: 90 • Fat: 6 g • Carbs: 7 g • Fiber: 2 g • Protein: 3 g
Notes:
*the first 4 ingredients are the basic of Socca bread and from there you can do and add whatever you like.
*you can substitute fresh coriander with some dry grounded one around ½ tsp. and add it in the batter before letting sit.
*the red chili flakes are my own personal choice that you can always replace with cayenne pepper or any pepper you like.
* I usually prepare this batter in the morning and let it sit the day and cook it after I come back from work so it sits for extra time. Or sometimes I mix it and let it sit while I go to my workout and come back so it rest for a couple of hours while I finish u my exercise and have a shower.
* This recipe is delicious right from oven especially if you are making those chips so they stay crispy, but it freeze well also.