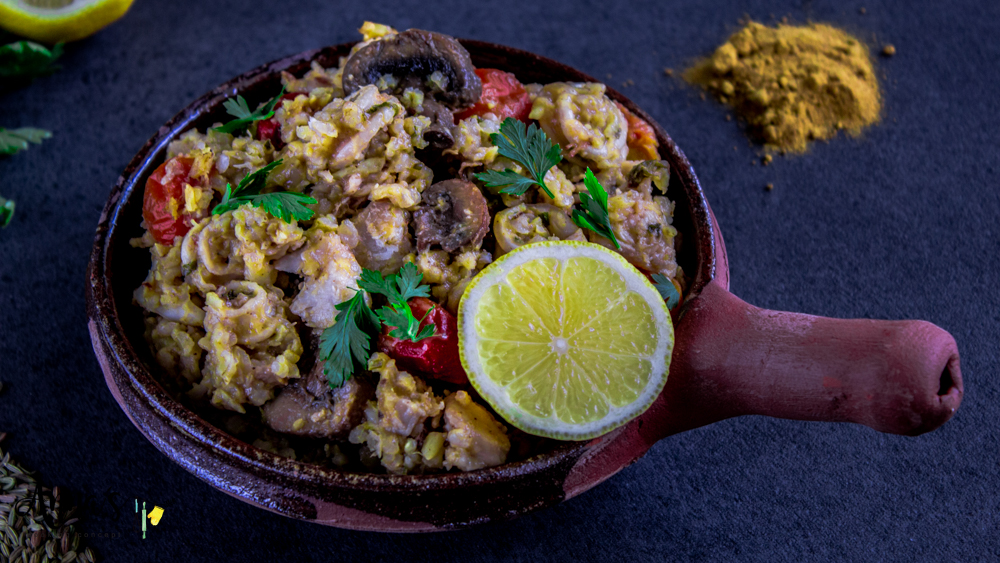 When you say fish stew you automatically think: no thank you!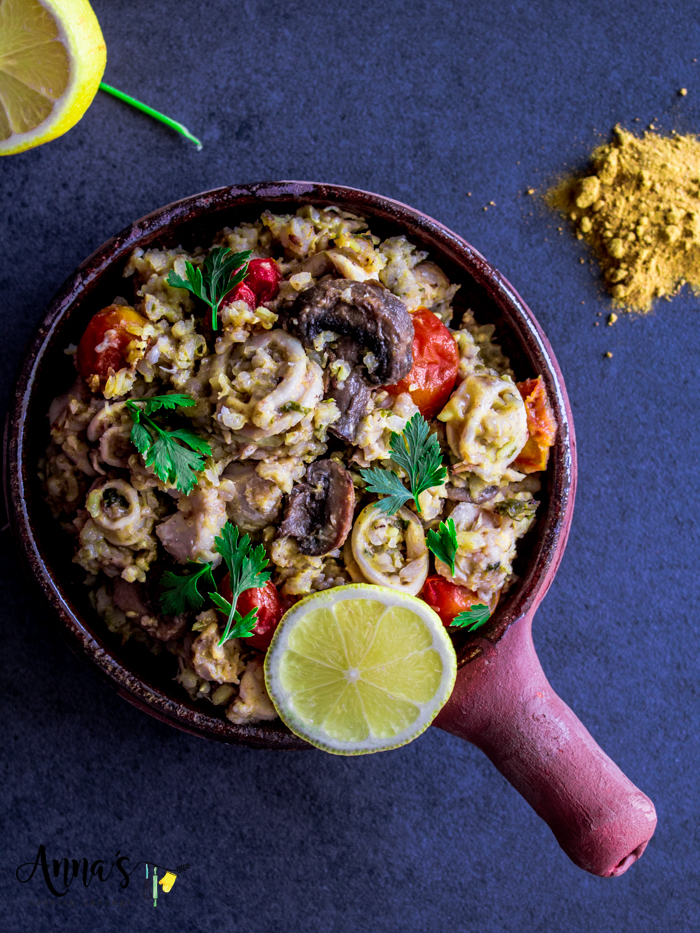 You have the idea that it is so hard to pull out and it is going to be messy.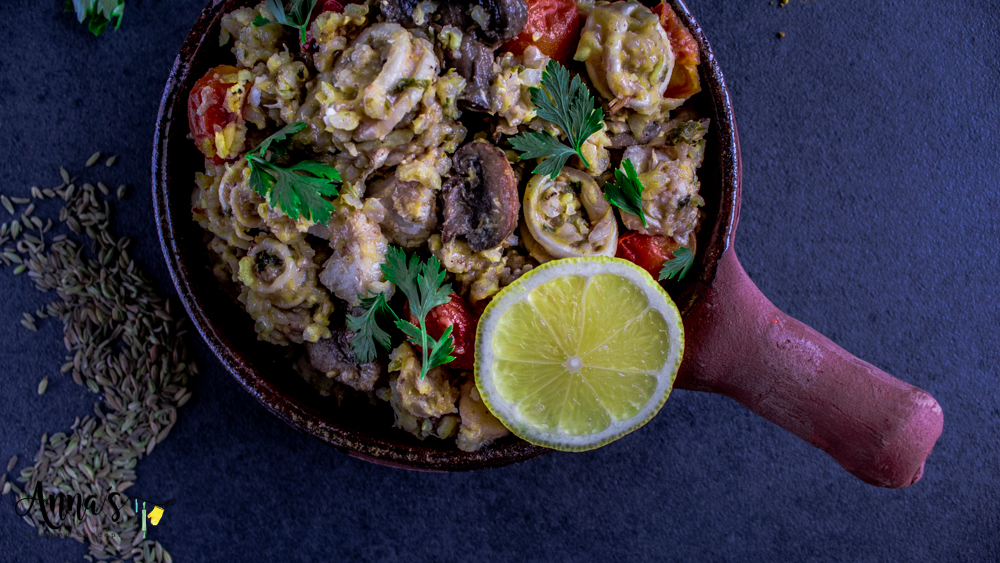 Well that is not the case in this recipe.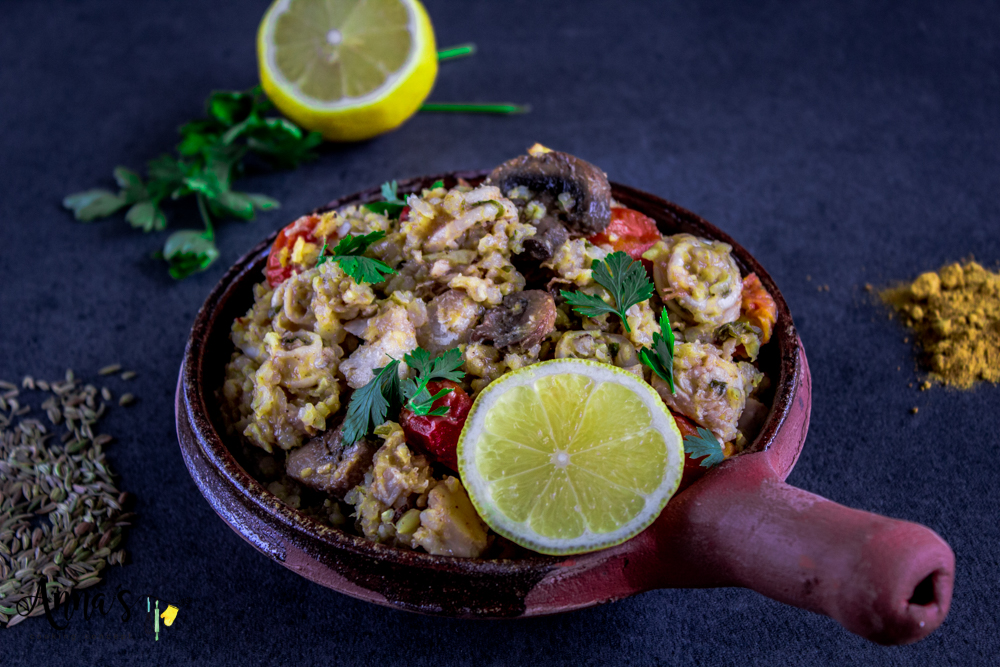 Because it is a one pan easy recipe. Despite how complicated it looks
it isn't at all.
Few steps in one pan, you lower the heat and let the magic happens.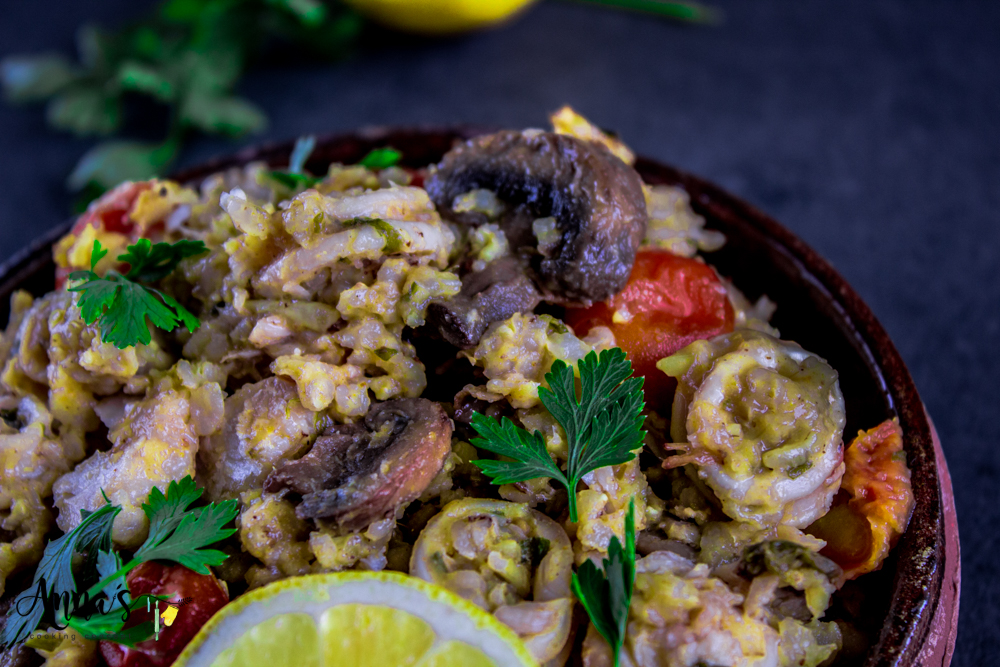 It so tasty, full of flavors and colors and it a great way to get your omega-3 intake!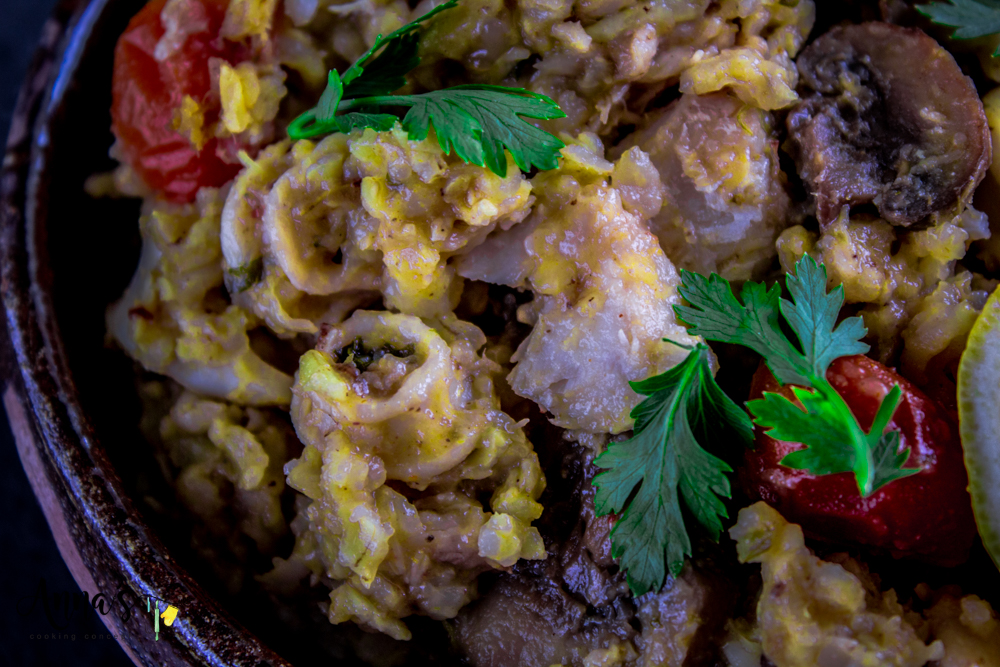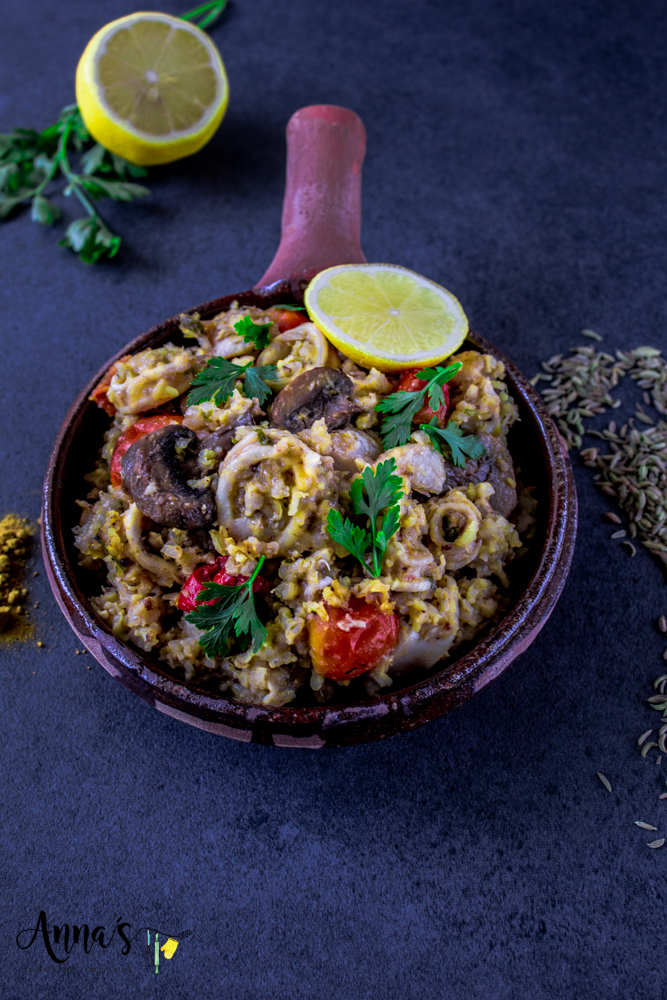 One Pan seafood stew:
It so tasty, full of flavors and colors ad a great way to get your omega-3 intake!
Ingredients
4

onions cut into slices

1

tsp.

Grated fresh ginger

2

tsp.

curry powder

1

tsp.

mustard seeds

1

tsp

turmeric

½

tsp.

chili powder

½

tsp.

cumin seeds

½

tsp.

fennel seeds

1

cup

mushroom

300

g

brown rice

1.5

L

veggie broth

200

g

mixed cherry tomato

green,orange,red

200

g

light coconut milk

400

g

white fish fillets

200

g

calamari rings

1

lemon juice

Parsley and lemon slice for garnish
Instructions
Start by heating 1 Tbsp. grapeseed oil, add the onion, ginger, curry, mustard seeds, turmeric, chili powder, cumin seeds, fennel seeds and stir fry on medium heat for 5 minutes.

Than add the mushroom and stir fry for an extra 3 minutes.

Add the rice and mix it with the onion mixture until it starts popping a little, add the vegetable broth

Mix it all together, bring to boil.

Lower heat and let it simmer for 10 minutes.

After simmering add the tomatoes and the coconut milk give it a mix and let it simmer for extra 10 minutes.

Keep eyes on the stew in those last two steps mentioned up so the stew won't stick and keep the heat low.

Add the fish and the calamari rings and mix it all together. if the stew is not a little bit runny and still have sauce still add more water or veggie broth (1 cup approx.) to allow the fish to steam.

Mix it all and let is simmer for extra 10 min until everything is cooked while mixing it up each 3 to 4 minutes.

As I said you can add water to loosen up the stew but IF needed, add it gradually so you won't end up with a soup instead of stew!

Taste for salt and add to taste.

Finish it off by the lemon juice, turn off the heat and let it cool.

Garnish with parsley and some lemons slices

Serve and enjoy.
Recipe Notes
If you don't have rapeseed oil you can use any neutral vegetable oil. Keep checking the stew every 5 minutes or so to mix if needed or to add water if needed. This recipe is great for meal preparation. I prepared a big batch and we enjoy it through the week, it stay in the fridge for 4 to 5 days in great conditions as long as it stored in airtight container preferably glass