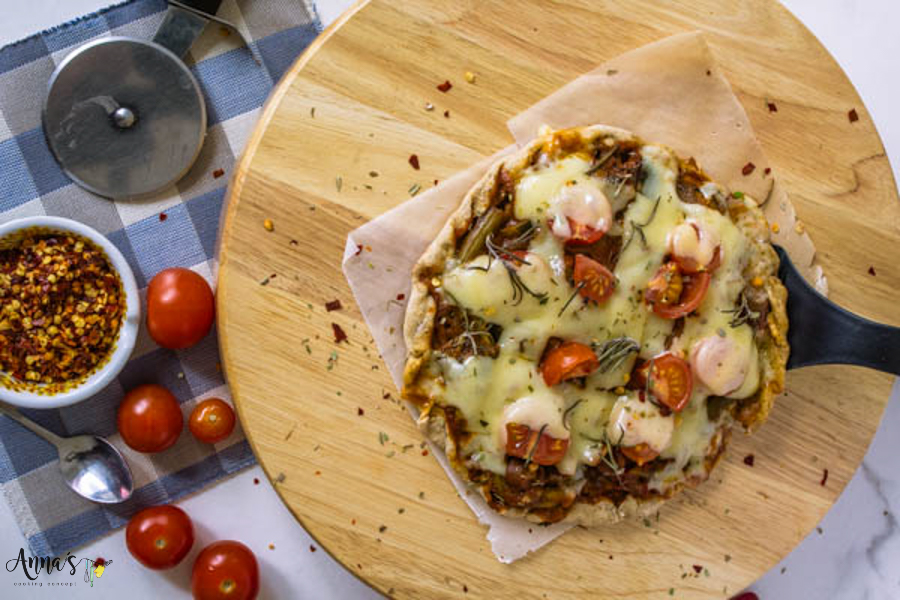 I shared a picture of this recipe last week with you guys.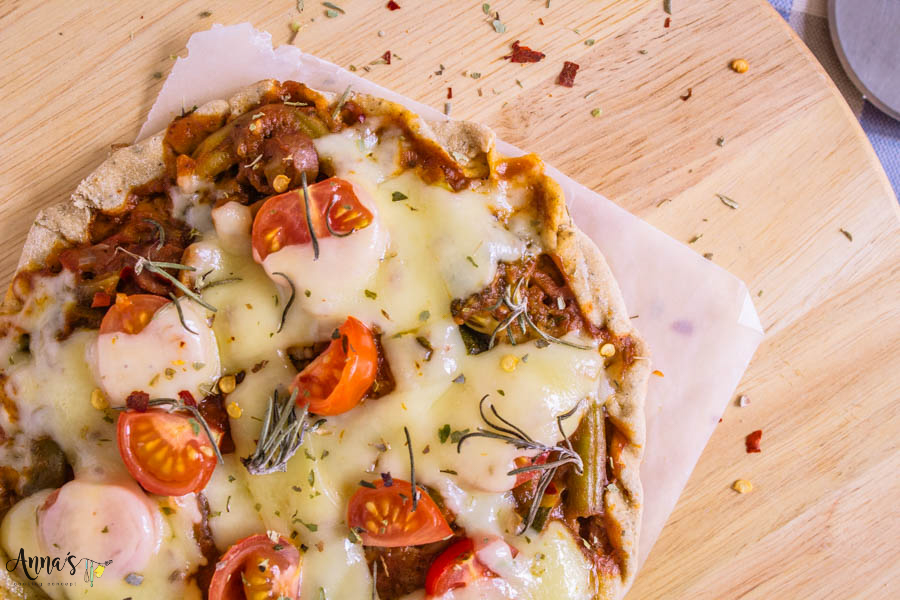 What I love the most about this one, other than it is a pizza obviously, it is also so easy to make and prepare ahead of time and enjoy it whenever you feel like it, it goes great from lunch to dinner with the Homemade Pizza Crust I do.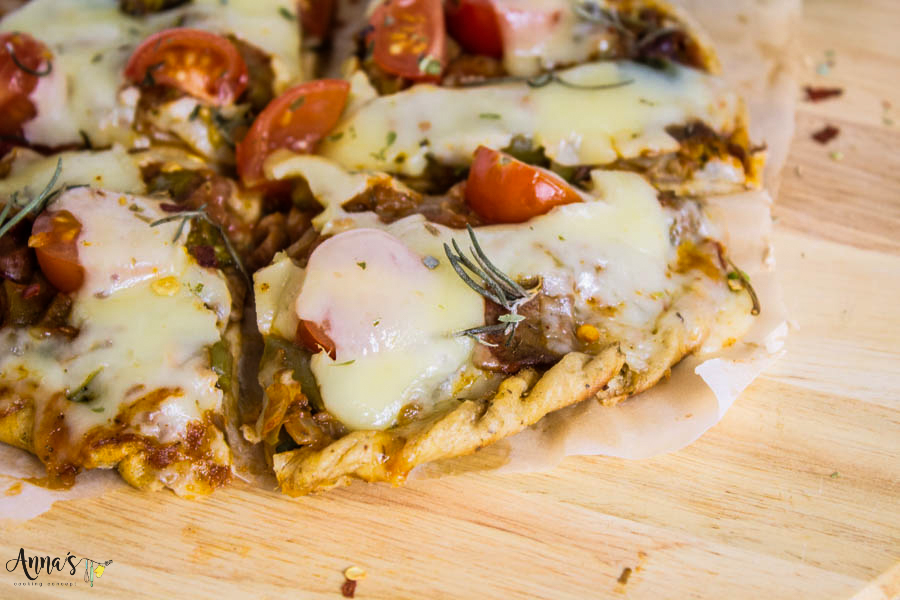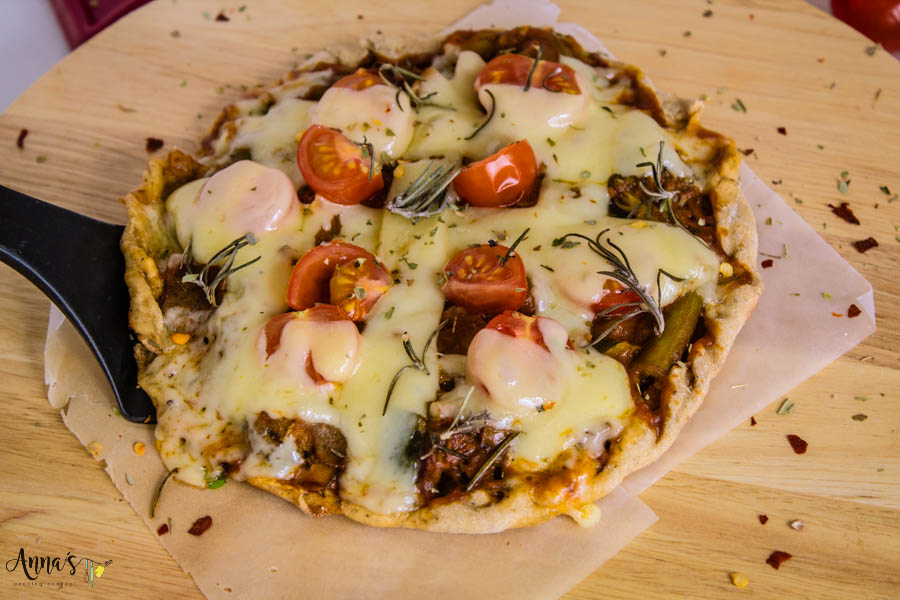 I always make a big batch of the dough, bake and store the rest in the freezer. Same for this toping recipe, I cook it in a big batch , pour into a glass jar , and when it cools down, I close it and store it in the fridge up to 10 days and in the freezer up to 3 months.
Whenever I feel like some pizza or I have some friends for an unexpected game night or gathering, I remove some of the pre-baked crust from the freezer, spread the topping with some cheese and pop it in the microwave or oven and that's it!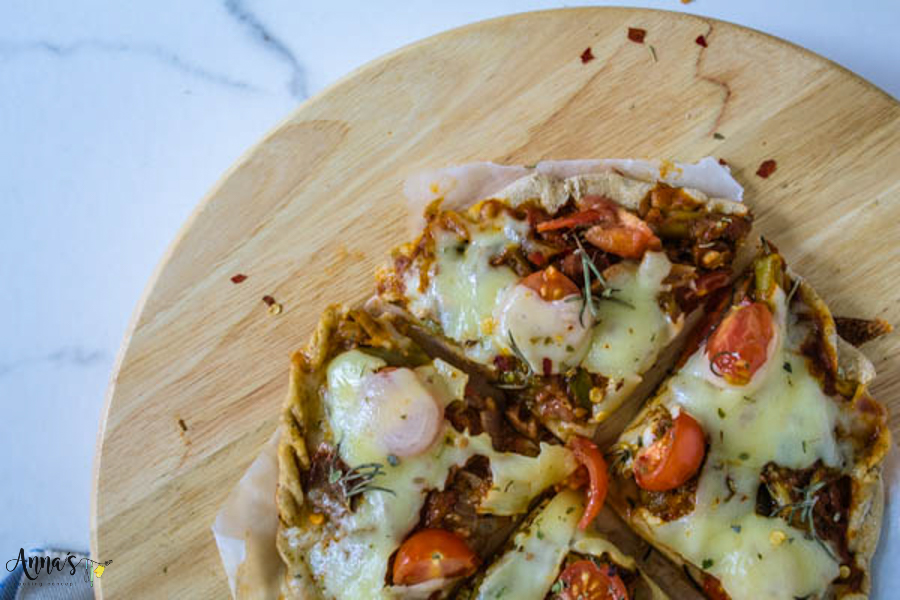 In 5 minutes I will be enjoying a warm homemade pizza, healthy and clean with no need for any artificial processed pizza topping and sauces.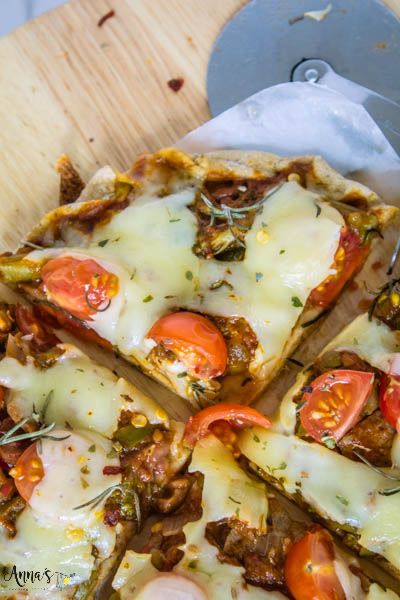 The options and variety in this one is endless, I did this one with some turkey in it for an extra boost of protein, but I tried it also with just the veggies and it tastes just as amazing, you can prepare it as a vegan version and store it in the fridge, and add any extra turkey, cheese or whatever you want on the spot before baking.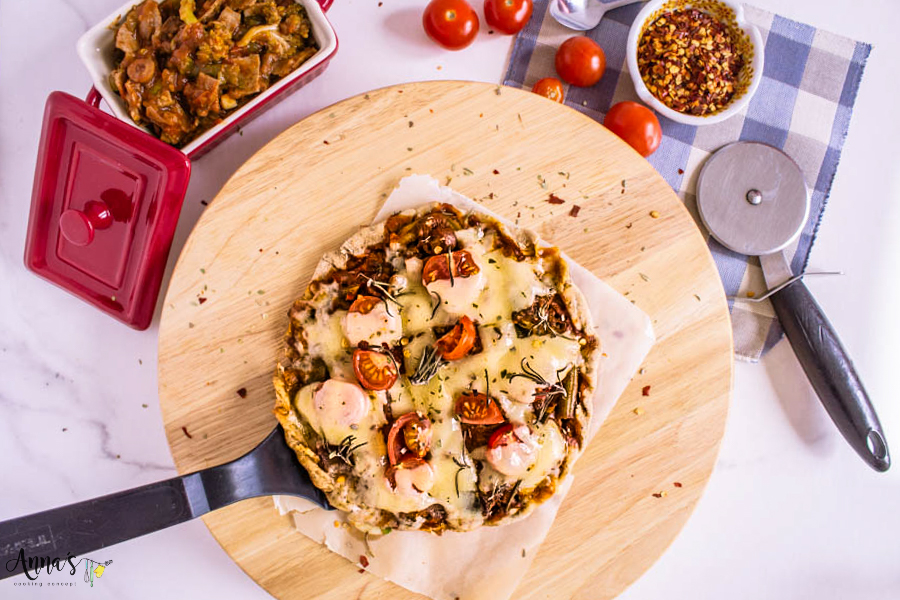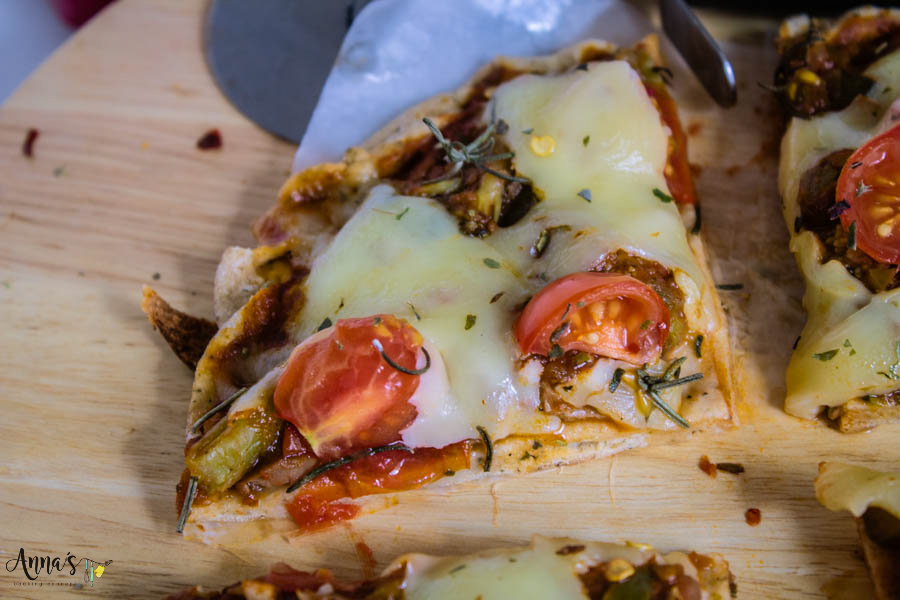 In this way you will have the flexibility to fulfill the need of every single guest you have at your next pizza party!
It is a must try recipe, especially if you have kids and they love pizza and you don't always have the time and the energy to prepare whenever they ask for it, this is the perfect way to satisfy your kids pizza craving without the need to ruin their health and body with the processed not clean version full of additive version of pizza in the store or ordering from outside.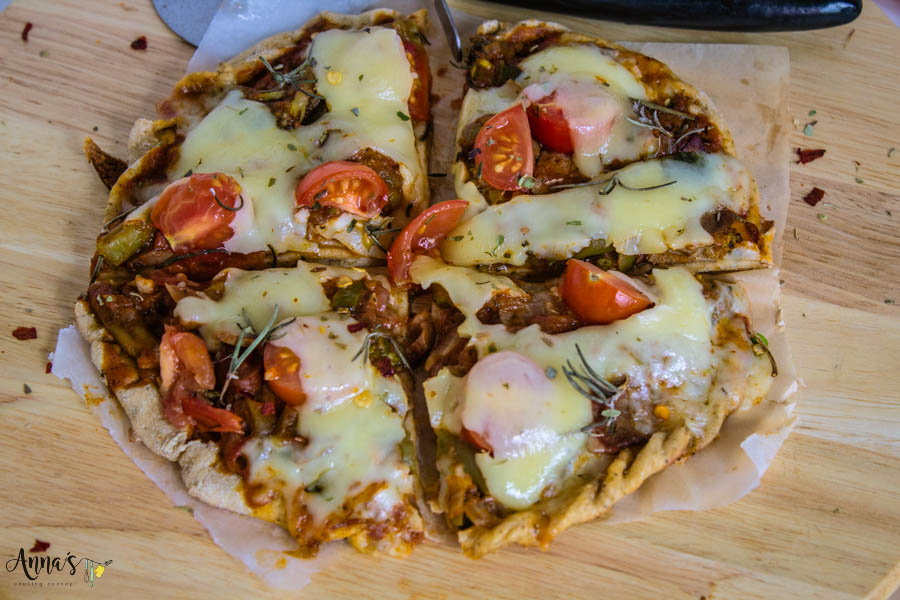 After all nothing is better than homemade comfort food!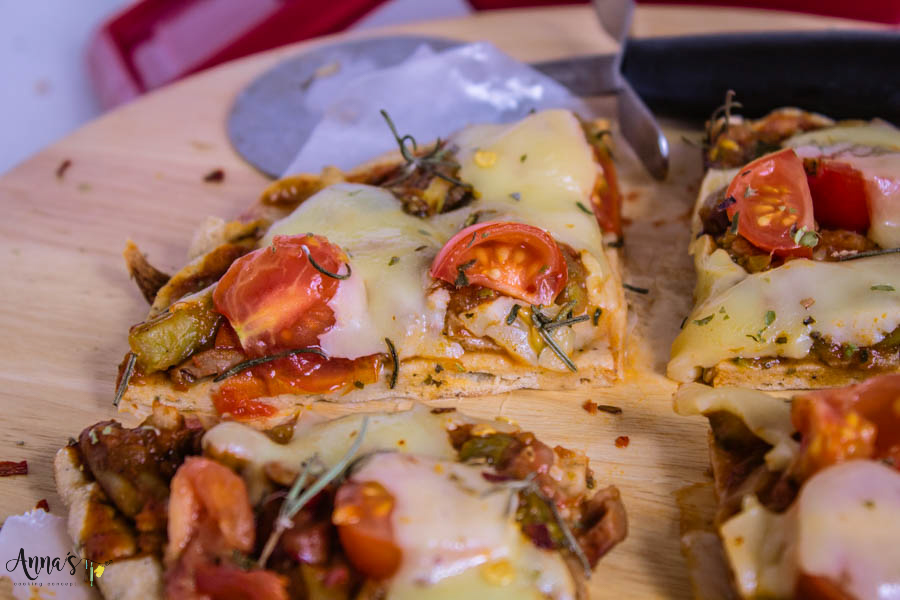 Make Ahead Homemade Pizza:
Serve between 6-8 small pizza toppings
INGREDIENTS:
For the pizza sauce:
1 Tbsp. olive oil
½ cup organic tomato sauce of your choice (I used Organic larder Tomato Sauce with Olives & Capers)
1 cup organic chopped tomato, homemade or store bought make sure is organic with no additive (I used Organic larder chopped Tomato)
¾ cup broccoli florets, steamed or from freezer , cut into small florets
½ cup zucchini, diced
½ cup green pepper, diced
¾ cup Sweet potato, cut into big cubes
½ cup green peas, steamed or from freezer
1 medium onion, diced
3 garlic cloves, minced
Salt and pepper to taste
1 tsp. dry oregano
1 tsp. dry basil
1 tsp. dry thyme
1 tsp. dry rosemary
2 tsp. dry zaatar
Organic chicken mortadella, chopped (I used Organic larder chicken mortadella)*
Additional toppings:
¼ cup per one pizza of Organic matured cow's cheese (I used Organic Larder Matured Cow's Cheese) *
Some cherry tomatoes cut in half
Some rosemary leaves and red chili flakes for garnish
For the homemade pizza crust check this link
INSTRUCTIONS:
For the pizza sauce:
In a medium pan, preheat olive oil on medium heat.
Add the onion and cook through till transparent
Add the garlic and cook through till you smell the garlic
Add the green pepper and cook it through for 2 minutes.
Add the zucchini and cook through for extra 2 minutes.
Add the sweet potato and cook through for 5 minutes until they get toasted a little bit
Add the chopped tomato, and tomato sauce with the salt, pepper and dry herbs and mix it all through.
Bring it to boil and let simmer for 5 minutes, or until you the sweet potato is tender you can try one to check.
Add the organic chicken mortadella and mix it all through, let it simmer for an extra 5 minutes,
If you notice that the sauce is getting to thick and dry you can add some water to your liking, but don't make it to watery.
At the end add the broccoli and green peas and let it simmer for an extra 2minutes with the whole sauce, I add those two at the end because they are already cooked and freeze before so they don't get to mashed into the sauce.
Turn off the heat and let it cool down so you can pour.
Pour into a clean glass jar and let it sit in your counter top to cool completely before you store in the fridge or freezer.
When you want to prepare your pizza, remove your pre-baked homemade pizza crust from freezer, put in microwave for 10 seconds, then spread 2 to 3 Tbsp. from this pizza sauce on the crust, top it with some cheese and garnish with some cherry tomato, rosemary and chili flakes and bake again in microwave for 1 minute or in preheated oven (180C˚) for 5 minutes.
Slice and enjoy!
NOTES:
*you can use any kind of protein in place of the chicken mortadella, just make sure it is clean and organic, and for the vegan version OR vegetarian version, you can easily remove this ingredients and enjoy it with only the veggies it still taste amazing.
*for the cheese topping, you can use any kind of mozzarella cheese or any grass-fed cheese of your choice, I just like the taste of this cheese and the combination I used add a lot to this pizza.
if you like this pizza recipe check those amazing pizza recipe for more options: