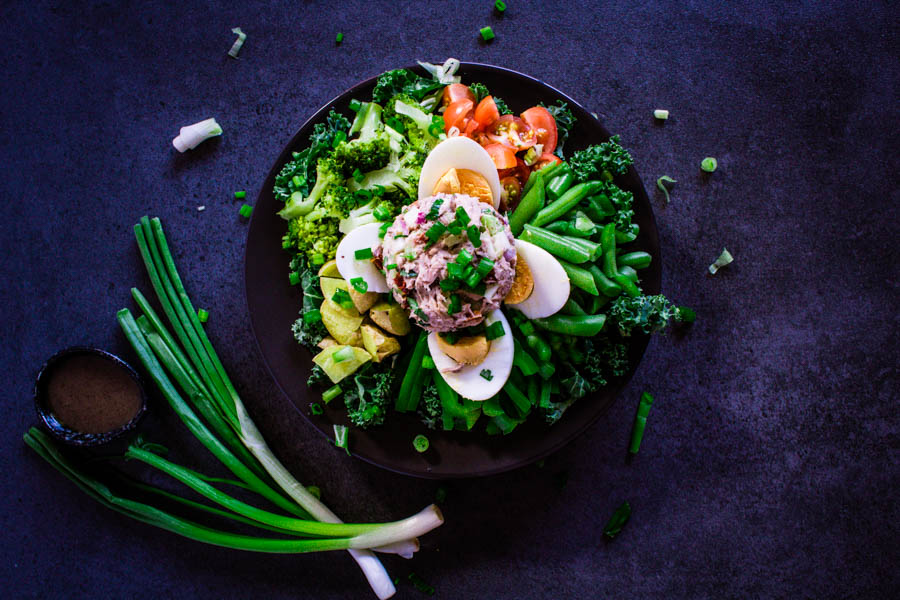 Today's lunch recipe is so easy with simple ingredients.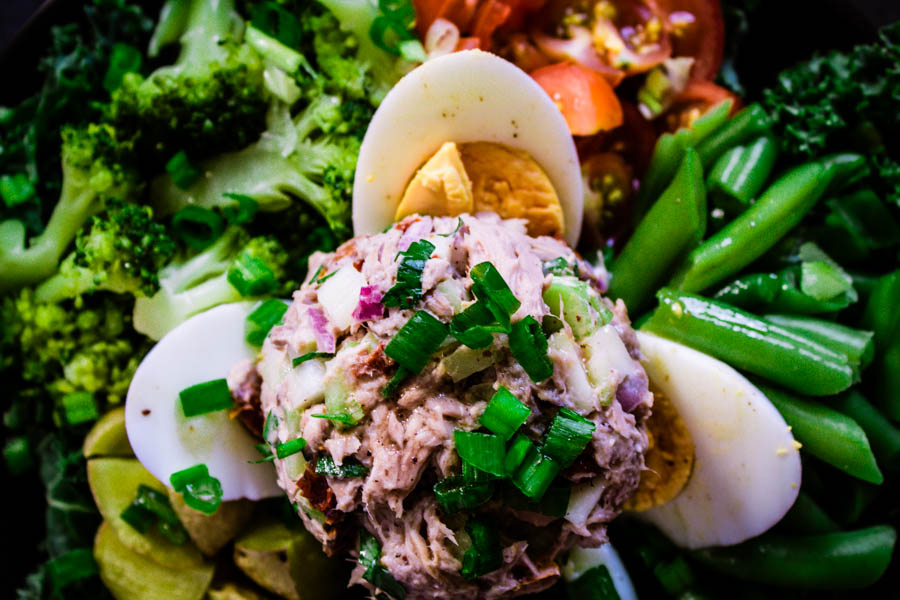 It's basically a tuna salad with a twist and extra boost of protein to keep you satisfied till the next meal.
This Niçoise salad is a French version of salad that will take you back to the summer fresh breeze in this cold winter weather.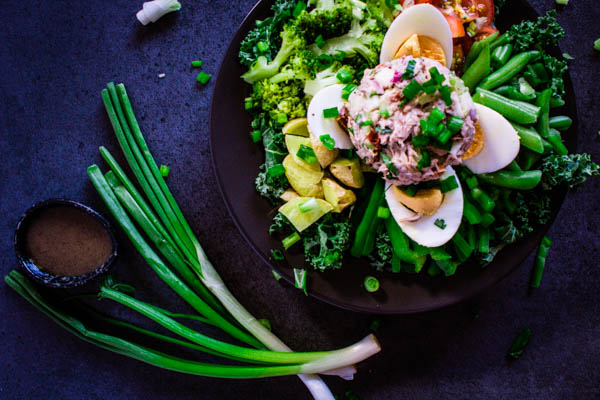 And like all the previous recipes I am sharing with you this month it is packable and easy to prepare and pre-pack for days in advance.
What I did with this one is that I steamed the broccoli and the beans in a big batch and divided it into 4 servings, and for the potato I did the same.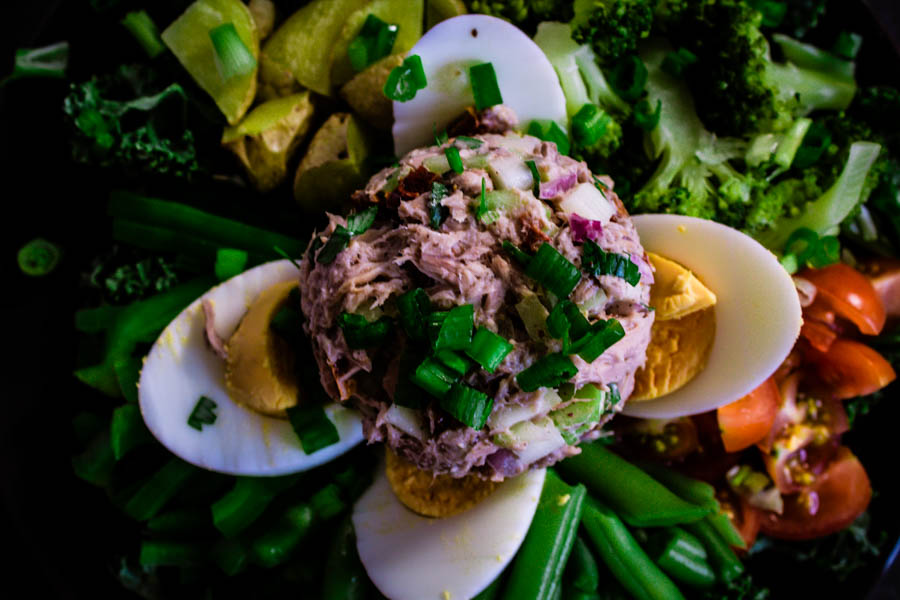 I lined the green base in 4 containers, topped it with the cherry tomato and green peppers then added some steam veggies and potato and stored them in the fridge.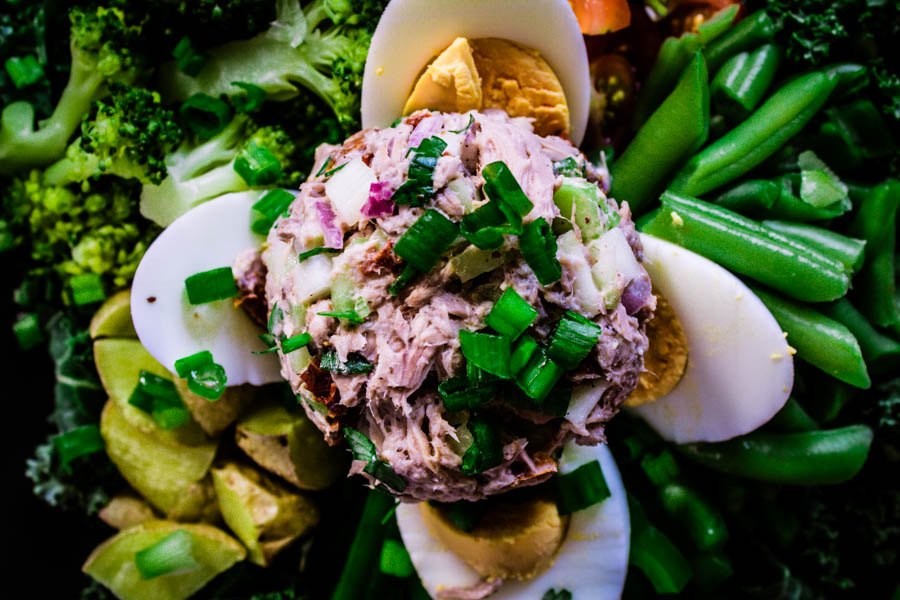 I prepared 3 hard boiled eggs and kept them in their shell and stored them also in the fridge. Same for the dressing I prepared a big batch and kept it ready in the fridge. This way everything is ready I just need to mix it and enjoy my lunch.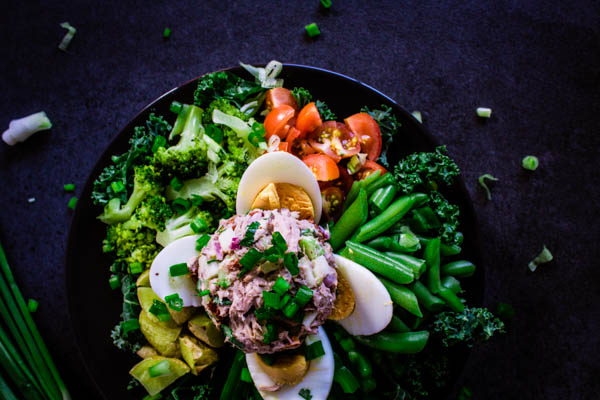 The only thing I prepared in a batch of two is the tuna, because it is better to stay fresh, so I prepare 1 can that make 2 serving and use it for two consecutive days, in that way it stays fresh.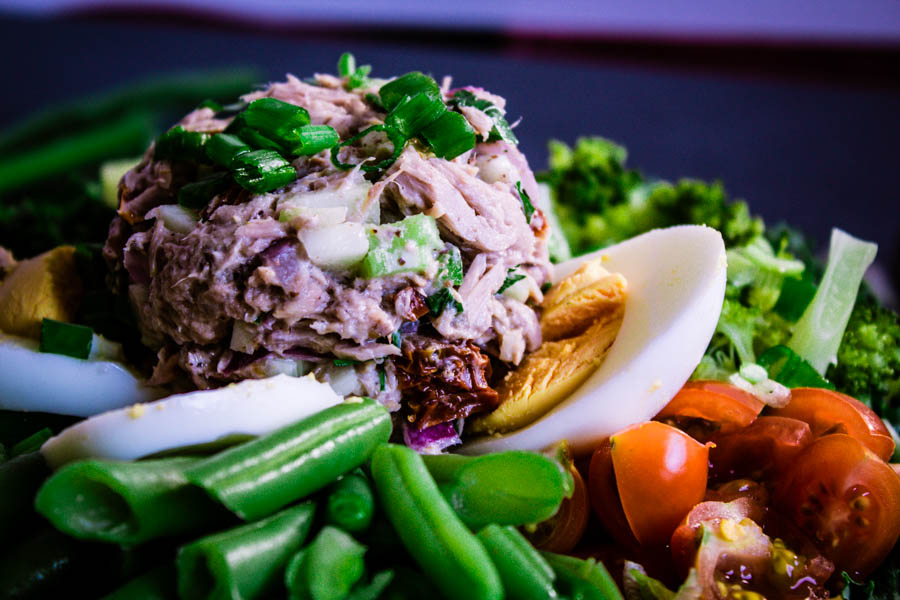 I added kale to this salad because it is really filling, not to mention his many benefits. But you can skip it if you want or switch it with any green leaves of your taste, but I like it because it can be stored well and doesn't get mushy or gets any black spots like lettuce and other greens.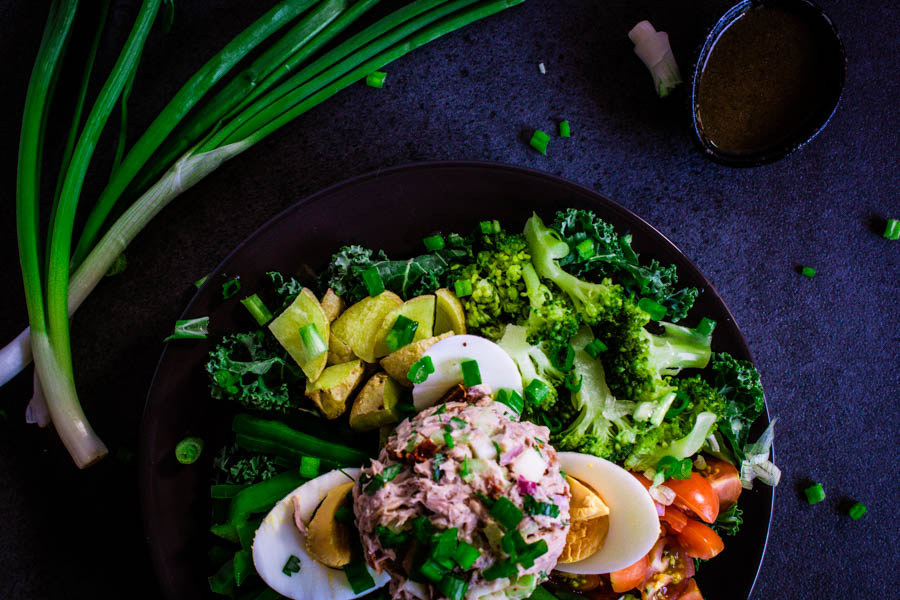 Now let us start with the recipe. I am going to share the ingredients according to one serving and you double it up as you like, I usually cook 4, eat one at the same day and store 3 for the next 3 days lunch.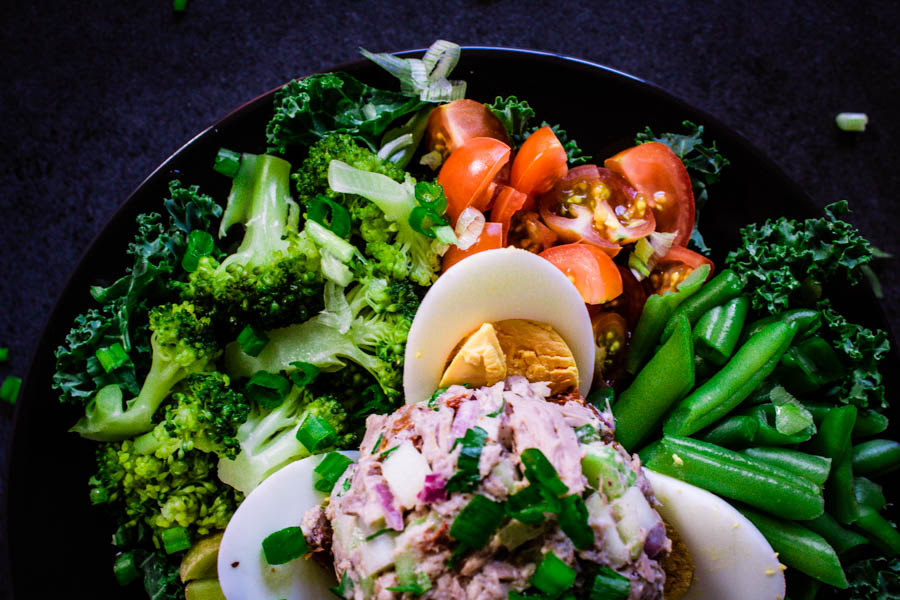 please ****DO READ THE WHOLE RECIPE WITH THE NOTES BEFORE YOU START COOKING***
Niçoise tuna lunch bowl:
Serve one lunch bowl
INGREDIENTS:
For the salad:
½ can of tuna in water*
1 Tbsp. sun dried tomato, diced
1 tsp. parsley leaves, chopped
2 Tbsp. Greek Yoghurt
1 small onion, diced
½ tsp. salt and ½ tsp. white pepper
½ cup green beans, steamed
½ cup small broccoli florets, steamed
5 cherry tomatoes, cut in half
1/3 cup sweet potato, cooked**
½ green pepper, cut into slices like French fries
1 handful of kale
1 hardboiled egg, cut into slices
For the dressing:
1 tsp. olive oil
1 tsp. lemon juice
1 tsp. lemon zest
1 tsp. organic honey
1 Tbsp. apple cider vinegar.***
¼ tsp. salt
½ tsp. sweet pepper.
INSTRUCTIONS:
For the salad:
In a mixing bowl, mix the first 6 ingredients together to make the tuna mixture.*
In the serving dish, line the kale and top it with the green beans, broccoli, green pepper, tomato and potato.
Top it with the egg and the tuna mixture
For the dressing:
Mix all the ingredients together and pour in a dressing bowl.
Before serving drizzle the dressing over the salad and enjoy.
NOTES:
*I usually prepare the whole can and store the other half for the next day, so I mix 1 whole can of tuna with 2 Tbsp. sun dried tomato, 2 tsp. chopped parsley , 4 Tbsp. Greek yoghurt, 1 medium onion  and 1 tsp. salt and 1 tsp. white pepper.
** when I cook in a big batch of 4 , I cook 2/3 cup of sweet potato and 2/3 cup of potato and mix it together and divide it into 4 serving, instead of putting only sweet potato.
*** If you like you can switch to balsamic sauce instead of apple cider vinegar. And for the dressing I usually multiply the whole quantity by 7 and mix a big batch and drizzle 2 Tbsp. of the mixture over each serving of lunch.
Nutritional Information:
Serving size: 01 | Calories: 400 calories | carbs: 32 g | fat: 16 g | protein: 24 g | fiber: 10 g | sugar: 25 g