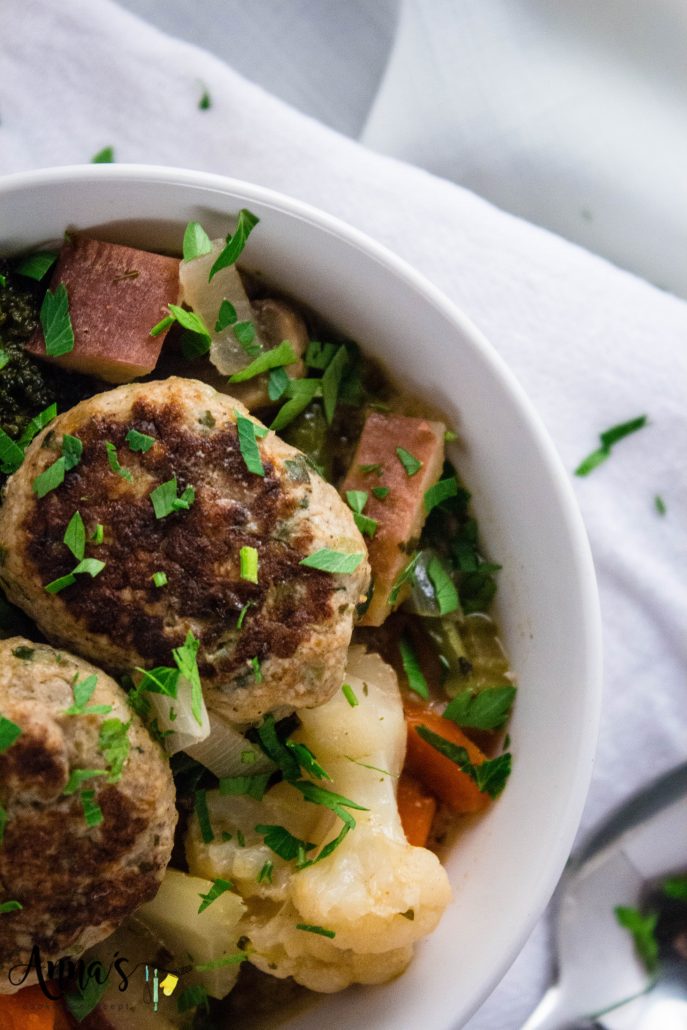 A perfect low carb, low sugar and high in protein meal that you can prepare this week for you and your family.
Instead of the traditional or store bought meatballs, you should give this recipe a try.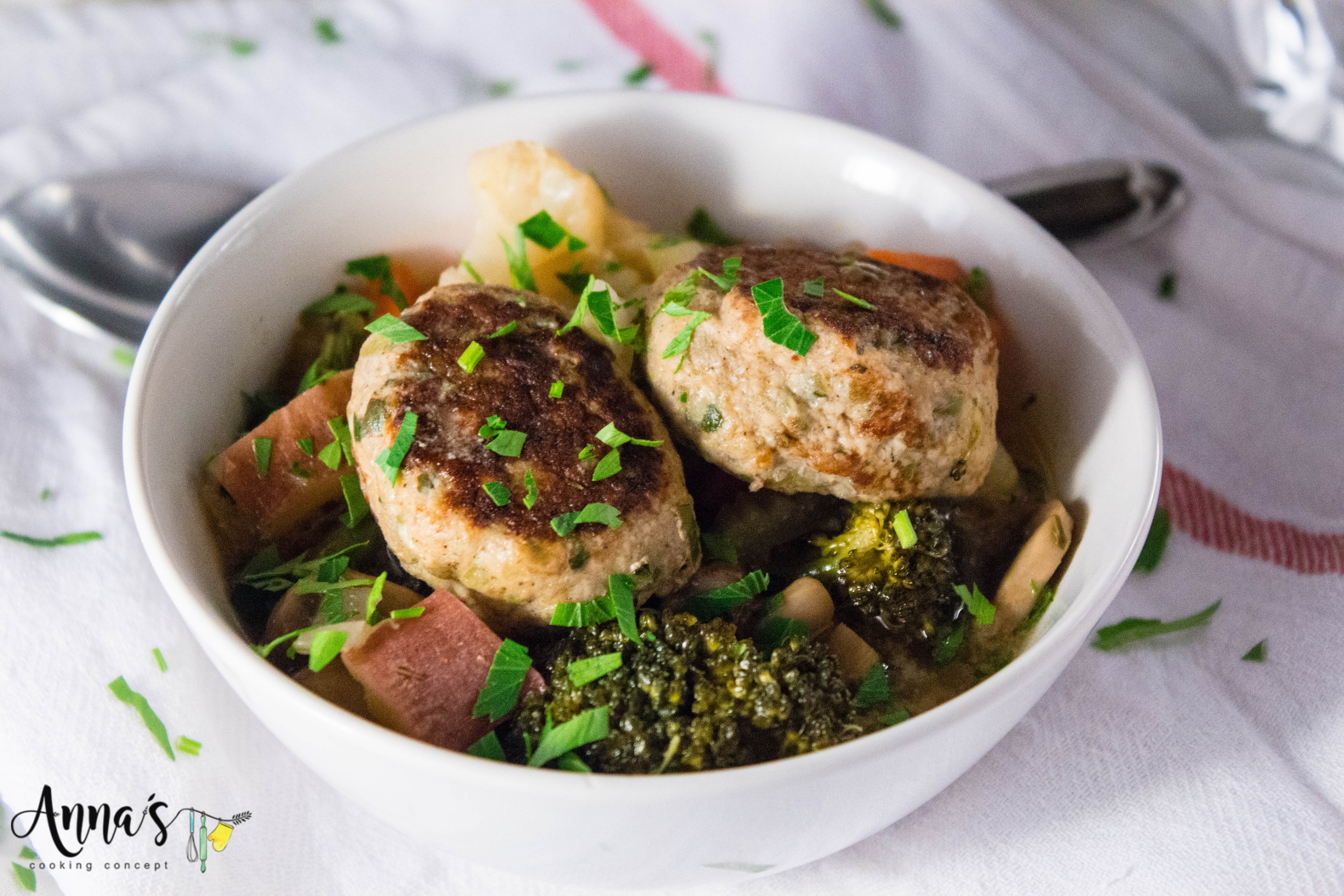 All the qualities we love in the classic store bought meatballs, from the crisp exterior to the tender juicy interior with a taste full of fragrant and aromas, can be found in those amazing chicken meatballs.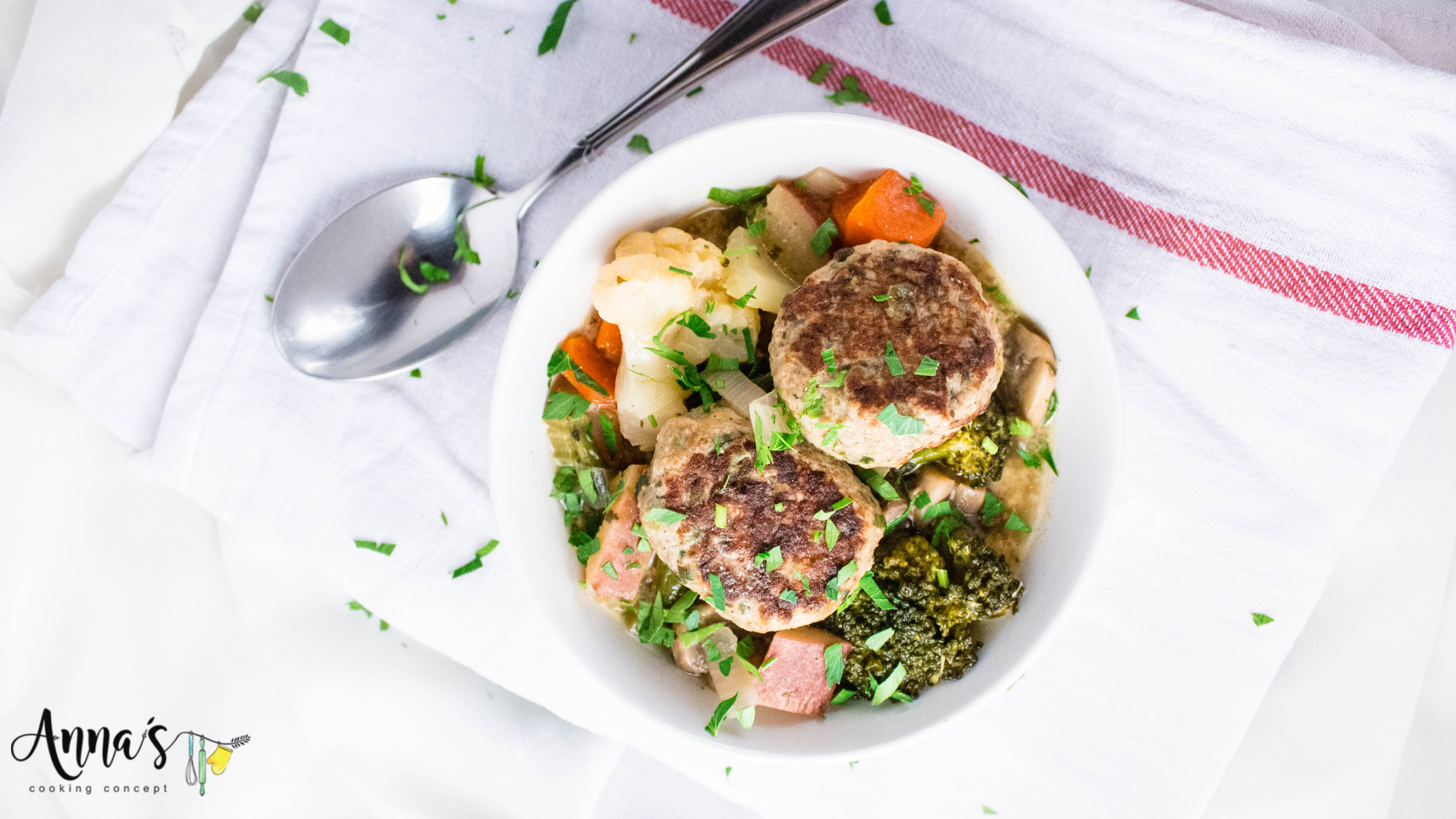 This is one of as I called it "clean the fridge recipes ", where I build a recipe according to what I find in my fridge, and as usual I had a lot of vegetables, but the combination of the vegetables in this recipe is just beyond perfection!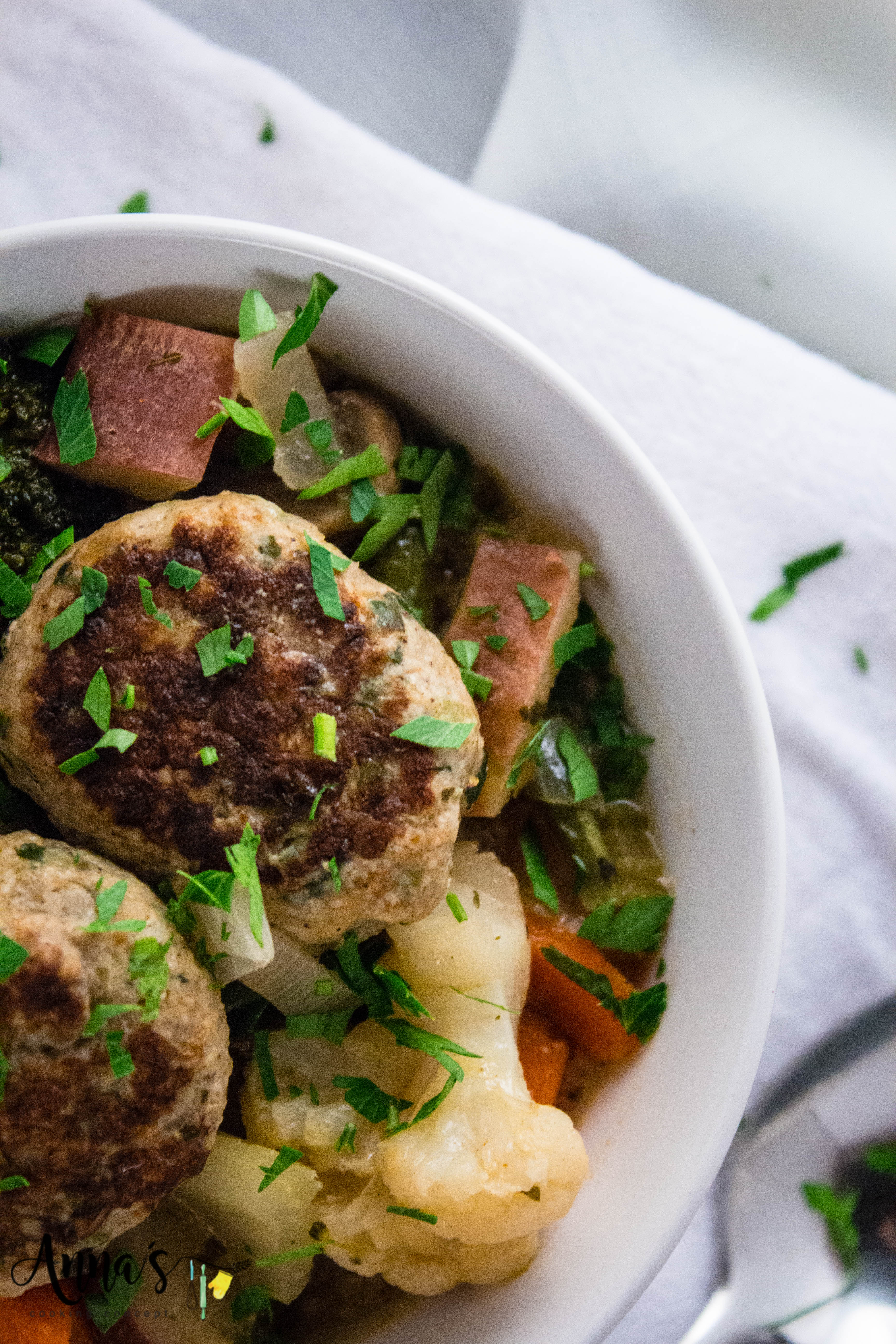 You can mix and match according to what you have in your fridge but if you want to enjoy a very delicious bowl of meatballs and veggies full of flavors and texture don't skip few essential veggies that added too much to my dish like the sweet potato, the fresh mushroom and the celery stacks.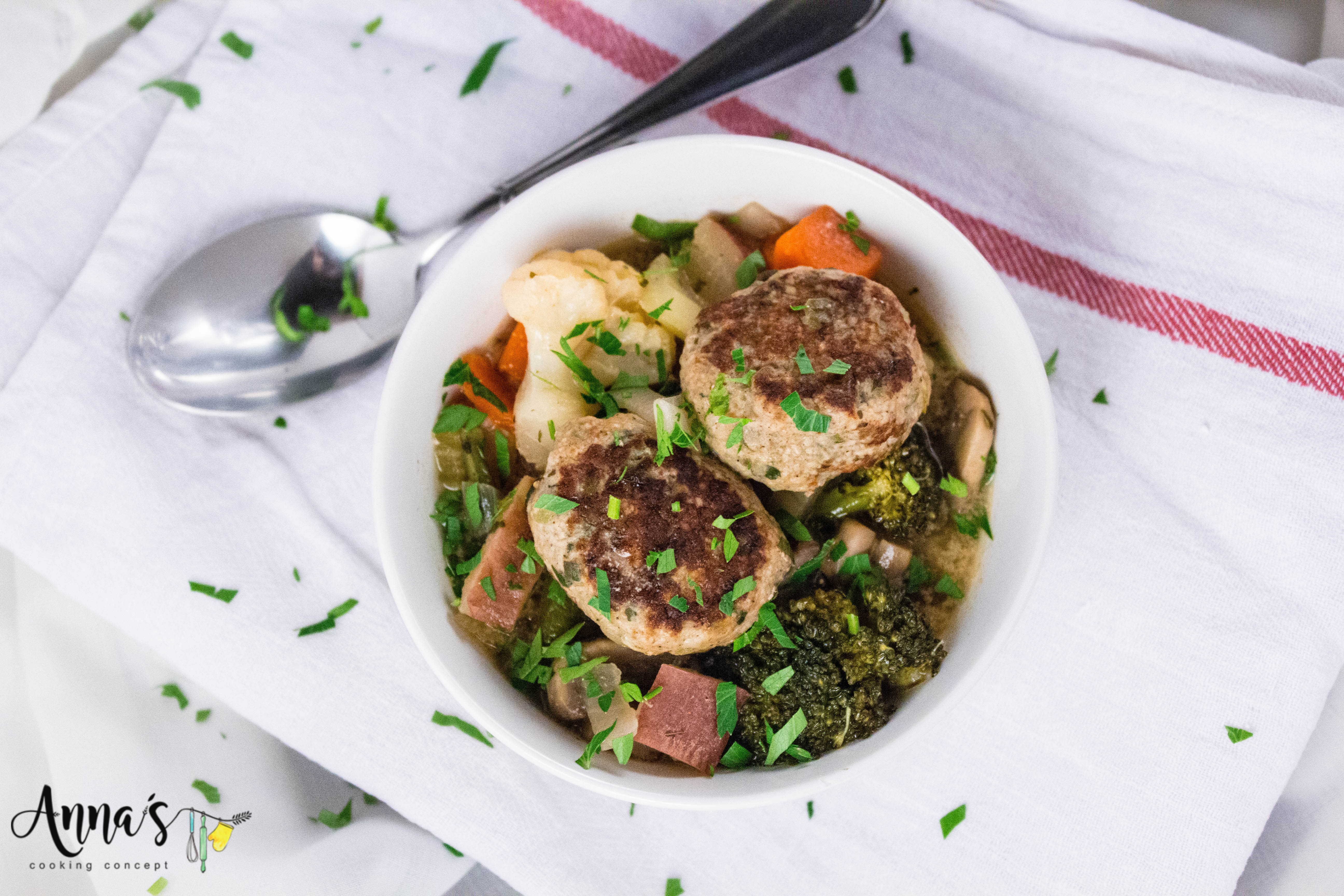 This chicken and veggies bowl is just perfect for lunch or dinner and you can prepare a big batch and store in the fridge for up to 5 days. This way you can enjoy a healthy meal when you return home too tired to cook anything.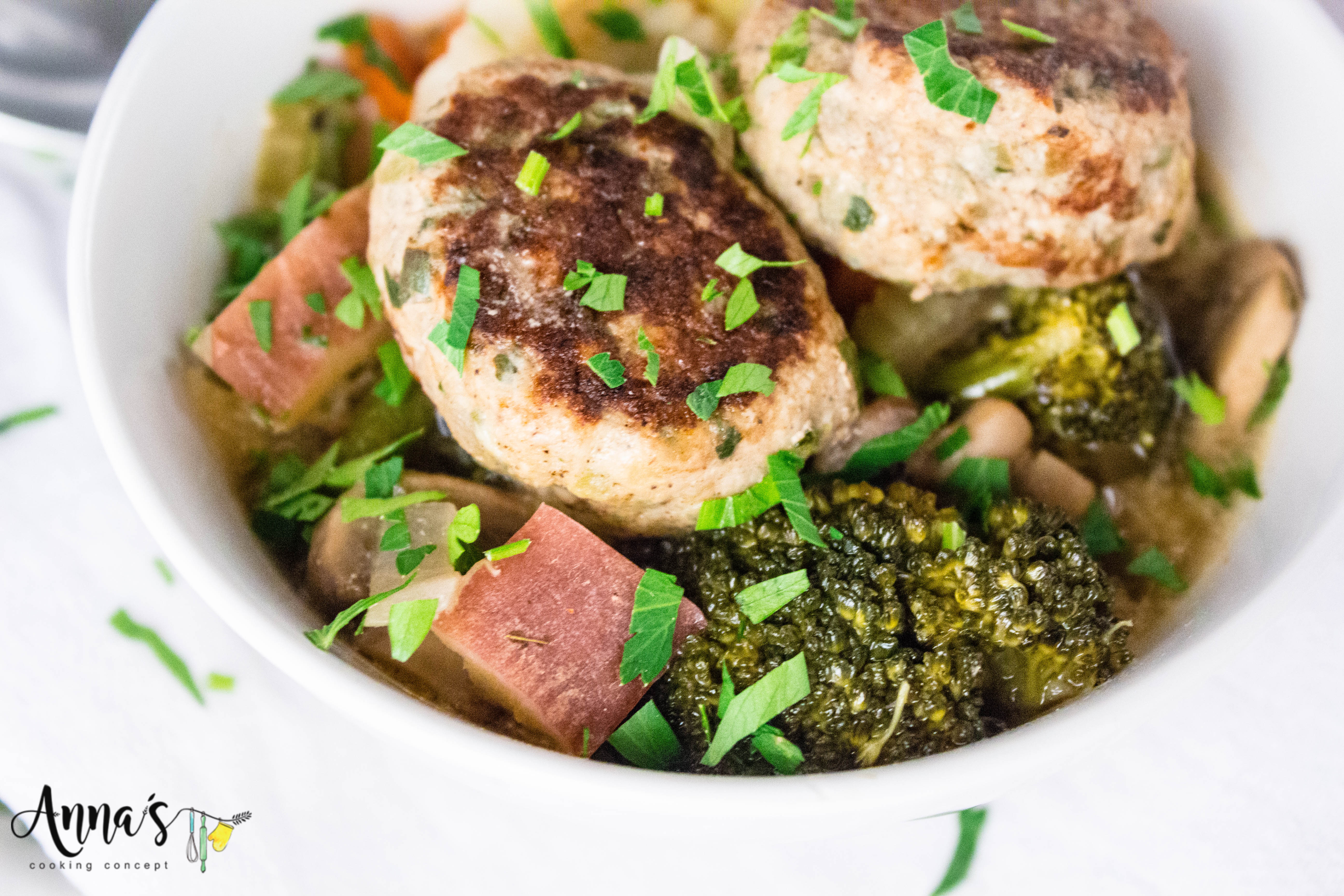 So let's go chop whatever veggies you find in your fridge and let start!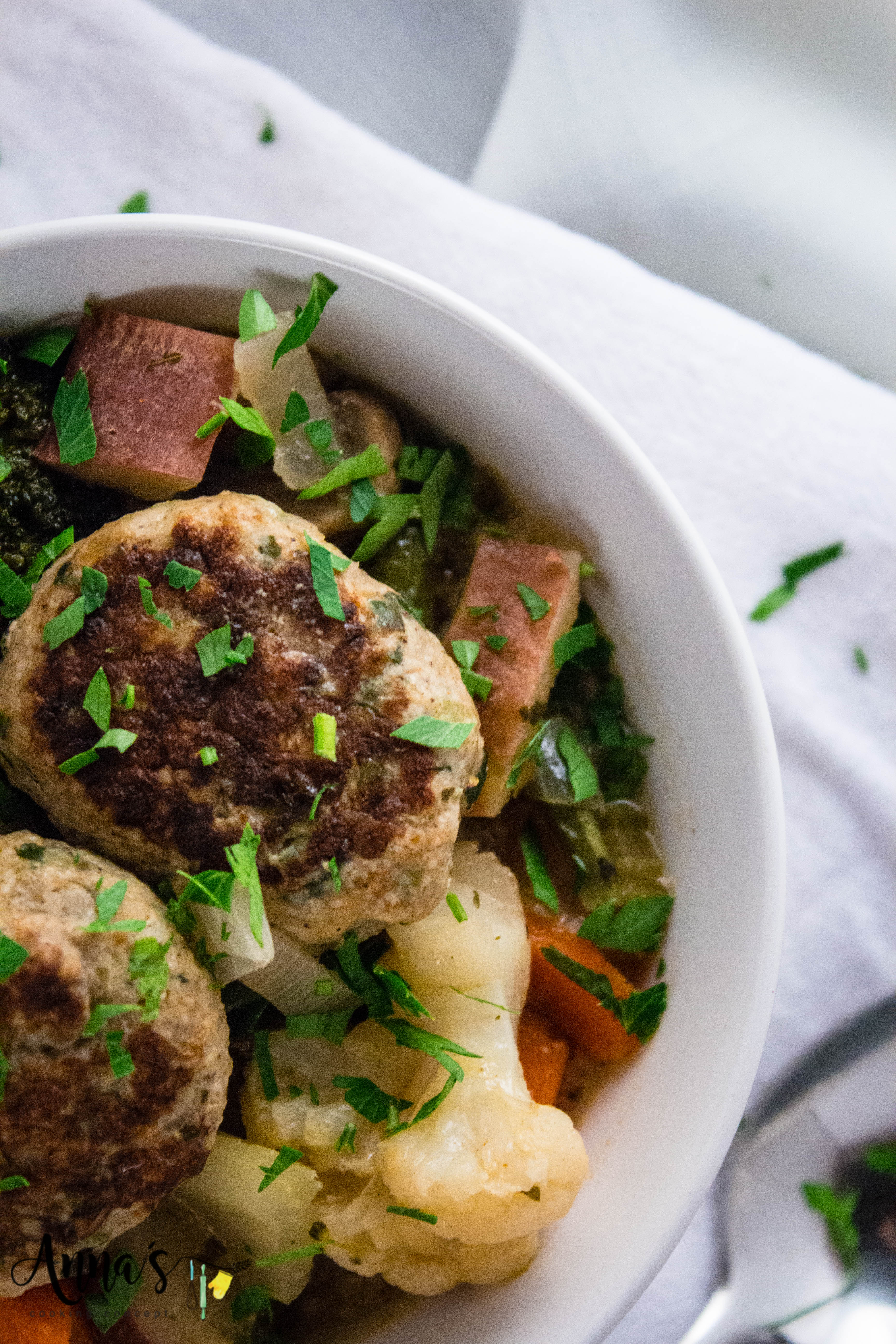 Chicken MeatBall detox soup
2018-05-09 14:08:27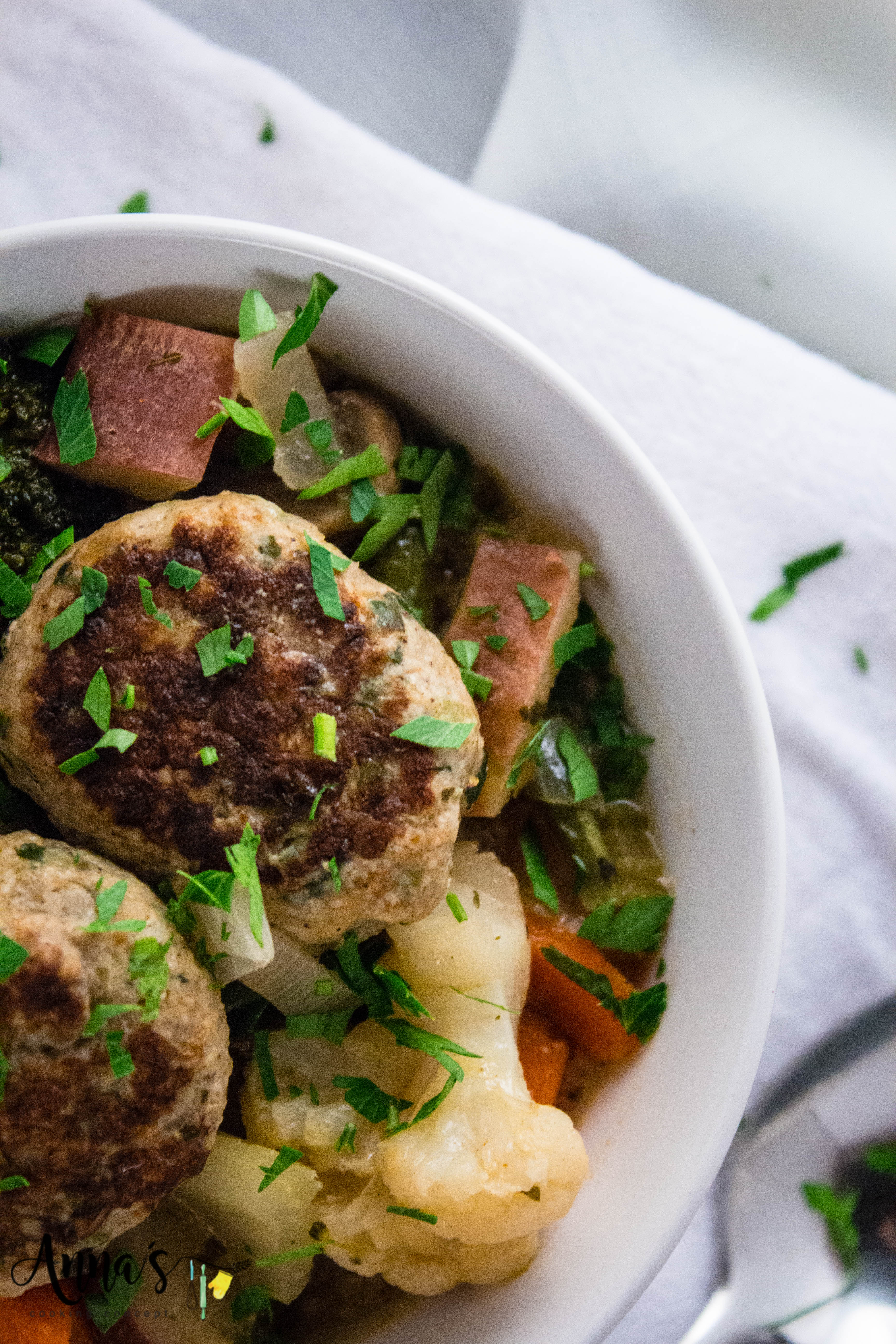 Serves 4
A perfect low carb, low sugar and high in protein meal that you can prepare this week for you and your family.
for the chicken meatballs
1 chicken breast (250g)
2 Tbsp. parsley chopped
1 Tbsp. basil chopped
½ tsp. black pepper
3 garlic cloves, minced
1 onion, finely minced
1 tsp. all spices
1 green pepper , finely minced
1 Tbsp. soy sauce
2 tsp. fresh grated ginger
1 tsp. curry powder
1 tsp. nutmeg
for the vegetables stew
1 onion cut into wings
1 garlic glove, minced
2 Tbsp. coriander, finely chopped
1 cup fresh mushrooms, cut into slices
1 carrot , cut into cubes
1 cup sweet potato, cut into cubes
2 celery sticks, roughly chopped
1 cup green beans, cut into half
1 cup broccoli, cut into small florets
1 cup cauliflower, cut into small florets
2 to 3 cups chicken stock
1 tsp. salt ; ½ tsp. black pepper ; ½ tsp. sweet pepper; ¼ tsp. crushed red pepper
½ cup lemon juice
start with preparing the chicken meatballs
in a high food processor , add the vegetables and blend till finely minced
add the chicken breast after cutting it into chunks with all the remaining ingredients and pulse all together till you have a smooth sticky kind of dough.
heat 1 tsp. olive oil in a deep pan on medium-high heat.
wet your hand with some cold drinking water and start forming your balls with 1 Tbsp./ ball form a ball and put in the pan .
continue this process till you finish the chicken.
flip the chicken when they start to get a brownish color.*
finish the chicken and set aside .
for the vegetables
in the same deep pan you cooked the chicken with, heat 1 tsp. olive oil
start with the onions and cook until tender, than ad the garlic and coriander and cook until you start smelling the garlic.
add the fresh mushroom and saute for 5 minutes till tender.
now start adding the hard vegetables one after the other saute each one for 2 minutes before adding the next vegetables.
after all the vegetables are in the pan, add the salt and seasonings and mix it all together.
add the chicken stock and bring to boil.
when it start to boil, add the chicken ball and low the heat and let it simmer for 10 minutes.
after 10 minutes turn off heat, add the lemon juice and give it one more mix.
serve and enjoy!
Notes
* a small tip for the chicken: if you try to flip it and it still stick to the pan that means it need more time cooking , once you can easily remove and flip that means it is done.
* this soup can be stored in the fridge for 5 days and can be freeze for up to 3 months.
annacookingconcept.com http://annacookingconcept.com/