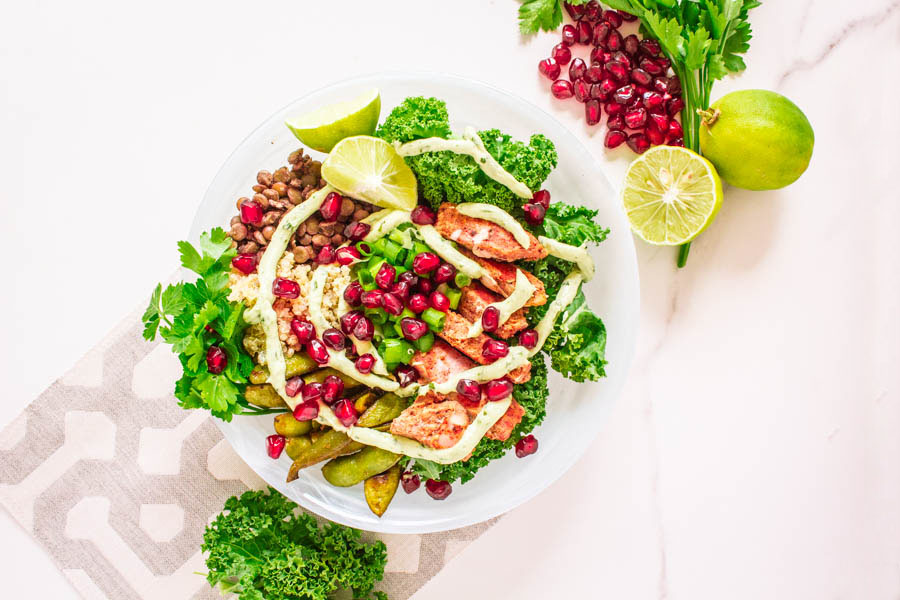 My last week lunch was my favorite, it looks amazing and tasted even better.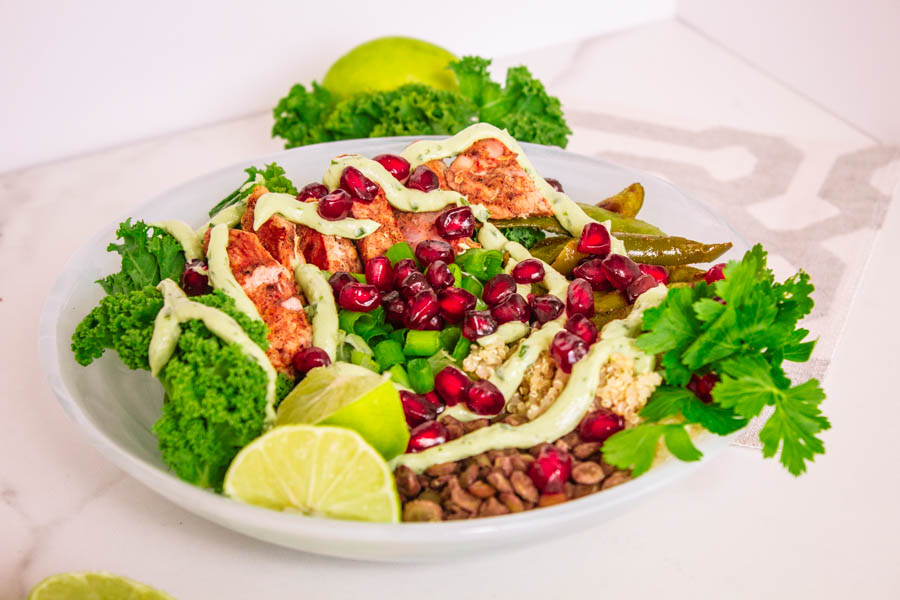 It is a mix of Indian/Japanese combination.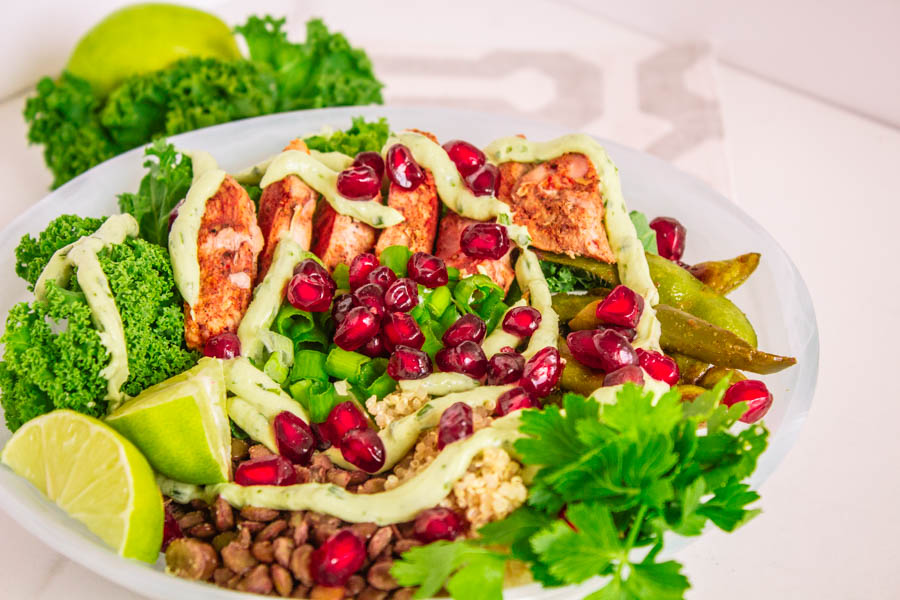 I used an Indian marinade for the chicken, with a Japanese style power bowl and OF COURSE a Lebanese/Mediterranean touch in the whole recipe.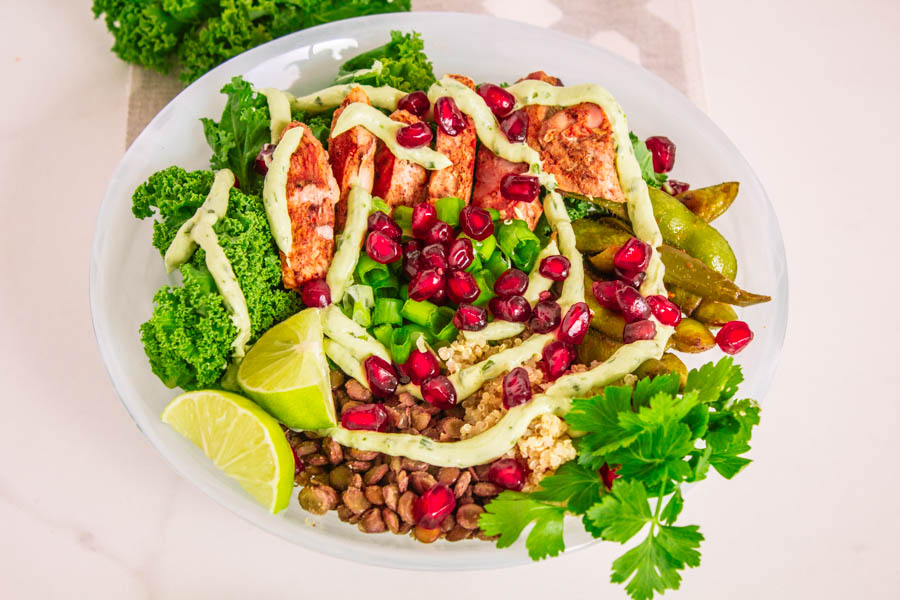 And guys those three just loved each other so much in this recipe! 😛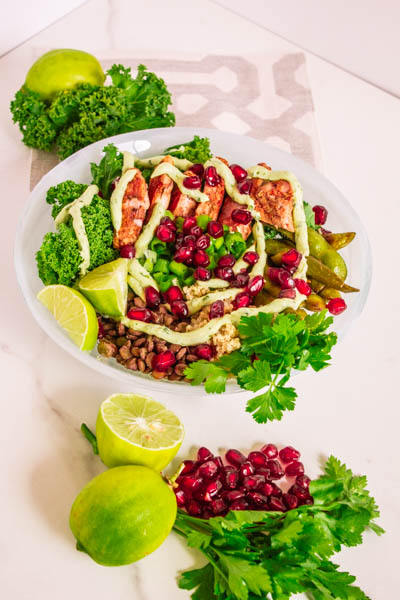 Now the more interesting think about this recipe, is that you can prepare the whole week in just one day and, just assemble each day portion and enjoy it day by day without worrying about cooking lunch the whole week.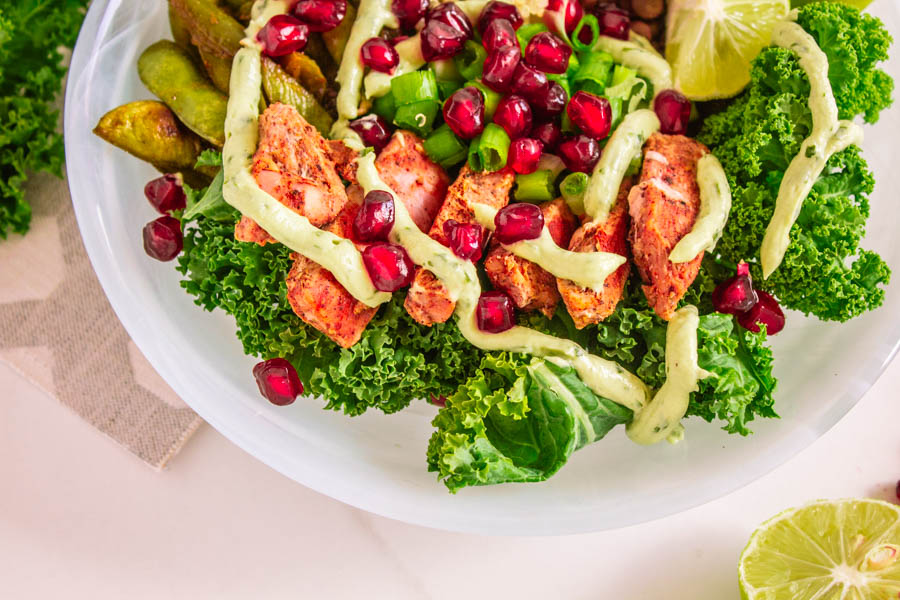 I prepared each of the ingredients in a big batch of 7 and each day I measure the portion quantity of each ingredient, mix and enjoy so easy.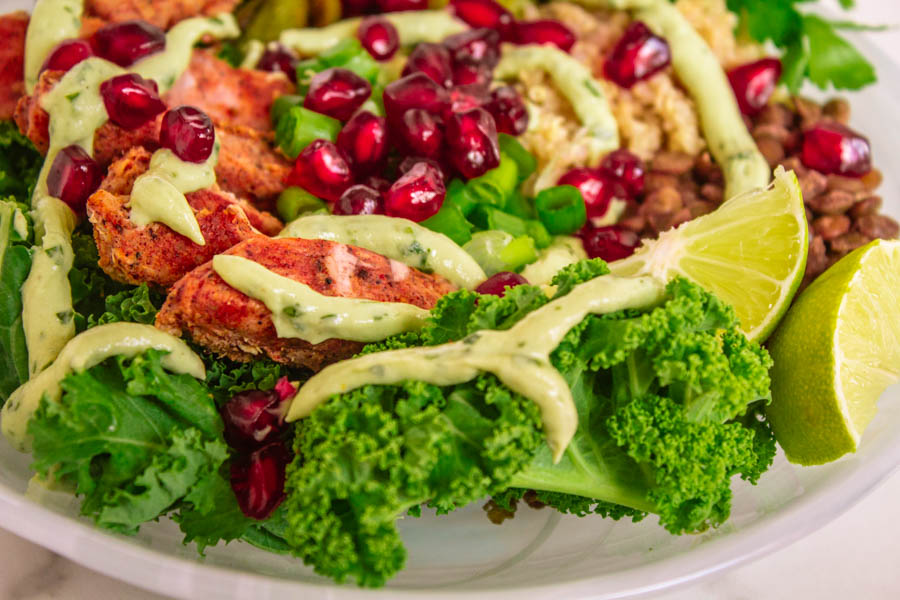 Now for the most exciting think, the dressing! Ow! I cannot start with this amazing dressing, let just say it contain avocado and tahini and you can imagine the rest. It taste amazing with this bowl and great also for dipping with finger food, well I enjoyed it even with a spoon right from the jar.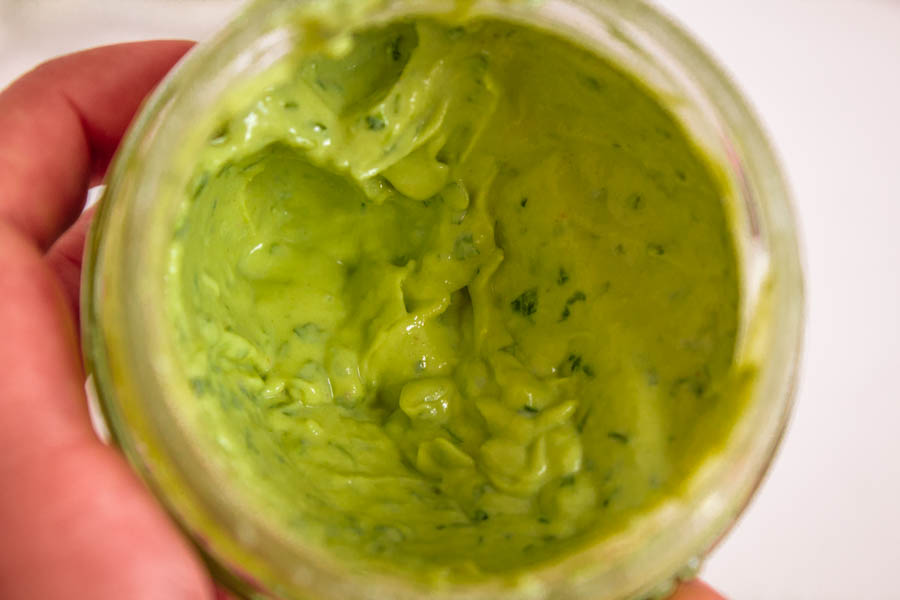 I made a big jar of the dressing and it last up to 2 weeks in the fridge, a great way to benefits from your avocado. I usually use ¼ avocado per portion, so I ended up throwing the remaining ¾ because by the next day it will be black and mushy no matter what the trick I try. So this where I come up with this amazing dressing where I can make the whole avocado and keep it in the fridge, and seriously it taste amazing.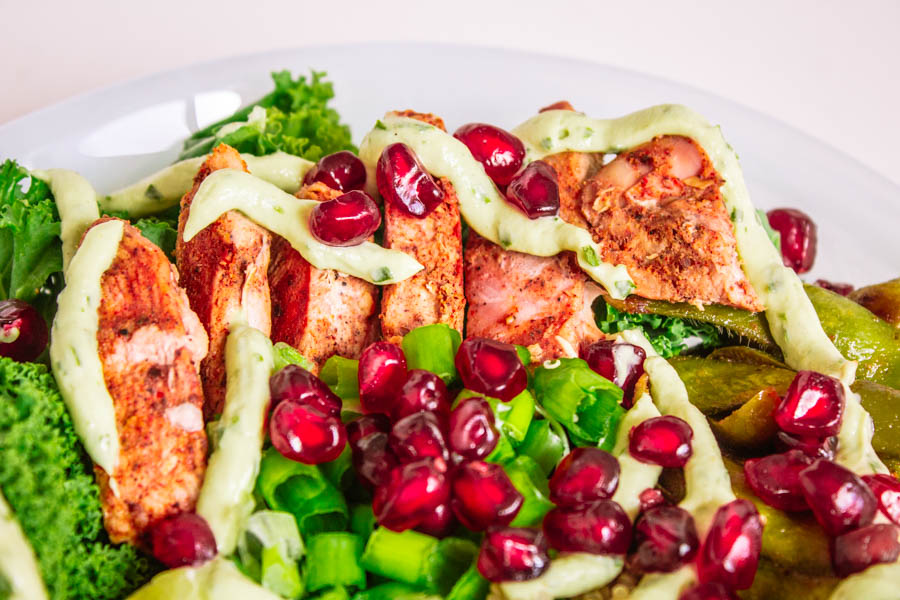 So let us start with this easy protein lunch recipe.
Chicken Edamame Power Bowl:
Serve 1 bowl
INGREDIENTS:
For the chicken marinade:
85-100 g chicken breast, cut into big cubes
4 Tbsp. Yoghurt
1 tsp. sweet paprika pepper
1 tsp. mustard
½ tsp. Dijon mustard
1 Tbsp. lemon juice
2 Garlic cloves, minced
1 slice fresh ginger, minced (2cm thickness)
1 tsp. salt
1 Tsp. masala peppers mix *
For the roasted vegetables:
¼ cup green bell peppers, sliced
¼ cup Edamame
¼ cup zucchini, cut into slices like French fries
1 tsp. garlic powder
½ tsp. ginger powder
1 tsp. sesame oil.
1 Tbsp. soy sauce, low sodium
1 Tbsp. rice vinegar
1 Tbsp. honey
For the bowl:
1/3 cup cooked quinoa
2 Tbsp. cooked lentils
2 Tbsp. pomegranate seeds
Handful of kale
2 Tbsp. green onions, chopped
For the avocado tahini dressing: this dressing make a big jar for 8 serving of 2 Tbsp. /serving approx.
5 Tbsp. tahini
3 Tbsp. fresh Lemon juice
1 avocado
3 Tbsp. rice vinegar *
1 tsp. salt
1 tsp. white pepper
3 Tbsp. chopped parsley
INSTRUCTIONS:
For the chicken marinade:
Mix all the ingredients of the marinade together and pour in the chicken and let it sit in the fridge for 2 hours minimum, I usually prepare it the night before and let it sit overnight.
When the chicken is done soaking, preheat the oven on 200 C˚.
Pour the chicken in a side of the baking tray and set aside to put the vegetables next to it.
For the roasted vegetables:
In a deep bowl , mix the Edamame , the green vegetables and the zucchini
Whisk in a small bowl the remaining ingredients ( garlic powder, ginger powder, sesame oil, soy sauce, rice vinegar, honey)
Pour the dressing over the vegetables and mix it all together and lay in the baking tray next to the chicken.
Bake the chicken and vegetables tray, in the preheated oven for 20 minutes.
For the bowl:
While the chicken and the vegetables are baking, prepare the bowl.
Start with a base of kale.*
Than line in the quinoa, lentils and pomegranate seeds. I like to usually mix those three and then pour over the kale leaves.
After the chicken and roasted vegetables is done, top the quinoa mix with it.
Sprinkle the green onions on the top and drizzle the tahini avocado dressing in the top of everything.
Mix before serving and enjoy!
For the avocado tahini dressing: this dressing make a big jar for 8 serving of 2 Tbsp. /serving approx.
In high speed blender or food processor, pulse all the ingredients together until you have a smooth mixture. It will like hummus or dipping constancy but if you want to make it a little bit lighter, you can add water to lighten it up.
Store in a glass closed jar in the fridge up to 2 weeks.
I recommend that you keep the constancy as it is, and lighten up the quantity you need before serving, better.
NOTES:
*MASALA seasoning mix is an Indian mix that can be found in any grocery store but if you couldn't find you can just mix: (1/2 tsp. Turmeric, ½ tsp. cumin powder, 1 tsp. coriander powder, ½ tsp. Black pepper, ½ tsp. nutmeg, 1 tsp. ginger powder, 1 tsp. garlic powder)
*you can replace rice vinegar with normal white vinegar of you don't happen to have in your pantry.
*for the kale, if you don't like the crunchy texture, you can steam them before starting your bowl. I usually put them for 30 sec in the microwave.
Nutritional Information:
Serving size: 01 bowl | Calories: 525 calories | carbs: 53 g | fat: 15 g | protein: 43 g | fiber: 12 g | sugar: 8 g
Tahini avocado dressing:
Serving size: 1 Tbsp. dressing | Calories: 35 calories | carbs: 2 g | fat: 3 g | protein: 1 g | fiber: 1 g | sugar: 1 g