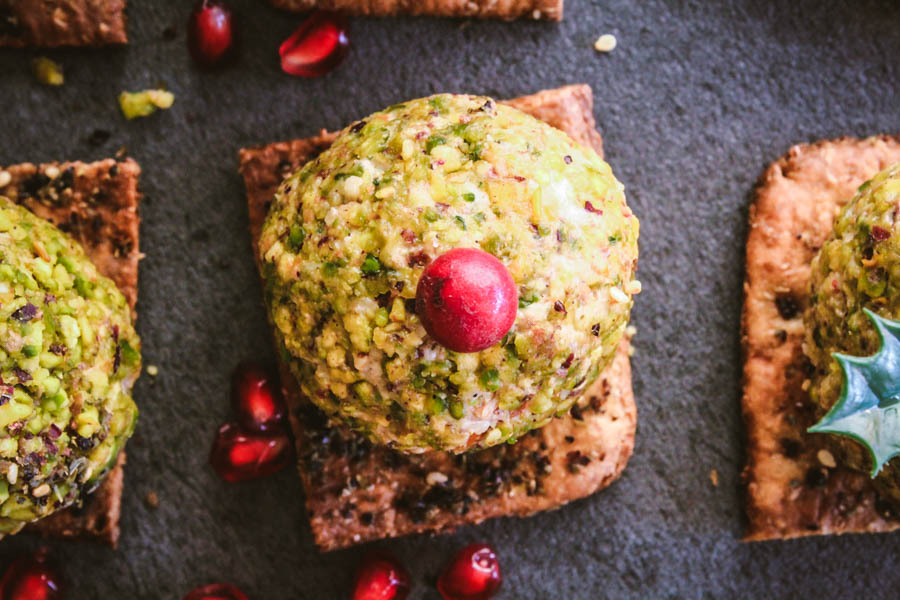 Continuing with the Christmas inspired recipes!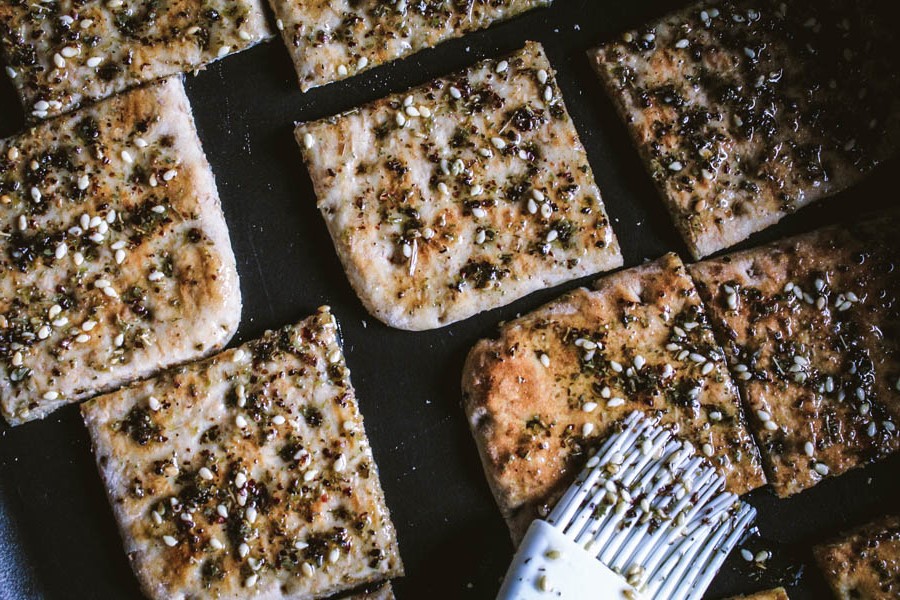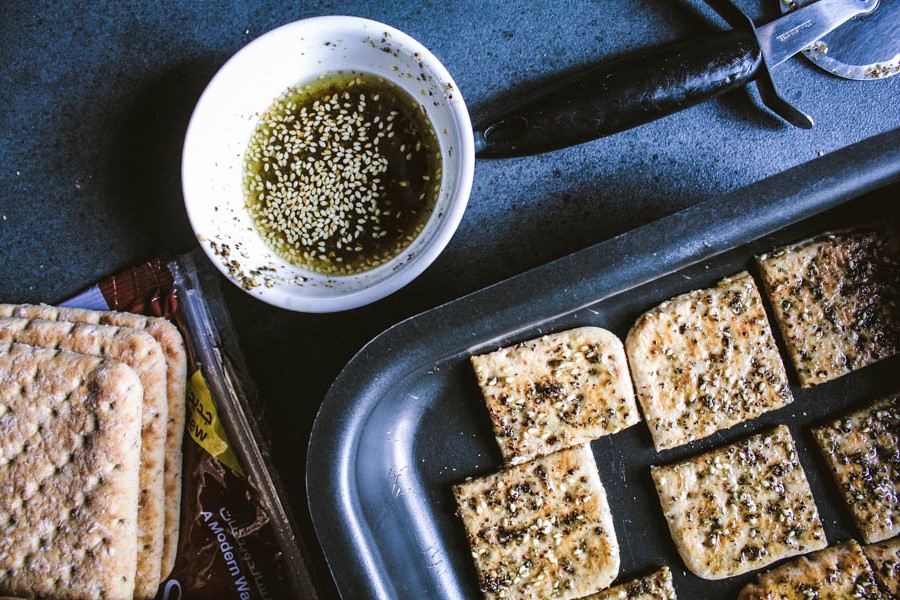 This one is my favorites, it adds so much colors and style to your Christmas feast.
It is a great idea for cheese and wine gathering.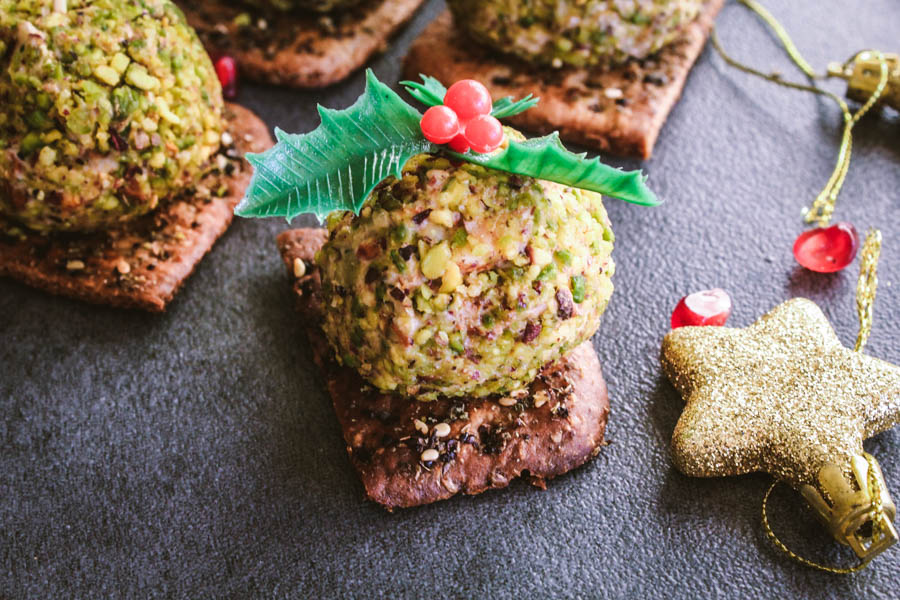 Cheese balls but yet healthy and with Arabic twist.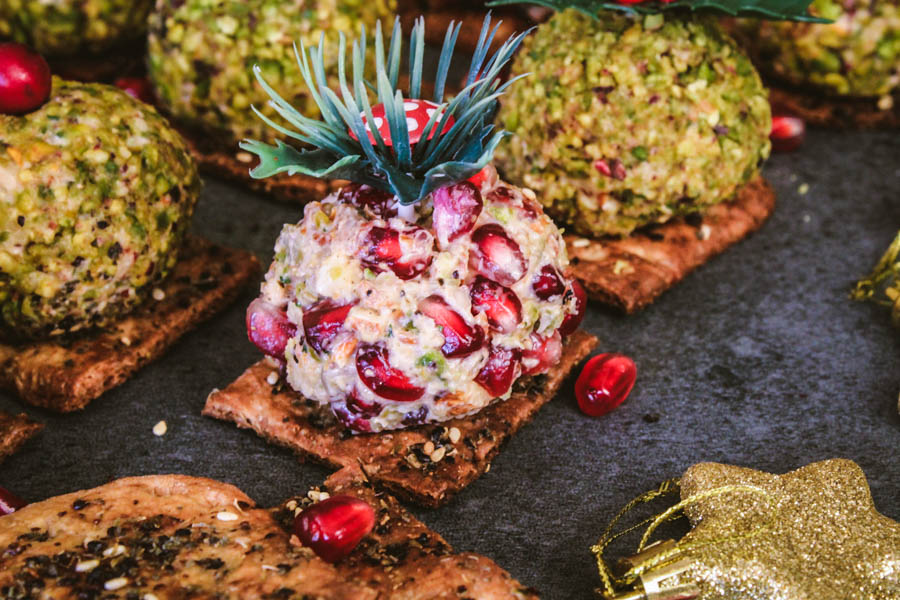 The colors of Christmas are all over the place inside out!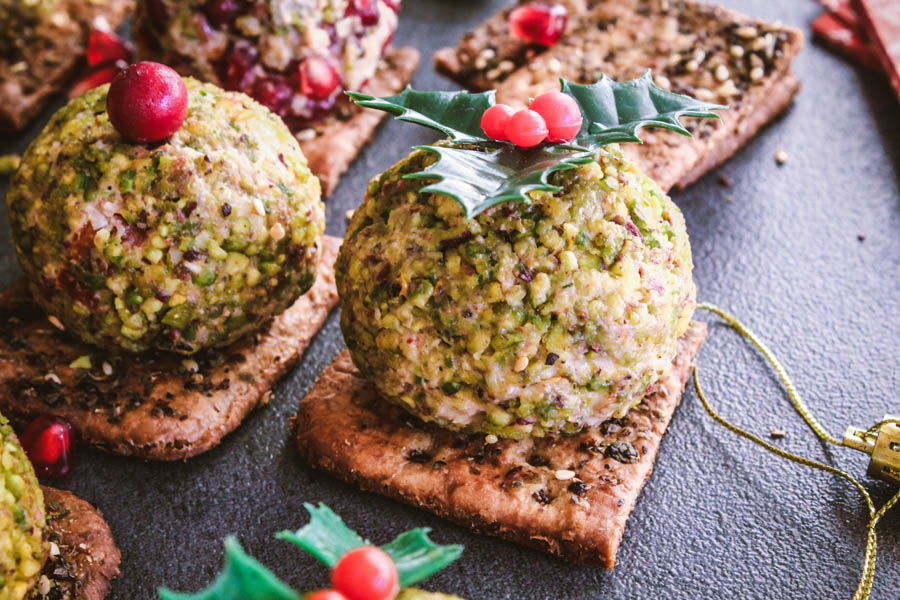 Now usually cheese balls concept is made with processed cheese from cream cheese to mozzarella and other types of cheese and they are deep fried must of the time.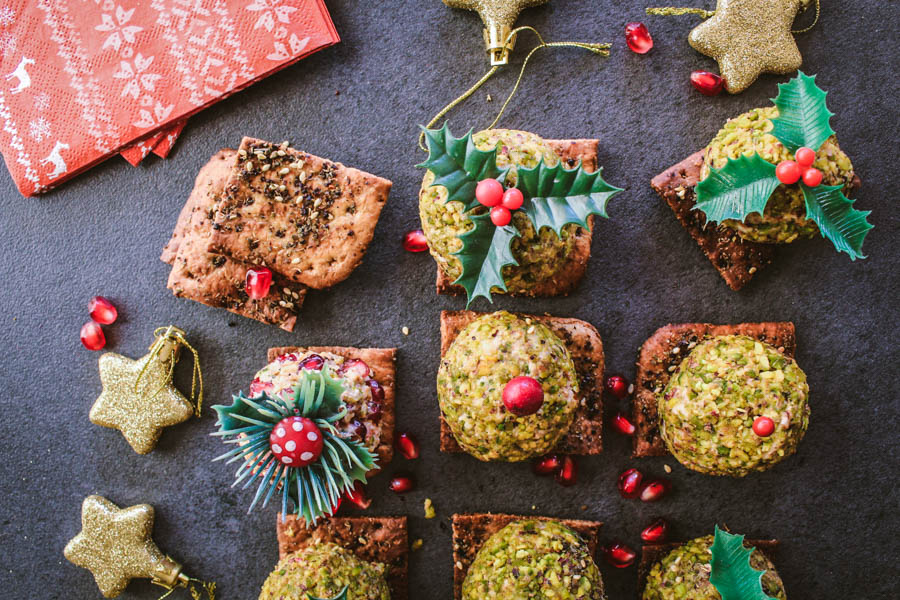 Well this one is none of those, it is a healthy white organic cheese balls, raw and not fried or cooked what's so ever.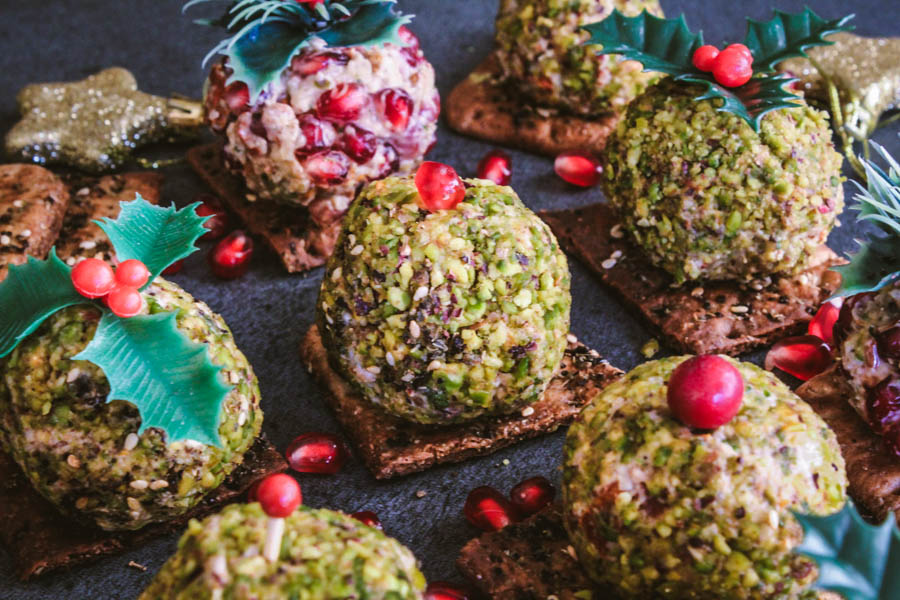 The combination of nuts, olives and tomato with the combo of Mediterranean and Arabic cheese is just perfect!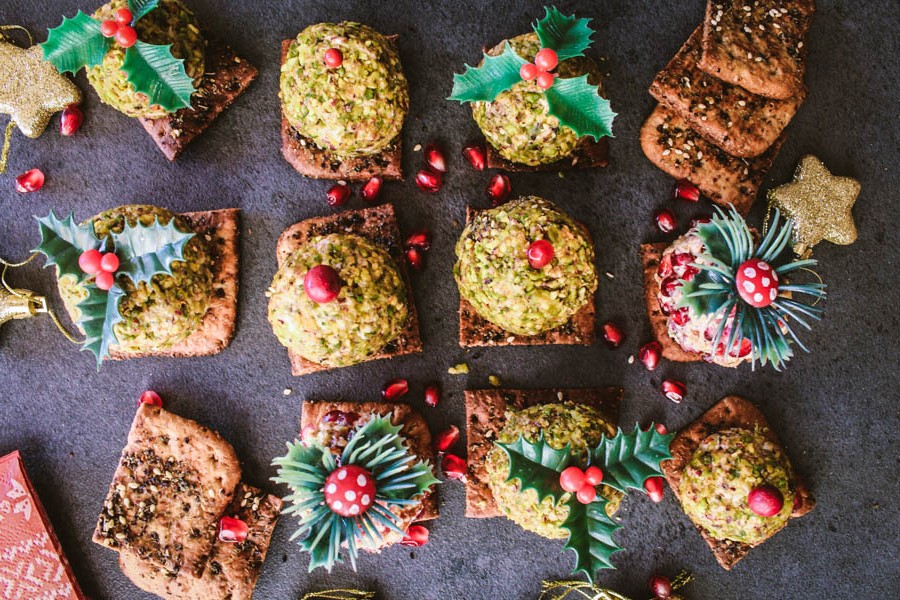 You can make a whole variety of them, with pistachio, pomegranate or any kind of coating you like to garnish your table with.
So what are you waiting for pour some red wine and let us get started with it already!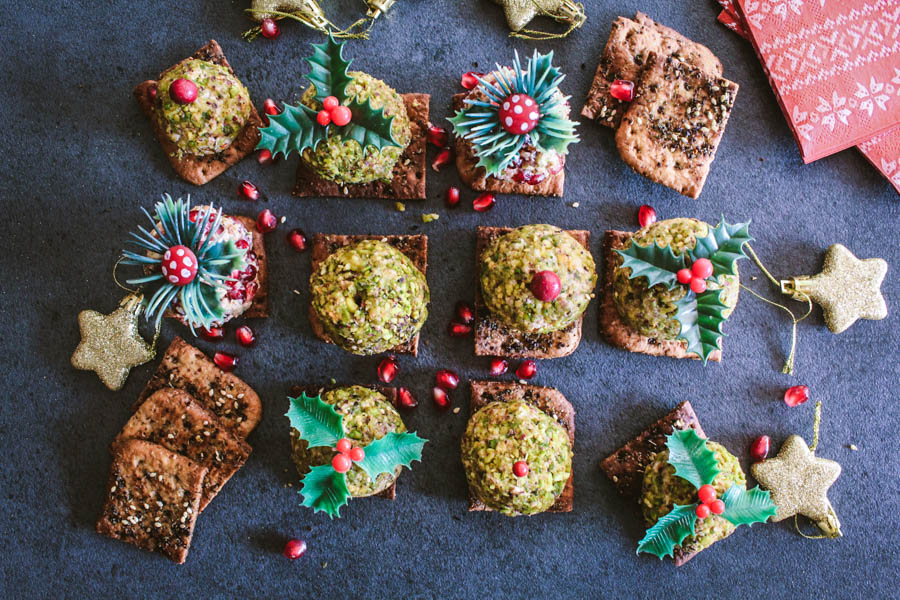 Arabian cheese balls:
Serve around 10-12 big balls
INGREDIENTS:
6 garlic clove, peeled and minced
200 g "al tayeb" cheese (Egyptian white cream cheese)*
2 Tbsp. Greek Yoghurt (laban)
3 Tbsp. fresh basil, washed and chopped
1 tsp. dry oregano
170 g feta cheese
1/3 cup sundried tomato (drained), roughly chopped
1 Tbsp. oil from the drained sundried tomato
1/3 cup Lebanese olives, pitted*
½ cup almonds, chopped
1 tsp. sweet pepper
Additional add-ins:
2 tsp. red chili flakes
1 cup chopped pistachio
1 cup pomegranate seeds
Zaatar roasted Pita chips for serving*
INSTRUCTIONS:
add the garlic and Egyptian cheese and pulse in a food processor, add the remaining ingredients except the almond, pistachio and chili flakes and pita chips
pulse everything together until smooth , it will be small chunks not fully incorporated big dough
Scoop the cheese into a bowl, pour the chopped almond and fold it gently with a spatula till it is all mixed together.
Place in the fridge for 3 hours up to 3 days, if you want to prepare it in advance.
Meanwhile, add chopped pistachio and crushed chili flakes into a shallow dish and mix well.
After chilling, remove from fridge. Scoop 1 Tbsp. of the cheese mixture and form it into a ball, roll it into the pistachio mixture (or the pomegranate seeds) and set aside, continue with the same process till you finish the whole cheese mixture.
Mix and match between the two mixtures: pistachio and pomegranate.
Serve immediately on the top of the pita chips or cover and chill until ready to serve.
You can store it in the fridge up to 3 days but once it is dipped into pistachio or pomegranate mixture it is better to serve within 2 day because the color will change but as far as taste it is the same.
Enjoy!
NOTES:
* Zaatar roasted Pita chips: (for the pita chips I used this brand of brown sandwich bread but you can use normal whole wheat pita bread) for the zaatar flavored chips:
Mix ¼ cup olive oil with 2Tbsp. Zaatar mixture; cut the bread into small squares; brush the bread with the zaatar mixture on both sides; bake for 5-8minutes in 200C◦ preheated oven until golden brown; you can prepare in advance and store in sealed zip lock bag.
*for the cheese balls, if you don't want to wait 3 hours to chill it: you can spread it over the pita chips and sprinkle the pistachio or pomegranate on top of it; it will be also very beautiful to present on your dinner table.
*if you can't find any Lebanese olive you can use any black olive of your choice
* I found this "al tayeb" Egyptian white cheese an amazing clean healthy substitution for cream cheese, you can find it at any grocery store here in the Arabian countries, and if you can't find it you can use ricotta cheese instead so you don't have to use cream cheese.