What is a Christmas feast without a colorful seasonal salad to decorate the table with!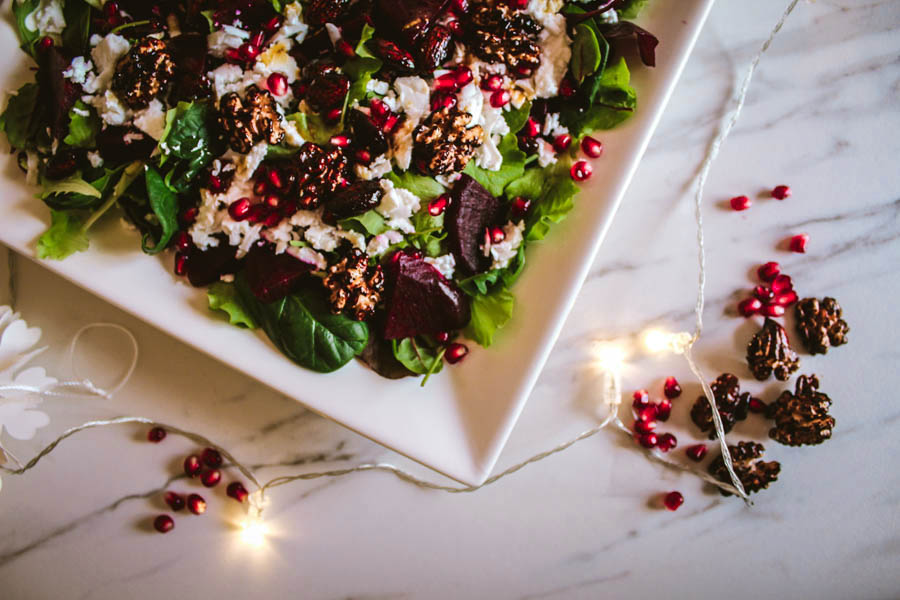 This salad not only so good to look at, and so colorful that she can compete with your Christmas tree, it is so tasty and healthy.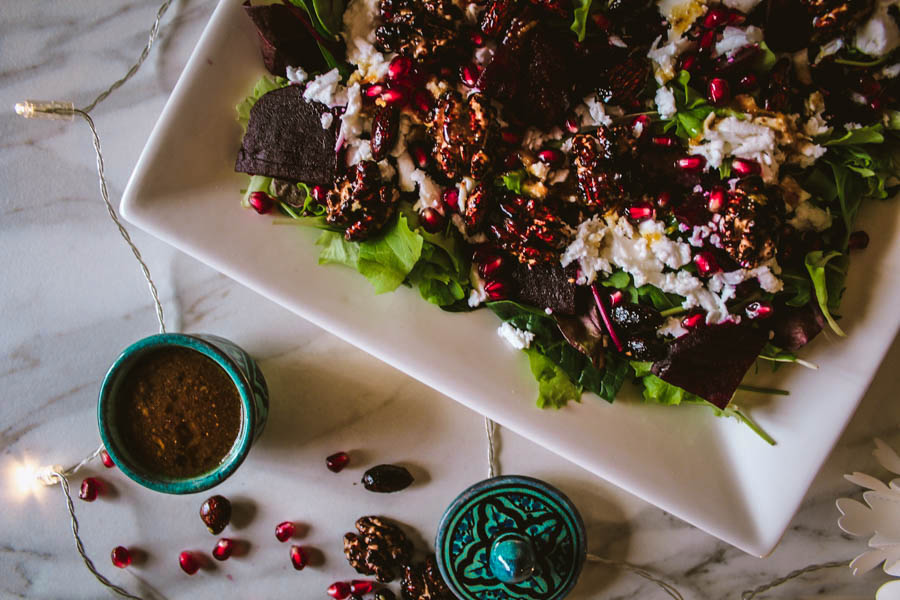 With each bite you indulge yourself with an explosive mix of flavors from sour too sweet. I prepared that salad yesterday for my husband and family to test it so I see who will and who will not like it.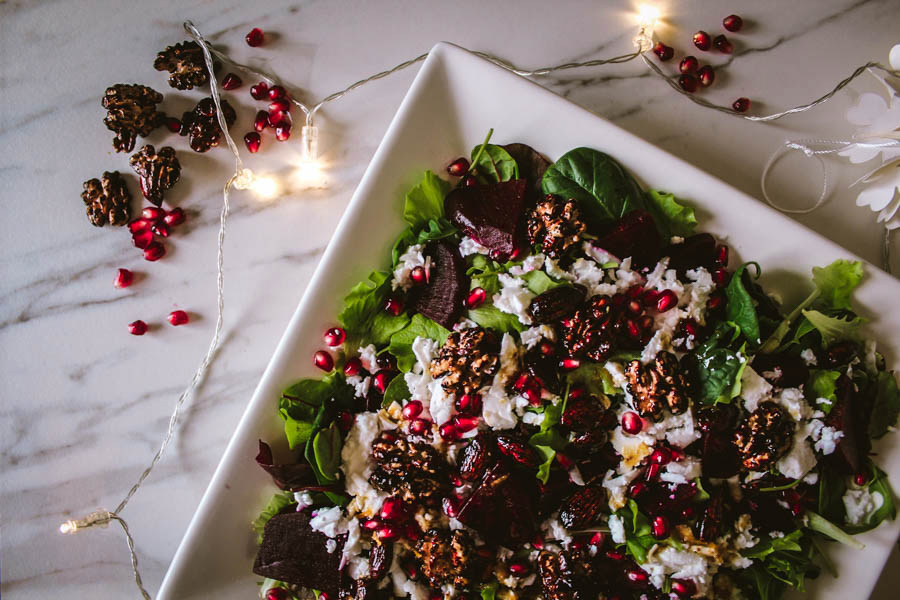 And well! It was a big hit! Everyone like it, my husband has something against salad and this colorful one made him break his habit and taste some and he loved it!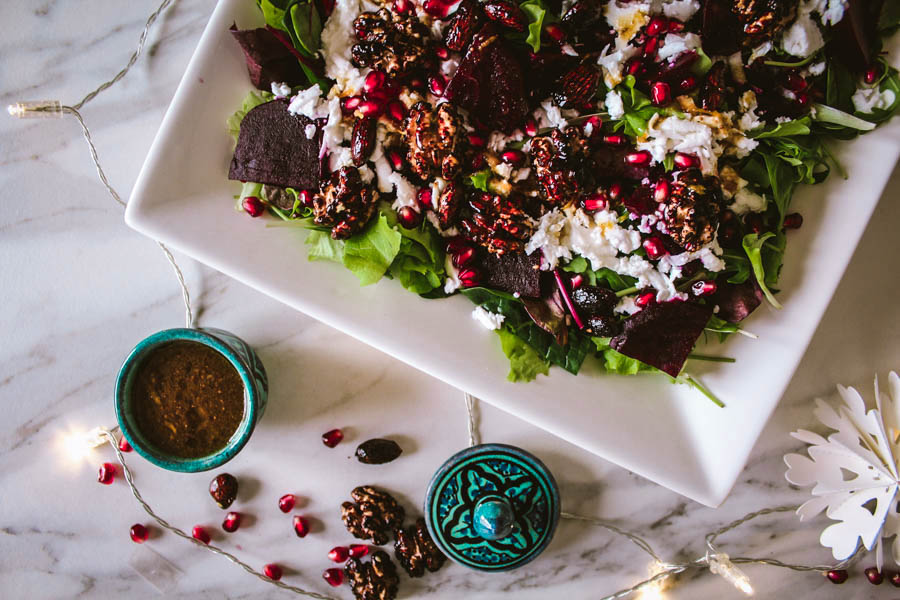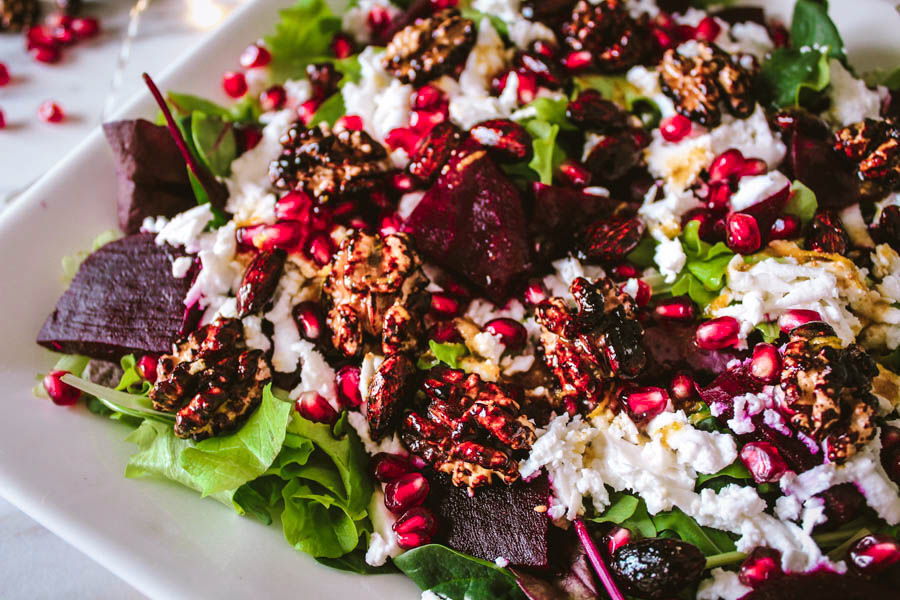 The mix between the beetroot and pomegranate with the nuts and the sweet and sour dressing is just amazing, the goat cheese add an amazing deep taste to the salad.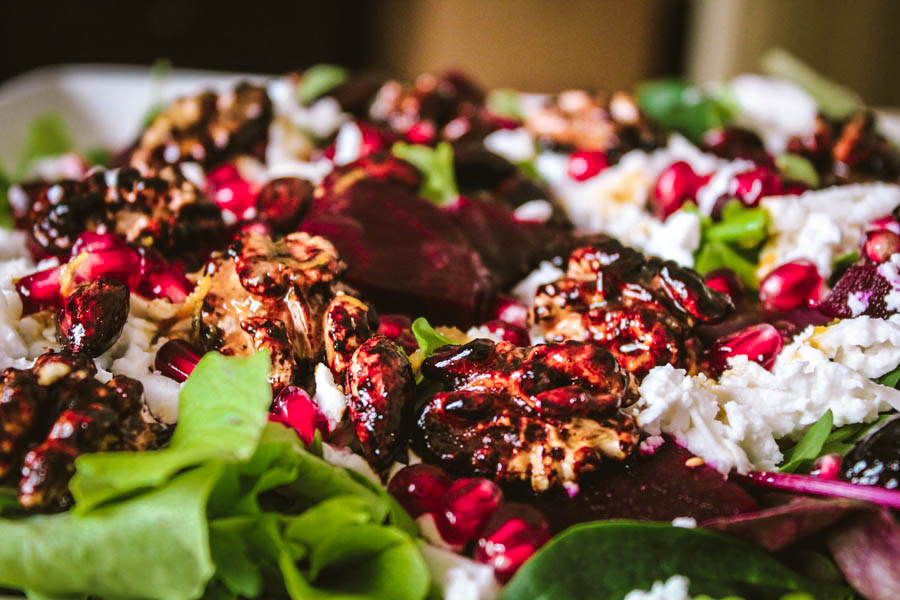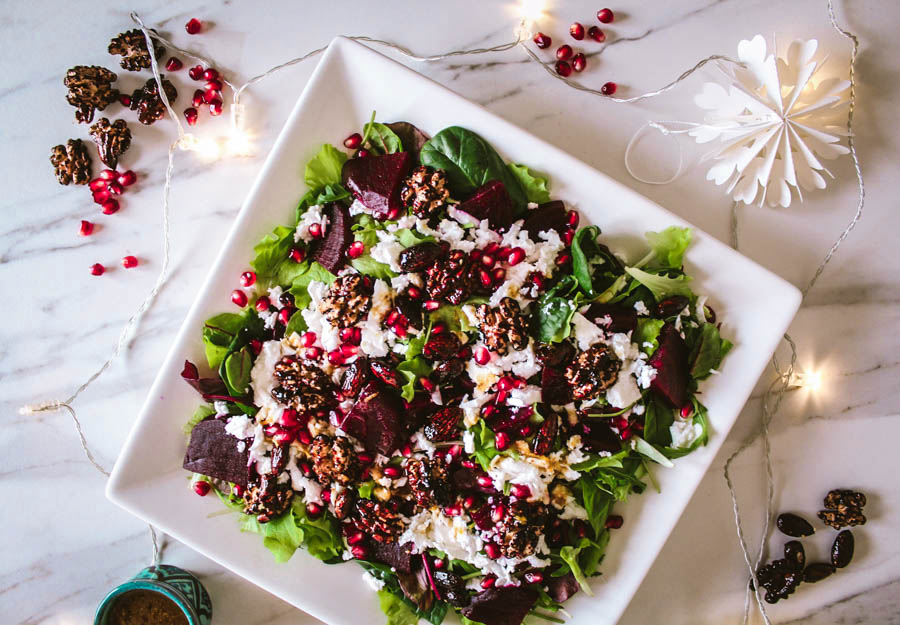 And the best of it is the dressing you may be a little bit surprise of the ingredients but once you taste it, you will never go back to those processed full of sugar salad dressing!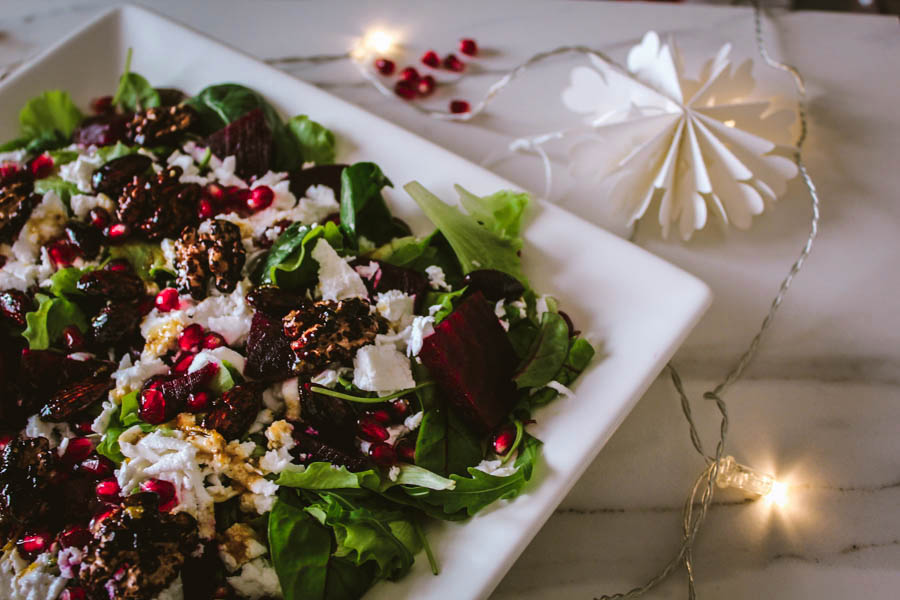 You can prepare it early in the day and cover it and store it in the fridge for when you want to serve at night. Drizzle the dressing just before serving.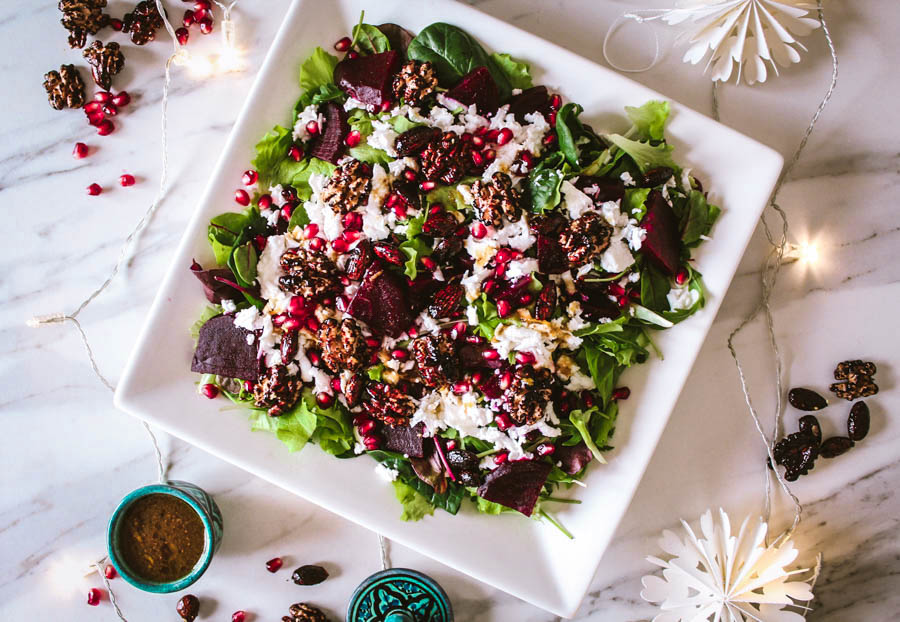 Christmas Goat Cheese Salad:
Serve 6 side dishes
INGREDIENTS:
1 cup mixed walnuts and almonds, raw
½ cup pomegranate seeds
100 g crumbled goat white cheese
1 Tbsp. Date syrup mixed with 1 Tbsp. water
¼ Tsp. grounded cinnamon
Pinch of chili pepper flakes
½ tsp. salt
4 cups of mixed greens of your choice (baby kale, baby spinach, lettuce, arugula, … )
2 beets head cut into cubes or small wedges
For the dressing:
3 Tbsp. olive oil
1 Tbsp. balsamic vinegar
1 tsp. orange zest
1 Tbsp. fresh orange juice
1 Tbsp. fig paste.*
1 Tsp. salt
½ Tsp. sweet pepper
INSTRUCTIONS:
First start with roasting the nuts: preheat oven on 180 C◦.
Toss nuts in a bowl with the date syrup, water, cinnamon and chili flakes.
Line some parchment paper in the baking tray, and pour the tossed nuts on the tray and spread it all over the tray. Bake for 15 minutes, stirring 3-4 times throughout cooking until the nuts are golden and toasted. Remove and set aside to allow to cool.
Start laying the salad: in the salad serving dish, lay the green leaves add the pomegranate seeds, the beet roots slices and sprinkle the cheese crumble. Top it with the roasted nuts after they cool completely and set aside.
Prepare the dressing: for the fig paste, simply soak 2 dry figs with some warm water until they are covered the night before or the same day for couple of hours. Add the soaked figs with the soaking water in a blender or even a coffee grinder for a smaller container and blend until you have a smooth paste. Add the remaining dressing ingredients and pulse again until you have a smooth combined dressing.
Drizzle the dressing on the salad just before serving and toss it all together gently.
Enjoy
NOTES:
*for the fig paste, you can prepare at a big batch with the same process: soak a big batch of dry figs and blend it until smooth after soaking. I prefer preparing this paste at home because it will be 100% figs with no sugar or any chemical additive. But you can also find some sugar-free organic fig paste at the grocery store that you can use and skip this step. Just add 1 tbsp. of the fig paste and whisk all the ingredients together by hand or in a blender.
*you can prepare salad the night before or in the morning and cover it and store in the fridge, just don't pour the dressing. Drizzle the dressing before serving so the salad stay fresh.
*I highly recommend sticking with the goat cheese but if you don't like it you can easily switch to feta cheese instead.