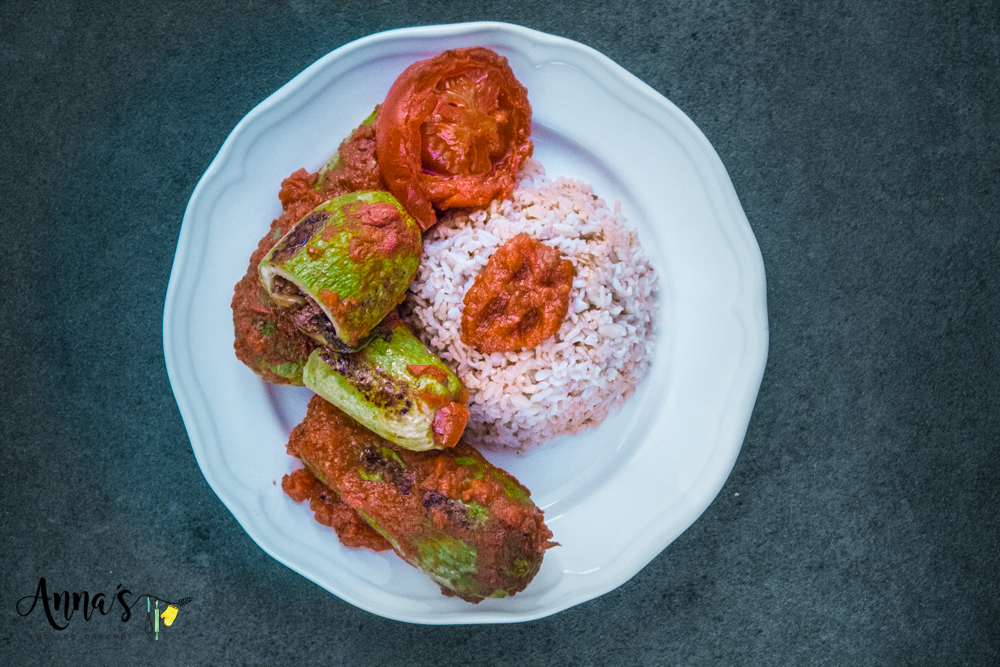 For me everything that includes stuffed vegetables is good!
As a Lebanese Middle Eastern house there are a few main dishes that are fundamental.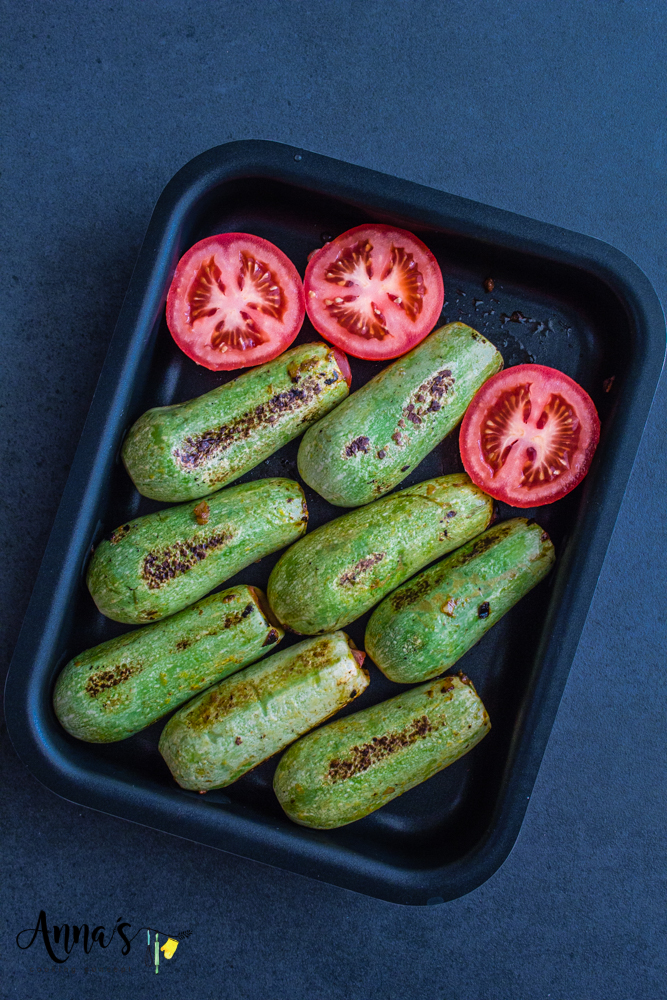 You cannot find any Lebanese house that doesn't do stuffed courgette weekly!
Where there is so many ways of doing it but my favorite one is the one stuffed with minced beef and some pine seeds and onions.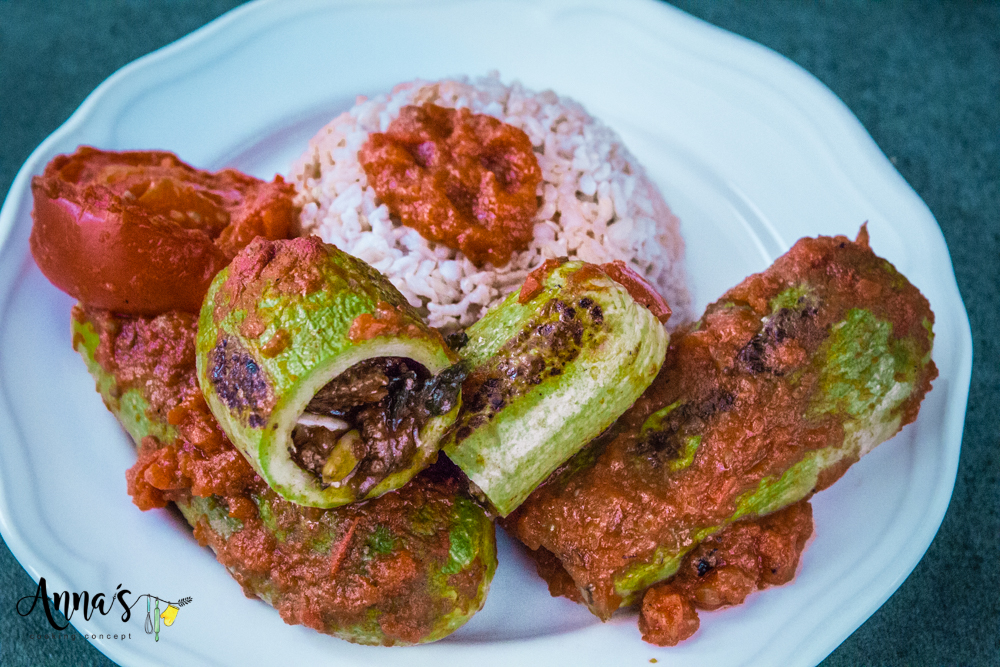 I like every version of it! But this one is my favorite because it is a very smart recipe for a low carb meal that is tasty and filling.
It is cored courgette stuffed in beef and cooked in red sauce. You can serve it with rice on the side or with yoghurt.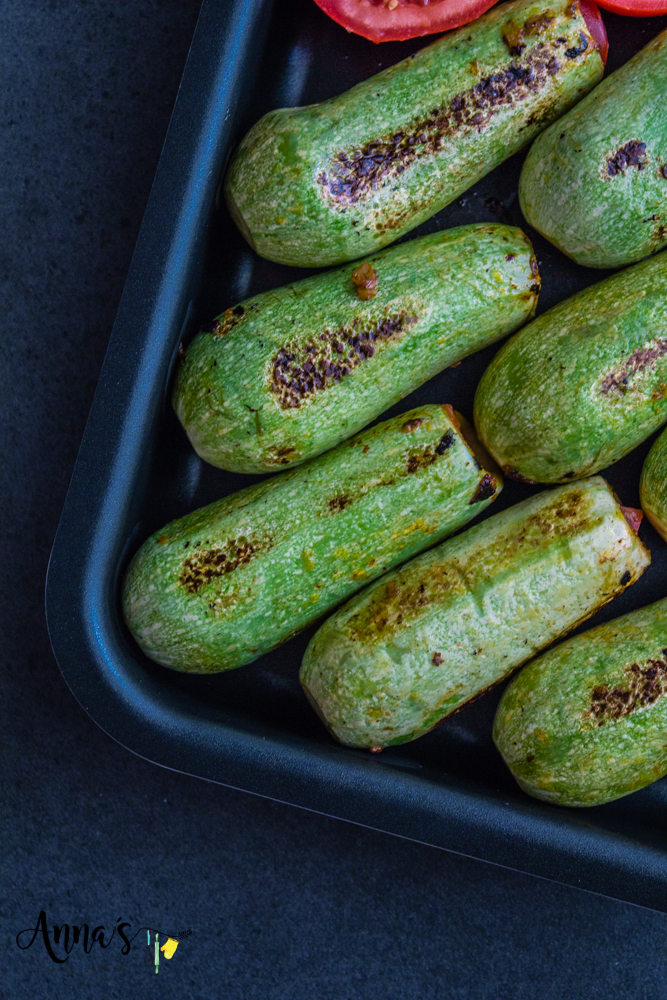 I normally have it with some yoghurt and guys it is a must try recipe!
You can still enjoy your mum's favorite traditional meal without the extra unnecessary fats!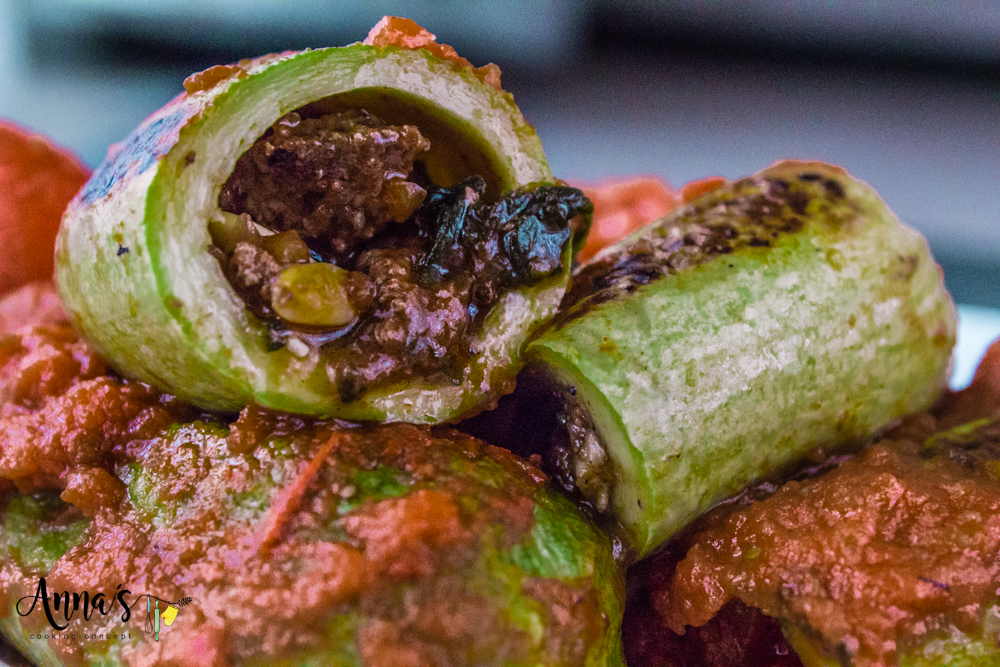 It is a perfect meal for meal preparation and great if you are going on low-carb diet after summer vacations.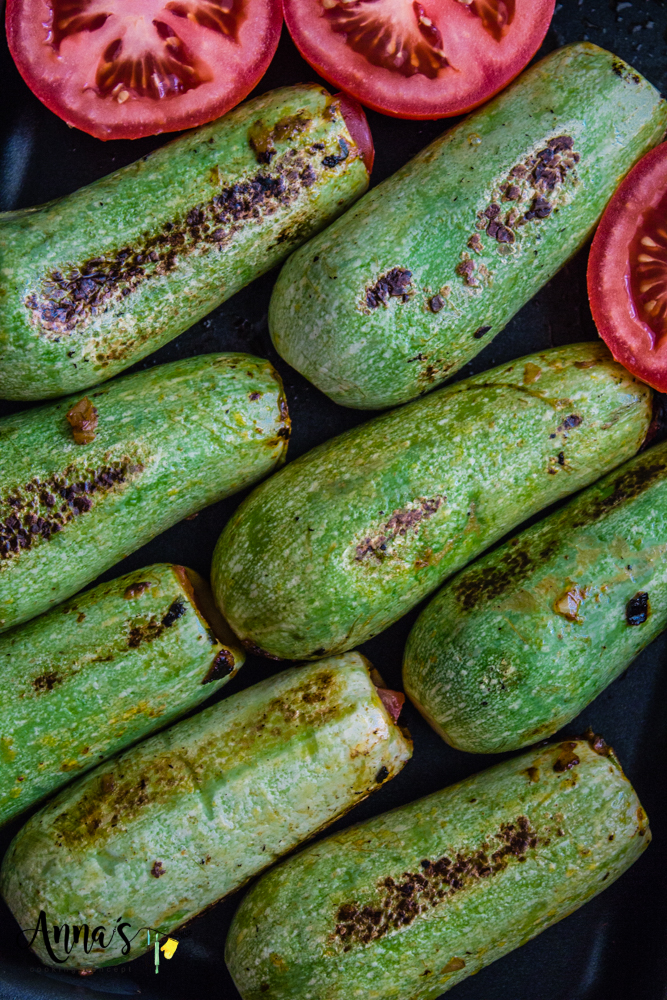 And if you are not and just wanting a healthy balanced clean meal, serve it with some brown rice and enjoy!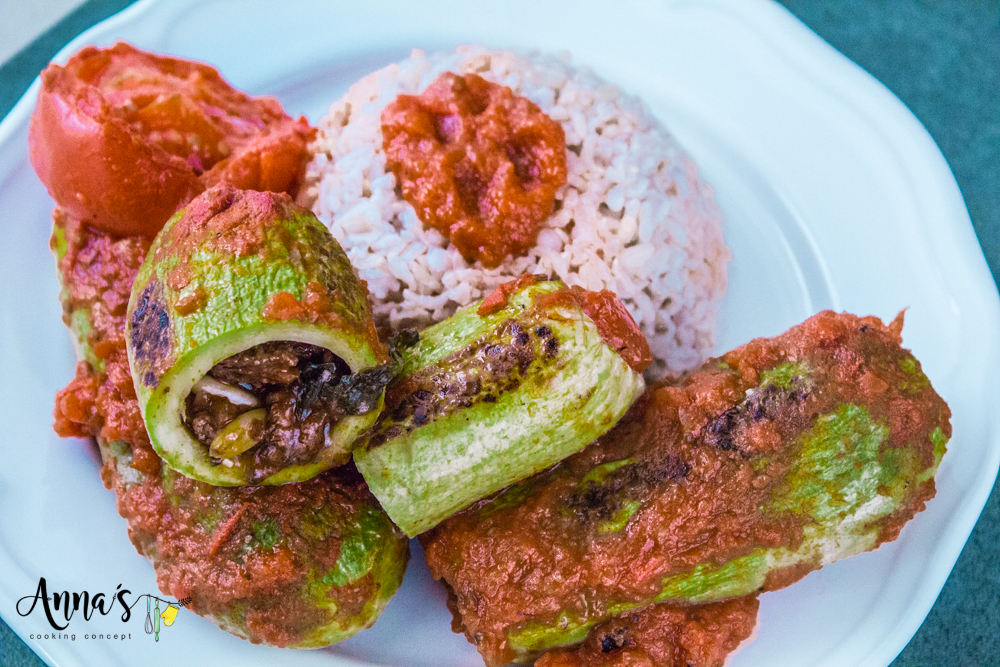 This is a very balanced, high-protein, clean meal that you can enjoy with yoghurt or rice on the side.

Healthy, tasty, so filling and you can add or remove any sides to fit your diet.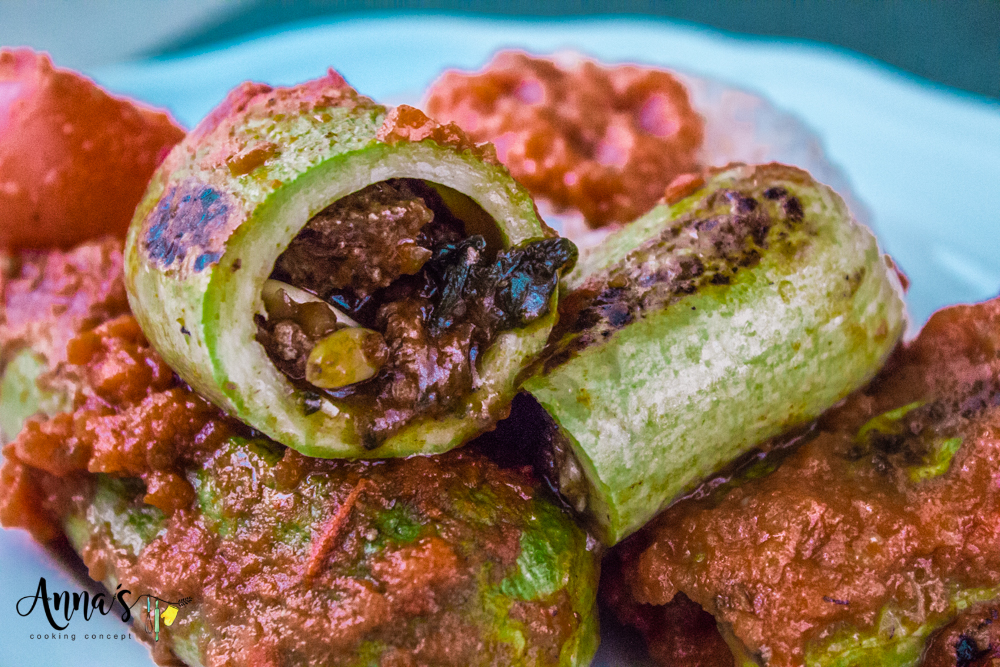 if you are wondering what to do with the insides of the courgette that you cored check out this great egg bake recipe.
and for more recipes with courgette you can try this other stuffed zucchini recipe!

Ablama (Authentic Lebanese stuffed courgette)
Keyword:
high-protein, low-carb
Ingredients
for the stuffing
1/2

tbsp

rapeseed oil

3

medium

onions

diced

500

g

lean beef meat

minced

1/4

tsp

sweet pepper

1/4

tsp

cinnamon powder

4

tbsp.

pine nuts

raw

dash

salt

1

cup

baby spinach

packed
for the gravy:
2

cup

tomato puree

(or chopped tomato can)

1

tbsp

tomato paste

1/2

tsp

sweet paprika

1/4

tsp

black pepper

dash

salt
others:
10

extra small

courgette (zucchini)

1 1/2

tbsp.

rapeseed oil
Instructions
hollow the courgette with a corer , being careful not to pierce the skin make it as thin as you can. . sprinkle it generously with salt and wash it with clean water and lay them bottom up in a strainer to drain.
for the stuffing:
heat 1/2 tbsp of oil on medium heat.

add the onions and stir until transparent

add the meat and cook breaking any lumps until you broke into small pieces.

and all the meat is light brown

season with all the stuffing season and mix it all together. add the spinach and combine until the spinach is completely wilted.

add the pine nuts and stir everything together until you have a homogeneous mixture
for the gravy:
combine the tomato puree and tomato paste with all the seasonings and bring to boil.

let it boil for 5 minutes and remove from heat .
assembling:
preheat oven on 200 °C

after the courgette drain.

mix the 1 1/2 tbsp oil with 2 tbsp of water and rub the skin of the courgette

heat well a non-sticking pan, and grill the courgette flipping each 30 seconds or so until you have a golden brown skin.

fill the courgette with the meat mixture .

line the courgette in a deep oven dish.

pour the tomato gravy over it.

cover the dish with some aluminum foil and bake for 10 minutes covered.

than remove the foil and bake for 10 min uncover.

check with a toothpick if the courgette are tender remove from oven , if not give it an extra 5 minutes.
Recipe Notes
Zucchini and courgette are the same plant veggies but are used to refer to that same plant, which is growing across its different stages of plant development. The courgette is smaller and estimated to be about 14 x 4 cm long whereas the zucchini is bigger, which is estimated to grow as big as 15-20 cm.
in this recipe it is preferably to use courgette because and the smallest of them , to make it easier for coring and stuffing, if you will use the zucchini you will need a lot more of 500 g of meat to stuff it .
you can use any kin of vegetable neutral taste oil to toss the courgettes if you can't or don't have the rapeseed oil .
this recipe is perfect for a low-carb meal and if you want some carbs with it some steamed rice aside is a perfect match.